Join thousands of RV travellers
Sign up for our Go By Camper newsletter to receive inspirational travel content and awesome deals, and we'll send you a copy of our Ultimate RV guide!
Thanks
Please confirm subscription in your email.
New Zealand Motorhome Destinations
With so much to see across our two islands, knowing where to start your New Zealand motorhome hire can be difficult. Each region of NZ is truly unique, from the relaxing beaches of Northland, to the geothermal and cultural wonderland of Bay of Plenty, the mountains and lakes of Canterbury to the fruit and wine mecca of Otago. To help you find all the best bits for your motrohome trip through New Zealand, check out our region by region guide.
New Zealand Motorhome Itineraries
There's discovery around every corner in New Zealand - and with so much on offer it can be difficult to plan out what to see and where to go. So to get your New Zealand motorhome experience on the road, here are a few of our favourite motorhome itineraries, from long weekend getaways to epic two-week roadies that take in both islands.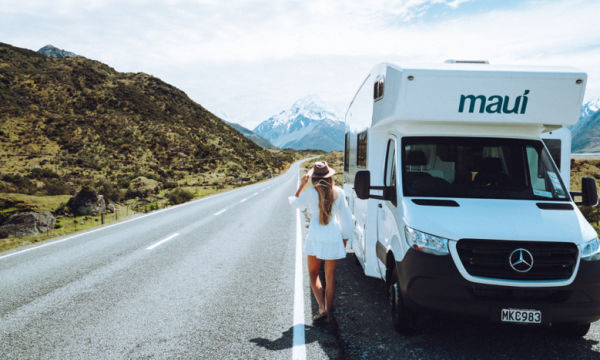 Christchurch to Queenstown
Travel Duration: 6 Days
The iconic New Zealand road trip, taking in surreal blue lakes, stunning mountainous views and picture-perfect landscapes - if you love the outdoors, big views and exploring in nature, you won't go wrong here.
Highlights:
· Lake Tekapo
· Mount Cook
· Queenstown
From Cape Reinga to Bluff, Raglan to the Hawkes Bay, and everywhere in between, we've got a campervan itinerary to help you bring your New Zealand trip to life.
Motorhome Travel Tips
Whether it's your first time travelling by motorhome, or you've done it before, we've put some top travel tips together from our 25 years of experience to make it even easier. Whether you need to know what to pack, or tips to get from A to B, we're here to help.
Experience the beauty of New Zealand through the eyes of our customers. Join them on a journey that delves into what a motorhome trip looks like from the inside out. See our video library for more New Zealand inspiration and tips and tricks on the road.
Campervan Deals For New Zealand
See how much you could save on your New Zealand motorhome trip with our great deals.