Join thousands of RV travellers
Sign up for our Go By Camper newsletter to receive inspirational travel content and awesome deals, and we'll send you a copy of our Ultimate RV guide!
Thanks
Please confirm subscription in your email.
Get a real taste of New Zealand at a farmers market
When exploring New Zealand, travelling from place to place is as beautiful as the end destination. Hit the open road to make the most of the spectacular views in this magical country. Hiring a campervan can offer a sense of freedom and adventure to your vacation, allowing you to be your own tour guide and not worry about booking accommodation along the way. Maui campers come fully equipped so that you can be your own chef on the road. Visit all the local farmer's markets to stock up on local produce and delicious treats. Cook up a feast in your camper with all your market finds. You can find farmers markets almost everywhere in New Zealand. But, some are too good to miss. Here's our list of the best farmers markets to visit in NZ.
The Best North Island Farmers Markets
Travel the Twin Coast Discovery Highway from Auckland to Whangarei, known as the 'Winterless North'. Soak up the local culture, stunning scenery and enjoy the subtropical climate. Make the most of this road trip and enjoy 5 days on the road to New Zealand's far north. Read on for the top farmers markets in New Zealand's North Island, from Whangarei to Wellington and everywhere in between.
1. Whangarei Growers Market
The northernmost city in New Zealand, Whangarei, is a beautiful part of the country. You'll find an array of cultural attractions, art galleries and museums plus some of the freshest produce around. Discover the ocean views and local cafe culture and put Whangarei on the top of your travel itinerary. Be sure to keep your Saturday morning free to visit the Whangarei Growers Market. Whether you're feeling fit as a fiddle or sleepy from last night's late-night, there's nothing a crepe and coffee can't fix. This local gem draws around 4,000 people every Saturday, and if the sensational food isn't enough, you can enjoy local music and stock up on some native plants to take home with you (Kiwi's only!). Don't forget to add Whangarei Falls to your to-do list; this tranquil 26-meter high waterfall is a must-see when visiting Whangarei.
2. La Cigale Farmers Market, Auckland
If you're travelling from abroad, chances are high that you'll start your New Zealand adventure in Auckland, a city that perfectly mixes a contemporary urban vibe with forest walks, abundant marine life and delicious wine trails. Spend a few days exploring the city before picking up your campervan and heading off on your trip. Start by discovering a piece of France in the centre of Auckland at La Cigale Farmers Market. Voted New Zealand's best food market 8 years in a row by Metro Magazine. La Cigale is a one of a kind beast with its Kiwi/French fusion vibe, home to the freshest produce and fantastic food. A feast for the eyes and the palate, this market showcases the finest products from New Zealand artisan producers and overseas. There's plenty here to inspire you to take your cooking in the camper to the next level or give in to temptation and eat right there on the spot.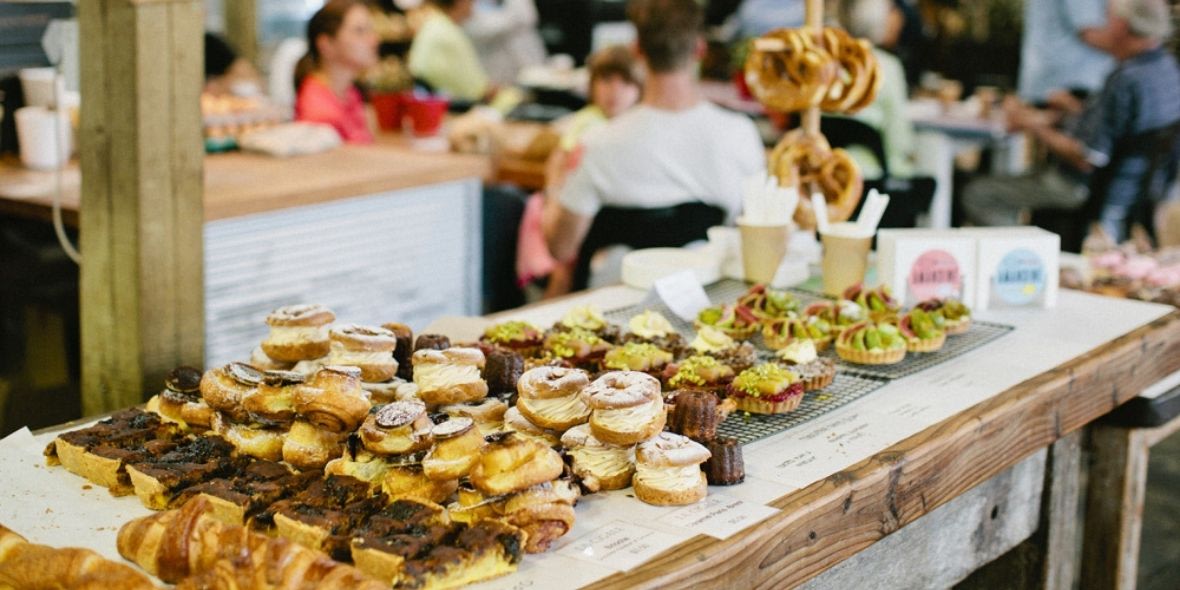 Image: La Cigale Market, Source: La Cigale Market
3. Hawkes Bay Farmers Markets
Hawkes Bay is where plentiful sunshine and a long growing season work their magic on wines and all manner of other produce. The delicious wine, stunning views and mild climate make this a must-see part of New Zealand. If you're a lover of fine wine, consider embarking on the Classic wine trail between Hawkes Bay and Marlborough. Whatever you do, be sure to keep your Sunday morning free to explore the Hawkes Bay Farmers Market, open from 8:30 am until 12:30 pm. Take your time and meander through the 70 stalls offering an assortment of local produce, bread, pastries, sauces, salads, and more. Relax with a coffee and listen to the local performers.
4. Whanganui Riverside Market
Take a scenic detour and visit Whanganui, a riverside town rich with culture. Explore the great outdoors and discover Whanganui differently and hire a bike or even a canoe! Be sure to take time to visit New Zealand's Glassworks centre too. This small town is packed full of local artists and makers. The wonderful Riverside Market is open from 8:30 am until 1 pm every Saturday. It's brimming with local treats, from beautifully crafted pottery, sourdough bread, boutique baked goods to native plants. This vibrant stop is well worth a visit. Be sure to make the most of it and walk along the river before carrying on your trip.
5. Wellington Harbourside Market
They say you can't beat Wellington on a good day. The same is true of the Harbourside Market. Every Sunday morning from 7:30 am until 1 pm; the harbourside comes alive with the vibrant colours, exotic smells and tasty treats on offer. Head to the market to stock up on fresh seasonal produce to cook in your camper. Or grab a delicious lunch from one of the many food trucks. Take a seat and soak up the views, and listen to the buskers in the background. Whatever you do, don't miss the fishmonger where you can buy the catch of the day from the boat! After the market, head up to Mount Victoria Lookout Walkway, which is nearby. The short uphill hike takes you up to a lookout over the city, where you can gaze out to 360 views of the whole city.
Top South Island Farmers Markets
After spending your Sunday at Wellington's Harbourside Market, catch the Interislander Ferry to Picton in New Zealand's South Island. Getting from A to B has never been so beautiful; take your camper on the Southern Scenic route. Journey through deserted beaches, breathtaking mountain vistas and native forests. You can easily tailor the route to suit your schedule or take a few more days to continue all the way to New Zealand's adventure capital, Queenstown.
1. Wanaka Artisan Market, Wanaka
Previously called Wanaka Farmers Market, this incredible display of local goodies is open every Thursday afternoon from 2-6 pm at Bullock Creek. The scenic town of Wanaka is approximately a 40-minute drive from Queenstown, and it's well worth the visit. Stock up on everything from artisan chocolates to local wines. It is recommended to arrive early to avoid disappointment; this is a trendy spot with the Wanaka locals.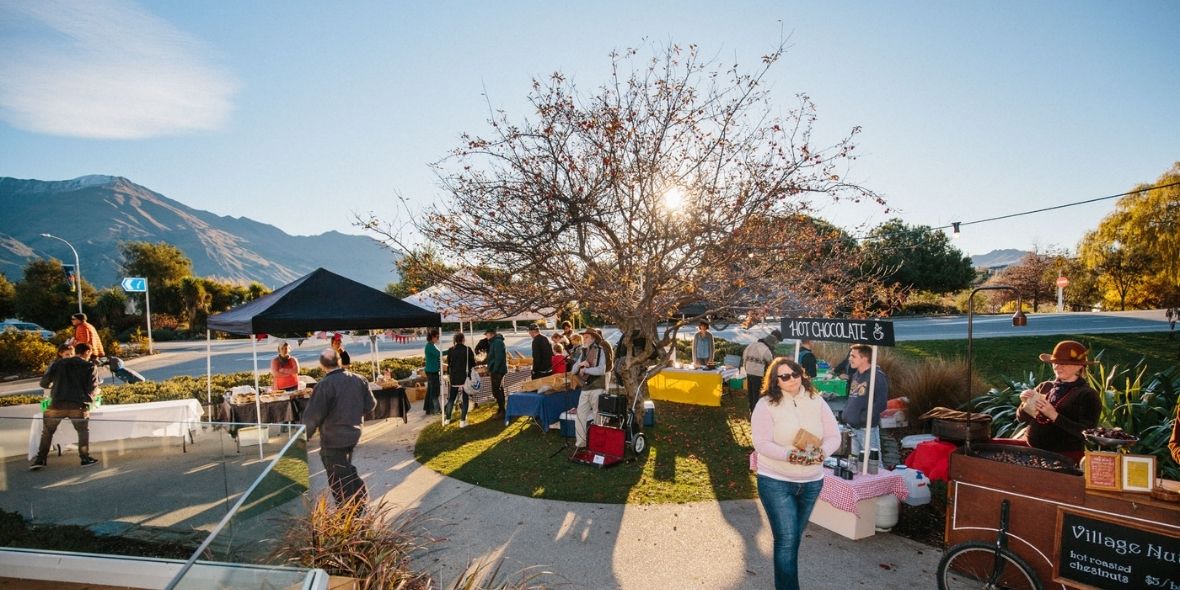 Image: Wanaka Artisan Market, Source: Pembroke Patisserie
2. Cromwell Farmers & Craft Market, Otago
Cromwell is another town in the Central Otago region of New Zealand's South Island. Just 40 minutes from Wanaka, the Cromwell Farmers & Craft Market is located in Cromwell's Heritage Precinct. Reminiscent of the Wild West, this is a charming part of town to visit. The market is open every Sunday morning from 9 am. Stroll through the colourful stalls and chit chat with the local sellers. Sample all the delicious local treats and enjoy the live music.
3. Remarkables Farmers Market, Queenstown
Queenstown is regarded as one of the most beautiful destinations globally, so it's no surprise it's one of the best places to visit in New Zealand. In the winter, tourists and locals flock to the mountains to enjoy the world-class skiing on offer. It's also home to the adventure sport bungy jumping. If you prefer the quieter things in life, don't worry, the incredible foodie scene in Queenstown is reason alone to visit. The Remarkables Market is one of the best things to do in Queenstown. Set amidst 360-degree mountain views, this stunning location has a mellow mix of produce, food, and local artisans' work. Prepare to nibble your way through the market's delicious offerings.
4. Otago Farmers Market, Dunedin
Be sure to visit The Otago Farmers Market when you're passing through, voted Best Farmers Market in New Zealand! It's open every Saturday, rain, hail or shine. And no amount of rain could take away the lustre from this market's delicious assortment of food. It's hailed as a "genuine" farmers market with most of the produce from the local area. Pick up some local cheeses and baked goods, then head out and explore the Otago region and its world-famous wineries. Be sure to pick up a bottle of Pinot Noir for the road!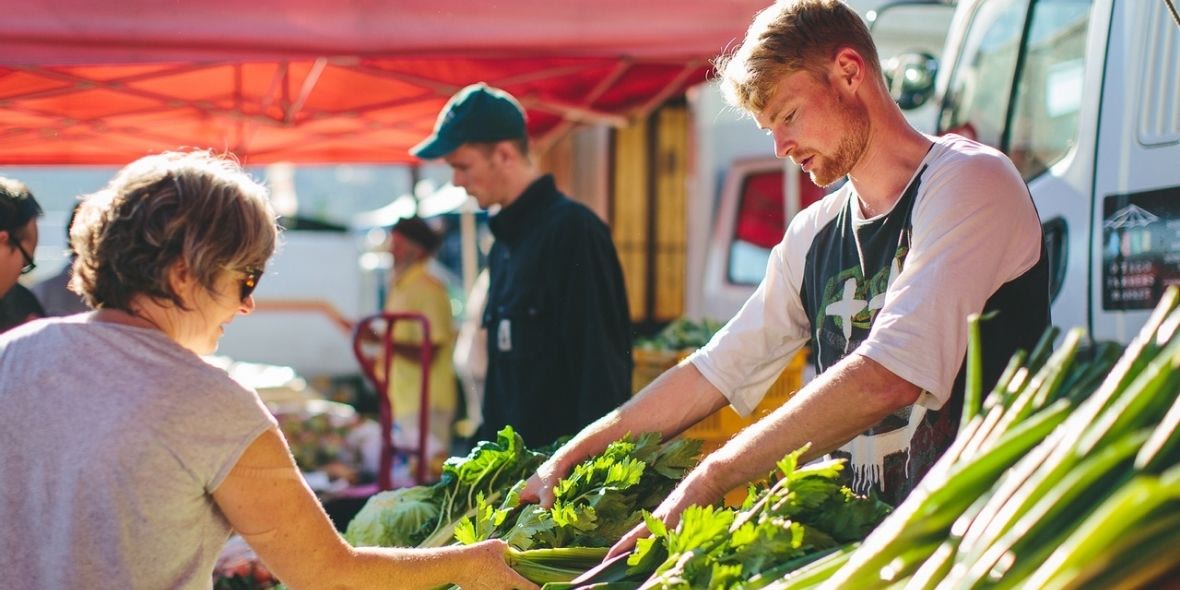 Image: Otago Farmers Market, Source: DunedinNZ
5. Riverton Farmers Market, Invercargill
Located 30 kilometres from Invercargill, Riverton is New Zealand's most southerly farmers market. It's open every Saturday in the Riverton Environment Centre on Palmerston Street. This market is New Zealand's only 100% organic farmers market, with all the produce coming from within 75km of the market. Be sure to enjoy the organic ice cream & coffee on offer. It's a great way to sample the wonderful seasonal produce while you travel around the county, stock up on your favourites and cook up a storm in your camper in the evenings. Riverton Market may be small, but its high-quality products make it well worth a quiet kombucha and a careful look.
Ready For Your Next New Zealand Adventure?
Are you feeling inspired for your next Kiwi adventure? Book a Maui motorhome today. With branches in Auckland, Christchurch and Queenstown, it's never been easier! Be sure to check out our latest deals here. Perfect your travel itinerary and explore more places to visit in New Zealand here.