Join thousands of RV travellers
Sign up for our Go By Camper newsletter to receive inspirational travel content and awesome deals, and we'll send you a copy of our Ultimate RV guide!
Thanks
Please confirm subscription in your email.
The ultimate guide to safe motorhome driving in New Zealand
Familiarise yourself with the New Zealand Road Code
Follow all New Zealand road safety rules
Keep left
Consider the weather
Take breaks
Drive slowly
Be courteous
Campervan driving tips for first-timers
But first, ensure you can drive in New Zealand
To help ensure you're well-prepared and ready to go, you'll need to complete this safe driving questionnaire prior to leaving the maui branch on the day you pick up your camper.
If you have a foreign licence in a language other than English, please note: Your licence must be current and appropriate for a full-size motor vehicle (without any restrictions).
You'll need to also present an accredited English translation. A translation can be arranged for you at the branch upon pick up, for an additional cost, but this will create delays with your pick-up process and may not always be available.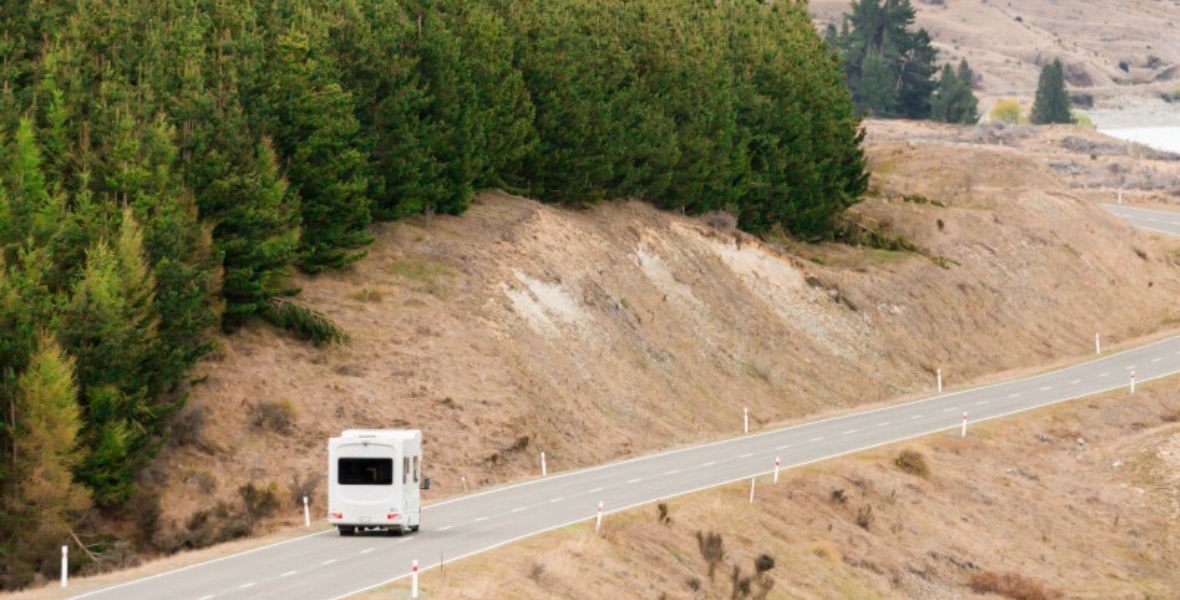 Image Source:thl Content Hub
The ultimate guide to safe motorhome driving in New Zealand
We've provided some helpful pointers below in preparation for your New Zealand road trip.
Familiarise yourself with the New Zealand Road Code and Road Rules
If you're used to driving somewhere outside of New Zealand, it's a good idea to brush up on the rules of the road. The best way to do this is to take a look at the New Zealand Road Code online and familiarise yourself with important rules around the right of way, passing, and giving way.
Another helpful resource is the Driving In New Zealand guide. This helpful guide is available in multiple languages and points out some of the common things you may not be used to when driving in New Zealand, such as:
You must never cross a solid yellow line on your side of the centre line to overtake a vehicle, as this indicates it's too dangerous. A double yellow centre line means that no traffic (on either side of the road) can overtake.
In New Zealand, you can be fined or towed away for parking on the wrong side of the road, unless it is a one-way street, where you're allowed to park on either side of the road.
If police require you to stop your vehicle, they will drive behind you and activate red and blue lights and a siren. You must pull over as soon as possible. Park your campervan off to the side of the road safely and wait for the police officer to approach you.
Follow all New Zealand road safety rules
When you're travelling in any vehicle in New Zealand, you must always wear your seat belt – passengers included. Children must also be secured in an approved child seat. When you book your maui motorhome, you'll find an option to add a child seat or booster seat if you need one.
When you're driving any vehicle, you should not drink and drive. Driving under the influence of alcohol or drugs is a crime in New Zealand and strictly enforced by police, with severe penalties for offenders.
It is illegal to use a mobile phone when driving in New Zealand – this includes phone calls, texting, or just looking at your phone screen. Ensure you pull over safely and stop your campervan before you use your phone.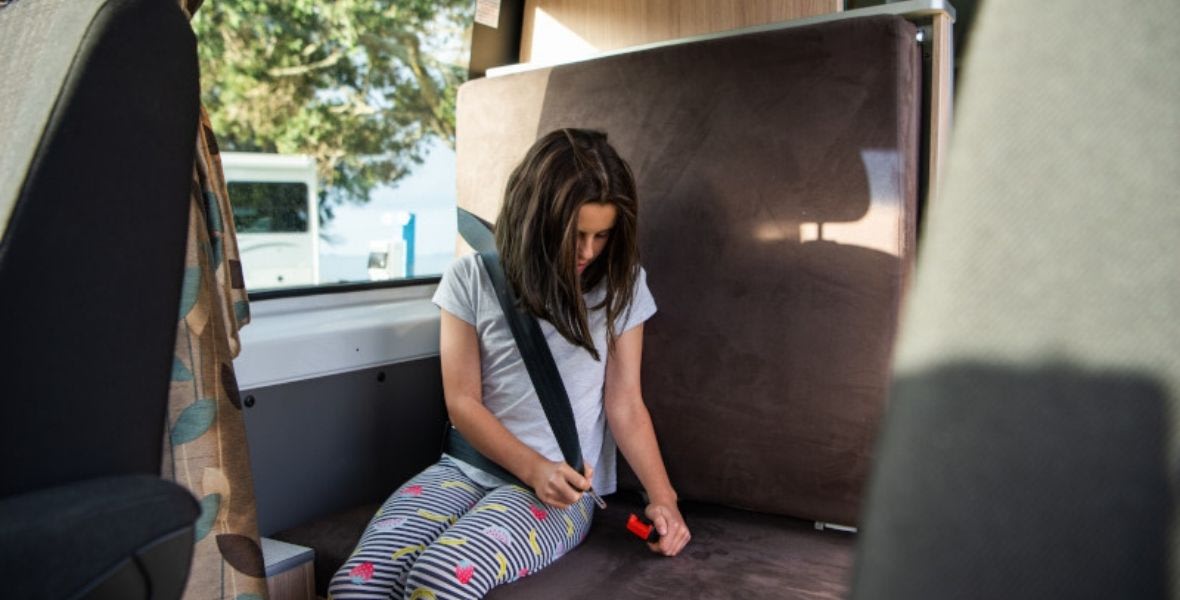 Image Source:thl Content Hub
Keep left
Remember, in New Zealand, we drive on the left side of the road. If you are used to driving on the right, familiarise yourself with the following pointers:
Look over your right shoulder for traffic coming from behind; and use all of your mirrors to check that it is safe before you move into traffic, change lanes, or pass other vehicles.
When approaching a roundabout, give way to any traffic coming from your right, and remember to look over your right shoulder.
When driving on a stretch of road or motorway with two or more lanes of traffic, keep in the left lane whenever possible. Use the lane(s) closer to the centre line only to pass other vehicles or to make a right-hand turn.
Be extra vigilant when you are driving in rural areas where there is less traffic. If you make a stop on a quiet road, it can be easy to drive off again on the wrong side simply because there isn't other traffic to remind you.
Image Source:thl Content Hub
Consider the weather
Roads in New Zealand are often single lane and windy, so it's important you drive here with extra caution and adjust your speed to the weather conditions.
During winter, black ice can be problematic on New Zealand roads. The ice is transparent and almost impossible to spot. Black ice forms overnight or early in the morning when temperatures are at their lowest. Take extra care in winter travelling on areas of the road where there is no sunshine such as in shaded areas or gullies, and plan for travel a bit later in the day when the sun has warmed the roads up.
Sunstrike can also cause issues for drivers, especially in winter. This happens when the sun is low in the sky, so it's most common in the early morning and late afternoon. Keep a pair of good sunglasses on hand and make sure your windscreen is kept clean and free of debris and smears that could impair your vision.
Take breaks
Driving for long periods of time can be tiring. If you've had a late night, or it's a hot day, you could begin to feel tired soon after you begin driving. Although you may be keen to get to your next destination, it's vital that you don't ignore signs of feeling tired – always pull over safely and take a rest. Remember, driving in New Zealand can seem to take longer because of the winding roads.
It's a good idea to take the time to plan the route of your New Zealand road trip before you start driving so you can pinpoint the places where you can stop and enjoy a refreshing break.
Frequent stops that allow you to stretch your legs, see the sights, have a drink or a snack, and take in some fresh air will help you stay alert and focused for the drive ahead.
Even if you're feeling wide awake and fresh, it's recommended that drivers take a break every two hours. And with so much to see as you travel New Zealand, it's worth planning those stops and making the most of the scenery and New Zealand tourist attractions.
Drive slowly
Your New Zealand road trip is best enjoyed by taking your time. When you're driving a motorhome it's important to drive slower than if you were in a smaller vehicle to compensate for the height and weight of the vehicle. Remember, because your campervan or motorhome is heavier than the car you may be used to driving, you'll need to allow more time to brake, so always keep a safe distance and maintain a safe speed.
It's also important to note that, although most New Zealand motorways and highways have a limit of 100-110km/hr, the limit for motorhomes and campervans (as well as trucks and trailers) is 90km/hr (55mph). In urban areas, the speed limit is 50km/hr (30mph). Keep your eyes out for signs that indicate speed changes, especially around the many windy country and coastal roads.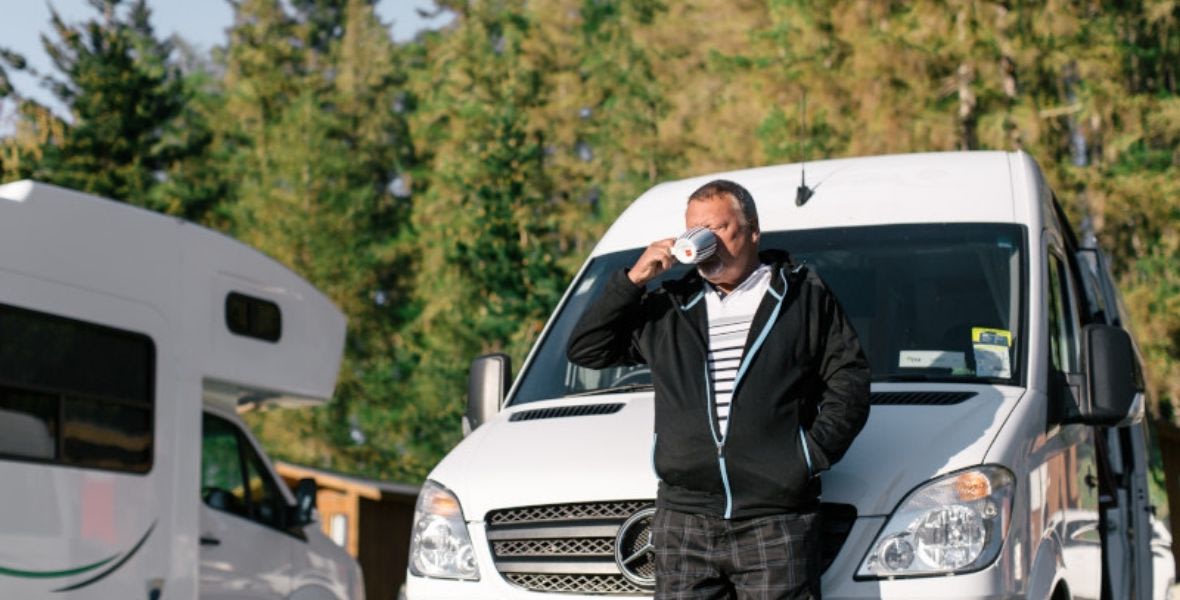 Image Source:thl Content Hub
Be courteous
Slow-driving motorhomes can cause frustration in other drivers which can lead to dangerous overtaking, so take advantage of slow lanes and safe areas to pull over and allow other vehicles to pass. It makes for a more comfortable journey for everyone on the road and you'll often get shown appreciation with a 'thank you' toot or wave from other drivers as they pass.
Driving a larger vehicle such as a motorhome means taking extra care and being aware of other drivers around you. Indicating early to show you are turning or changing lanes is always appreciated and makes it safer on the roads for everyone.
Campervan driving tips for first-timers
Our maui motorhomes are really easy to drive, however they are often longer, higher, and wider than vehicles you may be used to. Here are a few things to bear in mind, especially as you drive into carparks or into campgrounds:
Look out for low-hanging branches as you enter or leave campsites and be cautious of height when using undercover carparks or drive-thru services.
There is a sticker located in the top right-hand corner of the windscreen that tells you the height of your vehicle.
When reversing it may be helpful to have someone stand at the rear to guide you.
Remember to give yourself lots of space when turning corners.
Familiarise yourself with the position of the vehicle's lights, wipers, indicator, and other controls before you set off.
Secure all cupboards and belongings before you begin driving.
Further information on Driving in New Zealand
For more information on safe driving in New Zealand, including helpful videos and diagrams, please visit DriveSafe New Zealand.
Ready for your next New Zealand adventure?
With a range of sizes from 2-6 berth to suit all budgets and travel styles, your maui camper has everything needed to travel New Zealand in comfort at any time of year. Take the first step and book your maui motorhome today.