Key Specifications
Automatic
Shower & Toilet
Guaranteed under 2.5y on fleet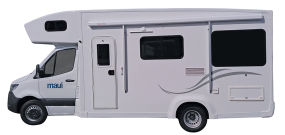 Space and storage designed for families
Our 6 berth River motorhome has been designed for you and the kids.In the maui River, the kids are safely buckled up in the back seat, just behind the driver's cab.
The River 6 Berth Motorhome provides you with a bigger fridge so you don't have to worry about shopping regularly to stock up. And although you're camping, there's no need to rough it - you'll find high quality crockery and decent wine glasses. The shower is hot and the fridge is cool. In addition to a spacious living area, you will enjoy the vast storage space for all your gear. Bike racks and bike hire are also available as an extra hire item with the maui Elite model.
Add the maui Elite option to your hire to ensure your vehicle is under 1 year on fleet for $45/day. maui Elite is subject to availability.