Key Specifications
Automatic
Shower & Toilet
Guaranteed under 2.5y on fleet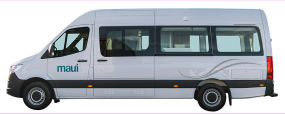 Open your lounge into nature
The Ultima 2 Berth Motorhome lets you take your world with you on your holiday. Now you don't have to leave home without your beloved golf clubs or fishing rods - we've designed the ultimate storage space for you. If you decide to relax inside, just slide out the LCD screen & DVD player and kick back with your favourite movie. You can also include bike racks and bike hire as an extra hire item.
You must be 21 years of age or older to drive this vehicle.
Add the maui Elite option to your hire to ensure your vehicle is under 1 year on fleet for $45/day. maui Elite is subject to availability.