Key Specifications
Automatic
Shower & Toilet
Guaranteed under 2.5y on fleet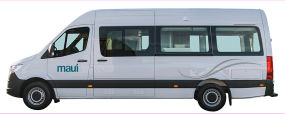 Sleeps 2 adults and 1 child
The maui Ultima Plus is ideal for 2 adults and 1 child! This innovative, certified self contained vehicle comes with toilet, shower and kitchen facilities, with plenty of space for the family of 3. With automatic transmission, this vehicle is a perfect for an easy family getaway.

If it's just the two of you, relish the additional living area up front! Utilise the front swivel seats that transform the driver's seats into an additional dining area - as well as providing a great dining view out the side door. Bike racks and bike hire are also available as an extra hire item.
You must be 21 years of age or older to drive this vehicle.
Add the maui Elite option to your hire to ensure your vehicle is under 1 year on fleet for $45/day. maui Elite is subject to availability.