Join thousands of RV travellers
Sign up for our Go By Camper newsletter to receive inspirational travel content and awesome deals, and we'll send you a copy of our Ultimate RV guide!
Thanks
Please confirm subscription in your email.
Why travelling New Zealand during the off-season is the best
If you're looking to explore wide open-spaces, look no further than a New Zealand driving holiday in the off-season. Tucked away in the beautiful Pacific region, this island country is home to 15,000 kilometres of coastline, beautiful maritime climate, stunning natural attractions and vibrant local events.
Deservedly, New Zealand has been experiencing exponential attention from international travellers, especially in the summer peak season. This influx has resulted in increasingly busy summer crowds and busier roads.
Lucky for us, the off-season is a breath of fresh air. Wide open spaces and beautiful attractions with less crowds (and price tag!). If you are hoping to experience the iconic scenery and attractions all to yourself, then it's time to start planning a New Zealand campervan holiday for the off-season.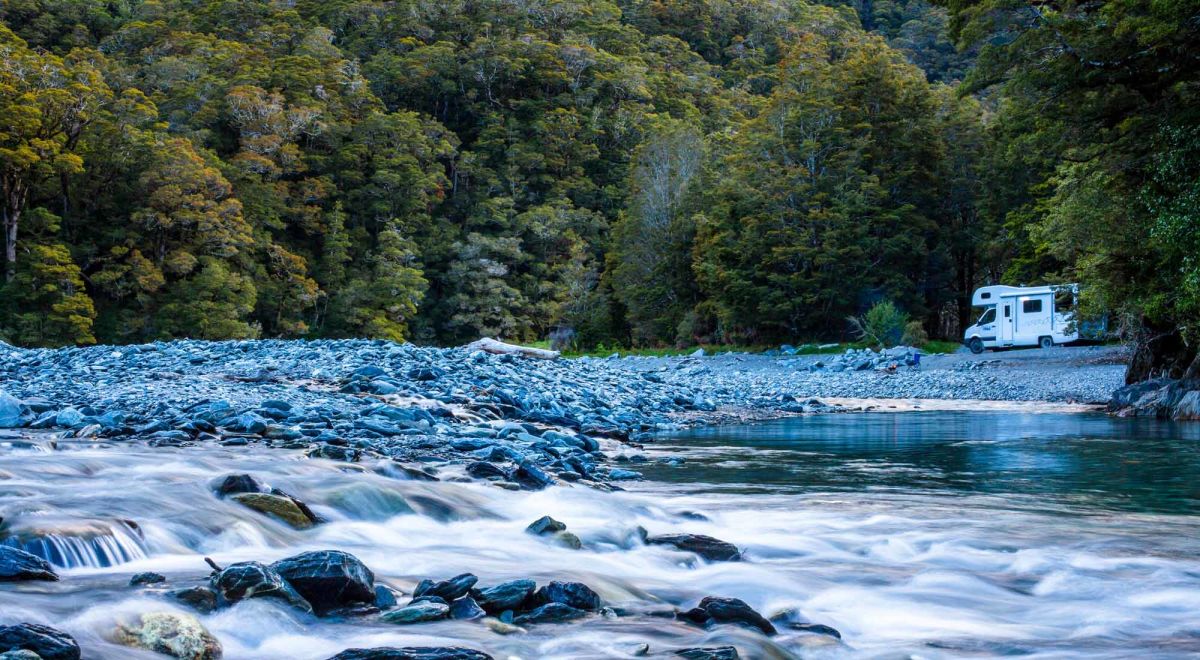 When is New Zealand's off-season?
Wondering when is the best time to travel to New Zealand? That comes down to personal preference. This country is overflowing with seasonal events, wildlife, activities and attractions that can be explored all year round. Each season offers a truly unique experience, depending on what you are seeking.
New Zealand's 'off-season' refers to the times of the year when there are fewer tourists out and about. Technically speaking, New Zealand's off-season runs in winter between June and August. While the temperatures are at their lowest, it's perfect for anyone who enjoys skiing or is looking to explore New Zealand without as many people around.
If the cold of winter isn't for you, you may want to consider visiting in the shoulder seasons. The slower seasons are during autumn between March and May, and in spring between September and November. With fewer tourists and more temperate weather, they offer a great alternative to peak season.
The benefits of exploring New Zealand during off-season
There are many benefits to travelling during the off-season or the shoulder seasons. Take advantage of more empty campgrounds and relaxed tourist attractions. These slower seasons are arguably one of the best times to set off on a New Zealand driving holiday.
1. Avoid the crowds
The summer months are prime holiday time. Internationals flock to experience the warm weather, wildlife attractions and adventure activities. At the same time, New Zealand families take advantage of the school holidays and office closures to take their annual breaks by the sea.
As you'd expect, the top attractions and things to do in New Zealand become busy and the roads filled with travellers. Busy periods are great if you want to meet other travellers. If not, it can be a great reason to travel in the off or shoulder seasons.
In the shoulder seasons of spring and autumn, children are mostly still in school, and the winter attractions are not yet in full swing. This period is typically much quieter on the roads and in holiday parks. Travelling in the off-season is great for people looking to avoid the peak season rush.
2. Enjoy a temperate climate
Another perk of off-season travel is avoiding the muggy heat of the summer months. The New Zealand climate fluctuates throughout the off-season and shoulder seasons, so be sure to travel at a time of the year that suits your travel style best:
Winter off-season
Although it gets cold during winter, there is nothing a good coat and a powered camping site (to run your heater) can't fix. Besides, braving the cooler temperatures is worth it for the stunning winter wonderland scenery of the off-season.
Autumn shoulder season
The weather in autumn from March to May is generally excellent. With warm days and comfortable nights, you can still wear summer clothes and swim well into April.
Spring shoulder season
Early spring will be a little cooler but still warmer than a winter holiday. Prefer warmer weather? Plan your campervan travel for the late spring (November), when the weather will be warming up to summer climes. You'll enjoy a mix of crisp sunny days and occasional spring showers.
3. Explore the great outdoors in comfort
It's a well-known fact that New Zealand is the perfect destination for outdoor activities. Whether it's hiking, mountain biking, or kayaking that you're after, New Zealand has adventures in spades. The shoulder seasons offer more temperate climates that are perfect for spending time outdoors. Some of our favourite off-season outdoor adventures include:
Due to the clear skies in autumn and little light pollution, New Zealand holds some of the best stargazing locations in the world. We recommend visiting the Aoraki Mt Cook National Park and Tekapō to see shooting stars and constellations in sparkling night skies.
Additionally, a lot of the spectacular hikes are still doable in autumn and winter. The Tongariro Alpine Crossing, for example, is exceptional in winter (but be sure to book a guide for safety reasons). You will be rewarded with stunning white views for your efforts.
4. Greater flexibility
One of the great benefits of travelling in a motorhome is flexibility. New Zealand in the shoulder season is the ideal time to take full advantage of this and enjoy a loosely-planned, relatively spontaneous sort of holiday.
The remote beaches, the emptier van parks, and the uncrowded tourist attractions mean you'll have plenty of time to stop and smell the roses along the way. You won't need to rush to make pre-arranged bookings. Found a little town you love? Why not stay a few extra days? You'll generally find campervan accommodation easier (and cheaper) to come by at this time of year. Plus, you won't be spending your holidays living cheek by jowl with other travellers. New Zealand has it all going on at any time of the year, but you might have more elbow room to enjoy it if you book to travel during spring and autumn.
5. Save money
Travelling outside of peak holiday periods will make it easier access to activities and destinations. Better yet, you will often be rewarded with discounted prices. Wait until the crowds go, and you'll likely enjoy greater access to the Great Walks, and many other, uncrowded spaces. If you are tramping out of season, you do need to be prepared for the cold weather.
Things to do in New Zealand during Spring
Spring is a fantastic time to visit New Zealand. Besides the stunning flora in bloom, there are plenty of incredible things to do, including:
Visiting Hobbiton
Hobbiton comes alive in the spring. Lord of the Rings fans and tourists alike will fall in love with this iconic movie set in a whole new light. Wander through the beautiful gardens and fields, step through the iconic circle portal doors and imagine life as a hobbit for a day in the dazzling spring bloom.
Having a go at white water rafting
In spring, the alpine snow begins melting and creates beautiful cascading rivers. These raging rivers make spring a fantastic time to try white water rafting. Some of the top white water rafting tours include:
If you are looking for an even more thrilling experience, try Black Water Rafting in Waitomo. Descend 80-metres below ground, raft through underground rapids and float underneath a star-studded sky of glow worms. For more ideas on travelling in a motorhome in spring, check out our guide to motorhoming in spring.
Things to do in New Zealand during Autumn
Visiting in autumn, you can witness the beautiful golden foliage transforming the New Zealand landscape. Some of the top things to do in New Zealand on a driving holiday include:
Relaxing in a hot pool
With the beautiful autumn colours and cooler temperatures, autumn is a great time to soak in New Zealand's best hot springs. You will be spoiled for choice, with hot pools sprinkled across the country. A few of the most popular experiences include:
The panoramic views from the cedar-lined hot tubs at Onsen
The alpine experience in Tekapo Springs
Taking a hike
As noted above, tramping through the wilderness during the off-season or shoulder season is a great time to avoid crowds on popular walks. As autumn is not as hot as summer, the conditions are arguably more comfortable for hiking.
In saying that, the weather won't be as kind as in summer, so you do need to come prepared. If you plan to hike outside the peak season, ensure you add a few mountain safety items to your campervan packing list.
Top tip: In New Zealand, we commonly call it tramping, not hiking!
For more tips on places to add to your New Zealand itinerary in autumn, check out our guide to some of the best autumn destinations.
Things to do in New Zealand during Winter
Winter is a great time to explore New Zealand. However, winter can be quite cold in some parts. You need to be prepared with warm clothes and other activity-appropriate gear. Our favourite winter activites include:
Hitting the slopes
If you are looking for things to do in the South Island of New Zealand, add a trip to the ski fields to the list! Immerse yourself in a life-sized snow globe with a motorhome trip through the mountains. Head to Queenstown in the South Island or Ruapehu in the North Island to experience the country's best ski resorts, including:
Top tip: While travelling in this wintery wonderland, it is especially important to understand road safety during winter in New Zealand. There are also certain road rules for campervan hire during this period that are worth checking out before you book.
Celebrating Matariki
Matariki is the Māori New Year. Signified by a cluster of stars appearing in the night sky, this is a time of reflection, celebrating the present and planning for the year to come. This celebration lands on a different date each year. However, it always lands in winter, around June or July. Some of the festivities you can experience during Matariki include:
Fireworks in cities like Wellington
Local celebrations of Matariki, such as those at the Waitomo glowworm caves
For more ideas and tips on winter road trips, check out our guide to making the most of your winter road trip.
Ready to book your off-season van travel in New Zealand?
A New Zealand campervan holiday in the off-season is perfect for travellers looking to experience the beauty of this picturesque country without the crowds. By choosing maui for your motorhome hire in New Zealand, you also get the flexibility to pick up and drop off at the most convenient maui branch for your journey.
Ready to explore New Zealand in a campervan? Check out our off-season motorhome specials and book your maui motorhome online today! Need more inspiration? Check out our New Zealand driving routes and itineraries.