Join thousands of RV travellers
Sign up for our Go By Camper newsletter to receive inspirational travel content and awesome deals, and we'll send you a copy of our Ultimate RV guide!
Thanks
Please confirm subscription in your email.
1. Boogie board down the sand dunes at Ninety Mile Beach
We're starting our list right at the top of the country at Ninety Mile Beach. The water might not be warm enough for a swim just yet, but you can still go boogie boarding! Yep, we're talking dune surfing. The Te Paki Stream Sand Dunes attract 'sand surfers' from far and wide with some of the dunes reaching 150 metres high. You can hire sandboards at several spots nearby. Just make sure you don't leave your keys in your pockets before you head downhill!
2. Go whale watching in the Bay of Islands
The beautiful Bay of Islands is the ultimate destination on a spring road trip. One of the must-do experiences in this region is a whale-watching tour. Pods of dolphins, orcas, long-finned pilot whales, and Bryde's whales can be seen year-round. However, spring is the prime time to spot humpback and blue whales as they migrate south to feed.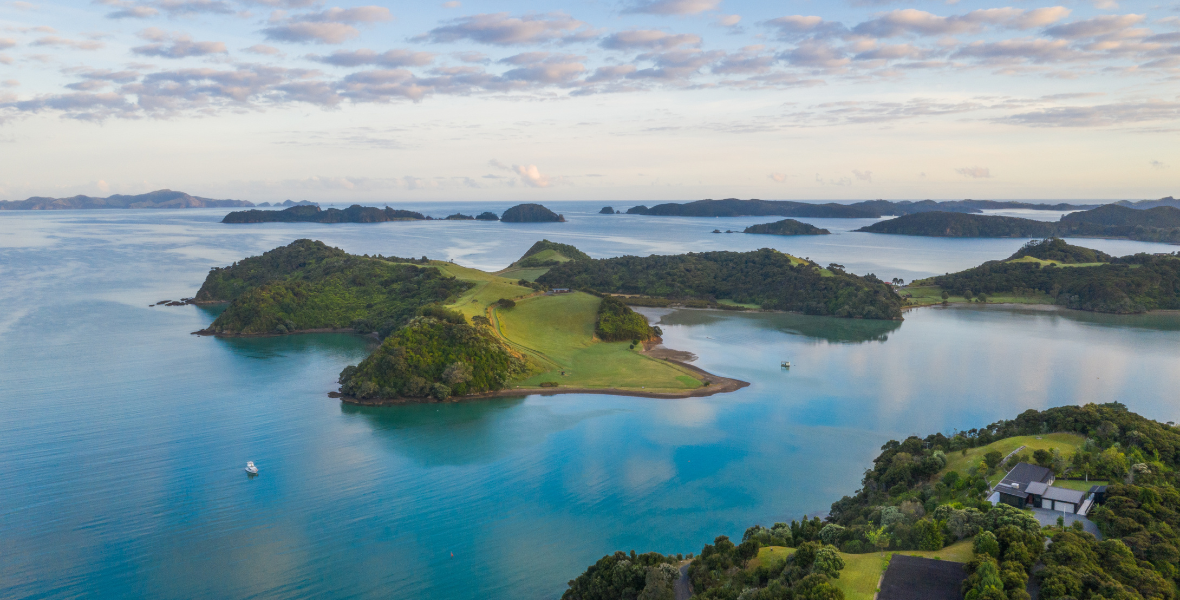 3. Go wine tasting at Waiheke Island
How does a springtime island break sound? Waiheke Island has some excellent wineries and vineyards, making it a great place to enjoy a wine-tasting tour. Relax in the balmy spring weather, sip a chardonnay, and enjoy the quiet island life. Bliss! Waiheke Island is just a 40-minute ferry ride from central Auckland so it's ideal as a day trip. But if you fancy staying longer, you can take your campervan aboard the Sealink vehicle ferry.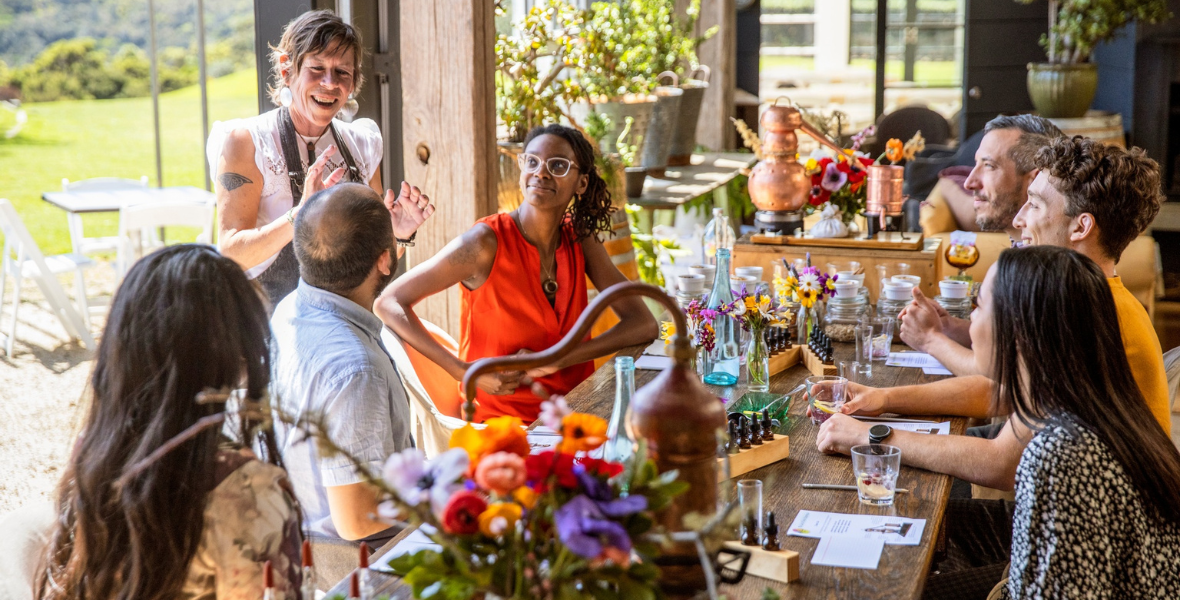 4. Go birdwatching at Pūkorokoro Miranda Shorebird Centre
Spring is the perfect time for birdwatching at Pūkorokoro Miranda Shorebird Centre. Watch from the bird hides as thousands of shorebirds descend on the coastline. Every year in September, eastern bar-tailed godwits leave Alaska and head to New Zealand shores. They fly non-stop for 11,000 km, so they're pretty hungry by the time they arrive! Plan your visit for two hours either side of high tide for the best viewings.
5. Visit the renowned Cathedral Cove
If your North Island road trip takes you through Coromandel, be sure to plan a stop at Cathedral Cove. Visit in late spring to be rewarded with the sight of the surrounding pohutukawa trees displaying their crimson blooms. This iconic beach is accessible on foot only. The best option is to park up at the visitor car park on Pa Road and catch the shuttle which will drop you at the start of the Cathedral Cove track. You can also walk from the access point at the northern end of Hahei Beach.
6. Have an adventure at Waitomo Glowworm Caves
One of the must-see places in New Zealand is the Waitomo Caves. Take a boat ride through a magical underground grotto where you'll see thousands of sparkling glowworms. You can also journey through the beautiful Aranui Cave. Marvel at the spectacular limestone formations as you learn more about the fascinating history of this ancient cave. For the ultimate underground experience, try black water rafting at Waitomo. You'll head 80 metres below ground, raft through rapids, jump off waterfalls, and float beneath dazzling glowworm displays.
7. Tour Hobbiton when it is in full bloom
If you've ever wanted to visit Hobbiton, spring is the very best time to do it. Explore the enchanting world of Middle-earth in full colourful splendour as the blooms and blossoms put on their best displays. The best way to make the most of your visit is to book one of the Hobbiton Tours. You can even choose an Evening Banquet Tour where you'll be served up a feast in the Green Dragon Inn.
8. See kiwis up close at The National Kiwi Hatchery in Rotorua
Spring is a time of new life at The National Kiwi Hatchery. It's when the precious and fragile kiwis hatch from their eggs after slowly growing for up to three months. Plan your trip to visit the hatchery between September and March for the best chance of seeing one of these cuties!
9. Warm up at the mud pools at Hell's Gate
Still a bit chilly outside? No problem, it's nice and warm at Hell's Gate. This is no ordinary natural spring spa though. Here, you'll be soaking in soothing, nutrient-rich thermal mud. Once bathed in by Māori warriors, the mud and waters of Tikitere at Hell's Gate will leave you rejuvenated and fresh, ready for the rest of your adventure.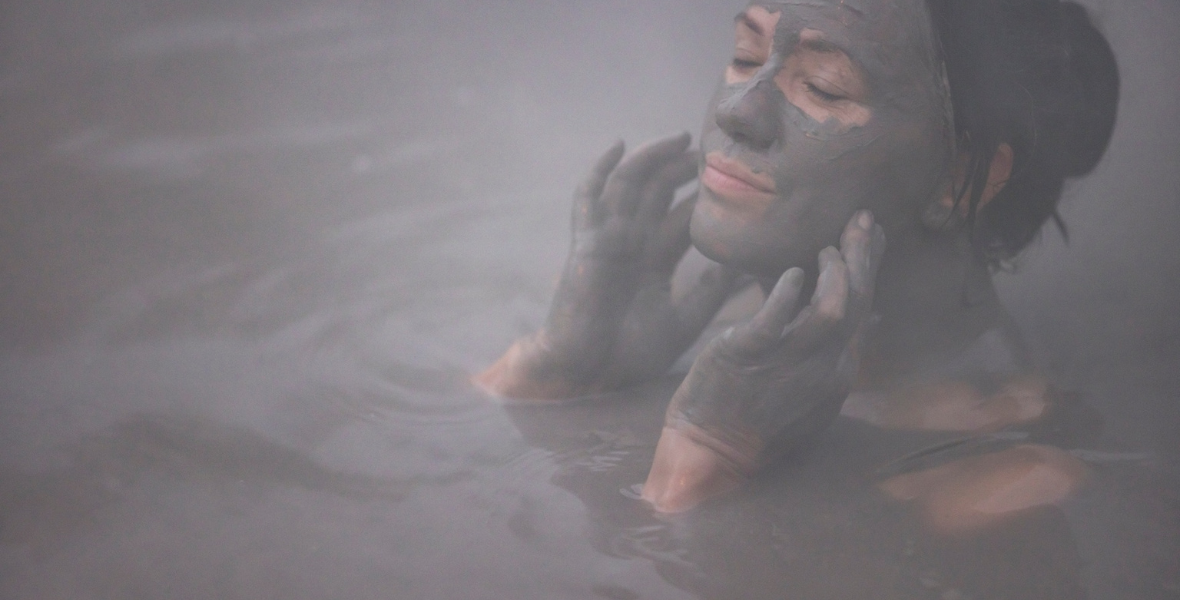 10. Go on an epic walk around Huka Falls in Taupo
Spring is the perfect time for a scenic walk. And one of the best is the beautiful walk along the banks of the Waikato River around Huka Falls. Choose from the short 10-minute walk to the Huka Falls Lookout, or make the most of your visit on the trail from Spa Park to Huka Falls. This 3 km walk takes around 1.5 hours along a well-defined riverbank track with lovely views from start to finish.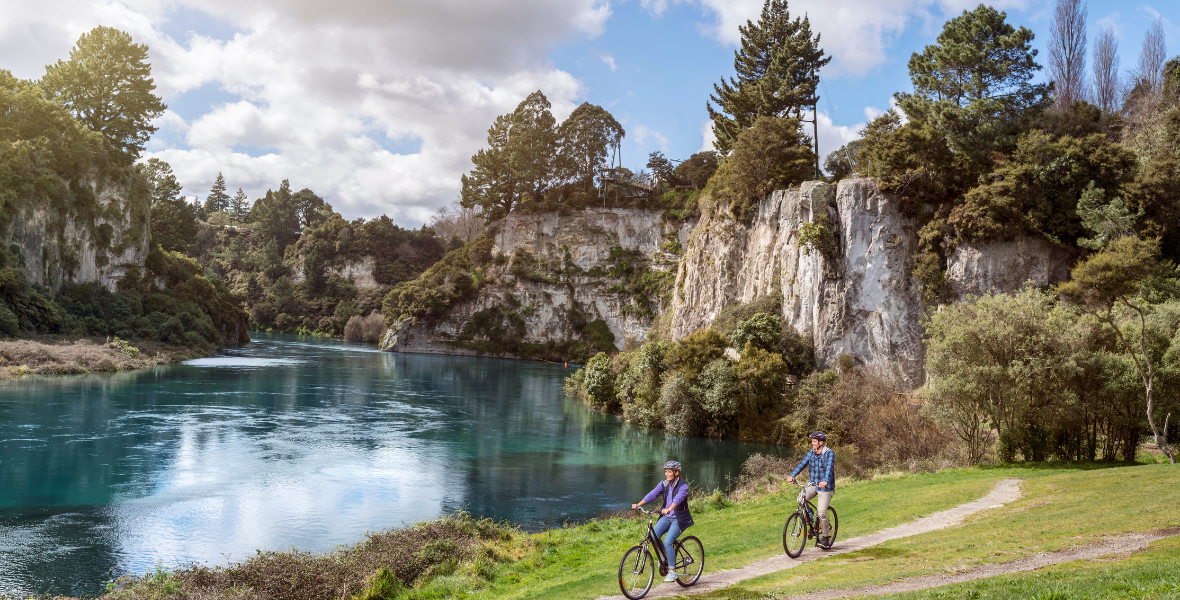 11. Attend the Hawke's Bay Food and Wine Classic
Fancy yourself as a foodie? There's no better place to be in November than F.A.W.C! The Hawke's Bay Food and Wine Classic brings together the best of the region's mouth-water produce and fabulous wines. Award-winning food and wine, warm balmy days, and magnificent landscapes. What could be better?
12. Time your road trip with the World of WearableArt exhibition
Celebrate spring with a night of fashion, art, and fun. Held annually in Wellington, the World of WearableArt (WOW) combines the world's leading wearable art competition with a breathtaking stage show. Talented designers create extraordinary works of wearable art that are then brought to life on stage. This internationally renowned design competition attracts hundreds of entries from more than 40 countries.
13. Experience the Punakaiki Pancake Rocks and Blowholes Walk in Punakaiki
If your New Zealand road trip takes you along the West Coast, be sure to plan a stop at the Punakaiki Pancake Rocks and Blowholes Walk. Looking like giant stacks of pancakes, these intriguing limestone formations are around 30 million years old. Part of the Paparoa National Park, the Pancake Rocks are easily accessible along the 1.1 km loop track.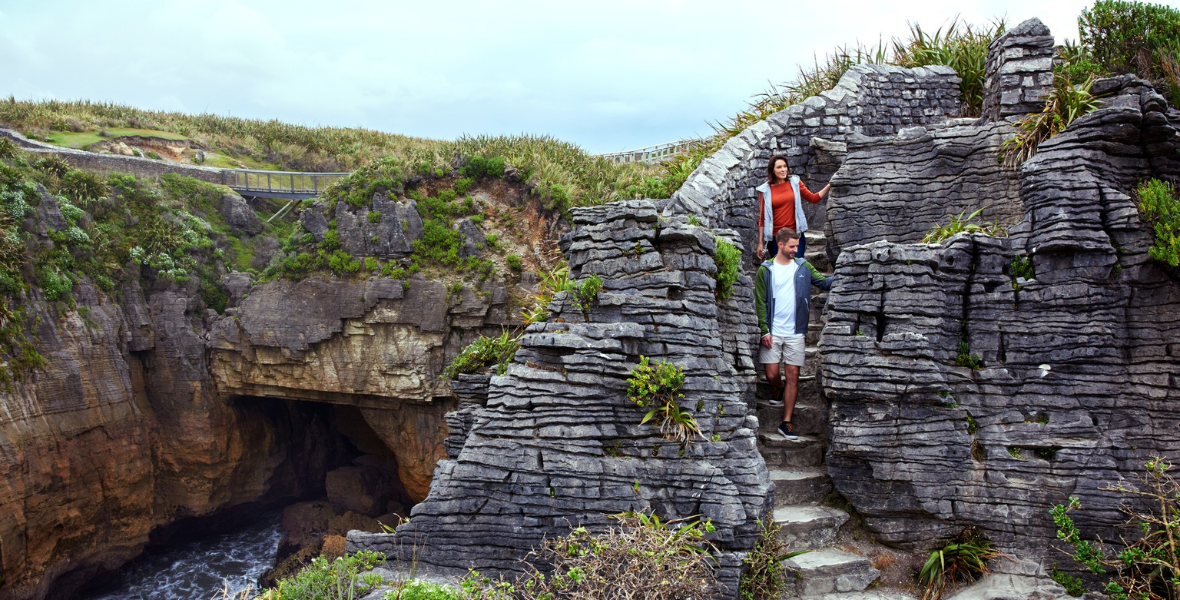 14. Go on a relaxing stroll through the Botanical Gardens in Christchurch
There's no better way to shake off the winter blues than to enjoy the sight of the beautiful blossoms and blooms at the Christchurch Botanic Gardens. See magnolias, rhododendrons, camellias, and daffodils in September. The bearded irises and azaleas put on their displays in October. And in November, the roses start to show their colours.
15. Go on an adventure to Arthur's Pass
Arthur's Pass is a popular South Island road trip destination, especially with trampers. This tiny township lies halfway between Christchurch and Greymouth. One of the popular short walks is the 6.8 km Arthur's Pass Walking Track (2 hours 40 minutes). The walk leads through the region's diverse alpine vegetation, past waterfalls, wetlands, and breathtaking mountain views.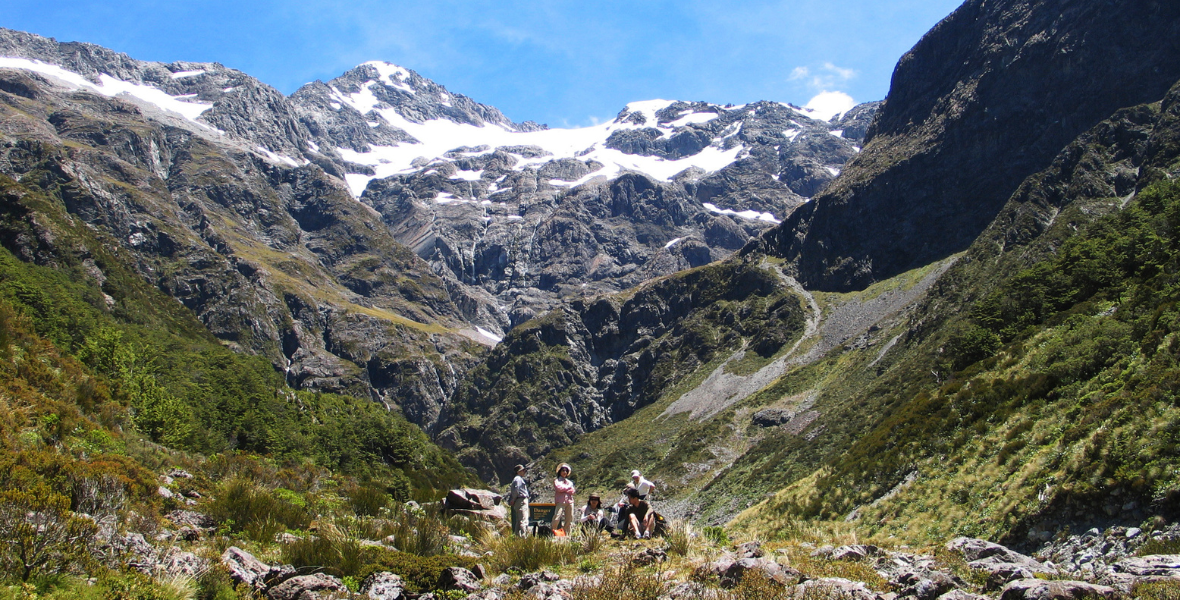 16. Explore Franz Josef & Fox Glaciers
Keen to see the natural wonders of Franz Josef and Fox Glaciers, but without the crowds? Summer and winter are both busy times for the glaciers, so we suggest that you plan your trip for spring. A great way to see the glaciers is with a guided hike. But there are plenty of other fun activities to enjoy at this time of year too. Take one of the many different walking and hiking tracks. Have a soak in a Waiho Hot Tub. You can even carve your own special piece of jade jewellery.
17. Take photos of the Lupins at Lake Tekapo
Lake Tekapo is undoubtedly one of the South Island's prettiest gems. But it takes on a whole new level of beauty in October and November. This is when the wild lupin flowers that are prevalent in the region burst into colour. Their stunning shades of pinks and purples, backdropped by snow capped mountains and the turquoise waters of the lake, make for a photographer's dream shot.
18. See sheep being shorn at The Wrinkly Rams
For the ultimate South Island experience, you can't go past a shearing show. The Wrinkly Rams is the only Merino sheep shearing show in New Zealand. Watch as professional sheep shearers make the job look easy! Visit in spring and take the opportunity to bottle feed the lambs and pet the sheep.
19. Get the adrenaline pumping with a zipline adventure in Queenstown
In the mood for some adrenaline-inducing adventure? One of the top Queenstown must-do activities is a Zipline eco-adventure. Take in the spectacular views of Lake Whakatipu and The Remarkables mountain range from the best vantage point in town. There are six experiences to choose from, including the world's steepest zipline which will have you whizzing along at speeds of up to 70 km/hr!
20. See the beauty of Milford Sounds
Milford Sound makes for an unforgettable South Island road trip destination any time of year. But it's especially magical in spring. One of the reasons is that the many waterfalls in the sounds are more active thanks to the spring rain and melting snow. The Sounds also start to burst into activity with new life, growth, and birdsong. And if you need one more reason… spring is generally less busy than summer. That means you can enjoy this beautiful spot with fewer crowds.
Ready to head off on an epic New Zealand road trip?
As you can see, spring is the perfect time to plan your New Zealand road trip. From sandboarding in the Far North to ziplining in Queenstown, there is plenty to see, do, and experience. And when you're travelling by campervan, you can take your time to stop and smell the roses. Park up and watch lambs frolicking in the paddocks. Or just enjoy the beautiful scenery as the countryside transforms with new life and colour.
If you're ready to experience it for yourself, take the first step and book your Maui campervan today. With branches in Auckland, Queenstown, and Christchurch you can pick up your campervan at one branch and drop it off at another.