Join thousands of RV travellers
Sign up for our Go By Camper newsletter to receive inspirational travel content and awesome deals, and we'll send you a copy of our Ultimate RV guide!
Thanks
Please confirm subscription in your email.
But first, what are hot springs?
Hot springs are natural wonders heated by geothermal activity. Often described as 'gifts from the earth', hot springs offer sulphur which New Zealanders have enjoyed and valued since the time of early settlement. Initially used for cooking, washing, and preparing flax. Due to its rich medical properties, the water in hot springs is frequently used for its range of healing benefits, such as the ability to treat body aches and provide the ultimate relaxation.
On the other hand, hot pools are man-made and are similar to hot tubs. But whether you're soaking in natural hot springs or a tranquil hot pool, both are the perfect spot to unwind, warm up, and recharge.
Top 10 hot springs to visit in New Zealand
The Lost Spring, Coromandel
Located in the ever-popular Coromandel, only a few hours south of our Auckland branch. The Lost Spring geothermal pools are the perfect place to stop in for a pamper after some beach hopping along the east coast. These hot springs are one of the most unique experiences on offer in the Coromandel and are worth ticking off your bucket list. Be immersed in native bush and rising steam before unwinding in a natural pool ranging from 32°C - 41°C. If you're looking for even more pampering, check out the full-day spa menu for anything from massage treatments to facials and holistic treatments. Plan to stay at Harbourside Holiday Park in Whitianga during your time here.
Kawhia Springs, Waitomo
One of the hidden gems of the Hamilton and Waikato region, Kawhia Springs offers a similar experience to that of Hot Water Beach in the Coromandel. Head down towards Ocean Beach in Kawhia at low tide, climb over the sand dunes, and hit the beach. Find a spot and start digging before immersing yourself in an instant natural hot water spa. Be transported to a tranquil, off-the-beaten-path setting and enjoy panoramic sea views as you soak in a naturally heated beachside spa.
This peaceful beachside town is located on the west coast of the Hamilton and Waikato region, a short 2.5-hour drive from Auckland. Spend a night or two at Waitomo TOP 10 and be sure to catch all the other highlights of this region, like the iconic Waitomo Caves.
Secret Spot Hot Tubs, Rotorua
For a unique hot tub experience, head to Secret Spot Hot Tubs in the North Island's Rotorua. It's set against a perfectly landscaped garden; this destination hosts 12 hand-crafted cedar hot tops nestled between native plants alongside a stream. Experience this magical setting with all its incredible sights and sounds as you soak in a luxury deep pool of spring water heated to a perfect temperature of 39.5°C. Sip on complimentary chilled drinking water and order a bottle of bubbles or a hot drink via a tub side button ordering system.
If you're not keen to dip the whole way in, try a popular Shinny Dip! A mini foot tub is free with the purchase of a drink or fresh bakery treat. The Secret Spot Hot Tubs are located on the edge of Whakarewarewa Forest Park in Rotorua, just under three hours out of Auckland. Plan to stay at the Rotorua Thermal Holiday Park.
Wairakei Terraces & Thermal Spa, Taupō
After a short one-hour drive from Rotorua, you will arrive in Taupō, a thrill-seekers paradise. Alongside the hive of adventurous activities on offer in Taupō, you will also find the incredible Wairakei Terraces and Thermal Spa. Nestled in the Wairakei geothermal valley, enjoy the setting of the surrounding native bush.
The minerals found in the waters at Wairakei Terraces have been used for healing by Maori since they were discovered hundreds of years ago. Be transported to a holistic well-being experience that calls upon the geothermal properties of the region and the traditions of the ancestors who first discovered these pools. The pools draw their healing properties from silica terraces and geothermal waters that flow from depths of 1.5 kilometres underground, providing a perfect combination of mineral and geothermal water.
Hanmer Springs, Canterbury
Heading down New Zealand to the South Island, just a short drive from Christchurch, discover the picturesque town of Hanmer Springs. Surrounded by dramatic mountain ranges and spectacular forests, this charming town is a must-see on any road trip out of Canterbury. The ultimate destination for unwinding, spend your time here indulging in the range of rock pools, soothing sulphur springs, and a mix of water jets and bubbles. If you're looking to embrace a little adventure, release your inner child on the water slides and lazy river. Plan to stay at the nearby Hanmer Springs TOP 10 during your time in this bucket list destination.
Maruia Hot Springs, Lewis Pass
An award-winning natural hot spring, Maruia Hot Springs will transport you to the ultimate outdoor experience. It's situated at the base of a panoramic backdrop of the snow-dusted Southern Alps on the striking Lewis Pass national reserve. Discover a true South Island experience in this alpine landscape. Experience the range of spa facilities from outdoor bathing to rock saunas, steam rooms, and pampering. Relax and recharge here all day or spend a few hours in the morning or afternoon. Maruia Hot Springs also offers twilight escapes if you're looking to unwind after an action-packed day. Plan to stay at Jackson's Retreat Alpine Holiday Park.
Tekapo Springs, Tekapo
Tekapo Springs is located three hours from both Christchurch and Queenstown, in the incredible winter wonderland of Tekapo. This bucket-list destination is perfect for all kinds of travellers. It's the ultimate relaxation experience amidst natural awe-inspiring alpine scenery; experience this award-winning complex on your next South Island road trip. Explore the grounds and unwind in one of three hot pools, or head to the steam and sauna rooms. If you're travelling in summer and looking for a refreshing experience, there are also two cooler pools in the Aqua Play area, as well as a plunge pool. If you're feeling extra indulgent, book a treatment at the Glacial Day Spa before you head to Lake Tekapo Holiday Park for the night.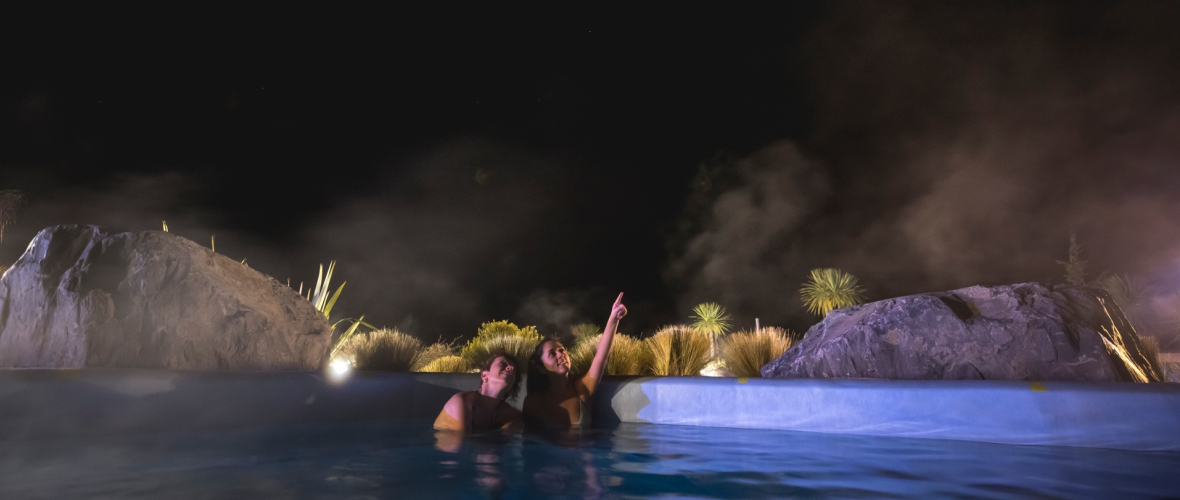 Image source: TNZ visual library - Miles Holden
Glacier Hot Pools, Franz Josef
Franz Josef is an incredible West Coast township, located only six kilometres from the mighty Ka Roimata o Hine Hukatere (Franz Josef Glacier). The Franz Josef Hot Pools provide an incredible tranquil haven to unwind and disconnect from the everyday. Be transported to the ultimate relaxation as you soak in a pure water pool nestled among the native rainforest. Providing the perfect place to indulge on the west coast, these pools are around a five-hour drive away from both our Christchurch and Queenstown Branches. Plan to stay at the Franz Josef TOP 10 and spend some time exploring the wild west coast of New Zealand.
Hot Tubs Omarama, Omarama
A visit to Hot Tubs Omarama will transport you to a private, indulgent experience set against a backdrop of Waitaki/Mackenzie scenery. Soak in an outdoor cedar tub filled with freshly heated mountain water and take in the sweeping views of Otago's rugged, snow-capped mountains. If you're after a nighttime soak, you'll be spoiled with a blanket of stars in one of New Zealand's darkest yet most clear skies. Located just off the main road, the Omarama Hot Tubs are an easy place to stop. Stay at the Omarama TOP 10 Holiday Park during your time here and check out all the other popular things to do.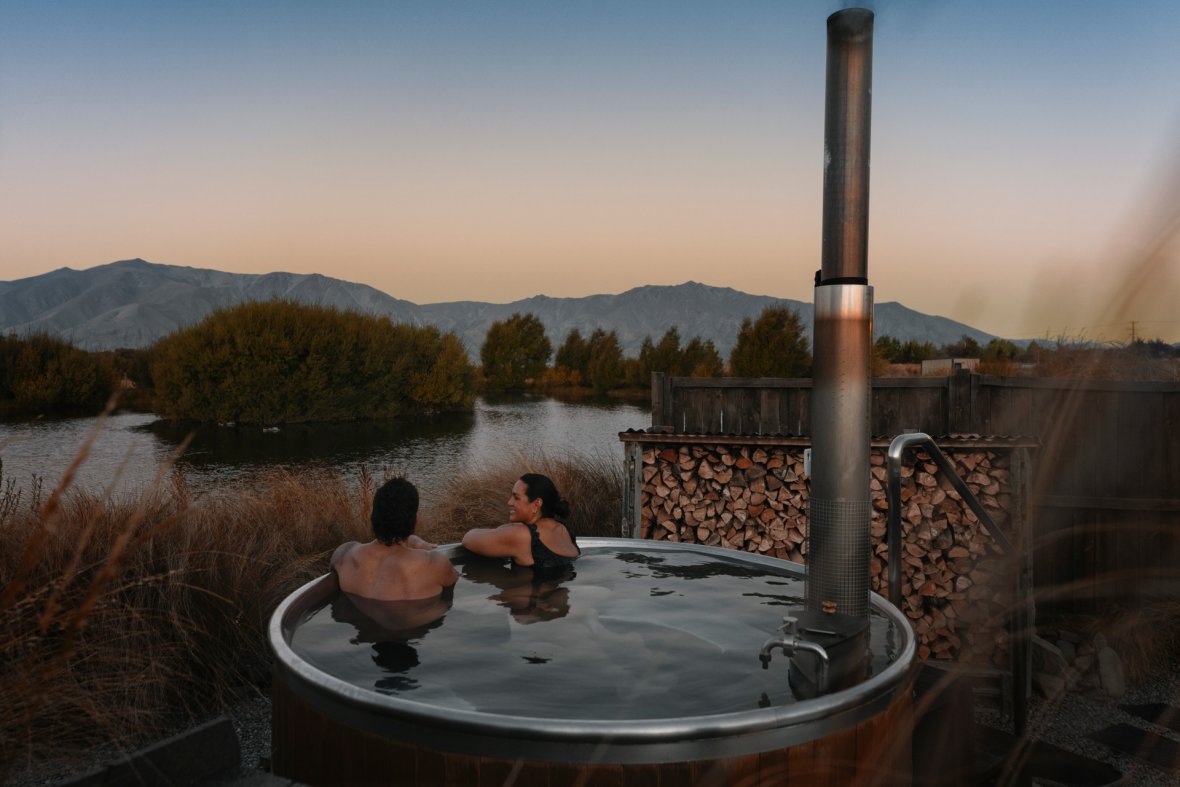 Onsen Hot Pools, Queenstown
Indulge in the tranquillity at the boutique retreat, Onsen Hot Pools in Queenstown. Offering a collection of idyllic cedar-lined hot pools that overlook the Shotover River, add a stop here to your Queenstown itinerary and enjoy a day of relaxation and pampering. With a newly expanded day spa, take your indulgence to the next level and explore some of the spa treatments on offer. Just a 20-minute drive from our Queenstown branch, by the Shotover Jet, this location is centrally located for all your adventures in the adventure capital itself,
Ready for your next New Zealand adventure?
Book your New Zealand campervan holiday today. With an incredible collection of tranquil hot springs to unwind in, now is a great time to plan your itinerary and take the chill out of winter. Book with maui today.