Join thousands of RV travellers
Sign up for our Go By Camper newsletter to receive inspirational travel content and awesome deals, and we'll send you a copy of our Ultimate RV guide!
Thanks
Please confirm subscription in your email.
Essential Tips for Motorhome Holidays


1. Book your motorhome
Choosing the right motorhome for your trip will ensure you have everything you need for your travel style. At maui, we have five different styles of motorhomes to choose from depending on your needs. Take the time to compare different models to find the one for you.
2 Berth Ultima
The 2 Berth Ultima is the perfect adventure machine for two. It features a shower, toilet, kitchen and bike racks for those adventure-filled days. It also has an LCD TV and DVD player, so you can relax in the evenings.
2+1 Berth Ultima Plus
The 2 Berth Ultima Plus is perfect for growing families. Sleeping three people on one double in the rear and a single in the front, plus all the same mod-cons of the Ultima - this vehicle is all about family travel in simplicity.
4 Berth Cascade
The 4 Berth Cascade is a spacious modern motorhome, perfect for couples or a family of four. Its prime feature is the convertible double bed in the back, and the second lowering from the ceiling. This compact motorhome also comes with all the self-contained luxuries of a shower, toilet, and full kitchen.
4 Berth Beach
Are you looking for all the self-contained inclusions but you are looking for a little more room to stretch out? The 4 Berth Beach is the campervan for you. With the standard convertible bed in the rear, as well as a loft bed above the cab, and a second dining area, you can all cohabitate comfortably without being on top of one another.
6 Berth River
The 6 Berth River is the largest on the maui fleet and can sleep up to six people. With a full apartment-style kitchen, toilet, shower and two dining areas, this is the ultimate luxury adventure motorhome.
Once you have decided which motorhome is for you, ensure you book in advance to avoid missing out.
Top travel tip: Check out our latest deals and specials to see if there are any promotions running during your planned holiday time.
2. Plan your trip
To begin planning your trip, decide where you want to visit in New Zealand. Do you want to do a North Island road trip? A South Island road trip? Or perhaps a mix of both? If you're not sure where to start, try looking up a list of some of the best places to visit in New Zealand as well as top New Zealand tourist attractions. Depending on what you want to see and do, it is also helpful to consider what is the best time of year to visit NZ.
Once you have narrowed this down, check our popular driving routes and New Zealand itineraries. Choose the itinerary that will help you tick off as many of your must-see destinations as possible. Maybe even try combining a few.
3. Download offline maps
When travelling in a motorhome, we recommend downloading offline maps so you can have access to them at all times. To save you the hassle of downloading offline maps, we recommend that you download the thl Roadtrip app. This app comes with offline maps included, as well as pre-marked locations for dump sites, caravan parks, water fill up stations and more. You can use this to create a custom itinerary for your trip so you know exactly where you're going at all times.
4. Write a packing list
Writing a packing list will help you to pack everything you need for your motorhome trip. What's included on your packing list will depend on the season you're travelling in, and what activities you're planning on doing. Remember, the essentials will come with your maui rental. Check out what's included with your campervan hire to avoid doubling up. Some general items to consider packing:
Versatile basics
Light layers
Rain jacket
Sun protection, including hats, sunglasses and sunscreen
Toiletries
Sturdy shoes
For a full packing list, check out our guide on what to pack for your campervan holiday.
5. Familiarise yourself with freedom camping rules
Freedom camping is a great way to experience more of New Zealand. However, you can't just camp anywhere. There are a range of free campsites including over 200 Department of Conservation (DOC) campsites.
Ranging from stunning secluded forests, beaches and lakeside campsites - there is bound to be something for every traveller. Before you arrive, it is best to consult the local council's rules around freedom camping and to check if you require a permit for your stay.
For more ideas on where to stay, check out our full guide to New Zealand campervan accommodation.
6. Create a budget
Travelling in a motorhome is a great way to keep costs down. Savour the local flavours with economical market finds and meals whipped up in your camper. If you want to keep travel expenses low, consider creating a budget for your trip. Some of the top ways to keep within a budget while you travel New Zealand:
Shop for your produce at the local farmers markets
Park up at a designated freedom camping spots and low-cost campsites
Plan a mix of paid New Zealand tourist attractions and free activities
Travel during shoulder seasons for better deals
7. Research the road rules in New Zealand
Before you set off, you should familiarise yourself with the rules of the road in New Zealand. All maui vehicles have automatic transmission for ease of use but as road rules vary from place to place, it's worth checking the local rules.
To help with this, all of our customers will be required to complete a checklist before hitting the road. This acts as a final check to see that you have the basics covered to make sure your campervan trip goes without a hitch. To ensure you come prepared, check out our guide to driving in New Zealand.
8. Check what's not included in your motorhome
Familiarise yourself with what's included in your maui campervan. The easiest way to do so is to download the thl Roadtrip app. This app comes with a library of walk through videos to show you through what to expect at pick up. This will help you identify any gaps in your packing so you can prepare accordingly. Things to consider packing that do not come with your motorhome, include:
First aid kit in case of emergency
Bug spray for those outdoor adventures
Love your coffee? Maybe a hand grinder to grind up fresh local beans
Toilet freshener drops eg. Wallex Bio-pak
9. Prepare for emergencies
When travelling, you can never anticipate what is going to happen. As such, it is prudent to have some cash set aside for an emergency. You never know if you could accidentally loose your wallet, have a card cancelled, or just need a few coins for a laundromat or a Department of Conservation (DOC) campsite.
10. Relish the journey
While it can be tempting to fill every moment of your holiday, a tight timetable can close off those opportunities for spontaneity. By all means, follow your chosen route, but ensure that you make the most of the flexibility a campervan allows. No matter how you travel - be that a jam-packed itinerary or a laid-back casual adventure, don't forget to relish the moment. Enjoy every minute of your adventure.
Top tip: Campsite bookings are only required at the busiest holiday spots in peak season, allowing you to explore, detour, and linger when you hit a highlight.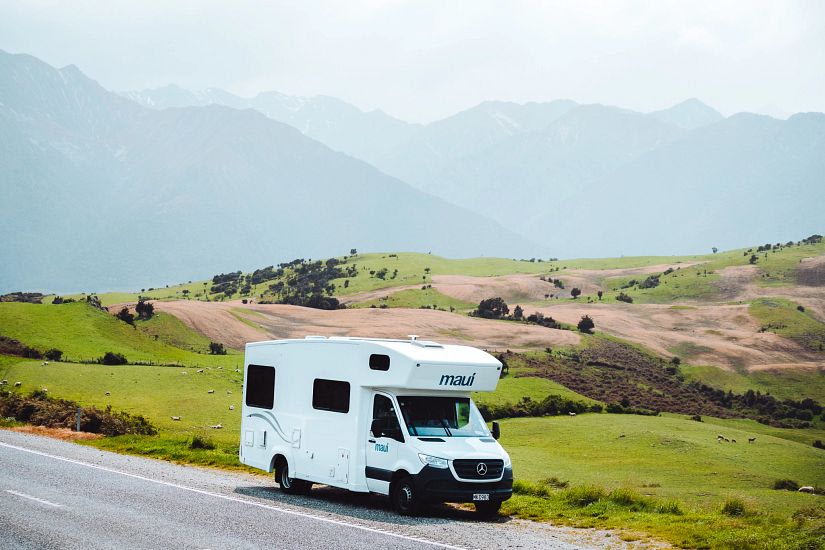 Inspired to go on a New Zealand adventure?
Whether you are planning a North Island road trip, a South Island road trip or a full New Zealand itinerary, a campervan is a convenient, luxurious way to do it. If you want to explore the various scenic routes and must-do itineraries around New Zealand check out our full list of New Zealand itineraries and routes. With maui branches in Auckland, Christchurch and Queenstown, you can start and finish your trip wherever you choose.
Ready to get started on your campervan journey? Check out our latest deals and specials and book your maui campervan today.