Join thousands of RV travellers
Sign up for our Go By Camper newsletter to receive inspirational travel content and awesome deals, and we'll send you a copy of our Ultimate RV guide!
Thanks
Please confirm subscription in your email.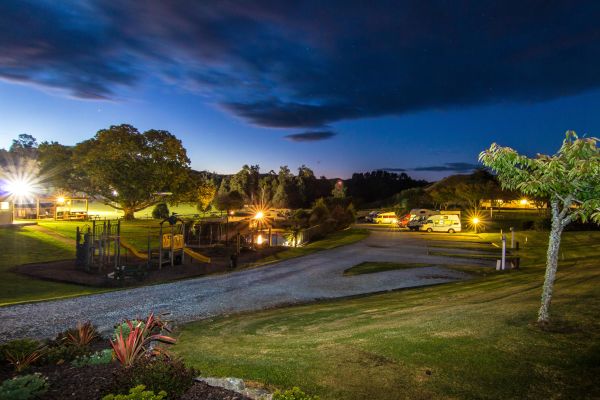 Holiday parks
Evolved from generations of camping grounds and caravan parks, New Zealand's holiday parks are amongst the world's best, combining comfortable built accommodation with spacious grounds for campers. Campervan sites are landscaped with lawn, hedging, shade trees and picnic tables, and supplied with power and water. Sites typically have hard, free-draining surfaces for easy drive-on and mud-free shoes. Communal facilities include bathrooms, kitchens, laundries, TV/internet lounges and barbecue areas. Games rooms, playgrounds and swimming pools are also common, with spa pools, go-karts, bike and kayak hire a bonus. Most are owner-operated, ensuring genuine hospitality, informed local advice and activity bookings.
Fees and bookings: A powered site for two people averages around $35–40 per night. Bookings are strongly advisable during summer holidays (Christmas to end January, and Easter) and major local events; otherwise you can normally just cruise on in. Around 250 of New Zealand's 400-odd holiday parks rally under the banner of the Holiday Parks Association, an excellent portal for research and bookings.
Department of Conservation (DOC) Campsites
If you like back-to-nature camping, you'll be wowed by the Department of Conservation's campsites in New Zealand national parks and scenic reserves. There are more than 200 campervan-friendly (and stunning) locations, some of which have power points, hot showers, rubbish collection and possibly laundry facilities and barbecues. Most DOC campgrounds, however, have much more basic facilities, with a toilet and water supply the absolute minimum. Many feature fire pits, cooking shelters and picnic tables.
Fees and bookings: DOC campsites range from free to $15 per person, with the priciest generally the most popular. These should be pre-booked in peak season (1 October–30 April) either online or at a DOC visitor centre. Others operate on a first-come, first-served basis, with payment made to the warden or popped into a self-registration box. We recommend purchasing a DOC weekly campsite passes provide half-price camping at more than 100 DOC campsites nationwide - add to your booking on check out.
Council campsites
Most local authorities – that's regional, city and district councils – manage campsites of one kind or another. These range from basic, nature camps in forest parks, to caravan parks in public domains, often adjacent to sports grounds, parks, or other recreation reserves.
Fees and bookings: With the exception of council-owned holiday parks, the majority of council campgrounds are cheap (around $10 per person per night) or even free, with some falling under the category of 'freedom camping'. To find council camps, check out Rankers.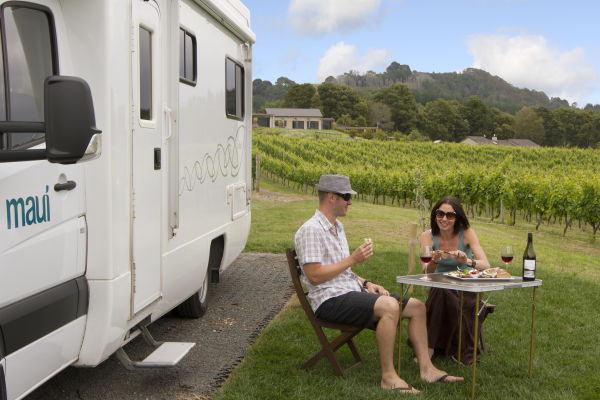 Freedom camping
'Freedom camping' refers to staying overnight in an area that is not a designated campsite, such as a riverside or beach reserve, or even a town car park. Only self-contained campers with onboard toilet, greywater and fresh water systems are allowed to freedom camp, so that includes Maui campervan hirers. The rules around such camping vary between regions – some have a blanket ban, while others encourage it with plenty of allocated sites. If you're not sure whether freedom camping is permitted, Assume nothing: ask a local (the i-SITE visitor centre, ideally). Just because there's a toilet, rubbish bin, or other campervans parked up, doesn't mean it's okay to stay. Abuse by freedom campers has seen a major crackdown on illegal camping, with fines frequently issued.
Fees and bookings: As the name suggests, this type of camping is almost always free, although some districts levy a small fee and a permit may be required. For general information on freedom camping, see Camping Our Way, and for individual site listings, see Rankers.
Get Going
Inspired to go on a splendid New Zealand adventure? In order to get started on this journey, book a maui campervan today, we have branches in Auckland, Christchurch and Queenstown. You can also check out our latest deals and specials here. And if you want to explore more scenic routes and must do itineraries around New Zealand check out our recommended routes here.