Join thousands of RV travellers
Sign up for our Go By Camper newsletter to receive inspirational travel content and awesome deals, and we'll send you a copy of our Ultimate RV guide!
Thanks
Please confirm subscription in your email.
How to experience New Zealand's food in a campervan


1. Become a galloping gourmet: Campervan cooking is a pleasure in a Maui campervan, which features a full kitchen with all the vital tools of the trade. There's no reason to compromise on your creativity – whip up whatever you want, whenever and wherever you want it. Fridge/freezers allow you to stock up on goodies, and there are even onboard barbecues on the Ultima model.
2. Go local: You'll have no trouble finding campervan food ideas thanks to acres of locally grown, fresh produce. Look out for farmers' markets, greengrocers and roadside stalls – not only do they offer a seasonal and healthy taste of the country, you'll be eating inexpensively, too.
3. Eat artisan: Small-scale food producers have been popping up in Kiwiland like bubbles in champagne. From buffalo mozzarella to Belgian chocolate, smoked garlic to salami, New Zealand is liberally sprinkled with boutique food producers offering tastings and retail. Most regions boast a dedicated food trail.
4. Keep it simple: Forget the MasterChef mission and go back to basics. Buy a fat bundle of asparagus, free-range eggs and a bag of lemons, and hey presto, you've got dinner. Sometimes we get so overloaded with irresistible fresh vege that we have to create salads nearly every night (which happily leaves room for ice cream).
5. Picnic everyday: Forget the silly wicker basket, the thermos flask and the check blanket. A campervan picnic is much easier than that!
Step 1: park somewhere picturesque, preferably with a picnic table.
Step 2: put the kettle on.
Step 3: raid the fridge.
Step 4: step outside. Bon appetite!
6. Join the Swiss Army: If you're out and about on foot during the day, you may need to eat on the hoof. Carry a penknife in your daypack, from whence it can emerge to halve a pasty, quarter an apple, slice cheese, hack a loaf, stone an avocado, and uncork a bottle when the time is right.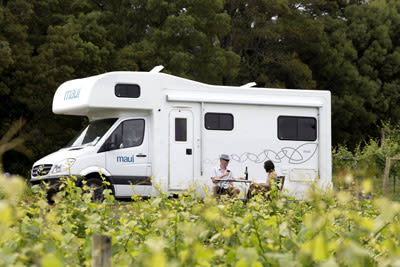 7. Commune with your fellow campers: Campervan cooking is easy and fun, but mix things up by heading to the holiday park kitchen or barbecue are to meet fellow travellers from around the world.
8. Follow the wine trail: Chances are you'll drive through a wine region. Take a tour or bike the vines if don't have a designated driver, or sleep off your winery lunch with a roadside siesta. There's plenty of room aboard your campervan for a case (or two), and decent wine glasses for your tipple. Check out Maui's Winery Havens if you fancy sleeping over amongst the vines.
9. Get crafty: If beer is your thing, you're in the right place because New Zealand has gone craft beer crazy. Keep an eye out for one of scores of breweries on your travels. Tastings are usually available, as are tinnies, riggers and bottles to go.
10. Stock up on campervan food essentials: No, we're not talking about salt & pepper (although they will definitely come in handy). We mean whitebait, oysters, venison, lamb, feijoas, apples, berries, cherries and nectarines, jams and other tasty preserves, manuka honey and much, much more.
Get Going
Inspired to go on a splendid New Zealand adventure? In order to get started on this journey, book a maui campervan today, we have branches in Auckland, Christchurch and Queenstown. You can also check out our latest deals and specials here. And if you want to explore more scenic routes and must do itineraries around New Zealand check out our recommended routes here.