Join thousands of RV travellers
Sign up for our Go By Camper newsletter to receive inspirational travel content and awesome deals, and we'll send you a copy of our Ultimate RV guide!
Thanks
Please confirm subscription in your email.
NZ is a food & wine lover's heaven
If you crave freedom when you're travelling, campervan travel is the perfect way to see and do more. With accommodation and cooking facilities onboard, a motorhome offers the ultimate in stress-free travel. Your camper comes fully equipped with everything you need to be just as creative in the kitchen as you'd usually be at home, plus you're never far from a delicious bite if you don't fancy cooking. Prepare to eat and drink your way through the country, here are 10 must-do food and wine experiences in New Zealand.
1. Discover NZ's top winery regions
If you're a lover of fine wines, there are plenty of regions you should add to your New Zealand travel itinerary. From the Marlborough Gewurztraminer to the Central Otago Pinot Noir and everything in between, be sure to cross some of the best wine destinations off your bucket list.
World-famous wine regions in the North Island are; Wairarapa, Gisbourne, Hawkes Bay and Waiheke Island (to name a few).
Just a short ferry ride from Auckland, Waiheke Island is home to some of the most famous New Zealand wineries. Be sure to check out Man O' War Estate, the award-winning, family-run winery is famous for its delicious Syrah, Chardonnay and Bordeaux Blends.
It doesn't stop there, the South Island has just as many beautiful wineries. Our top South Island Wine region picks are; Marlborough, Central Otago and Canterbury. Marlborough put New Zealand wine on the map with its world-famous Sauvignon Blanc. It makes up a whopping 75% of New Zealand's wine industry, definitely worth a visit!
No trip to Otago is complete without sampling the local Pinot Noir. A delicate wine best served slightly chilled. Enjoy while overlooking the stunning views of Queenstown. Whether you're planning a trip from top to bottom or exploring one of the islands, you're never far from a world-class vineyard.
2. Try the freshest seafood
A destination surrounded by water, you'd be right in thinking that New Zealand had some of the best seafood around. If roadside crayfish and lobster sounds like you, check out Nins Bin in Kaikoura after a day of whale watching. Or take the scenic route to Bluff, park up and enjoy the worlds finest Bluff Oysters.
While you're out adventuring, don't forget to taste the famous New Zealand Green Lip Mussels. Whether you want them steamed, grilled or battered, The Mussel Pot located in the beautiful Marlborough Sounds has got you covered. They've been serving delicious mussels for the past 20 years so you're in good hands.
Fish and Chips are very much part of the Kiwi culture and a staple takeaway loved by locals. An inexpensive delight that you can enjoy in front of some epic scenery where you park your camper, don't forget to pack the tomato sauce. If you're keen to try a local favourite, order a classic Paua fritter, or whitebait fritter if in season.
Keep an eye out for fresh Kina too. This sea urchin is a native delicacy and only found in New Zealand. You'll find them at most local fishmongers, they're best eaten raw on a slice of buttered bread like many classic Kiwi dishes!
Keen to try your hand at catching your own dinner? Park up the motorhome and sail away on a fishing charter around the Bay Of Islands. A perfect break from driving, you'll enjoy the scenic sail around the Bay Of Islands. With waters filled with sea life, you might just catch a few nights worth of dinner!
3. Have an icecream experience to remember
New Zealand produces delicious dairy products, so it's no surprise that the ice cream here is pretty special. You'll find delicious ice creameries scattered all over the country. If you're in Auckland, be sure to try Giapo! Labelled the most innovative and delicious ice cream around, it's guaranteed to tickle your tastebuds.
Hailing from Hamilton, Duck Island ice cream specialises in unexpected flavours like Fairy Bread and Black Sticky Rice. Try one of the five scoop shops in New Zealand, or pick up a tub from a local supermarket wherever you are in the country.
Watch the famous Tip Top ice cream being made at the factory in Auckland when you take a tour, then sample all of the delicious flavours. The tour is fun for the whole family!
New Zealand has boutique ice cream shops galore, but sometimes you just can't beat an ice cream cone from the local dairy. A classic sweet treat and it makes a wonderful dessert to follow your battered fish and scoop of chips. Check out Pokeno Ice Creams for the biggest scoop in New Zealand!
4. Check out the thriving craft beer scene
Craft beer may have originated in the United States, but New Zealand has secured a top spot as a leader in the craft beer space. With more breweries per capita than the United States, United Kingdom and Australia, you're sure to find great local craft breweries wherever you travel in New Zealand.
If you're looking to try the best this little country has to offer, then the Beervana festival is one to add to your itinerary. Spread over two days in August, this festival in Wellington showcases craft beer from over 60 breweries! It's no surprise this takes the crown for beer events. Not here in August? Not to worry. Bars, pubs and eateries around the country usually have a great selection, and local breweries make a great stop at the end of a big day of adventuring.
Here are our top picks for New Zealand breweries:
Garage Project, Wellington
Good George, Hamilton
Rhyme and Reason, Wanaka
Parrotdog, Wellington
Altitude, Queenstown
Epic Brewing, Auckland
Check out other craft beer festivals and brewery experiences and tours.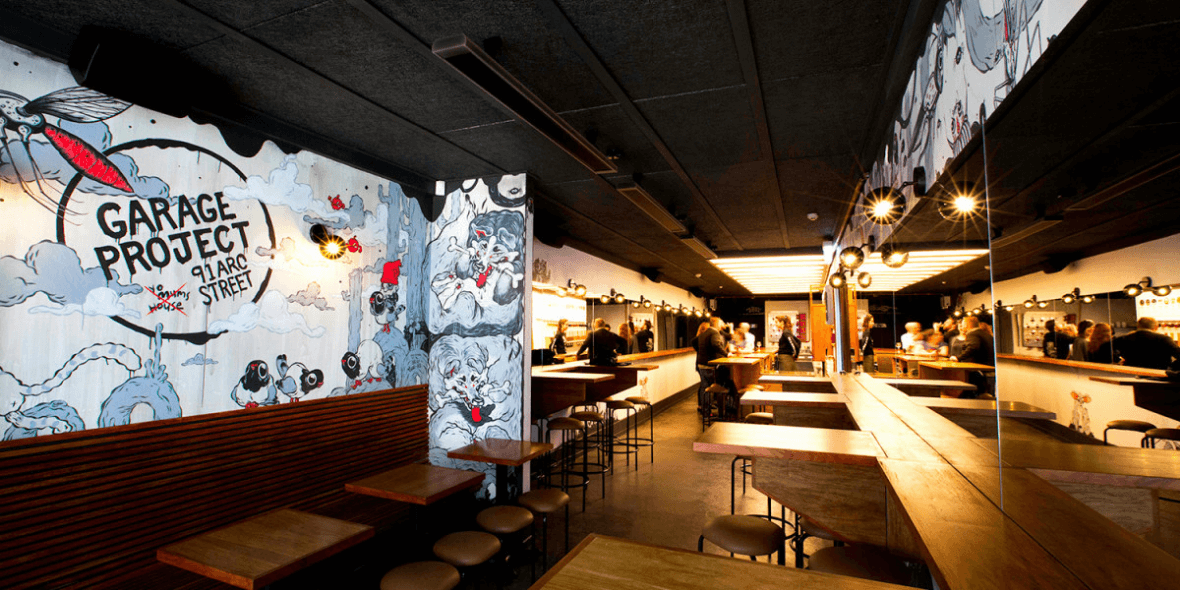 Image source: WellingtonNZ
5. Drink the best coffee in the world
New Zealand has good coffee in abundance. Home to the Flat White, we recommend you try one everywhere you stop. Wellington is known for being the coffee capital of New Zealand, with a great coffee spot on every corner of this city, you won't have to venture very far for your morning caffeine boost. Once you find your perfect roast, buy some beans for the road. Local coffee shops will gladly grind the beans for you so you can enjoy the coffee in the comfort of your camper.
Here are our top picks for New Zealand coffee roasteries
Red Rabbit, Auckland
Revolver Espresso, Rotorua
Rocket Coffee Roasters, Hamilton
Havana Coffee, Wellington
C4 Coffee Co, Christchurch
Check out some more popular roasteries throughout New Zealand.
6. Try traditional Māori cuisine
Experiencing a feast cooked in a traditional Māori Hangi is a must-do when in New Zealand. Visit Rotorua and try the famous Hangi and Tamaki Māori Village, an authentic cultural experience that's not to be missed. Food is prepared the traditional way and cooked in a pit dug in the ground over hot stones.
Look out for some traditional Māori 'Kai' or food at local markets. Kumara is a delicious sweet potato that you can grill, boil, bake or fry. An easy side dish you can whip up on those quieter nights in the camper.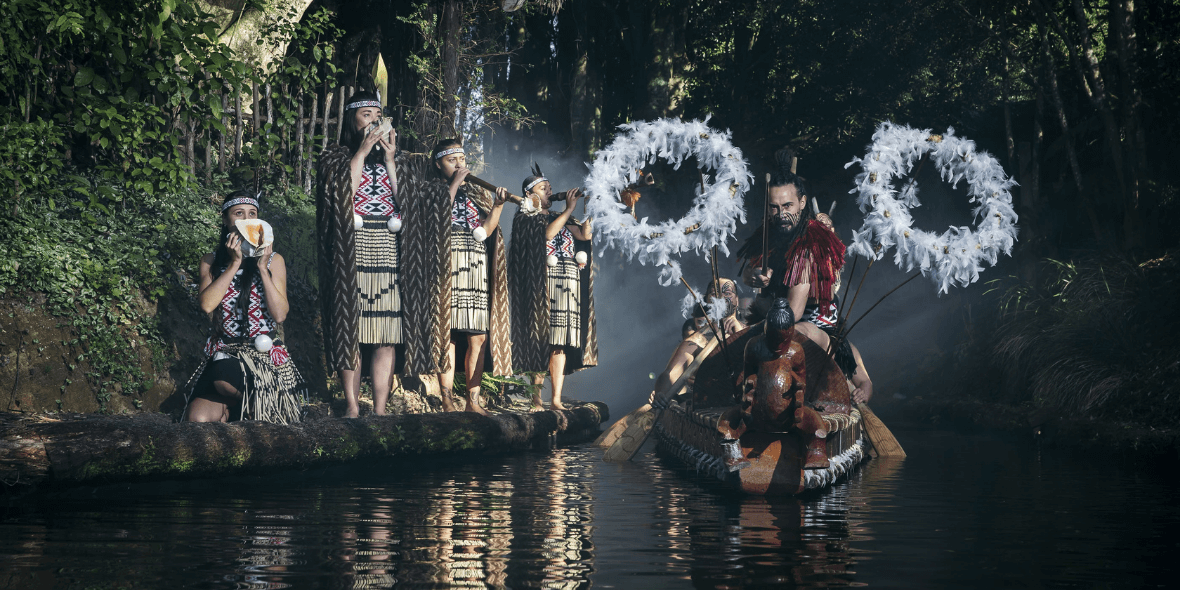 Image source: Tamaki Māori Village
7. Find a food or wine festival
It's no secret that Kiwis love to eat! There are a variety of food and wine festivals all year round. Visit Wellington in August to experience Wellington On A Plate, New Zealand's biggest culinary festival. Travellers flock to the capital to get a taste of the best the city has to offer. You better book your spot though, the best eats sell out fast!
Venture to Hawkes Bay for the Food And Wine Classic, also known as F.A.W.C. Showcasing an array of food trucks, gourmet dishes and fine wine. This event usually takes place in June and November. With Hawkes Bay's mild climate, you're in with a chance of some lovely weather while you're there too.
Winetopia travels to Auckland, Wellington and Christchurch, so take your pick of the city. Enjoy all the fine wines New Zealand has to offer.
The Hokitika Wildfoods Festival is the perfect excuse to visit Hokitika, a small town on the West Coast of New Zealand's South Island. A scenic spot on a rugged coastline. Sample the delicacies on offer and experience the West Coast of New Zealand.
8. Visit the local farmers'markets
Kiwis love their fresh produce and towns and cities come alive in the early hours of weekend mornings with the bustle of local farmers markets. Grab your fruit and veggies for a fraction of the supermarket prices. With a fully equipped kitchen in your camper, you can travel on any budget.
Explore New Zealand's best farmers markets.
9. Stock up on delicious cheese
We've mentioned New Zealand's delicious dairy and that extends to its cheeses. 30 minutes north of Auckland City you'll find Puhoi Valley shop and cafe. Shop the award-winning blue and yellow cheeses and put together a world-class cheese board, paired with your favourite wine for a lovely evening overlooking the sunset.
Whitestone cheese factory tour in Oamaru is a New Zealand's South Island must-do. The handcrafted artisan cheeses are some of the best in the country and they have the awards to prove it. The guided tours give you a peek into the cheese-making process, and you'll get to get a taste of the delicious cheeses made there.
Check out The NZ cheese trail for all the best cheesy stops to put on your New Zealand travel itinerary.
Try artisan New Zealand honey
New Zealand's Manuka honey is a hot commodity, celebrated for its healing properties. Try a local artisan honey, a great addition to your cheese board or breakfast in the camper. Keen to immerse yourself in the world of honey? Check out the Manawa honey tour to experience native Maori beekeeping in untouched forests, a truly unique experience.
Honey lovers shouldn't miss a stop at the Huka Honey Hive in Taupo. View the largest selection of 100% New Zealand Manuka honey and sample as many as you can. Find local honey at supermarkets, markets and specialty food stores. Enjoy your fill while you're here and stock up for the trip home, they make great gifts!
Ready to eat and drink your way through New Zealand? Book your New Zealand campervan holiday today. With endless food and wine experiences to be had, now is a great time to plan your itinerary. Book with maui today.