Join thousands of RV travellers
Sign up for our Go By Camper newsletter to receive inspirational travel content and awesome deals, and we'll send you a copy of our Ultimate RV guide!
Thanks
Please confirm subscription in your email.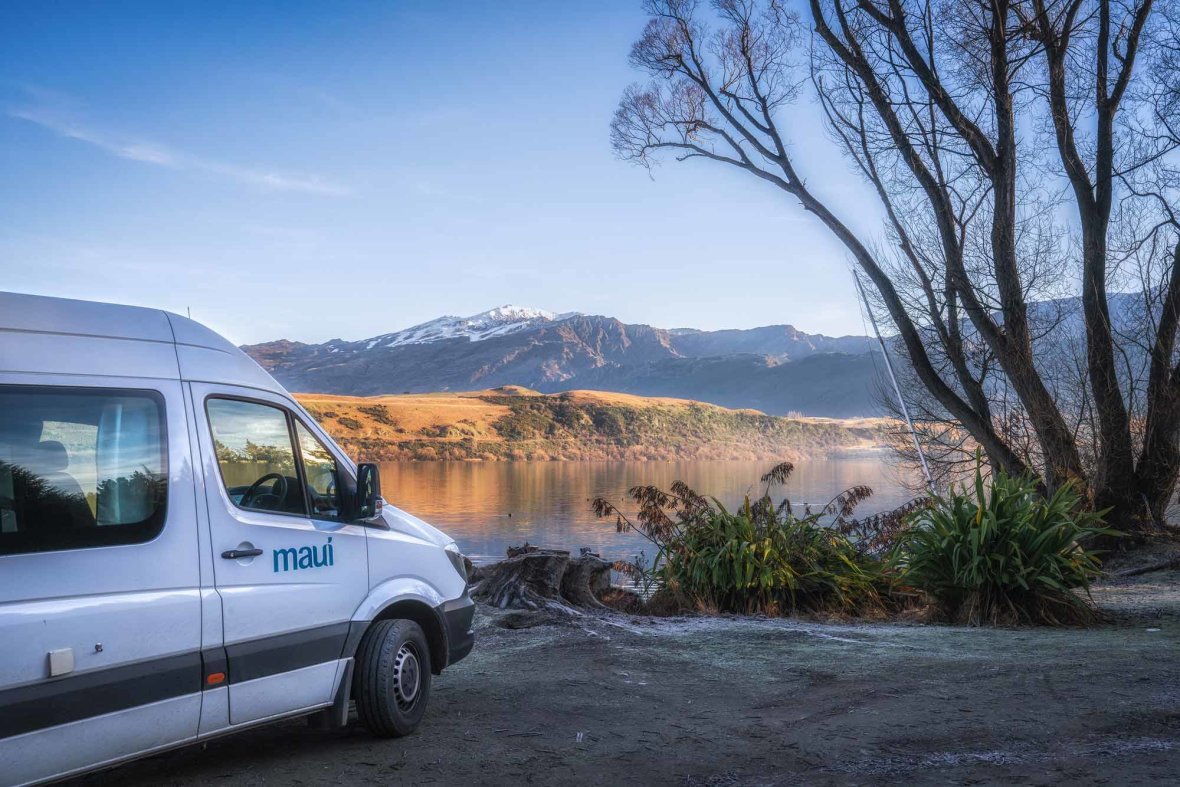 Top 15 stops for photographers in the South Island
The South Island is a photographer's dream. This landscape will leave you speechless as you explore everything from pristine alpine lakes and glacial valleys to sublime coastal and hinterland wineries. Choose to explore one select region, or treat yourself to an array of natural wonders with a scenic South Island road trip itinerary.
1. Marlborough Sounds
Marlborough Sounds is a collection of sheltered inlets and ancient submerged valleys overrun by the expansive waters of the Pacific Ocean. Pair this with the steep inclines of the surrounding forested hills, and you have a landscape photographer's natural playground.
Try visiting in the spring for a vibrant landscape filled with budding flowers and roaming wildlife. For more information on visiting this region, check out our guide to Marlborough and Nelson.
2. Fox Glacier
Fox Glacier is a premier destination for glacier hikes, flights, scenic walks, and capturing dazzling glacial landscapes. If that wasn't enough, there are also glow worm caves and the beautiful Lake Matheson just a short walk from the Fox Glacier town centre. On a clear day, this famous lake reflects Mount Cook to create a stunningly complex composition to capture.
Want to explore more of this region on a winter escape? Check out our Wild West Coast New Zealand Road Trip Itinerary.
3. Church of the Good Shepherd, Lake Tekapo
The famous stone structure of the Church of the Good Shepherd is nestled amongst the natural beauty of the Lake Tekapo shoreline. Whether you bow to gods or mother nature, this location is bound to be a spiritual experience.
This location is another hot spot day AND night. There is no rest for mother nature dancing in all her glory at all hours of the day. If you want to include this stop as part of a New Zealand road trip itinerary, check out:
4. Lake Pukaki
Located in the Canterbury region, Lake Pukaki is something you have to see to believe. This lake is known for its unique, vivid turquoise colouring - there is no filter needed. The intensity and colour of the blue lake will vary depending on the amount of water flowing. Spring can be an excellent time to visit when the ice begins to melt and the water begins to flow.
Some of the top Itineraries to explore this region include:
5. Lindis Pass
Plan a drive through Lindis Pass when travelling from Mt Cook to Queenstown - you will not be disappointed. The dramatic mountainous landscape is a dream for aerial shots. However, you can just as well capture these layered alpine peaks from below. Lindis Pass can be captured year-round, but these mountains become even more picturesque with a dusting of snow in the winter.
6. Lake Hawea
Lake Hawea is a scenic 15-minute drive from Wanaka and an outdoor enthusiast's sanctuary. Popular in the warmer months for boating, swimming, kite-surfing, and more, this is the ideal location to practice your sports photography!
7. That Wānaka Tree, Wānaka
It would be near impossible to write a guide on the best stops in the South Island for photographers without mentioning the iconic Wānaka Tree. It's arguably one of the most photographed places in New Zealand. It's known by locals and tourists alike as 'That Wānaka Tree'; it even has its own hashtag.
This tree is a hot spot, surrounded by tourists and photographers battling against the changing water level and light conditions. This can limit the compositional possibilities and creative expression. So it's recommended to get your shot before the crowds arrive!
This iconic tree still emits a special kind of magic. If you're going to add this to your shot list (and you should!), then sunrise and sunset blue hours are the perfect time to do so. These cooler colour temperatures draw out the surrounding mountains and cast a beautiful silhouette on the surrounding lake.
If you want to see this iconic tree as part of a road trip adventure, check out the exploring the South Island in cooler weather itinerary.
8. Roys Peak, Wānaka
If you enjoy hiking to capture views from above, then Roys Peak should be at the top of your list! This track zigzags its way along a steep 4WD track and through wild grasslands until you reach the ridgeline. Stand in awe as you enjoy the 360° panoramic views and play with the endless opportunities to capture this alpine location.
If you want to explore more of the Wānaka region, check out the Milford Sound loop itinerary for more ideas on places to visit.
9. Cardrona Hotel, Cardrona
The Cardrona Hotel is a rustic mountain lodge in Central Otago. This is rumoured to be one of the most photographed buildings in New Zealand, and it's easy to see why. Once you finish capturing this historic building, head inside to enjoy a meal at the award-winning restaurant, relax in the beer garden or treat yourself to a night in one of the charming rooms.
10. Arrowtown Junction
The Crown Range Road is as scenic as they come. Head to the Arrowtown Junction lookout to capture this majestic switchback road as it ladders its way up the mountain.
Top tip: The conditions of Crown Range Road vary significantly during the winter months and so is restricted for campervan travel. Best to plan a visit in the shoulder season in autumn. Arrowtown transforms into a shade of yellow and orange as the trees begin their seasonal slumber.
11. Lake Hayes
Lake Hayes is another stunning New Zealand lake located just a short drive from downtown Queenstown. With easily accessible lakeside parking, this is the ideal location to park up for the day. Cook up a meal, take a few photos and soak up the scenery.
12. Queenstown
Queenstown is overflowing with natural landscapes and New Zealand tourist attractions to photograph. This town is your oyster for photography opportunities. From walks and wineries to thrilling adventures and on-off experiences, Queenstown has it all. Some of the top stops in Queenstown include:
For more ideas on places to capture in town, check out the best photography locations in Queenstown
With a maui branch in town, this is a perfect starting point for a South Island road trip. Some of the top itineraries in this region include:
13. Glenorchy Wharf, Glenorchy
Glenorchy Wharf is just a short drive north of Queenstown, boasting panoramic views of the surrounding lake. Once you have captured the wharf, check out the Glenorchy Steamship depot building - otherwise known as the 'red shed'. The vivid red of the shed with the words 'Glenorchy' in bold lettering makes for a beautiful photo opportunity. Looking to add this to a road trip? Why not do the South Island Scenic Views route.
14. Milford Sound, Fiordland (H3)
Often cited as the eighth wonder of the world by photographers, Milford Sound is a wild paradise begging to be photographed. Featuring sky-scraping mountains and dramatic cascading waterfalls, the sound is magical to experience in all seasons. However, if you are hoping to get a winning snap, be sure to check the weather. This region is notorious for having the highest rainfall in all of New Zealand.
If you are planning a road trip and are looking for South Island itineraries passing through this area, be sure to check out:
15. Nugget Point, Catlins Coast
Come marvel at the perfectly perched lighthouse sitting precariously on the edge of the cliff. This place gets its name from the sea stacks of rock dotted around the ocean. These ocean 'nuggets' provide a beautiful contrast to the mainland and offer plenty of opportunities for creativity in framing.
Ready to book your next New Zealand adventure?
If you are a photographer looking to travel New Zealand, the south is brimming with picture-perfect scenery. Best of all, with plenty of campervan accommodation options, you can capture the entire region with ease on a South Island New Zealand road trip.
Ready to pack your camera bag and explore this wild landscape for yourself? Book your maui camper today. For more ideas on what to pack, choosing the right motorhome, and driving routes, check out our blog.
Keep Exploring With These Stories
---

Whoops, it seems like we haven't got any Popular Routes
Please try a different combination or click below to reset your search
See How Much You Could Save