Join thousands of RV travellers
Sign up for our Go By Camper newsletter to receive inspirational travel content and awesome deals, and we'll send you a copy of our Ultimate RV guide!
Thanks
Please confirm subscription in your email.
From its pristine beaches and ancient forests to its chilled-out township, Coromandel is a dream destination for couples looking for a romantic weekend away (or even better, a whole week!).
To help plan your New Zealand road trip, we've put together a few 'must dos' while you're there. Prepare to fall in love with this beautiful part of New Zealand, as you wake up day after day in holiday paradise!
But first, what's the best way to explore Coromandel?
The Coromandel is a rugged and beautiful part of New Zealand's North Island, making it a wonderful place to explore. One of the best ways to explore this region is to rent a travel van and take a New Zealand road trip. A campervan road trip means you can truly relax and take your time. Discover new places together as you make the most of the flexibility and spontaneity that travelling by campervan offers.
It's as easy as picking up your pre-booked maui campervan from our Auckland branch at Manu Tapu Drive, next to the Auckland Airport in Mangere. Our friendly team will be waiting to show you the ropes and run through everything you need to know about your campervan hire before you hit the road.
Here at maui, we've got a great range of motorhomes and campervans to suit every New Zealand road trip. All of our motorhomes include a built-in toilet and shower which gives you the option of freedom camping as you travel.
Once you've picked up your motorhome, it's an easy 2.5-hour drive from Auckland to Coromandel. Stop along the way and check out the former mining town of Thames. If you're passing through at lunchtime, enjoy a tasty meal of fish and chips from The Wharf.
Once you arrive in Coromandel, park up your campervan in one of the great campgrounds in the area, such as Shelly Beach TOP 10 Holiday Park. It's right on the beach and the sunsets are amazing. Definitely one of the best Coromandel camping spots!
Top 10 romantic things to do in the Coromandel Peninsula
1. Unwind at the Lost Spring, Whitianga
Topping our list of romantic things to do in Coromandel is a hot soak at The Lost Spring in Whitianga. This magical oasis is made for romance. Surrounded by native bush, this hot spring is like no other. Swim beneath a waterfall into a romantically lit cavern, enjoy a cocktail, then head off for a soothing massage. Finish your evening with a meal at the onsite licenced restaurant – or you can even have your food served poolside!
2. Have a beach day at Hahei Beach
Pack a picnic and head off for a day at Hahei. With its pink sandy beach and central Coromandel location, this popular holiday spot draws visitors from far and wide. One of the must-dos, while you're here, is to dig your own spa pool at Hot Water Beach. Soak in the soothing warm water as you enjoy the beautiful beachy vibes. You can hire a digging shovel from the nearby surf shop. Afterwards, tuck into an ice cream or milkshake from Hahei Ice Cream and Takeaways. Then take a wander through some of the boutique art and craft stores and galleries nearby.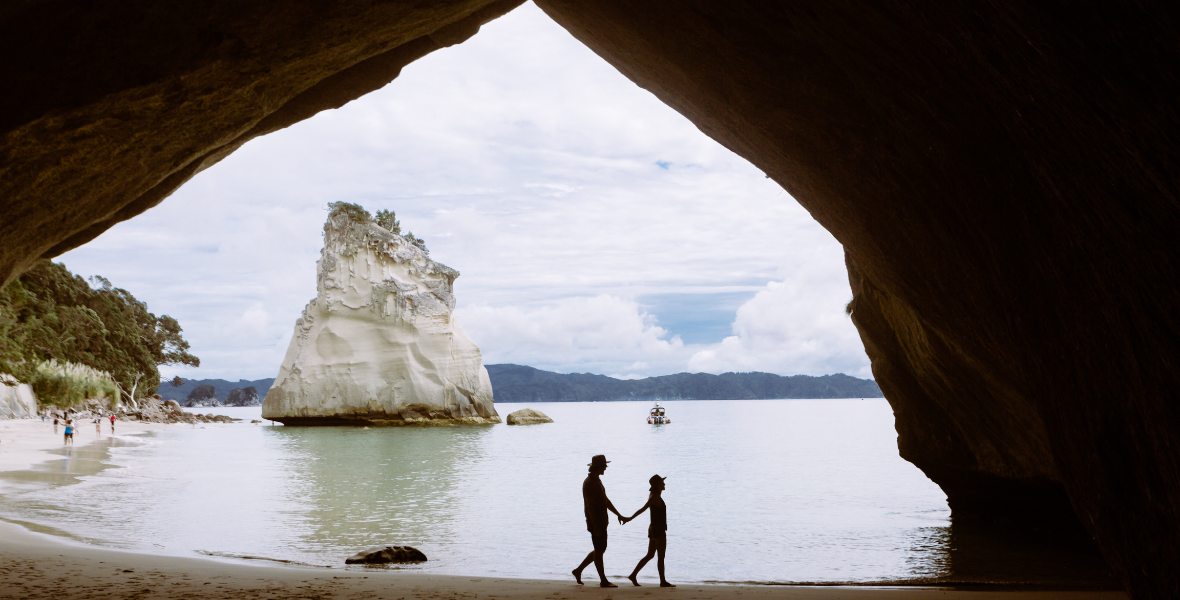 Image Source: Coromandel Image Library
3. Enjoy a romantic meal at Pepper Tree
Have a romantic dinner and discover the delicious flavours of the Coromandel at Pepper Tree Restaurant and Bar. Located in the heart of the Coromandel township, this award-winning restaurant specialises in fresh local seafood. We can recommend their seafood chowder, followed by fresh Coromandel oysters, and perhaps a sticky date pudding to finish off with. Mmmm… yummy!
4. Soak up the views on the Cathedral Cove Walk
You simply can't visit the Coromandel without going to Cathedral Cove. This iconic spot is possibly one of the most photographed in the region. Explore the pristine white sands of the Coromandel coastline as you walk to Gemstone Bay valley and to the famous Cathedral Cove. The walk takes around 90 minutes (2.5 km return) from the headland of Hahei. During the summer months, a shuttle service runs from the visitor car park on Pa Road to the start of the Cathedral Cove track.
5. Discover the local seaside on a Glass Bottom Boat, Whitianga
There's no better way to get out on the water in the Coromandel than by Glass Bottom Boat. Relax on board and watch the marine life below or jump in and swim amongst it! You'll be supplied with a snorkel and mask, so no need to bring your own. This guided tour lasts for two hours and takes in views of Cathedral Cove, the towering Pinnacles, sea caves, and more. If you're lucky, you may even spot a little blue penguin or a pod of visiting orca whales.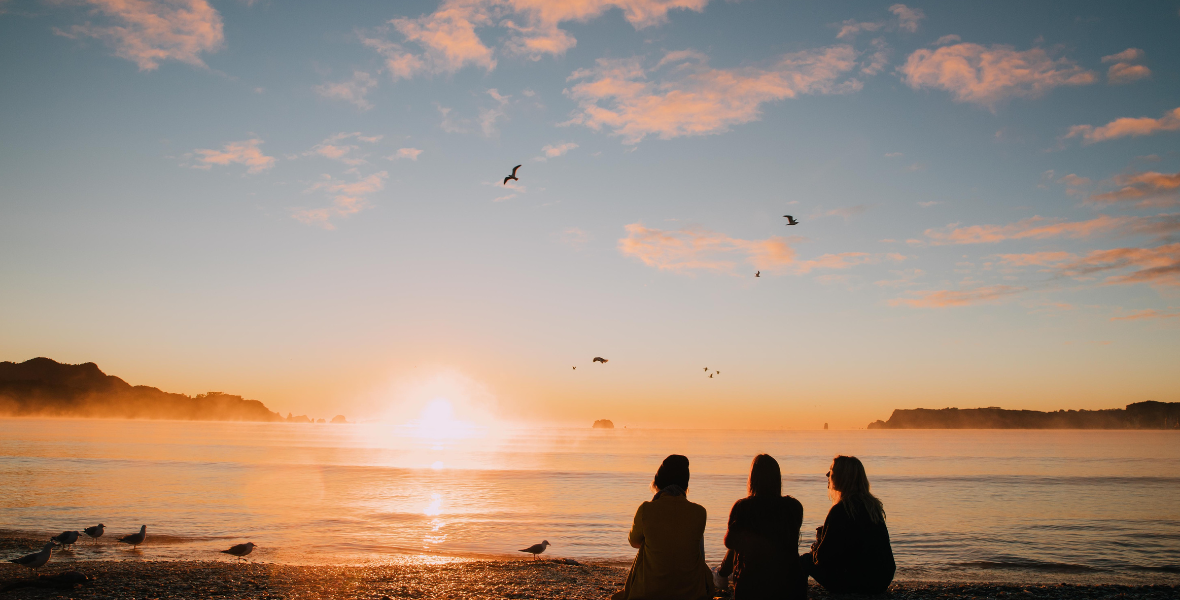 Image Source: Coromandel Image Library
6. Enjoy a picnic at New Chum Beach
Take a visit to New Chum Beach and you'll quickly see why it was voted by Lonely Planet as one of the world's top 10 beaches. It's easily missed by many, as it's a 30–40-minute walk through lush forest to reach it. A visit over summer is particularly rewarding as the vibrant pohutukawa trees put on their dazzling red displays. Make the most of your visit by packing a picnic and a chilled bottle of wine.
7. Soak in the sights along the Driving Creek Railway
There's something innately romantic about railways and trains. Especially when it winds its way through lush native forest, taking in scenic views, crossing bridges, and passing through tunnels. The Driving Creek Railway tour takes around one hour and 15 minutes with all of the above on offer. Driving Creek also offers other fun activities including pottery classes and ziplining.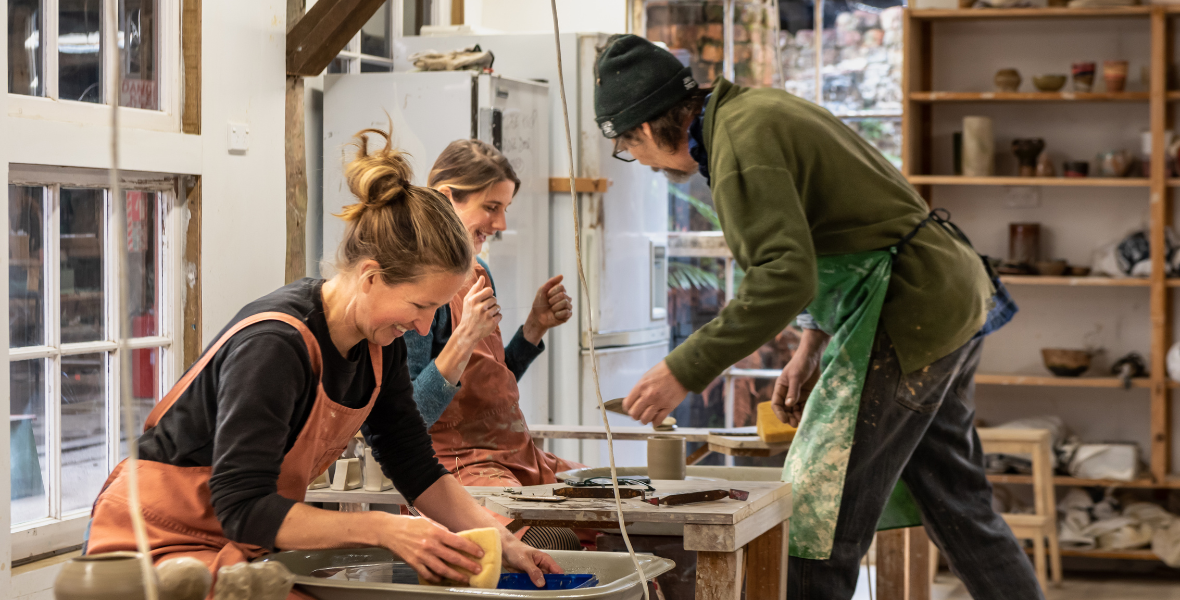 Image Source: Coromandel Image Library
8. Take a romantic walk along the Coromandel Coastal Walkway
The Coromandel Coastal Walkway stretches for 10 km (each way) between Fletcher Bay and Stony Bay. Yep, it's a long walk, but as one visitor described it, "It's like walking through a 10 km movie set!" The walkway crosses farmland, through coastal forest, and offers views of the Pinnacles, Great Barrier Island, and Cuvier Island. The walk can begin at either end and takes around 3.5 hours. Shuttle services for pick up and drop off can be arranged from Whitianga.
9. Kayak in the crystal clear waters of Cathedral Cove
If your walk to Cathedral Cove left you wanting to get out on the water, why not book a kayaking experience? Paddle through the sea caves, see the marine life in the crystal clear waters and enjoy the serenity of being in such a beautiful location. Your tour finishes off with a cappuccino or hot chocolate and cookies on the beach at Cathedral Cove. Sounds like the ideal day out!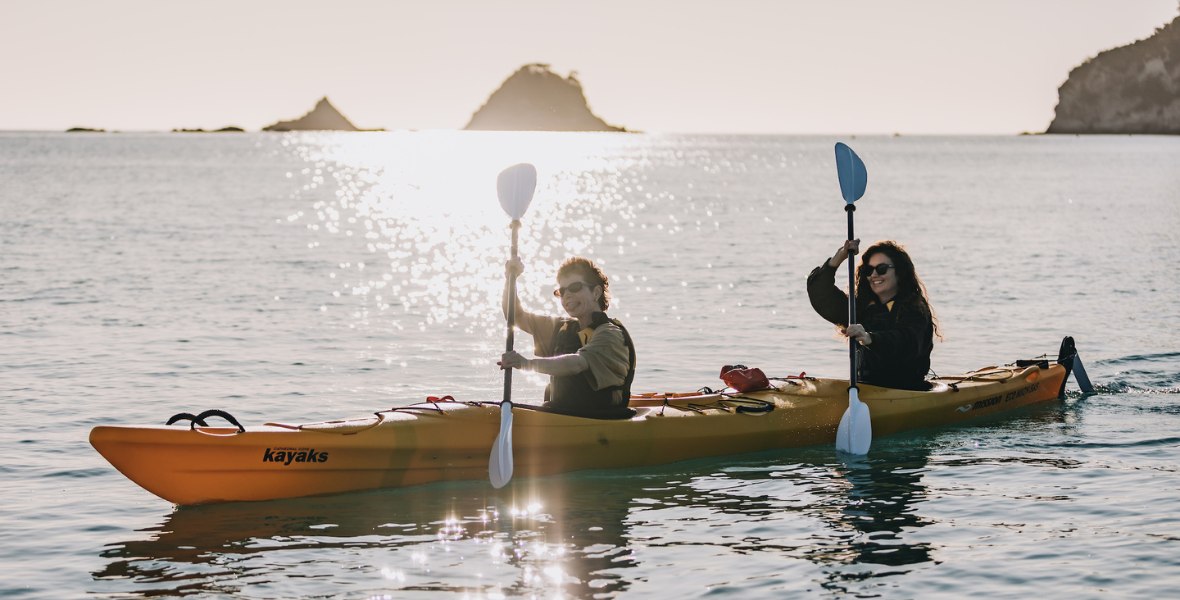 Image Source: Coromandel Image Library
10. Discover the Owharoa Falls
As you head home from Coromandel, plan a stop at the Owharoa Falls (about 1.5 hours from Coromandel, in the Karangahake Gorge, just out of Paeroa). This scenic spot makes for another great picnic stop. The picturesque waterfall can be reached via an easy track in about five minutes. While you're here, take a wander along the Karangahake Gorge Tunnel Loop. This area was once used for mining gold and there are still remnants of the old mining equipment and railway line. Bring a torch to explore the tunnels!
Ready to discover the Coromandel?
From ocean kayaking and train rides through the forest, to secluded beach picnics and seafood dinners, the Coromandel is truly the romance capital of New Zealand! Ready to get started? Pack your picnic blanket and champagne, and take the first step by booking your maui camper today!
With your maui campervan hire, you can enjoy your romantic New Zealand road trip at a pace that suits you. Explore those off-the-beaten-track locations, discover remote hidden gems, and share the magic of doing it all together. And enjoy it all with the comfort and convenience of having your own bed, bathroom, and kitchen with you at all times. What could be better?
Looking for more motorhoming inspiration and advice? Check out these helpful guides: