Join thousands of RV travellers
Sign up for our Go By Camper newsletter to receive inspirational travel content and awesome deals, and we'll send you a copy of our Ultimate RV guide!
Thanks
Please confirm subscription in your email.
What is the Bay of Islands known for?
The Bay of Islands is a subtropical micro-region comprising 144 islands Between Cape Brett and the Purerua Peninsula. It is known for its vibrant marine life, including dolphins, seals, fish, and penguins, as well as its native bush, rich history and Māori culture. The Bay of Islands weather is beautiful, with warm, calm waters all year round. In short, if you can picture yourself exploring golden beaches and tranquil waters, all while learning about the rich culture of New Zealand, the Bay of Islands deserves a spot on your North Island road trip itinerary.
Top tip: While visiting this region, it is important to follow the land safety code. This code is a set of five simple rules to help you stay safe and respect the environment you are exploring in these wild parts of New Zealand.
Top 12 things to do in the Bay of Islands
Whether you are looking for boundless outdoor adventures, epic dining, culture or enjoying the water, the Bay of Islands has it all. Here are 12 of the top things to do in the Bay of Islands on your upcoming North Island itinerary:
1. Enjoy a coastal hike around Urupukapuka Island
The Bay of Islands region is blessed with abundant secluded beaches, tall cliffs and historic sites. One spot that encompasses them all is Urupukapuka Island, The island is reached by taking a quick ferry from Paihia and offers endless opportunities for exploring, with several walking tracks winding their way through forested areas or along rocky coastal paths. The most popular is the Urupukapuka Island walk. This walk is a 7.3 km return tramp and takes around five hours. This is rated easy and so is suitable for families and older children. Pack lunch, snacks, and plenty of water, and make a day of it!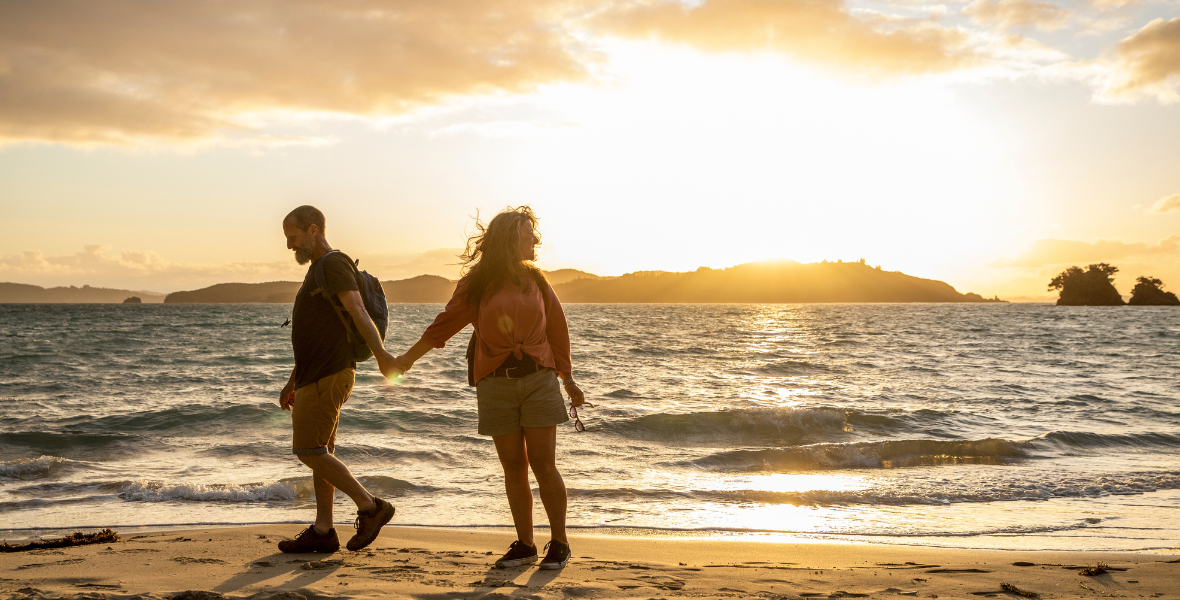 2. Experience fine dining at Sage Restaurant
A visit to the Bay of Islands would be incomplete without experiencing fine dining at Sage Restaurant. Sage focuses on locally grown and sourced ingredients from the fishing lines cast in the bay to the on-site garden that you can almost taste. Located in Russell, this exquisite eatery offers a unique experience in fine dining that must be tried by any foodie or gourmand.
You can choose from their a la carte menu or opt for the three-course meal option. Either way, no matter what you order, let their sommelier pair it with one of the many wines available on their extensive wine list. Mains range from $27-$75 and cater to a range of dietary preferences. This is easily one of the best things to do in New Zealand'sNorth Island.
3. Take in the culture at the Waitangi Treaty Grounds
Come experience the birthplace of the nation at the Waitangi Treaty Grounds. This historical hub weaves together the stories of the past with a fusion of local traditional Māori culture. Here you can see the Treaty House - the place where the Treaty of Waitangi (declaration of independence) was signed on 5 February 1840. The Treaty House is a monument to this momentous occasion—a museum that tells visitors about what happened at Waitangi during these events, including how different groups reacted afterwards when they received copies of the final version written in two languages (English & Māori).
There are also guided tours, cultural performances and walking tracks around the grounds of this beautiful location named after Ngati Whatua O Tamaki Makaurau iwi (tribe) who inhabited this land hundreds of years ago before colonisation took place here - another fascinating feature worth visiting if you're interested! There is even a cafe on-site to grab a bite to eat.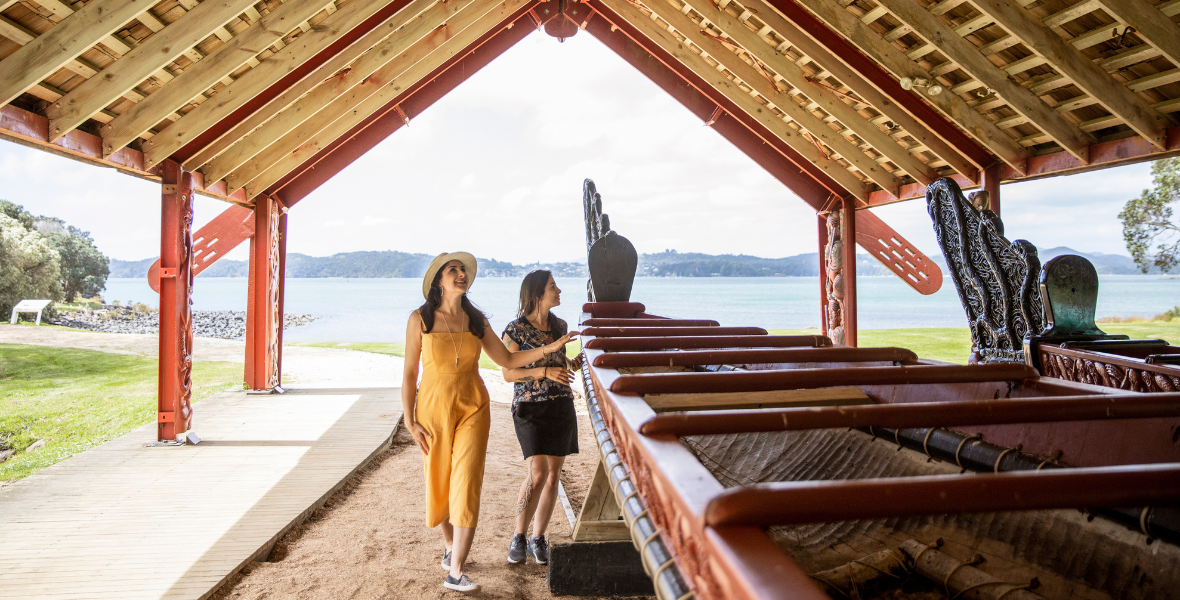 4. Take a relaxing cruise around the islands
When exploring the Bay of Islands, there is no better way to experience its abundant beauty than by boat. What better way than by jumping on board one of the many Bay of Islands cruises?
Cruises will take you on an unforgettable journey through some of New Zealand's most beautiful waters and into tranquil bays. You can choose from a range of packages, including Hole in the Rock Dolphin Cruise, where dolphins swim alongside your vessel, Day in the Bay, which gives a guided tour around historical and geographical sites in the bay, or R.Tucker Thomspon Day Sail on the traditional pirate-inspired gaff-rigged schooner. Ranging from $145- 160 per person for the day, this is a must-do experience and one of the best things to do in The Bay of Islands in New Zealand.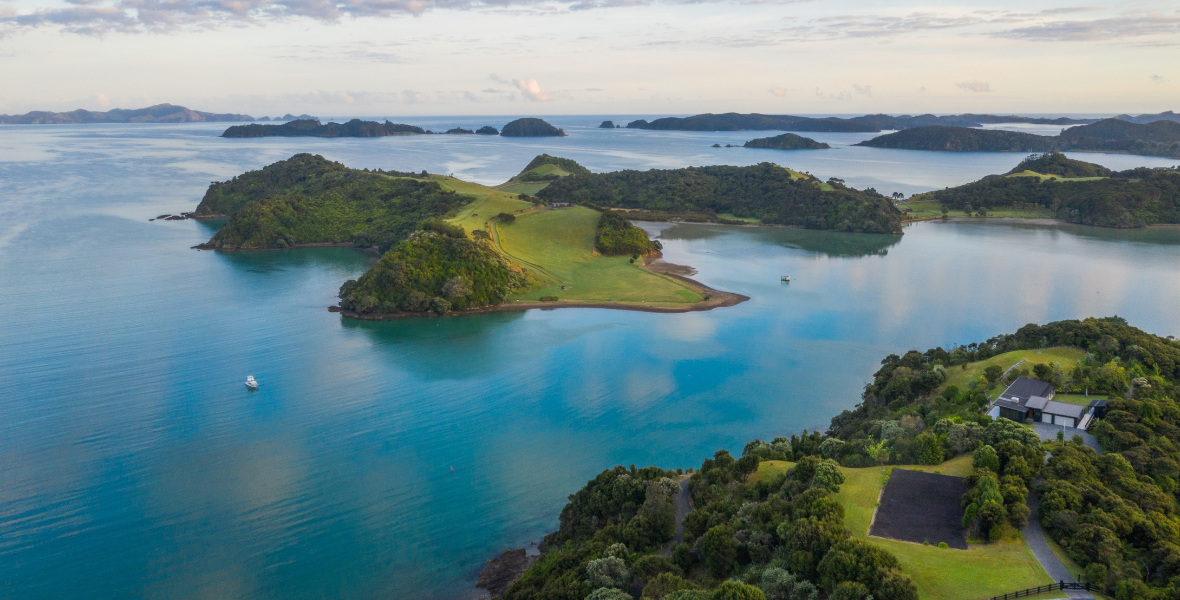 5. Enjoy a scenic bike ride
If you prefer on-land adventures, biking is one of the best ways to explore New Zealand's lush scenery and see the Bay of Islands from a different perspective. You can rent bikes in Paihia or Russell and head out to explore the local trails. One of the best places for biking is at Waitangi Mountain Bike Park, where there are well-marked trails ranging from easy to difficult (and even extra challenging). If you're up for something more challenging, try out the Twin Coast Cycle Trail — an 87 km trail that takes riders through from the Bay of Islands, through farmland and forests, ending in the tranquil Hokianga Harbour.
6. Go scuba diving or snorkelling
Snorkelling is another top thing to do in the Bay of Islands, New Zealand, and is a great and affordable way to get a glimpse of the marine life that lives just below the surface. The best time to snorkel is during summer when water temperatures are warmest, and visibility is at its peak.
Whangateau Harbour and Opua Beach are two great locations for snorkelling in the Bay of Islands. Whangateau Harbour has many interesting fish species, including spiny urchins and black stingrays, which can be seen along with other sea critters like eels and pufferfish. Opua Beach is also quite good for snorkelling because it has a reef near shore, which makes it easy to see marine life. If you're looking for something more challenging, then scuba diving might be right up your alley! If so, Paihia Dive offers some great scuba diving tours in the Bay of Islands.
7. Marvel at the magnificent waterfalls
The Bay of Islands region is home to many spectacular waterfalls that are worth adventuring to experience. Rainbow Falls is one of the most popular and accessible waterfalls in the area. It's just 25 minutes from Paihia and makes for a pleasant walk; you'll find yourself surrounded by the lush rainforest as you hike through it up to the waterfall itself. Haruru Falls is another great option for those who love hiking: it's even closer than Rainbow Falls, only about a 10-minute drive away from Paihia in your motorhome. The track is around 6 km and will take around 2.5 hours to walk.
8. Kick back at Long Beach
Long Beach is just one of those places where you can kick back and enjoy the scenery. You can swim, fish, snorkel or kayak in crystal-clear waters. Or just sit back and relax while watching the sunset. It's a beautiful place to spend a relaxing day by the beach.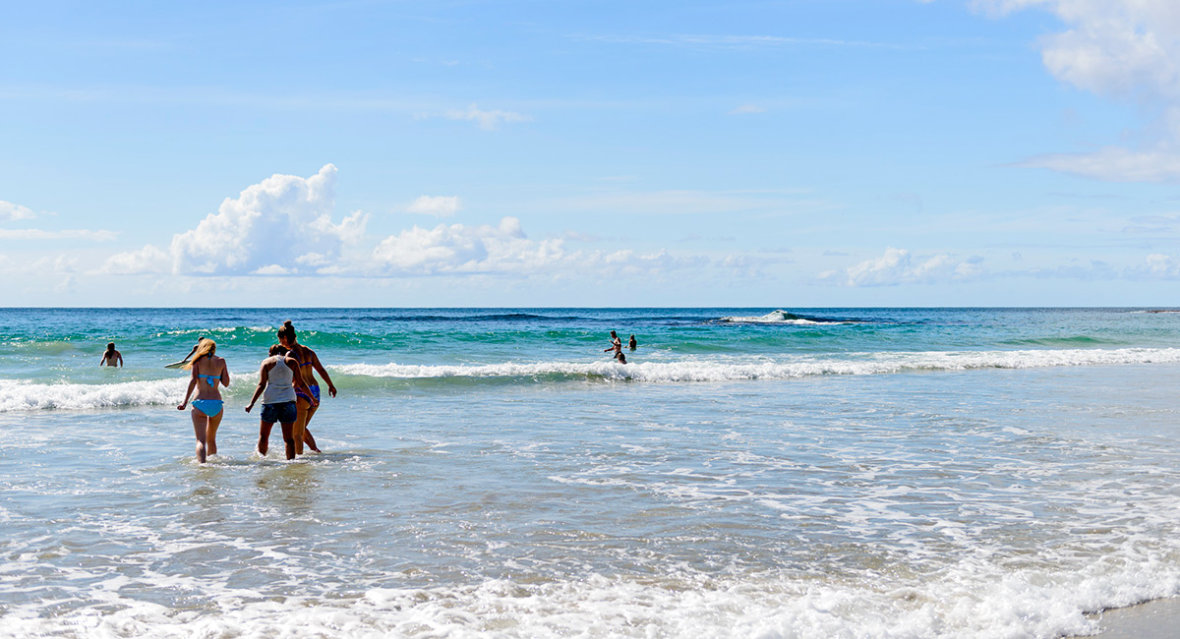 9. Enjoy the view from above
If you want to see the Bay of Islands from a bird's eye view, Flying Kiwi Parasail is the way to do it! Located at the end of The Strand, these tours operate daily, so you can easily book a session for yourself or your group. The staff are friendly, knowledgeable and experienced. They've been doing this for years and will help ensure that you have an amazing time during your parasailing adventure. Choose to sail solo or go in tandem or in a triple parasail flight with your friends and family. They also offer a great family deal for 2 adults and 2 children, so this is perfect for a family fun day out!
10. Discover the giant trees in Puketi Forest
There are few places in the world where you can find a forest as vast and beautiful as Puketi Forest. The name Puketi comes from the Māori words for "many" and "trees," which gives us a clear indication of what we should expect when visiting this beautiful place. Located just outside of Opua on the east coast of New Zealand's North Island, this area offers visitors plenty of things to do. From hiking through native forests to exploring underground caves with glow worms—there's something for everyone here! To fully capture the experience of this stunning forest, take a stroll along the easy one-hour walking loop through the forest, marvelling at the local plant and wildlife and getting up close to the ancient kauri trees along the way.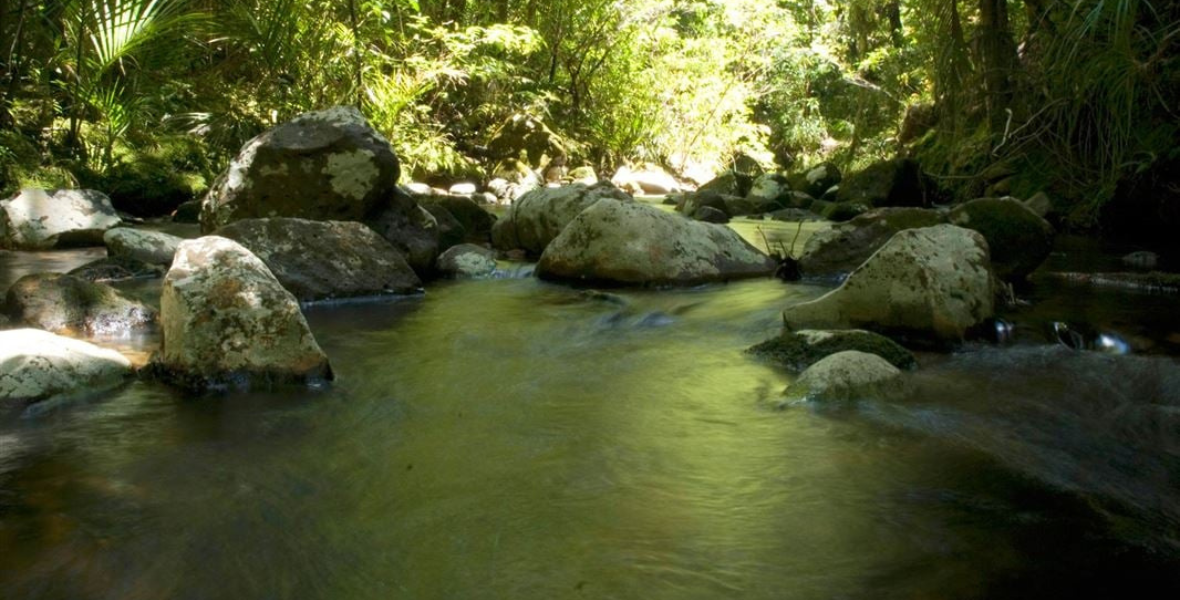 11. Explore the bay on horseback
If you are an avid horse rider or just curious to try, don't miss a chance to join a Horse Trek'n Tour. These are great for families, as the horses are well-trained and very docile. If you have never ridden a horse before, this is your chance to try all while learning about the local area. The tour guides are friendly and knowledgeable and give great insight into the wildlife and culture of the surrounding Waitangi area as you trot along the countryside.
12. Take a day trip to Cape Reinga
Cape Reinga is the most northern point of New Zealand's Northern Island and is a popular tourist destination for its natural beauty. The Māori name for this cape is "Te Pounga" or "The End of the Land." It was here that the spirits of native peoples were believed to depart for their afterlife. Located three-and-a-half hours from the Bay of Islands, you can choose to explore Cape Reinga on your own with its walking trails or take one of many tours offered by tour operators in Paihia and Russell.
One of the best things to do in this New Zealand North Island region includes climbing up to Cape Reinga Lighthouse, which houses an interesting display of history and local lore. When you're done, you can enjoy panoramic views of the area with the Cape Reinga Lighthouse walk. If you're feeling a little more adventurous, be sure to check out the Te Paki Coastal Track or get a thrill and go for a sandboard on Te Paki Sand Dunes.
Ready for a coastal getaway?
Whether you are planning a road trip for the summer months or planning a shoulder season adventure to take advantage of the perks of travelling in the off-season in New Zealand, the Bay of Islands is the perfect addition to any Northern New Zealand road trip. Whether it's hiking through the forest, diving into the ocean or exploring historic ruins, there's something here for everyone. For more tips on motorhome holidays, choosing the right motorhome, what to pack for your motorhome trip, and more, check out the maui blog.
So what are you waiting for? Ready to make your own memories on this epic coastal destination? Book your maui campervan online and then pick it up from the Auckland branch for a trip of a lifetime.