Join thousands of RV travellers
Sign up for our Go By Camper newsletter to receive inspirational travel content and awesome deals, and we'll send you a copy of our Ultimate RV guide!
Thanks
Please confirm subscription in your email.
Volcanic fire
New Zealand is a geologically active landmass sitting smack-bang along the 'Pacific Ring of Fire'. Tongariro National Park offers a grand-scale demo of its powers, with the Alpine Crossing an unforgettable encounter with its smoking volcanoes. Further north in Rotorua, more fiery evidence emerges in the form of steaming vents, geysers and bubbling mud, with geothermal hot pools a relaxing and therapeutic bonus.
Mountain scenes
Such awesome geological forces have left the country layered and crumpled, scored with rivers and lined with mountain ranges. The North Island's highest peaks are volcanoes – Ruapehu, Tongariro and Taranaki. The Tararua Range is also notable, with pleasant campsites in its foothills. The Southern Alps offer non-stop mountain adventure almost the entire length of the South Island. Some of our favourite bases are the conservation campsites at Kerr Bay (Nelson Lakes National Park); White Horse Hill (Mount Cook National Park); along Haast Pass Highway (Mount Aspiring National Park); and the road to Milford Sound (Fiordland National Park).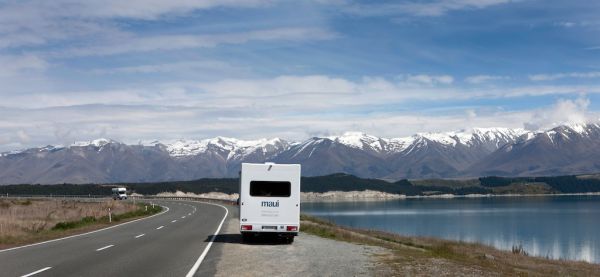 High country
Generally above 600 metres, the 'high country' is synonymous with big skies and a tussocky, golden glow. Imbued with rich pastoral heritage, it is now appreciated as unique habitat, and much beloved for its spare beauty. Seldom does it get more picturesque than during lupin bloom in the Mackenzie Country, although Marlborough's Molesworth Station comes a very majestic second.
Rivers run
New Zealand's rivers are wildly diverse, ranging from unusual braided channels constantly changing course; thundering gushers carving deep gorges; and those now harnessed to power the national grid. Extensive riverside trails allow you to follow them far and wide, but nothing will get you closer than a boat trip (other than a cold swim). Try a jet-powered blast on the Buller or Dart; raft on the Rangitata or Tongariro; or paddle the Whanganui Journey.
Lakeland
And so it flows that there are countless lakes, created in different ways but almost always spectacular. By far the largest is Taupo – a deep blue beautiful jewel and a water-lover's paradise. An hour's drive north, the Rotorua area is peppered with 18 lakes, rich in Maori lore and recreational opportunities. The South Island is known for large glacial lakes such as Wakatipu, Wanaka and Manapouri, but for small-scale charm check out Mahinapua, Matheson and Kaniere, all ringed by rainforest on the wild West Coast.
Deep forest
Tree-spotters rejoice: a quarter of New Zealand is covered in forest. Rich pickings lie in national parks and reserves, where hiking paths encourage tree hugging and campsites allow you to linger. Notable North Island parks include Waipoua, Te Urewera, and Whirinaki. Vast tracks of native forest exist in the South Island, including UNESCO-listed Fiordland, although Kahurangi and Paparoa also rate highly on our must-visit list.
Sounds magic
The South Island's convoluted sounds and fiords reveal fascinating natural and maritime history as well as sheer, salt-tinged beauty. A popular holiday playground, the Marlborough Sounds remain predominantly wild and tranquil. Explore them on a nature cruise, by kayak, or via Queen Charlotte Track. Down south, Milford and Doubtful Sounds boat cruises offer magical Fiordland experiences featuring mountains, wildlife and waterfalls.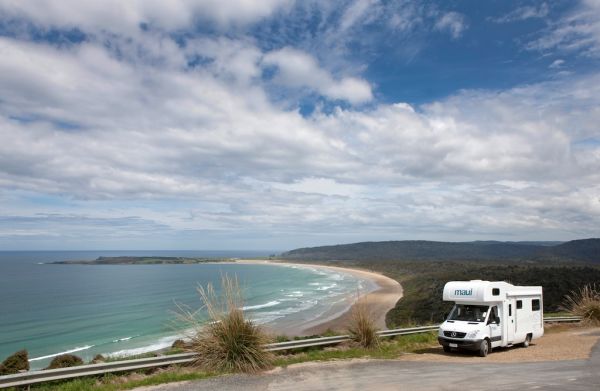 Beach life
With the tenth-longest coastline in the world, NZ is beach-lovers' heaven – although activities such as swimming, surfing and fishing predominate over lounging around. Much of the coast is craggy and inhospitable, bashed by big waves, inhabited by seals and bad-tempered oystercatchers – fantastic if you love a freaky field trip. When you yearn to feel the sand between your toes, however, you'll have no trouble finding a beach so beautiful it may move you to tears.
Get Going
Inspired to go on a splendid New Zealand adventure? In order to get started on this journey, book a maui campervan today, we have branches in Auckland, Christchurch and Queenstown. You can also check out our latest deals and specials here. And if you want to explore more scenic routes and must do itineraries around New Zealand check out our recommended routes here.