Join thousands of RV travellers
Sign up for our Go By Camper newsletter to receive inspirational travel content and awesome deals, and we'll send you a copy of our Ultimate RV guide!
Thanks
Please confirm subscription in your email.
Lake Wānaka is one of the best places to visit in New Zealand for romance. To help you get started, we've put together a few 'must dos' while you're there. Prepare to fall in love with this beautiful part of New Zealand, as you wake up to sublime scenery, relax, and enjoy a romantic time together!
What's the best way to travel to Wānaka?
Pick up your pre-booked maui camper from our Queenstown branch at 50 Lucas Place in Frankton. Our friendly team will be waiting to show you the ropes and run through everything you need to know about your campervan hire before you hit the road.
Here at maui, we've got a great range of motorhomes and campervans to suit every New Zealand road trip. All of our motorhomes include a built-in toilet and shower which gives you the option of freedom camping as you travel.
Once you've picked up your motorhome, it's a short – and very scenic – 90-minute drive from Queenstown to Wānaka. Note, Crown Range Road is not to be travelled by campervan, but the alternative route along SH6 is a beautiful way to see more of Mackenzie country.
Stop along the way and check out the quaint and characterful township of Arrowtown. Just 20-minutes' drive from Queenstown, this historic settlement has a long and fascinating gold mining history – you can even pan for gold while you're there. In autumn, the oak trees put on dazzling displays of colour, while in winter the township transforms into a picturesque winter wonderland.
Once you arrive in Wānaka, park up your campervan in one of the great campsites in the area, such as Wānaka TOP 10 Holiday Park on Studholme Road North, or the Wānaka Lakeview Holiday Park on Brownston Street.
Top 12 most romantic things to do in Wānaka
1. Hook Wānaka
Head to Hook Wānaka for a unique dining experience. This lake-to-plate salmon fishing and restaurant attraction, located right in the heart of New Zealand's picturesque Southern Lakes, is unlike anything you've tried before! Spend a day together hooking a Chinook salmon from the spring-fed fishing lakes, then have your catch hot smoked or prepared as sashimi, or take home your vacuum-packed fillets to cook up in the campervan.
2. Wine tasting at Rippon
The Otago region is renowned for its beautiful vineyards, and Rippon, on Wānaka-Mt Aspiring Rd, is a great example. Enjoy the fine wines of this unique southern destination as you overlook the incredible views of Lake Wānaka. Rippon even has several spectacular venue options for outdoor weddings, including a natural amphitheatre that offers views out over the vines to Lake Wānaka and the Southern Alps. They might be worth checking out while you're there!
3. Double kayak on Lake Wānaka
There's nothing quite as romantic as heading out on the pristine waters of Lake Wānaka on a double kayak – so beautiful and peaceful! Book a four-hour fully guided Tiki Tour and enjoy morning tea of a homemade chocolate brownie on a secluded beach. Another great option is a paddle out to Ruby Island – about 45 minutes – where you can enjoy a relaxed picnic together and be picked up by water taxi.
4. Watch a movie at Cinema Paradiso
You just can't beat curling up and watching a movie together as part of your romantic Wānaka getaway. And at Cinema Paradiso on Brownston Street, you'll feel like you've stepped back in time to when life was so much simpler and relaxed. This state-of-the-art classic movie theatre is decked out with a comfortable old sofa, an old Morris Minor, and a bar and café serving homemade ice cream and world-famous fresh hot cookies!
5. Enjoy a couple's ski lesson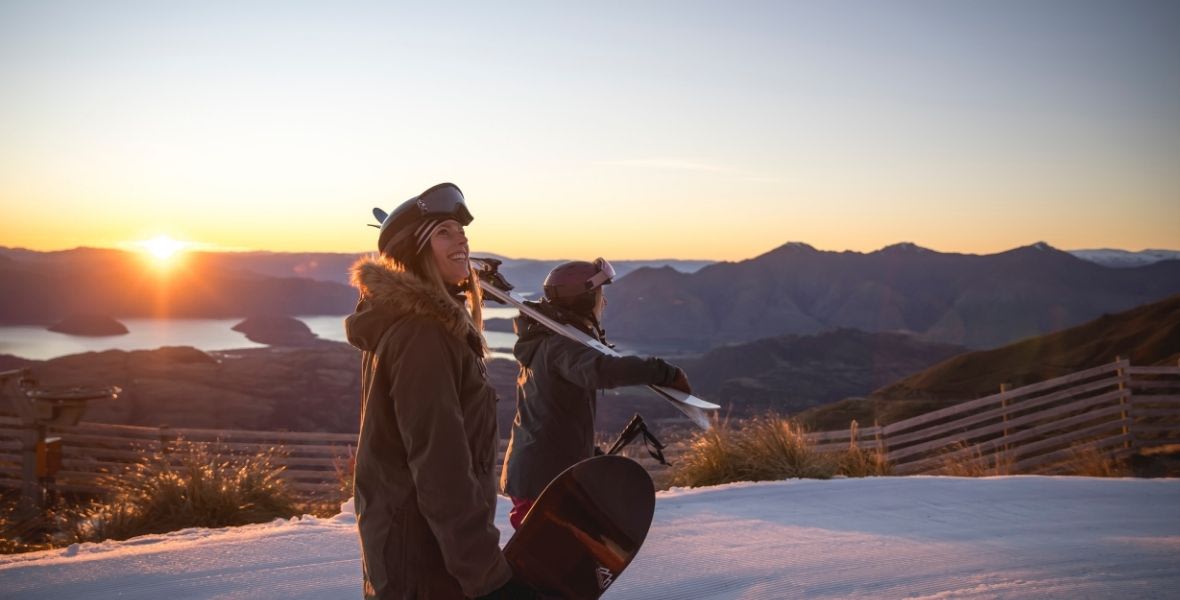 Image Source: TNZ Visual Gallery
Wānaka is one of the best places to visit in New Zealand over winter – especially if you love skiing. Get ready to hit the slopes as you head to the Cardrona Alpine Resort. This legendary spot is New Zealand's most popular ski area, and it's less than 20 minutes' drive from Wānaka. There are plenty of great bars and eateries available too – so plan to enjoy a warming meal afterwards, with a glass or two of the region's famous wine of course.
6. Picnic on the shores of Lake Wānaka
Lake Wānaka is an incredibly popular New Zealand tourist attraction, and with good reason! It's simply beautiful – and the perfect place to enjoy a romantic picnic. In winter, rug up and pack a flask of hot chocolate and some tasty burgers from Red Star Burger Bar, or for something truly special, arrange a fabulous picnic for two from My Secret Picnic – they've even got a Proposal Picnic option!
7. Experience the amazing views of Roys Peak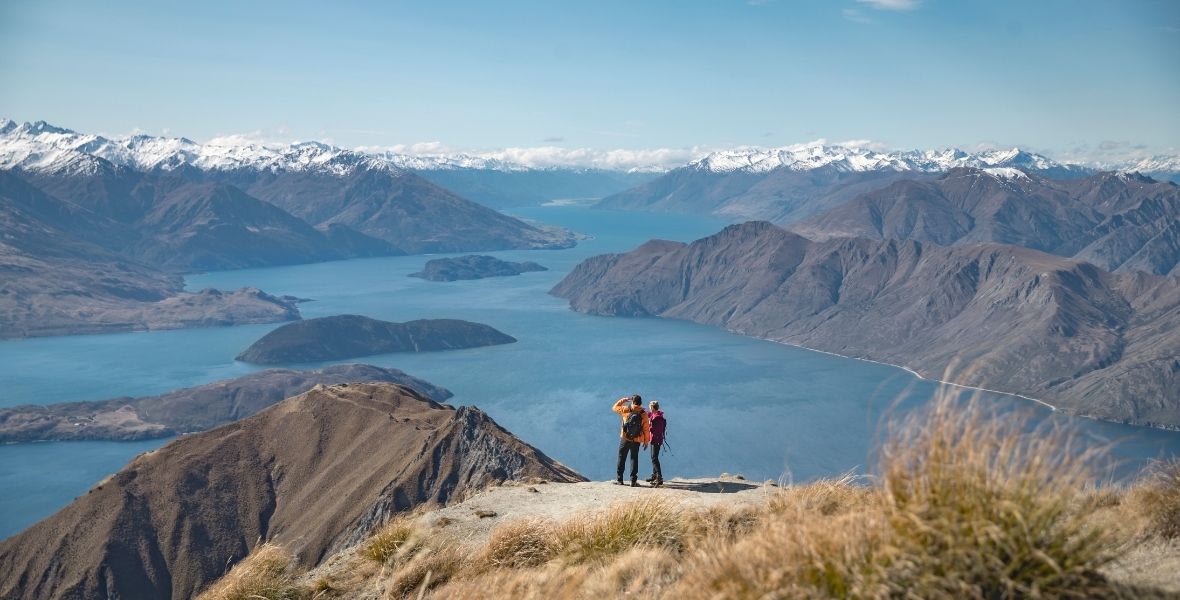 Image Source: TNZ Visual Gallery
To really appreciate the beauty of this special part of New Zealand, it's best to see it from a height! Roys Peak is a popular walking track, taking around 5-6 hours return (16km). At the top of the 1578m summit, you'll be rewarded with spectacular views over Lake Wānaka and Mount Aspiring. Be sure to check the weather ahead of time – the walk is safer, more enjoyable, and the views much better, on a sunny summer's day. Note, the track is closed for lambing from 1 October – 10 November each year.
8. Explore Cardrona Valley on horseback
For an unforgettable way to travel New Zealand (a small part of it anyway!), explore the scenery on horseback. Voted as one of the top New Zealand tourist attractions in the region, Cardrona Horse Trekking is a magical experience to enjoy together. You'll be well looked after by a guide who will also give you a one-on-one riding lesson before you head off, just to make sure you're feeling confident and ready. Then, it's off into the countryside where you can marvel at the rugged high-country scenery as you hear about its fascinating gold-mining history. You'll even make a stop at the iconic Cardrona Hotel where you can park your horse and enjoy a relaxing drink in the gorgeous garden bar.
9. Enjoy a candlelit dinner at Bistro Gentil
Nothing says romance quite like a candlelit dinner for two! Bistro Gentil, on Golf Course Rd, brings together the best of modern French cuisine within a quaint and charming setting. This incredibly romantic spot is surrounded by lavender and overlooks serene lake views and magical sunsets. Choose from delicious offerings such as confit duck leg, Royalburn lamb rump, or Parisienne gnocchi, followed by a crème brulee or affogato. Don't forget to plan ahead and reserve your table.
10. Cruise around Lake Wānaka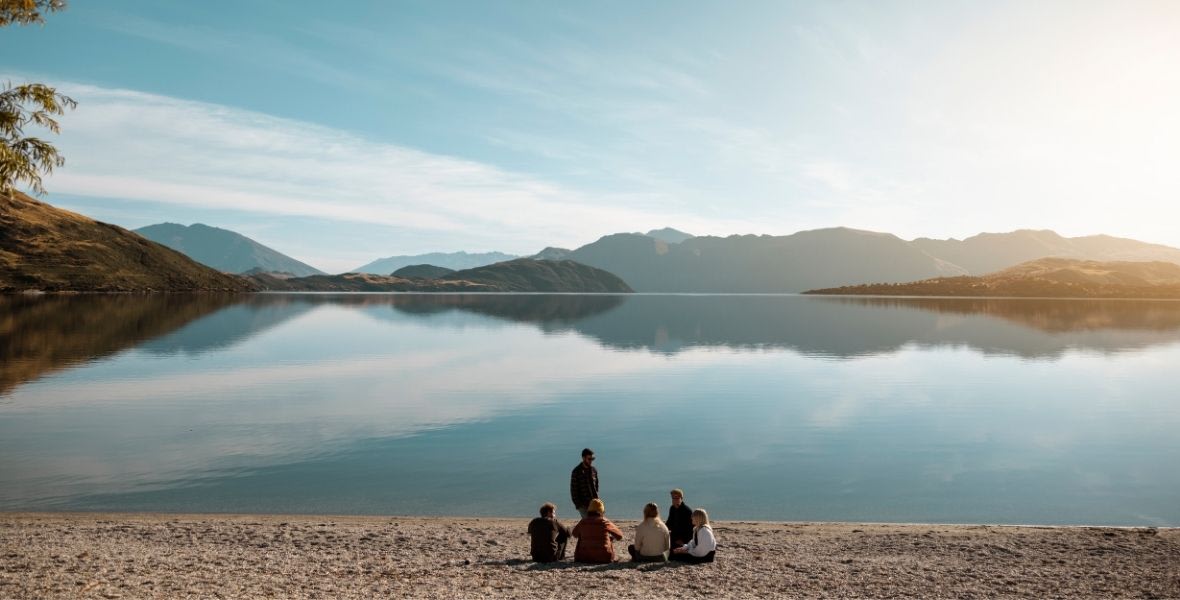 Image Source: TNZ Visual Gallery
One of the most popular things to do in Wānaka is to enjoy a cruise along the sparkling waters of the beautiful lake. Simply relax, unwind, and watch as the scenery changes from one shade of spectacular to another. For a shorter experience, choose the one-hour Happy Hour cruise. Relax with a glass of chilled craft beer or a pinot gris as you cruise onboard a luxury 57-foot catamaran past Ruby Island, The Peninsula, and Mount Gold. For a longer experience, climb on board the two-hour Stevenson Island Cruise and Nature Walk where you'll make a beach landing on Stevenson Island and take a short hike to the summit to view the Minaret Peaks – have your camera ready for some Insta-worthy romantic pics!
11. Visit Mou Waho Island
Jump on the Wānaka Water Taxi to explore the remote and beautiful Mou Waho Island. This predator-free nature reserve is home to an array of birdlife including kererū (wood pigeon), korimako (bellbird), and weka as well as other native New Zealand species such as the mountain stone wētā and the Southern Alps gecko. The island was once used for boat building and sheep farming, and remnants of the stone wharf and cottage can still be seen. It's just a short 20-minute hike from the jetty to a hidden glacial lake. Carry on for another five minutes to the summit of the island for some incredible photo opportunities.
12. Roam through Mt Aspiring National Park
A must-do stop on your romantic Wānaka road trip planner is a visit to Mt Aspiring National Park. With its picture-postcard-perfect setting – from snow-capped mountains to crystal clear alpine lakes – this special spot is guaranteed to create some wonderful memories. For couples who enjoy hiking, the three-day Routeburn Track offers up some incredible scenery. At its highest point – 1244 metres above sea level – the views are utterly breathtaking. And for those who love an adrenaline-fuelled adventure, plan a jetboat experience on one of the park's rivers.
Ready to book your next New Zealand adventure?
From horseback riding and kayaking, to picnics and movies, there is no better place to light that romantic spark than in beautiful Wānaka. Ready to get started? Pack the champagne, plan your picnic, and take the first step by booking your maui camper today!