Join thousands of RV travellers
Sign up for our Go By Camper newsletter to receive inspirational travel content and awesome deals, and we'll send you a copy of our Ultimate RV guide!
Thanks
Please confirm subscription in your email.
South Island Campervan Roadtrip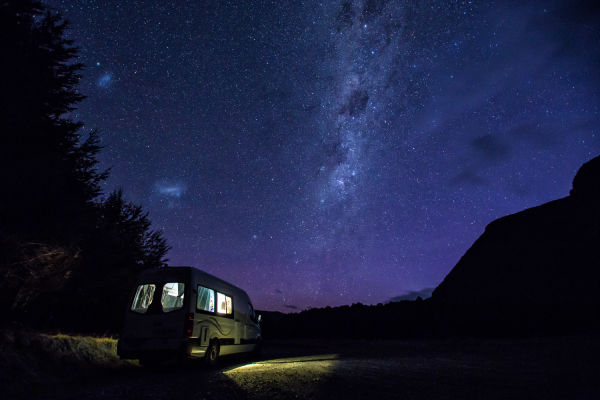 Glamp with a view
Think that a campervan trip can't have a little glamour? We sure did. But then we added a stay at Carrick Winery to our journey and definitely took our roadtrip up a notch!
With our late winter arrival we were the only ones to enjoy the frosty valley views offered at our campsite. The chill wind was whipping around us but we didn't let it bother us - not when we could sample a variety of offerings inside the winery, and enjoy the gifted gourmet basket of goodies inside our cozy campervan. Camping truly never felt so good!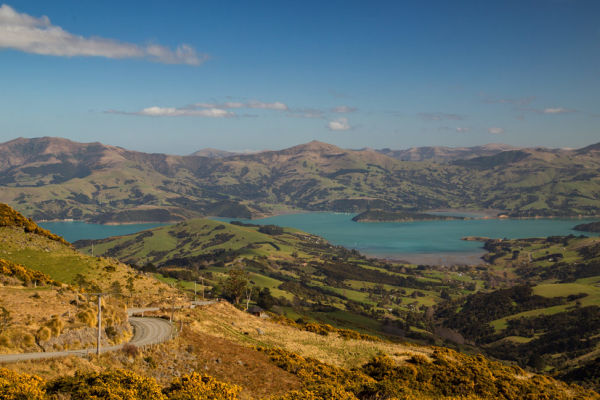 Road with a view
Lots of people shared lots of advice with us before our road trip. It was hard to pack it all into just shy of three weeks, but there was one stop that we were sure glad we made time for.
A dear friend advised us to make our way to Akaroa instead of staying in Christchurch. It seemed a little out of the way but we went for it, and BOY, were we glad we did. The drive itself was a complete stunner down the windy mountain road to the base of town. It wasn't easy to stop for photos given how narrow the road was, but when we did, we were always aptly rewarded.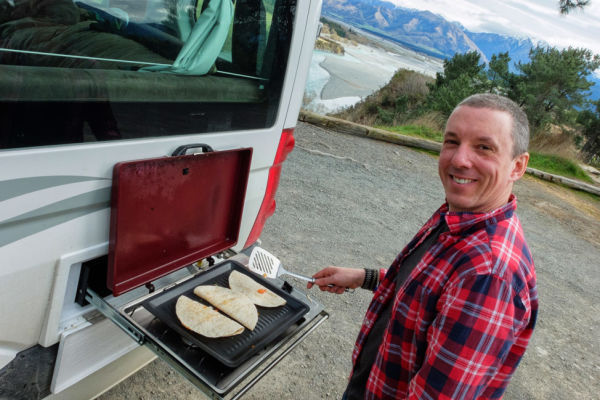 Lunch with a view
The drive from Kaikoura to the west coast via the Lewis Pass was one of the longest ones during our big road trip of the South Island. We were treated to everything from snow caps to the Buller Gorge of luscious green and low hanging fog. So mesmerized were we with the gorgeous day that we didn't mind making it a little bit longer when a specific craving overcame us.
Getting a little tired of our go-to camping meal of hot dogs, we wanted to spice it up with some quesadillas. Lacking all the ingredients, we turned off the main road towards Hamner Springs. What we never expected from that detour was the stunning views we would be greeted with. And after a quick stop at the store, we returned to the tiny bridge near town to enjoy our lunch at an overlook.
Those tourists who made a stop only for a quick photo were obviously jealous of our setup - we spread out our table and canvas chairs to enjoy the sunny day, our fresh quesadillas, and the momentous view to go with it.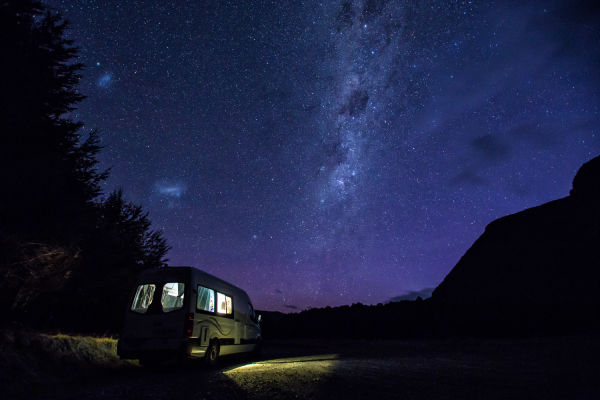 Camp with a view
Everyone needs a little disconnection once in a while, and on at least every odd night during our almost three week road trip throughout New Zealand, we sought out a DOC campsite that would take us off the grid and into the wild.
We stayed at several throughout the South Island, but Mackay Creek might have been our favourite. It is one of several along the road to Milford Sound and we were fortunate to enjoy it all to ourselves. It was with few spots, clean, and mountain peaks off in the distance. Star-gazing kept us occupied well past the twilight hours, and our ears rang with a blanket of blissful silence.
To follow Pete and Dalene on their other adventures, check out their website: Hecktic Travels.
Get Going
Inspired to go on a splendid New Zealand adventure? In order to get started on this journey, book a maui campervan today, we have branches in Auckland, Christchurch and Queenstown. You can also check out our latest deals and specials here. And if you want to explore more scenic routes and must do itineraries around New Zealand check out our recommended routes here.