Join thousands of RV travellers
Sign up for our Go By Camper newsletter to receive inspirational travel content and awesome deals, and we'll send you a copy of our Ultimate RV guide!
Thanks
Please confirm subscription in your email.
Tips for exploring the best picnic spots
Enjoying a picnic of local foods out in the fresh air, while taking in the views is one of the reasons campervan travel is so special. You have the freedom to stop anywhere you like at any point during your NZ road trip and travelling with a fridge means you always have delicious foods and cold drinks for an instant picnic. To make those gourmet moments even more special, we have a few handy tips for stuff you might want to check off your list before you set out.
Ensure you pack the essentials
Remember a picnic blanket, water, sunscreen, and a comfortable daypack to transport your goodies.
Get the inclusive add-on pack
When choosing your maui rental, be sure to get the inclusive pack add-on if you want a table and chairs for your picnic.
Do your research
If you have a picnic spot in mind, make sure you know how to get there. Use the GPS navigation available in all maui campervans.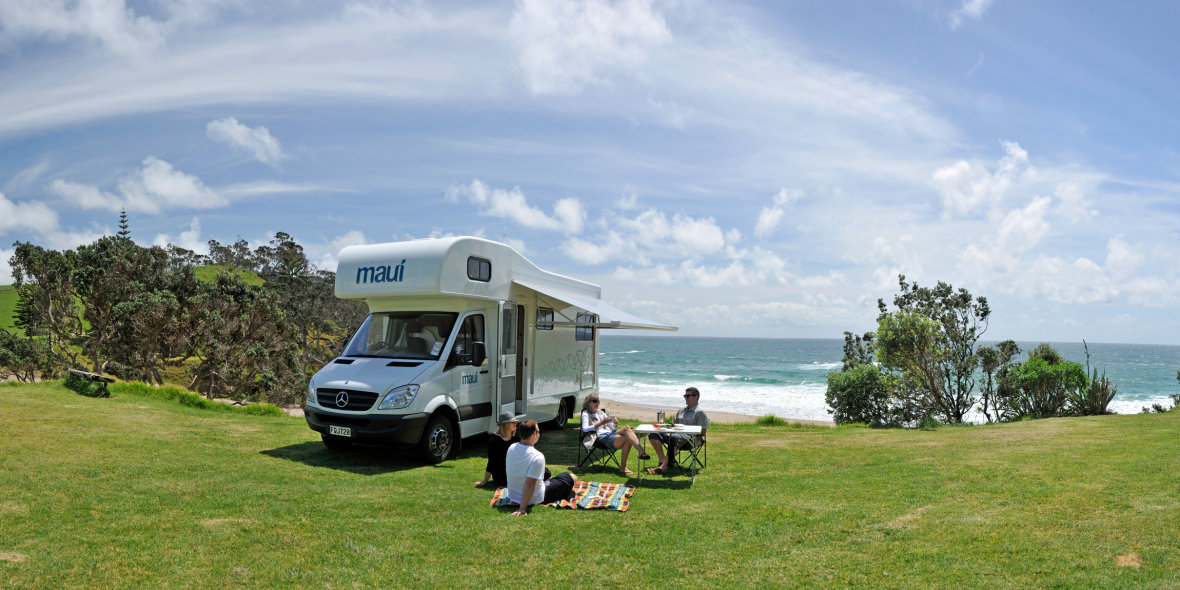 Top Picnic Spots in the North Island
New Zealand's South Island tends to get a lot of the fanfare, but the North Island has some of Aotearoa's most beautiful beaches, mountains, forests, epic geothermal sights, and hot springs. Auckland is the country's biggest, most bustling city, and Lonely Planet dubbed Wellington as the world's coolest little capital in the world. So, it's clear there is plenty to explore. Here are our picks for the best picnic spots in North Island:
1. Maitai Bay, Northland
The absolutely stunning double crescent of Maitai and Waikato Bays on the Karikari Peninsula is truly hard to beat. Take your time exploring the area and swim in the clear waters around the rocks at the end of Maitai Bay. Then meander over to this beautiful beach and make yourself comfortable under the pohutukawa tree and indulge. It's easy to access by campervan,and there is camping available. Head to the upper park if you want a park with a view or the lower park if you'd rather be by the sea.
2. North Head Historic Reserve Trail, Auckland
North Head Historic Reserve Trail is easily one of the best vantage points in Auckland. The expansive views of the city, harbour, Rangitoto Island and Hauraki Gulf are unbeatable on a good day. Considered one of New Zealand's most significant defence sites, you can wander around the second world war tunnels deep inside the volcanic cone between sandwiches. North Head has an expanse of open spaces with gentle slopes and flat areas; it's quite easy to get around. There is parking on the summit, but keep in mind that the vehicle gates close at 8:00 pm.
3. Lake Te Koo Utu, Cambridge
Lake Te Koo Utu is an oasis in the heart of Cambridge, this scenic park is easy to walk around. There are loads of walkway options, including a 30-minute stroll around the scenic lake, a wander to a gorgeous waterfall and the energetic can make a short climb for nice views or hang out on the playground. Full of trees and planting, there's a load of cover from the sun, a large picnic area with a free BBQ and public toilets.
4. Stoney Point Reserve, Rotorua
Stoney Point Reserve is a 20-minute drive from the Rotorua CBD on Spencer Road, Lake Tarawera. The view across the lake to Mt Tarawera is stunning and changes dramatically over the course of a day. A popular place for kayaking and windsurfing, why not enjoy a swim before your picnic lunch or dinner? There's a great big grassed area, giant trees, barbeques, playgrounds, plenty of parking and toilet facilities. The reserve extends from Stoney Point south to Boatshed Bay and Rangiuru Bay, a popular shoreline fishing area.
5. Mount Victoria Lookout, Wellington
Accessible by car, foot, bike, or campervan, those who venture to the top of Mount Victoria are rewarded with panoramic views of Wellington city, the harbour and the hills to the west. There is a large car park at the summit, toilets and great walking tracks. Alfresco dine anywhere on the lookout while soaking in the epic views. Wellington is famous for the wind though, so take a sweater.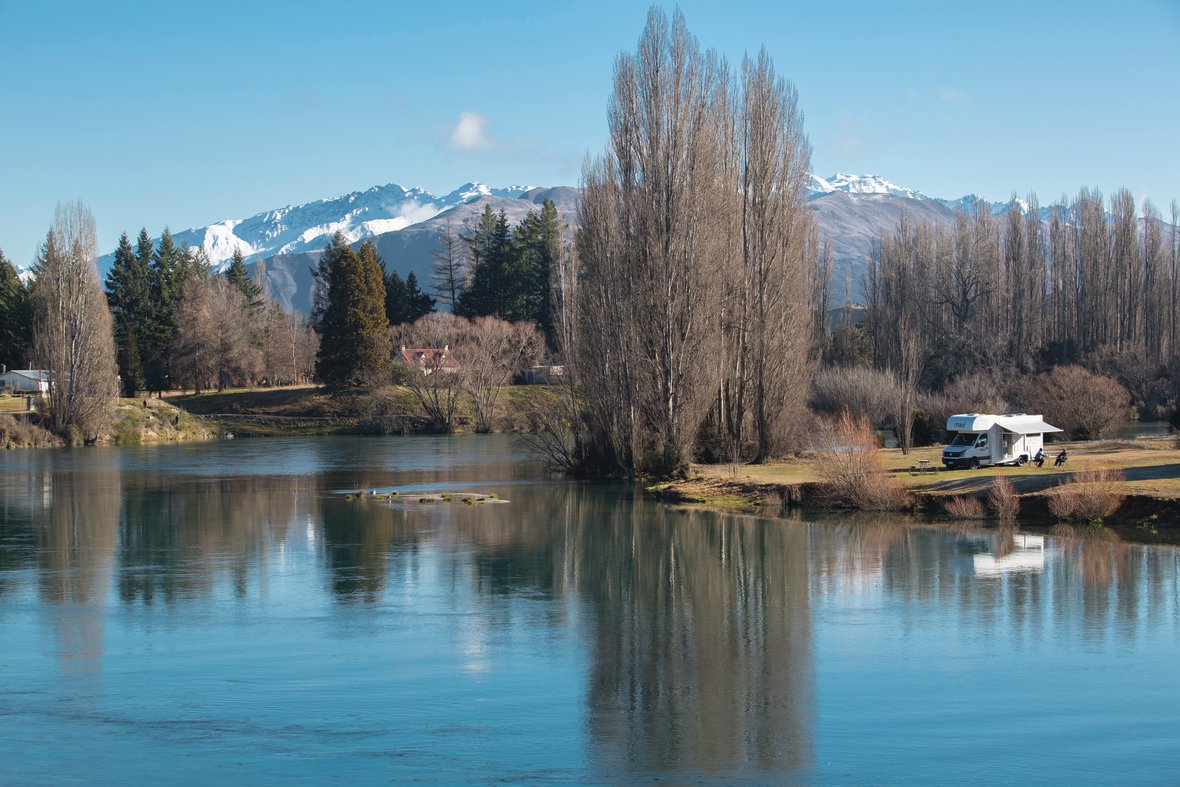 Top Picnic Spots in the South Island
From wildlife to wineries, glacier-carved fiords to star-filled skies, golden beaches to dense rainforests, snow-capped mountains to turquoise lakes, the South Island offers a warm Kiwi welcome and a dizzying array of adventure opportunities. No matter which destinations you choose, you'll be left mesmerised. Here are our top picks for picnic spots in New Zealand's South Island:
6. Miyazu Garden, Nelson
The Miyazu Garden serves up a little slice of Japan in Nelson. A tranquil place, it is a good spot for a 10–15-minute stroll with ponds, fun stepping-stones and bridges, cherry trees, a rock garden and a tea house. There are picnic tables for a peace-filled lunch, but no BBQs.
7. Lake Kaniere, West Coast
Well worth the 20 km drive from Hokitika, Lake Kaniere is a must-visit. Soak up the beautiful reflections, and stunning views of snow-capped mountains and bush-clad hills surrounding the lake. On a hot summer's day, you can enjoy your picnic while watching the boaties, kayaks and kids jumping off the jetty. The surrounding walks to Dorothy Falls, Canoe Cove and the Kahikatea Walk are well worth the effort, and it's a popular spot for birdwatching.
8. Christchurch Botanic Gardens
In the city centre next to the Canterbury Museum, the Botanic Gardens are a beautiful place to while away an hour or two among the blooms whilst digging into a delightful picnic hamper. From grassy open spaces surrounded by mature trees to shady spots, riverside, ponds and playgrounds, there's something for everyone. In spring you're surrounded by daffodils and tulips and rose blossoms in summer. Wander the many pathways or why not hop on a punt tour and admire the beautiful gardens from the Avon River?
9. Kelvin Heights, Queenstown
Queenstown's scenic backdrop makes just about everywhere the perfect location for a picnic but if you're after impressive views of Lake Wakatipu, the Remarkables and Queenstown while hooking into your hamper, check out Kelvin Heights. A short water taxi ride or a 15-minute drive from the centre of Queenstown, you can work up your appetite on the Kelvin Peninsula Trail beforehand. It is an easy-going 90-minute stroll that winds around the lake and circumnavigates the Kelvin Heights golf course. You'll love the hidden beach coves and sculptures by New Zealand artists that have been generously donated by an anonymous art lover.
10. Blue Lake, Central Otago
The 'Glory Hole' was once the deepest mining hole in the southern hemisphere. Now a giant turquoise lake when the sun reflects off the minerals in the white cliffs. The Blue Lake at St Bathans is just off the Central Otago Touring Route. It's located about 8km from the main highway along a gravel road, and is well worth the detour. Check out the heritage buildings along the high road in this tiny old mining town before ambling around the Blue Lake.
There are two walks to choose from but the longer 1.5-hour walk is the best way to take it all in. There is seating along the way where you can enjoy your picnic while gazing at distant mountains, or why not go for a dip? The lake is popular for boating, kayaking and paddleboarding over summer. If you're still peckish after your walk, you could fuel up at the Vulcan Hotel with a famous South Island cheese roll or enjoy a cold beer or Central Otago pinot noir. As there is a bit of shingle on the trail, make sure to wear decent footwear.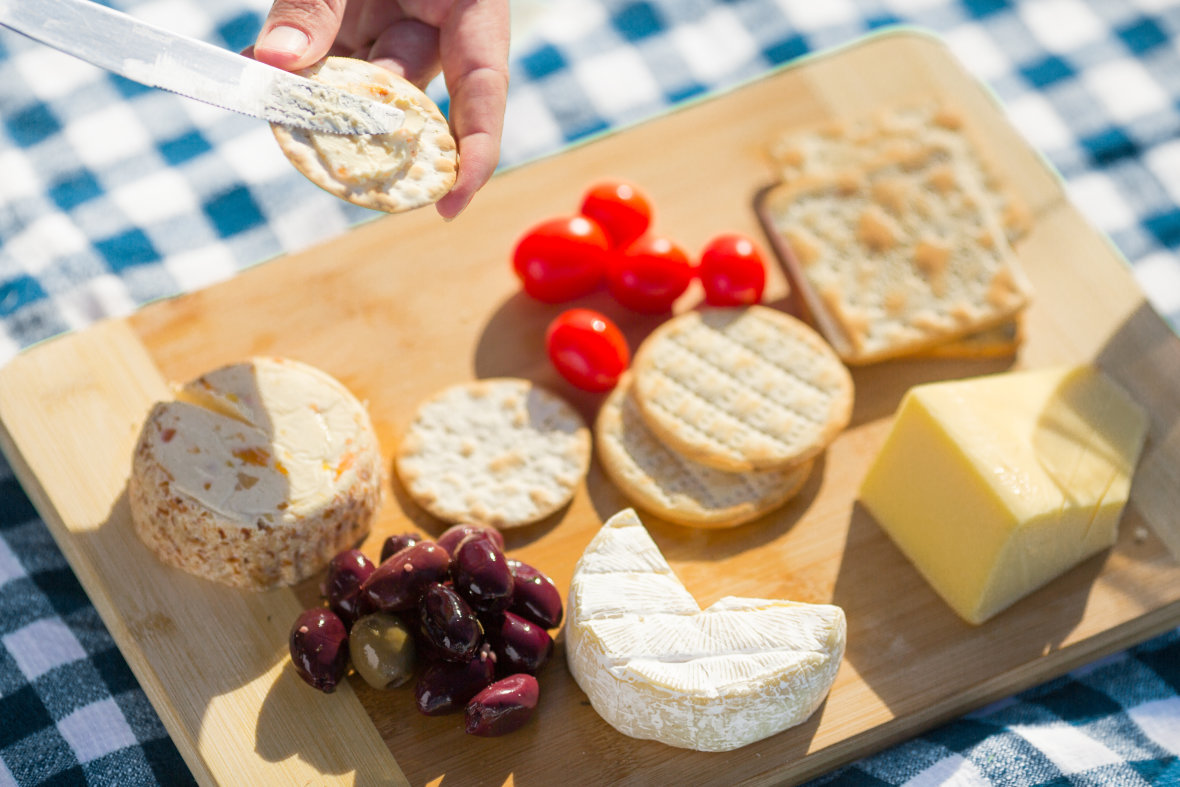 Keen to start your New Zealand road trip?
No matter the season or the island you choose to explore, it's always a good time to park up your maui motorhome and enjoy a picnic. Thanks to its diversity, you'd be hard-pressed to find a moment when you're not struck by the beauty Aotearoa New Zealand has to offer, so take your time and enjoy it. Just remember to leave the land as you found it and dispose of any rubbish properly. Book your maui campervan online and then pick it up from your nearest maui branch.