Join thousands of RV travellers
Sign up for our Go By Camper newsletter to receive inspirational travel content and awesome deals, and we'll send you a copy of our Ultimate RV guide!
Thanks
Please confirm subscription in your email.
With so many great hikes and walks to choose from it can be hard to narrow it down. To help, we have put together a list of the top ten best day hikes in Wānaka to add to your upcoming New Zealand road trip. Get your hiking boots ready and let's dive in!
The best time of year to hike in Wānaka
Spring and autumn are often seen as the best times to visit New Zealand for hiking as there aren't as many people on hiking tracks, and it's not as humid. This is also the best chance to avoid the safety challenges of hiking during the more extreme weather conditions of summer or winter. This is an essential consideration when planning a hiking trip in order to stay safe in the outdoors. That being said, while these extremes are a consideration, the weather in Wanaka can change dramatically even over a matter of hours, so it's important to be mindful of the weather no matter when you plan your hike. .
Another consideration for safety in the outdoors is choosing the right trip for you. This may change depending on the day, how you're feeling as well as your overall fitness and experience levels. As this can vary, we have included a range of levels on our list of the best day hikes.
Top tip: Downloading the Wānaka Tracks App is a great way to help you choose the best track for you. Available on Apple and Android.
1. Glendhu Bay Track
The Glendhu Bay Track is a well-formed track offering spectacular views of Lake Wānaka and the surrounding mountain ranges. The start of the track is an easy eight-minute drive from Wānaka, accessed via Ruby Island road. Starting from Waterfall Creek, you will wind past re-vegetated terraces above Lake Wānaka and then down along the shoreline. Expect short steep hills in places, and be sure to pack your swimmers if the weather is warm. Damper Bay is perfect for swimming in the warmer months.
Distance: 15km
Travel time: 3-4 hours one way
Difficulty level: Intermediate
2. Roys Peak
Roys Peak Track is an emblem of hiking in Wakaka. Offering unmatched panoramic bird-eye views of the surrounding region - it's little wonder why! This track is less than ten minutes drive from Wānaka, via Mount Aspiring Rd. This track is a steep climb through alpine meadows and grasslands with over 1200m in elevation gain. However, it's all worth it for the unbeatable views when you get to the peak.
Top tip: This track can also be challenging regardless of the season, but can become especially dangerous in the winter months as there is the risk of avalanches at about the 1000m mark. Be sure to check the Roys Peak weather forecast before visiting.
Distance: 16km return
Travel time: 5-6 hours
Difficulty level: Intermediate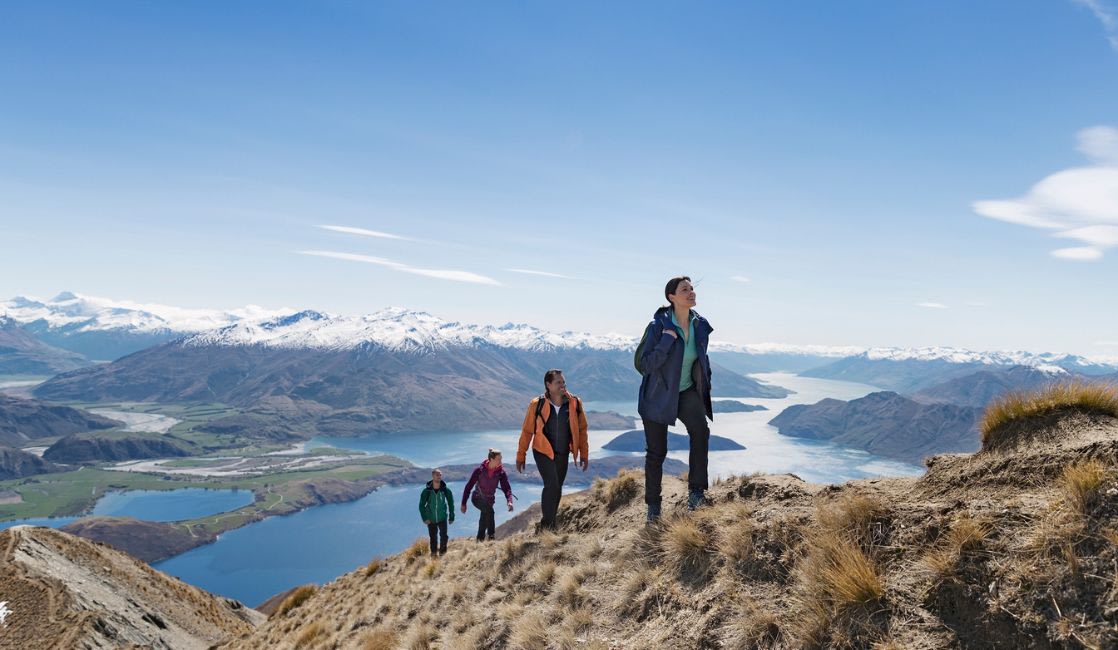 Image Source: TNZ Image Library
3. Rob Roy Track
Rob Roy Track is located around two hours from Wānaka, beginning at the base of Tititea/Mount Aspiring at Raspberry Creek parking lot. This track offers a great intermediate route into this stunning alpine landscape. Allow for extra time to soak up the views as you climb.
Top tip: As you will be walking through alpine landscape, expect glaciers, snowfields, and sheer rock cliffs. Weather can be unpredictable in these higher altitude alpine conditions, so be sure to pack appropriate clothing and prepare accordingly.
Distance: 10km return
Travel time: 3-4 hours
Difficulty level: Intermediate
4. Newcastle Track
The Newcastle Track offers walkers, runners and bikers a chance to enjoy the views of Clutha River. This track is located 25 minutes drive east from Wānaka. This track is nice and flat, making it perfect for the whole family.
Distance: 12km one way
Travel time: 2-3 hours
Difficulty level: Easy
5. Brewster Track
Brewster Track is an advanced hike located an hour from Wānaka along Highway 6. Starting in Fantail Falls, this track traverses the unabridged Haast River, and through the beech forest. This can be done as a day hike but it is a popular overnight track for those looking to book a night at the Brewster Hut. Featuring 12 bunks, there is plenty of room for the whole family. However, this does get busy so be sure to book ahead. A bunk for a night starts at around $40 per adult and $20 per child. This is easily one of the most beautiful mountain huts in New Zealand - one of the top ranked things to do in Wānaka.
Distance: 5km return
Travel time: 6-8 hour return
Difficulty level: Advanced
6. Waterfall Creek Track
Just a short 10-minute drive from town is the Waterfall Creek Track, an easy, short walk with a view of one of New Zealand's top attractions. Starting from the west end of Roys Bay, this track winds its way around the lakefront and offers stunning views of the famous Wānaka tree. If that wasn't enough, a little further down the track you will pass the Edgewater and Rippon Vineyard. While here, why not treat yourself to a wine tasting at the cellar door. This is the perfect summer afternoon tramp!
Distance: 2.5km
Travel time: 1 hour
Difficulty level: Easy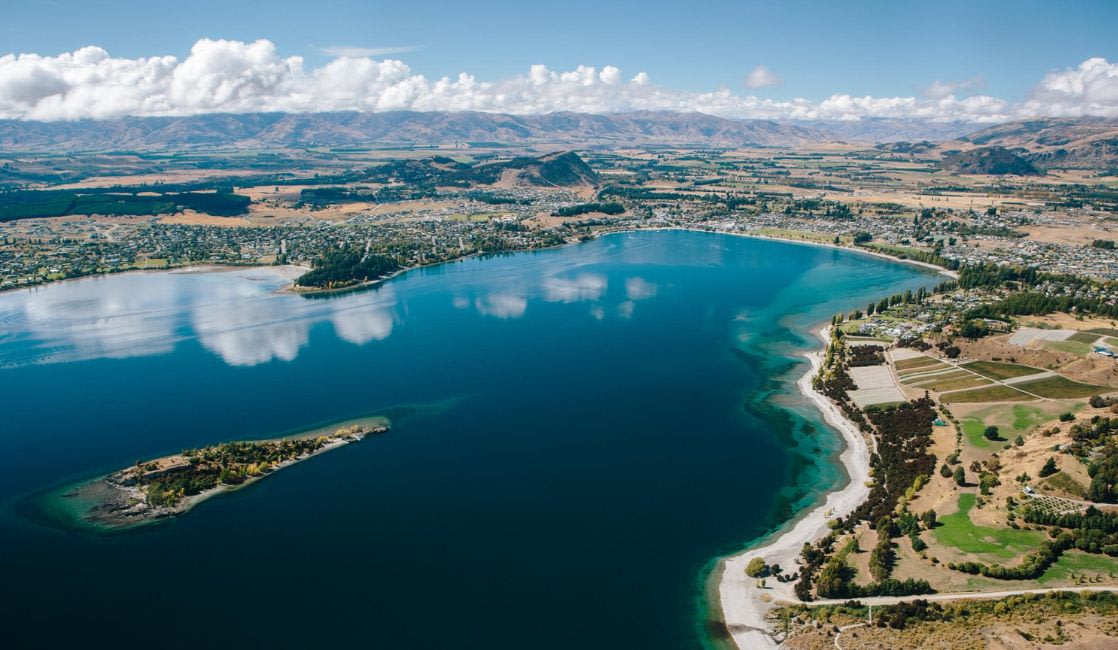 Image Source: LakeWanaka.co.nz
7. Diamond Lake and Rocky Mountains
Just 20 minutes from the centre of Wānaka is the Diamond Lake and Rocky Mountain Walks. This area's landscape has been carved by Ice Age glaciers and is surrounded by native forest, shrubland and broad, eroding bluffs reflecting on the lake. Here there are several tracks to choose from to get to the lake. These vary from a nice and quick 45-minute return trip, all the way to a three-hour tramp. Some sections of the track are steep and often slippery, so be sure to wear a sturdy pair of hiking shoes.
Distance: 2.5km - 7km
Travel time: 45 minutes - 3 hours
Difficulty level: Easy
8. Isthmus Peak
If you are searching for impressive 360-degree views of Lake Wanaka and the surrounding Southern Alps, don't miss a tramp up the Isthmus Peak Track. Located around 30 minutes from Wānaka, this track begins in the north of Hawea town. As you ascend the track, you will encounter a steep and challenging beginning followed by a more relaxed walk through flat pastures, amongst the cows and sheep. Then you will cross the undulating skyline ridge, on a series of switchbacks to the summit. As this track is quite steep in sections, it can be hard on the knees. It may be worthwhile bringing some hiking poles to assist with the descent!
Distance: 16km return
Travel time: 5 to 7 hours
Difficulty level: Advanced
9. Mount Iron Track
If you are looking for a local trail in Wānaka, then definitely add Mount Iron Track to your list! Starting just 2 km from the centre of town, this short loop winds its way through 250 metres of elevation up a rocky knoll. Once you reach the summit, you will be treated to 360-degree views of Wānaka from the summit. This loop takes around 90-minutes to complete, but if you are walking from town we recommend allowing an additional 30 minutes to get to and from the trailhead. Best of all, with a track so easily accessible in town, you can finish this off with a bite to eat in town. Federal Diner on Helwick Street is a top contender for flavoursome food and great coffee.
Distance: 4.5km loop
Travel time: 1 hour 30 minutes
Difficulty level: Easy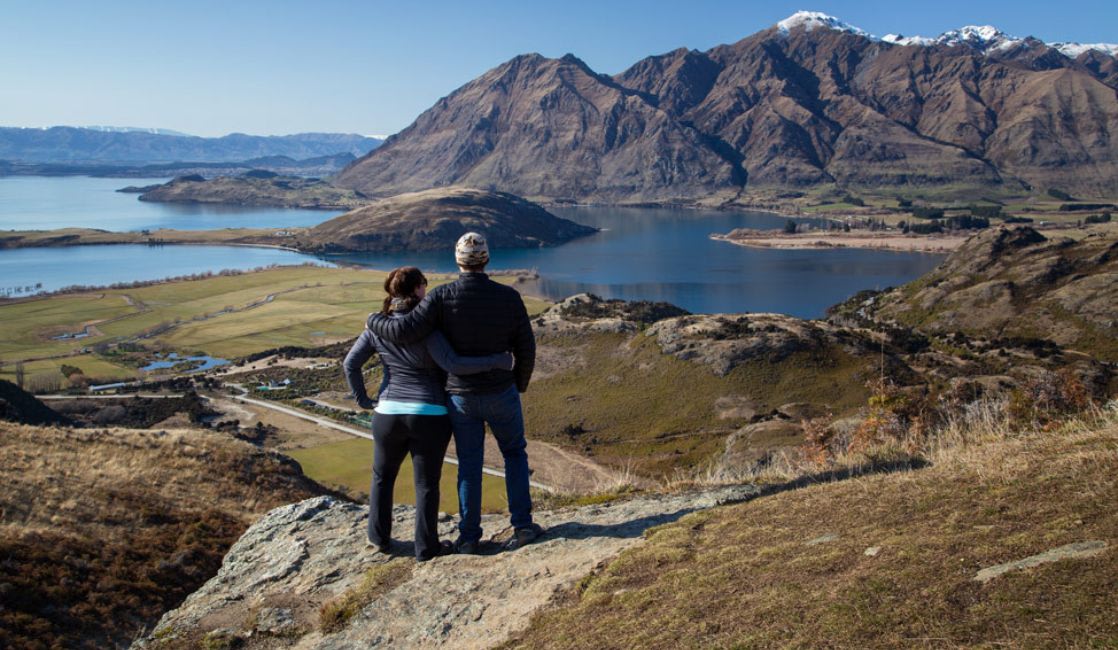 Image Source: Hecktic Travels
10. Grandview Mountain Track
Grandview Mountain Track (previously known as the Grandview Creek Track) is tucked away near Lake Hawea, around a 20-minute drive from Wānaka. This track begins by traversing lower pastoral land and then opens up to tussock land at the top. The Grandview Mountain Track is ranked as an advanced trail due to its steep incline of over 1000 metres in elevation. While it is a tough slog, it offers amazing views of surrounding lakes Lake Hawea and Lake Wānaka from the top. On a clear day, you may even be able to see the snowy peak of Mount Aspiring in the distance.
Distance: 18km return
Travel time: 4-6 hours
Difficulty level: Advanced
Time to explore Wānaka's best hikes?
Wānaka is filled with stunning scenery and epic hikes for all abilities. What better way to experience them all than with a campervan hire. With a kitchen and bed on board, you are free to explore all the incredible things to do in the South Island of New Zealand and stunning camping spots in the Otago region. If you are looking for more inspiration for your upcoming Wānaka trip, be sure to check out our eight-day Queenstown loop itinerary or our longer 14-day South Island Campervan road trip.
Ready to start exploring Wānaka's best hikes? Book your maui motorhome online and pick it up from the most convenient maui branch to begin your New Zealand road trip adventure.