Join thousands of RV travellers
Sign up for our Go By Camper newsletter to receive inspirational travel content and awesome deals, and we'll send you a copy of our Ultimate RV guide!
Thanks
Please confirm subscription in your email.
Incredible Prices and Booking Flexibility
Secure your holiday with just a $1 deposit, and should you have a change of heart, you can cancel for free up to 7 days before you travel.
All of our motorhomes are brimming with thoughtful conveniences and stocked with fresh bedding, cutlery, and crockery, allowing you to comfortably go beyond.
Offer available across our network of locations nationwide.
Powered by Campermate, the thl Roadtrip app enables families to search for attractions and campgrounds. And maui's "how-to" videos will ensure you can confidently navigate New Zealand by campervan like a pro.
Our variety of Liability Options ensure you have complete peace of mind when you hire a maui motorhome. You can add this to your camper hire throughout your booking journey.
Remember, you don't need a special licence – a standard driver's licence enables you to hire even a large six-berth motorhome!
Book Now
Find the right vehicle for your roadtrip
Whether you're a seasoned pro or a first-time motorhome traveller, our broad range of self-contained vehicles means there's something to suit everyone's travel style. Our smaller 2 & 3 berth motorhomes are ideal for couples looking to get away, whilst our 4 & 6 berth motorhomes make it easier to take the whole crew on an adventure, or for those looking for a little extra space for their toys and creature comforts when on the road.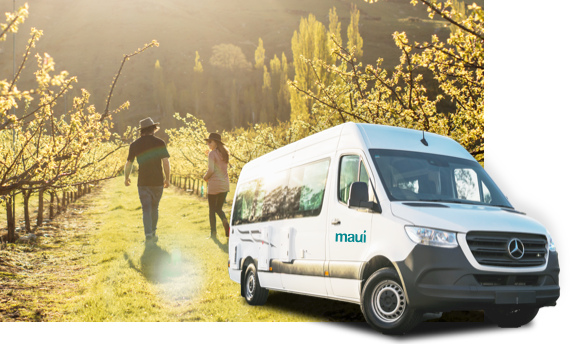 Nimble Adventurer

Our fleet of 2 – 3 berth vehicles, which include the maui Ultima, are perfect for a couple or young family looking to get away. With flexible and spacious bed configurations and toilet and shower facilities onboard it is a true home away from home.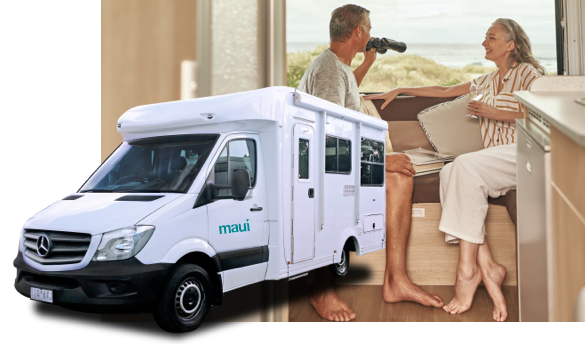 Comfort and Style
Our fleet of 4 berth vehicles, including the maui Cascade, make for the ultimate freedom machines. Travel in comfort with friends and family and enjoy panoramic views of New Zealand from where you lay. There's also a little extra space for should you want to bring along your toys and creature comforts; your favourite cookbook, cricket bat, bike or boogie board.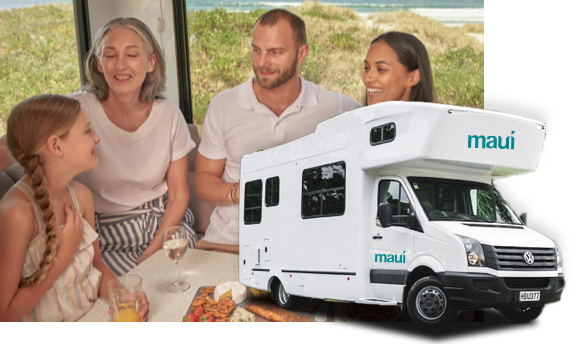 For those who like a bit more room

Whether it's spoiling the family, going on a roadie with your nearest friends or just the luxury of having a bit more space and storage, then our fully equipped fleet of larger 6 berth vehicles like the maui River is just what you need. Brimming with all the creature comforts of our main fleet and more you won't be disappointed.
Terms And Conditions
15% off maui motorhome hire rates with promo code 15OFF

Pick-up and drop-off locations

Auckland, Christchurch, Queenstown, returning at Auckland, Christchurch, Queenstown

1 March 2021 - 27 April 2021

· Not combinable with any other offer
· All standard maui motorhome fees and charges apply including but not limited to credit card administration fees, location fees, road user recovery fees, public holiday surcharges, liability reduction and inclusive pack fees and express return pack charges. More here.
· All maui motorhome terms and conditions apply
· maui motorhomes reserve the right to withdraw this offer at any time
· Offers and vehicles are subject to availability at all times - this offer may not be available on all dates or in all locations