Join thousands of RV travellers
Sign up for our Go By Camper newsletter to receive inspirational travel content and awesome deals, and we'll send you a copy of our Ultimate RV guide!
Thanks
Please confirm subscription in your email.
To help you get the most out of this beautiful slice of New Zealand paradise, we've put together this guide to the top 12 things to do when visiting Tauranga. Get your hiking shoes and swimmers (or whatever helps you recharge) ready, and let's dive in!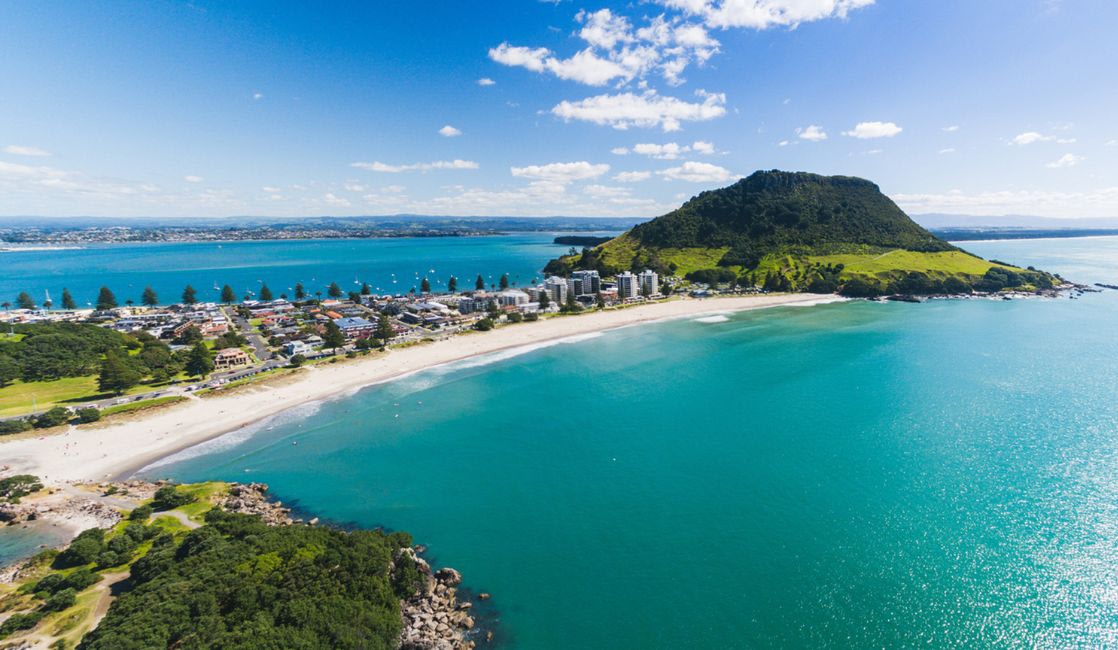 Image Source: One News
Top 15 things to do in Tauranga
Between the lapping waters of the Pacific Ocean, the sandy shores of Mount Maunganui Beach and the towering peak of Mauao/Mount Maunganui, Tauranga is perfect for water sport enthusiasts, beach-goers and hikers alike. Regardless of your holiday style, there is something for everyone. If you have been wondering what to do in Tauranga - wonder no more! Let's dive into the top 12 things to do in Tauranga:
1. Climb Mauao/ Mount Maunganui Summit
Top of the list when visiting this coastal town is hiking to the Mauao/Mount Maunganui Summit. This famous landmark is easily visible from town but is located around a 15-minute drive from the centre of Tauranga. The base track (Te Ara Tutanga) to access the summit is around 3.4 km long and takes around 45 minutes to walk. Once you reach the summit, you will be spoiled with 360-degree views of the sprawling surroundings. For an extra special view, try to reach the summit by sunrise. Then sit down beneath the shade of a pohutukawa tree and enjoy a thermos of your favourite warm drink while soaking up the views - pure bliss!
2. Stroll along Mount Maunganui Beach
Mount Maunganui Beach, simply known as 'the Mount' by locals, is the seaside hub located on the other side of Tauranga. Known as New Zealand's 'surf city', this beachside hub is a water sports enthusiast's dream. Enjoy a paddle out to sea, build sandcastles on the beach or wander to a nearby eatery for a bite to eat.
3. Stand-up paddle board at Pilot Bay Beach
Another crowd favourite in this region is Pilot Bay Beach. This beach is a serenely calm sheltered spot located at the base of Mauao/Mount Maunganui, perfect for those leisurely days of water activities with the family. These calm waters are begging to be explored, and what better way than on a SUP. You can easily hire your stand-up paddle board from Mt Cats and Yaks. Need something a little more sturdy? They also offer a range of kayaks and catamarans to explore these tranquil waters.
4. Walk to Moturiki Island
Moturiki Island sits just off the coast of Mount Maunganui's main beach and is well worth a visit. This island has a colourful history as a Māori pā (village), a quarry, a marine aquarium, and a tourist attraction called Leisure Island. Now, after its long and varied history, it has been restored to its former wild glory and lives on as a protected reserve. Easily accessible by a man-made land bridge, it is perfect for a daily stroll. While on the island, be sure to wander to the far side to see the blowhole. There is a well-marked track that will guide you to the best vantage point which also doubles as a fantastic view of the Pacific Ocean.
5. Soak in the Mount Hot Pools
If you have been dreaming of soaking in New Zealand's geothermal hot springs, then look no further than Mount Hot Pools. Located in the heart of Mount Maunganui, you can soak up the heat while enjoying the views of Mauao. With a range of pools ranging from an indulgent 38.8°C to a more comfortable 31°C for children, this is a bucket list way to unwind after a day of exploring.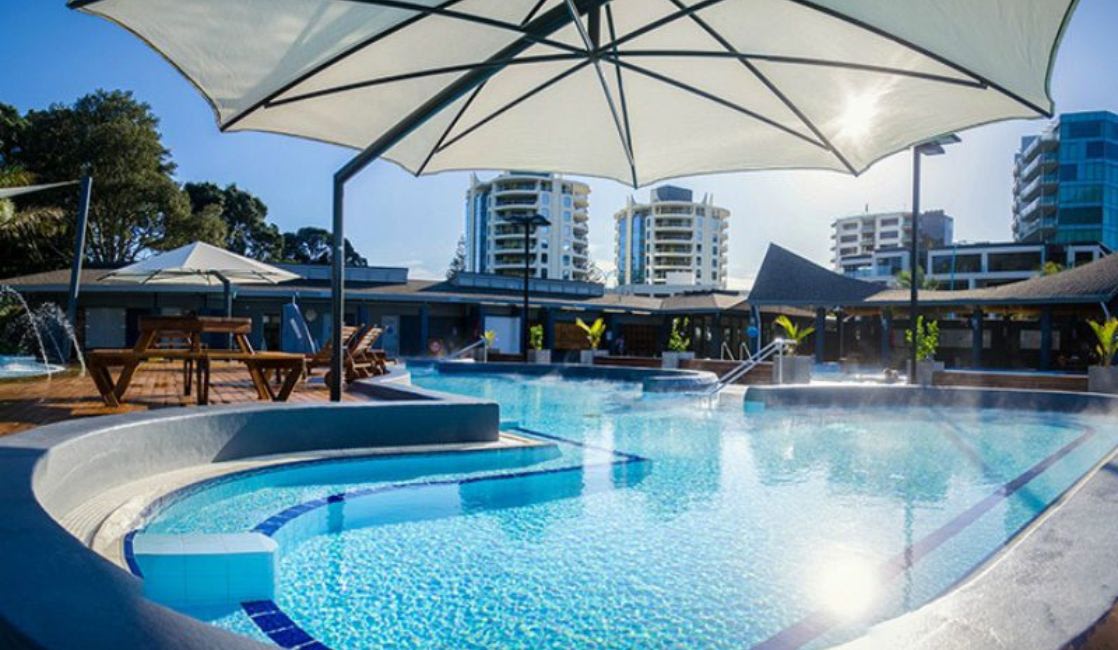 Image Source: NZ Hot Pools
6. Step back in time at The Historic Village
Discover the culture, community and character of Tauranga at The Historic Village. Featuring a range of art galleries, cafes, gardens, Māori carvings, sculptures and more, this village is humming with activities for the whole whānau.
7. Enjoy lunch at Rice Rice Baby
A trip through the Bay of Plenty wouldn't be complete without a stop at Rice Rice Baby. This authentic Vietnamese restaurant packs a punch when it comes to flavourful eats. Catering to a range of dietary preferences, there is bound to be something for everyone. Located in Mount Maunganui, it's the perfect place to grab lunch or grab a dinner feast after a long day out on the water.
8. Stock up on fresh produce at the farmer's market
Whether you are planning on staying local or exploring a wider North Island road trip, don't miss the chance to fill your pantry with goodies from the Tauranga Farmers Market. Held every Saturday from 7:45 am-12 pm at Tauranga Primary School, you can find everything from fresh produce, wine and liquors, nuts, eggs, local honey, natural care, coffee, baked goods and more. This is a great way to experience the flavours of the region, all while getting the chance to use the on board facilities in your home on wheels.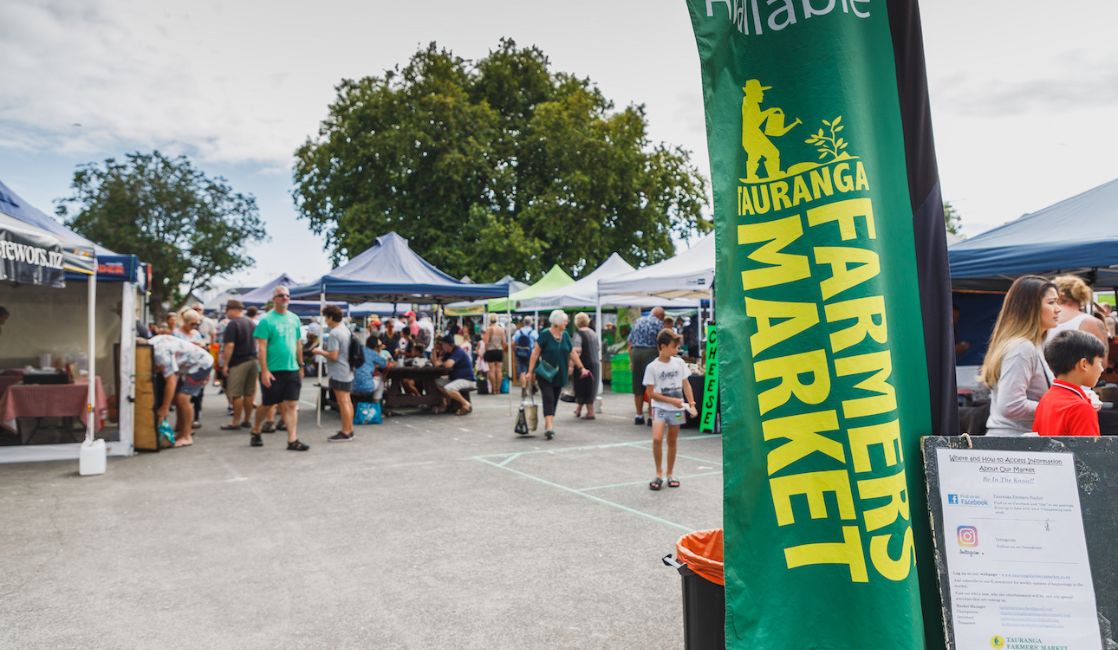 Image Source: Nourish Magazine
9. Window shop along Maunganui Road
Exploring the shops around Maunganui Road is a must-do when visiting Tauranga. This strip offers a variety of retail stores from boutique to budget. Stop by Paper Plane for kiwi-made home accessories, Sisters & Co for the women's fashion and Pohutukawa Gallery for those must-have holiday souvenirs.
10. Sail to Moutohora Island
Moutohora Island, otherwise known as Whale Island, is a New Zealand treasure. This oasis is one of the best places to see New Zealand's rare and endangered plants, birds and reptiles. If that wasn't enough, you can also dig yourself a geothermal spring pool on the shores of the secluded hot water beach of Onepu Bay. Tours to the island start at around NZD$129 and include a guided tour, 15-minute boat journey, and professionally trained guides to help you spot and name the spectacular wildlife on the island.
11. Discover Kaiate Falls
Located on the outskirts of Tauranga, just 25-minute drive from town, are the impressive Kaiate/Te Rerekawau Falls. After parking up and following the dirt track, you will wind your way through beautiful dense forest on the way to see the impressive three-tiered waterfall. Allow up to an hour to explore this 2 km track, including time to stop along the way to enjoy the views.x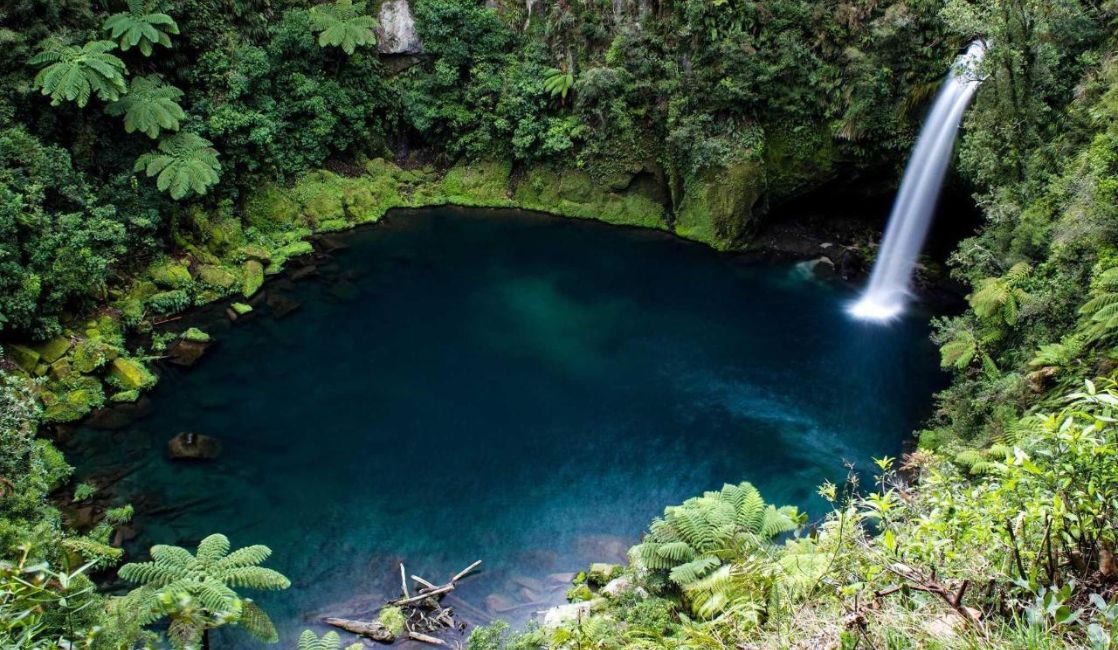 Image Source: Auckland I-SITE
12. Visit Tauranga Art Gallery
Located on the corner of Willow and Wharf Streets, sits the bold yellow pillars of the Tauranga Art Gallery. This former Bank of New Zealand is now home to two levels and 700 square metres of exhibition space. Open daily from 10am to 4pm, this gallery features a rolling list of exhibitions showcasing kiwi artists across a broad range of medium. A must-do for art enthusiasts.
13. Make a splash at Waimarino Water & Adventure Park
Whether you have kids, or are just a big kid at heart, Waimarino Water & Adventure Park delivers the ultimate fun day out. This water and adventure park is located just a short 10-minute drive from Tauranga city. A Supreme Pass starts at NZD$49 and gives you access to the full range of activities including kayaks, paddleboards, a rockwall, slides, tarzan swing and more! Open from 10am everyday, be sure to get here early to experience them all.
14. Explore Papamoa Hills Cultural Heritage Regional Park
Located 20-minutes on State Highway 2 towards Papamoa is the impressive Papamoa Hills Cultural Heritage Regional Park. This 135-hectare property is home to extensive walking tracks and several pā (village) sites. For breathtaking views of the region, be sure to take the path to the trig station, sitting around 224 metres above sea level. Winding your way through pine forest, native bushland and iconic New Zealand grassland, this is a must-do in the Bay of Plenty.
15. Have an Italian feast at Osteria
Osteriavis a family-run restaurant in the heart of Mount Maunganui. 'Osteria' traditionally means a simple and classic italian restaurant - and it really is just that. Known for its impressive italian eats and wine, this is a great place for a casual dinner. With its inclusive vegetarian and gluten free options, its perfect for the whole family.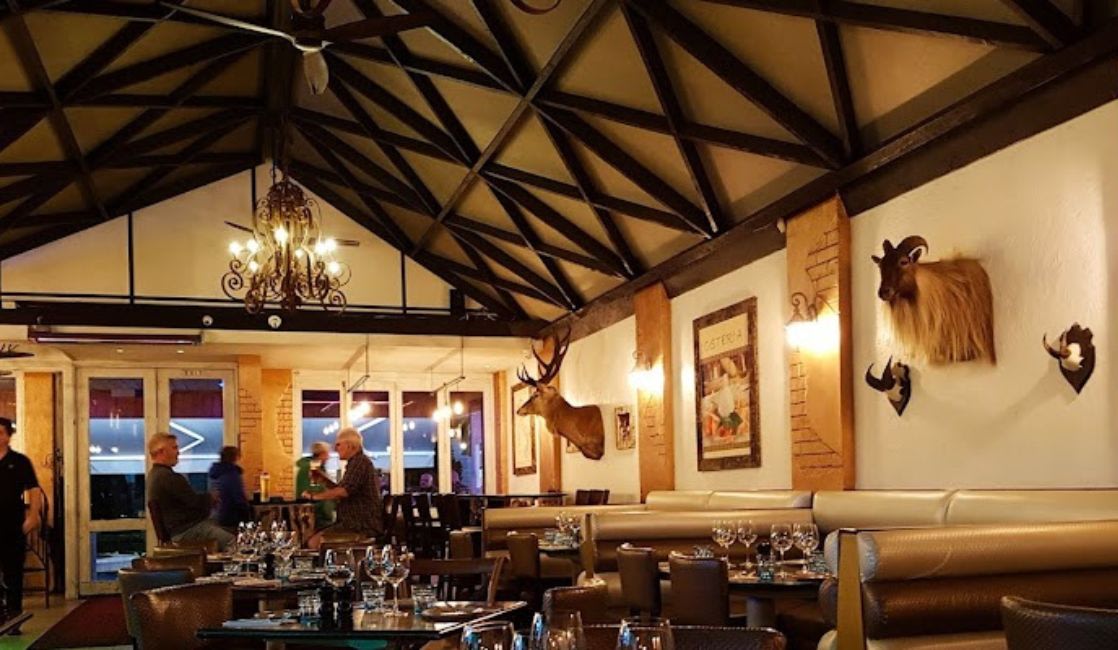 Image Source: TheBestPlaces.co.nz
Ready for your next New Zealand adventure?
Tauranga is a thriving coastal hub filled with endless opportunities for aquatic sports, hikes, feasting and soaking in iconinc New Zealand geothermal waters. It is an essential stop on a North Island road trip. What better way to experience it all than to rent a camper? With a bed on board and a kitchen to cook up your meals, a campervan hire is a simple, no-fuss way to see and do more in the Bay of Plenty.
Ready for a campervan holiday in New Zealand? Book your maui campervan online. Then all that's left to decide is what to pack! If you need help choosing the right motorhome for your upcoming adventure, speak to one of our team.