Join thousands of RV travellers
Sign up for our Go By Camper newsletter to receive inspirational travel content and awesome deals, and we'll send you a copy of our Ultimate RV guide!
Thanks
Please confirm subscription in your email.
Why take a winter motorhome holiday?
There are so many reasons why winter is a great time of year to explore Australia in a motorhome. Here are just a few: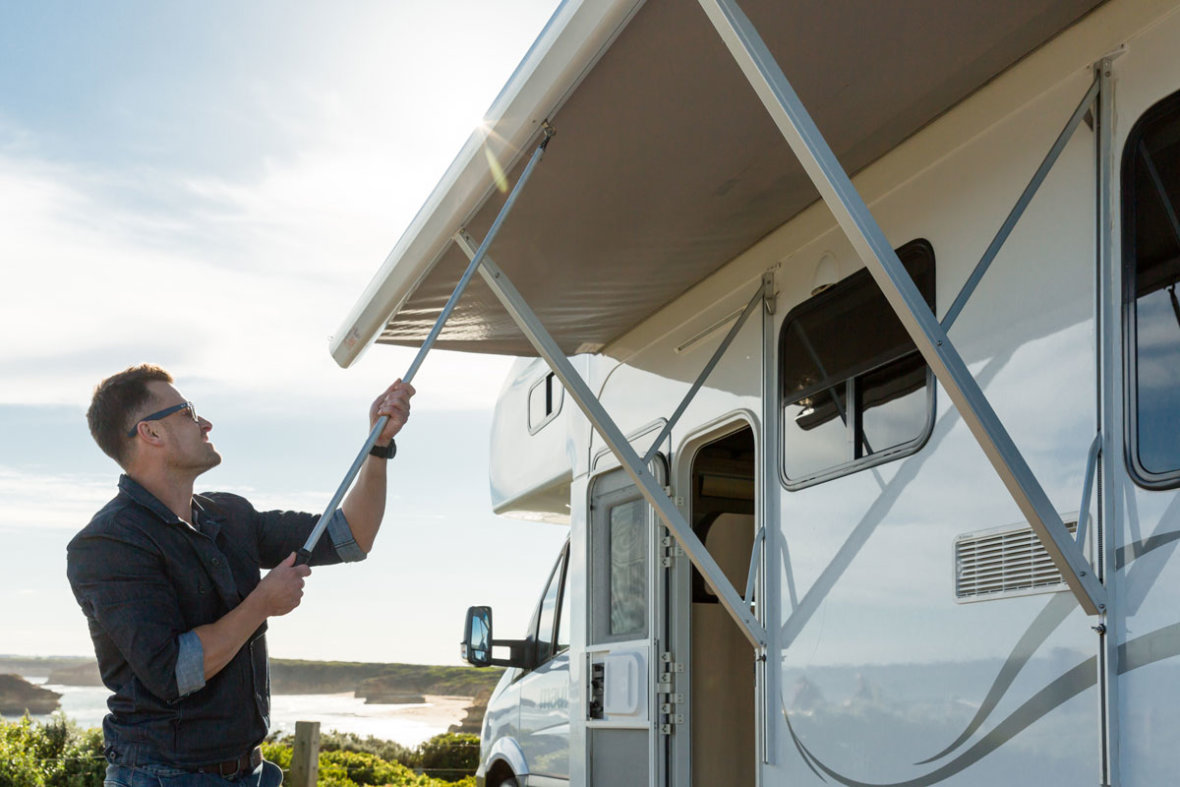 Less traffic on the roads
Driving in winter is more pleasant, particularly on scenic routes, as most holiday hot spots clear out in the off-peak seasons. With less traffic on the roads, you can get to your destination in no time, and reduce the amount of time spent idling in traffic. Less traffic also tends to mean more parking spaces - a great bonus!
Quieter campsites
With fewer travellers at tourist hot spots, premium spots for parking up for the night are yours, including the freedom camping and prime beachfront spots. They are also usually good winter deals to be had, which can help your holiday budget go further too!
Holiday at your own pace
Enjoy a holiday with greater flexibility when you choose to travel by motorhome. While this is true all year round, it's even more fun in winter, as often you don't have to book all your campsites in advance, so you can plan as you go.
Get away on a holiday when you really need it
A mid-winter escape is a great way to perk up and recharge your batteries. Thinking holidays can only be sunshine and lying on beaches only prolongs the winter blues when there are so many fun winter spots to visit.
Experience things you can't do in summer
Head to warmer destinations to escape the cold or embrace the beauty of it and head to the snow. Either way, you'll experience things that are just not the same at other times of the year.
It's a great temperature for travel
Winter in Australia can be pretty mild, depending on where you choose to travel. Sure, it may not be hot, but winter usually means you're in for a less humid and sweaty trip. Outdoor exercise is more pleasant, you can hike without needing to shelter at midday, and there are fewer flies, sandflies and mosquitoes.
Whether you want to enjoy the mild temperatures of the winterless north or embrace the winter wonderland of the south, we have travel tips to help with planning your road trip itinerary. So read on for our picks of winter-specific activities to consider for your winter campervan adventure.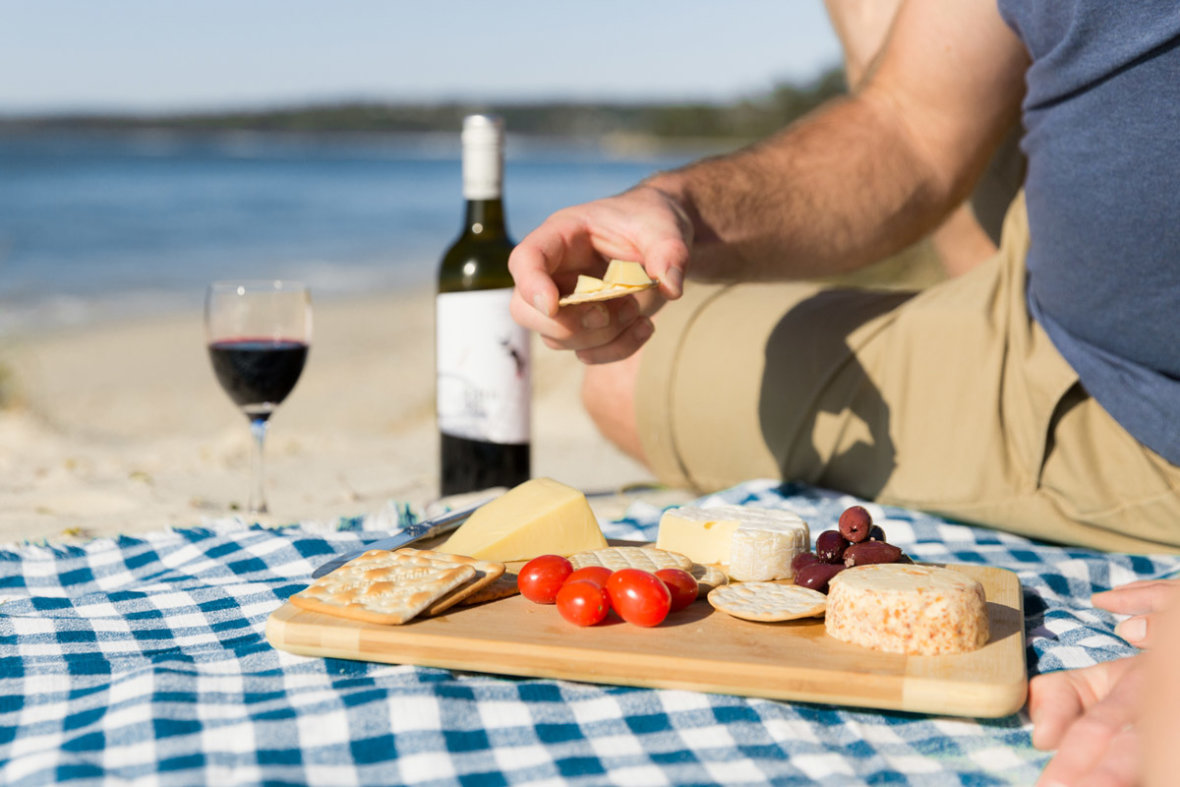 Best things to do on a winter road trip
1. Escape the cold
Winter in Australia runs from June to August, and that's a good time to escape to warmer climes. If you're after iconic summery Australian weather, you can go to Tropical North Queensland or hire a camper in Perth and drive north to check out the top of sunny Western Australia. Check out our list of the most stunning winter escapes in Australia for even more inspiration.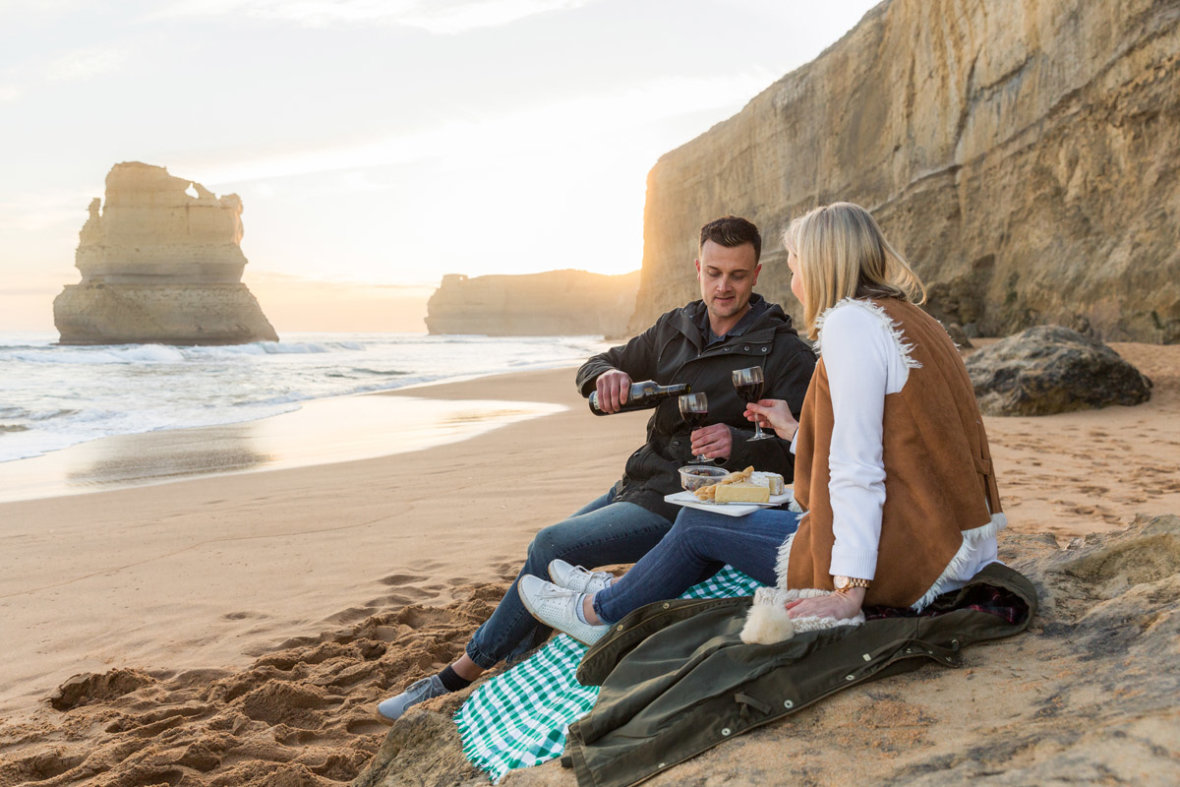 2. Have lunch in front of an open fire
Discover a great country pub, order a big Aussie shiraz and a plate of Osso Bucco and cosy up in front of a warm fire on a winter's day. Then sit back and enjoy without the stress of having to get back behind the wheel. As we all know, wine doesn't mix with driving, but having a hotel on four wheels is a good way around that. Country pub camping and Camps Australia Wide list hundreds of pubs where you can stay. You can mingle with the locals and then spend the night safely tucked up before heading off to find what's around the next bend.
Lighting up your own campfire outside is not always possible in Australia. In fact, when fire bans are in place, you risk serious fines and even jail if you do light up. Fire restrictions are less stringent over winter, but nonetheless, we recommend you look for holiday parks that have fire pits or open fires. That way, you can get to know fellow travellers, bond, cook, share travel tips, stories, and laughs, and partake of the odd drink together.
3. Discover hidden gems in vintage stores
Unhurriedly sifting through country antique shops, jumbled-up op shops and quirky thrift stores is one of the nicest possible things to do on a winter's day. Small towns in Australia are a mecca for thrifty travellers. You never know what you'll find: first edition books, fabulously unusual vintage clothes, retro kitsch or crystal flutes and a thermos for road trip picnics. Op shops not your thing? How about bookstores, record stores or even markets? The thrill of finding underpriced treasures is quite addictive, so keep an eye out while you're on the road. Holidaying by campervan means you can always stop to see what you can find.
4. Enjoy a winter picnic
If you think picnics are just for spring and summer, then think again. Enjoy a picnic on a beach all to yourself under cloudless bright blue skies over winter. Or sit quietly by a waterfall without the busloads of noisy tourists. Head to parks and reserves and find a sheltered spot in the winter sun without worrying about sunburn or sand flies. Visit local markets for supplies, pack a thermos, and a blanket, pop on your cosiest hat and head out. If your chosen al fresco dining spot is close to where you've parked your camper, take out the hot meal you prepared earlier and simply indulge. Check out our guide on what to pack for a winter holiday so you're prepared for anything.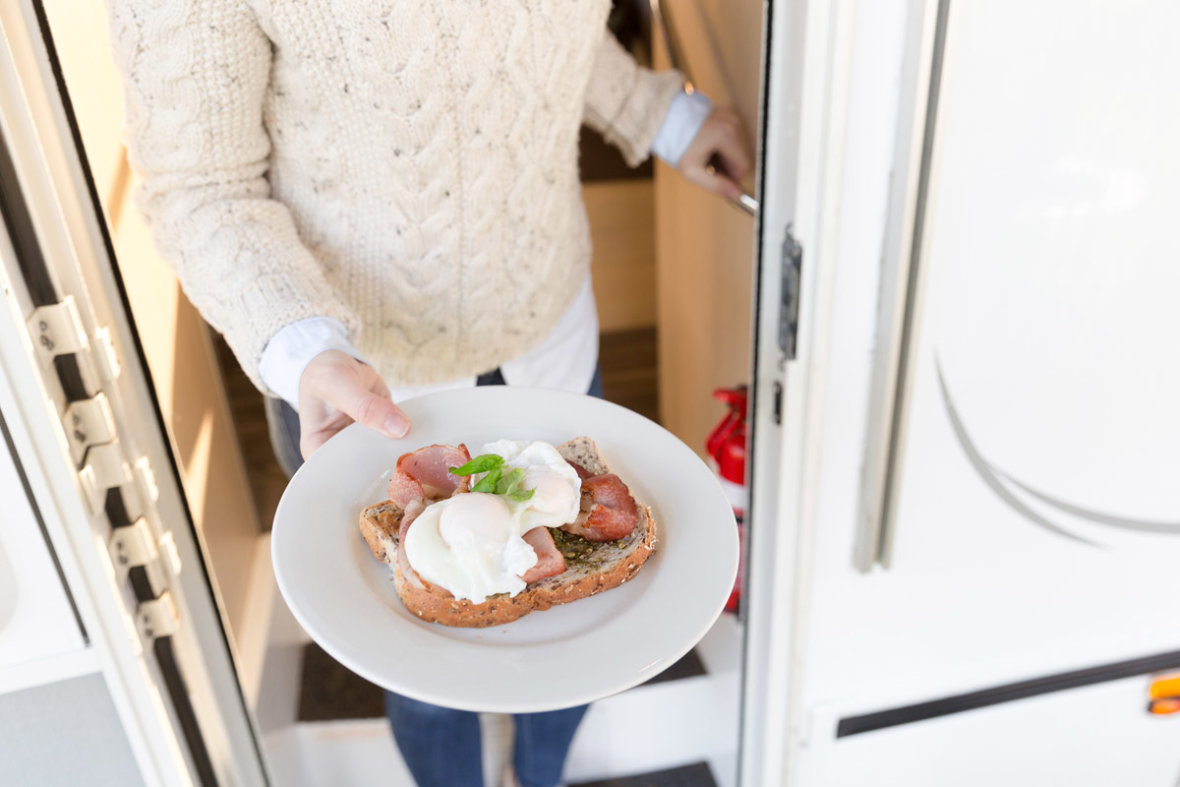 5. Eat your fill of winter oysters
If you're an oyster lover, winter is a great time to get slurping. Oysters spawn in summer, so they taste cleaner and even more wonderful in winter. Buy some straight out of the water, put them in the fridge and scoff them with a glass of crisp Australian bubbles and a baguette from a local bakery. If you're in NSW, you could even follow the famed NSW oyster trail.
6. Take a winter dip (if you're brave!)
A good beach day often has more to do with the weather than the season, so why not undergo a bit of cold immersion therapy? Winter swims boost the immune system, give you a natural high, improve your circulation, burn calories and reduce stress. The other option is to do a wetsuit and try surfing or snorkelling without the crowds. Winter ocean temperatures in Australia are truly not that bad. On the Gold Coast, temps dip to about 21.5 °C and they sit up at about 24°C on the Barrier Reef. With your motorhome close by, you can always have a hot shower and warm up afterwards.
7. Wake up somewhere truly breathtaking
Over winter, the sun rises later, making for some pretty spectacular sunrises. There's truly nothing like pushing back the curtains and catching a stunning sunrise from the comfort of your cosy campervan bed. Then start your adventure-filled day by lounging around with coffee and having breakfast right where you've parked. Want to wake up warm by beautiful rainforests and pristine beaches? Try Cape York. Want some winter swimming? Wake up in Broome where the optimal swimming season is from July till September. One of the best places to see snow in the morning is Kosciuszko National Park. Road tripping in Australia over winter gives you so many options. The hard part is deciding where you want to lay your head.
8. Go stargazing
The Milky Way takes centre stage over Australia in winter. From The Outback to the coast, star-filled skies blanket South Australia. On a clear night, you'll be able to gaze up and spot satellites, shooting stars and planets in orbit.
Just a short 90-minute drive from Adelaide, you'll find the River Murray International Dark Sky Reserve. Low rainfall, clear skies and virtually no light pollution create near-perfect conditions to view the cosmos and get some amazing photos. The road is dotted with parking areas and viewpoints, so pull up, set up your blanket and catch the show. Its rugged mountain ranges make Ikara-Flinders Ranges National Park another ideal stargazing location. There are 10 campgrounds to choose from within the park or why not stay on farms and private properties and truly camp out under the stars?
9. Snuggle up in your camper with a good book
If you're worried about miserable weather during your winter road trip, you shouldn't be. Just stay in your 'day-bed', snuggled up with a hot cuppa and spend the day reading books, playing board games and eating local delicacies.
Bad weather breaks are a wonderful way to slow your travel and give yourself time to reflect and recharge while pampering yourself with the creature comforts of your hotel on wheels. Make sure you ask about including a heater when you pick up your maui travel van rental. If you're staying at powered camping sites, you can just switch it on and snuggle in.
10. Whip up a warming meal with friends
In a campervan, you can whip up whatever you want, when and wherever you want it. Cooking in a maui campervan is a piece of cake. You've got a full kitchen at your disposal, so there's no reason to compromise on creativity. You can cook warm, hearty meals like soups, curries, risotto, casseroles, chillies and more. Don't forget hot breakfasts, from porridge, or pancakes to a good old-fashioned fry-up or gourmet toasted sandwiches. Take advantage of farmers' markets, roadside stalls and boutique food producers - fridge/freezers on board mean you can stock up on goodies.
Sharing food is good for the soul, so why not mix things up a bit and bond with fellow travellers around campfires or dining tables? Take advantage of campsite facilities and head to the holiday park kitchen or barbecues. The campervan community is a friendly and welcoming bunch, and you may find yourself inviting new friends around for a meal or even a winter games night.
Ready to book your winter motorhome adventure?
A winter road trip in Australia is truly a unique and wonderful experience, without the hassle of crowds! You'll love travelling in the crisp air, sleeping under the stars and snuggling up and watching the rain with a good book. Don't shy away from a winter road trip in Australia just because the weather is a bit colder. Get moving and book your maui campervan online now.