Join thousands of RV travellers
Sign up for our Go By Camper newsletter to receive inspirational travel content and awesome deals, and we'll send you a copy of our Ultimate RV guide!
Thanks
Please confirm subscription in your email.
Sun-chasers will delight in the fact that the northern states remain relatively warm throughout winter. This means you can escape Australian winter and travel to these tropical paradises in comfort without the humidity and rainfall that comes with the summer's wet season. On the other hand, if you prefer a cosy winter retreat you can head south and take advantage of the cooler climate. Head to one of Australia's 16 ski resorts, or simply enjoy Australia's top attractions without the summer crowds.
Regardless of what winter adventure you are seeking, exploring Australia by motorhome is the perfect way to see and do more.
1. Experience the spectacular Uluru/Ayers Rock at Sunrise
Uluru/Ayers Rock, Australia's largest monolith, is located near Yulara - a five-hour drive from Alice Springs. Sitting in the central desert of Australia, Uluru can get dangerously hot in summer. This makes winter the perfect time to visit this outback cultural wonderland. Pick up your camper at the Alice Springs maui branch and enjoy the arid red outback drive southwest to Uluru. Spend the day exploring, enjoying the scenic walks, cultural tours as well as circumventing the equally impressive neighbouring domes of Kata Tjuta/the Olgas.
What to see: Make a day trip out to Kings Canyon.
What to do: Field of Light sunrise tour.
Where to stay: Ayers Rock Resort.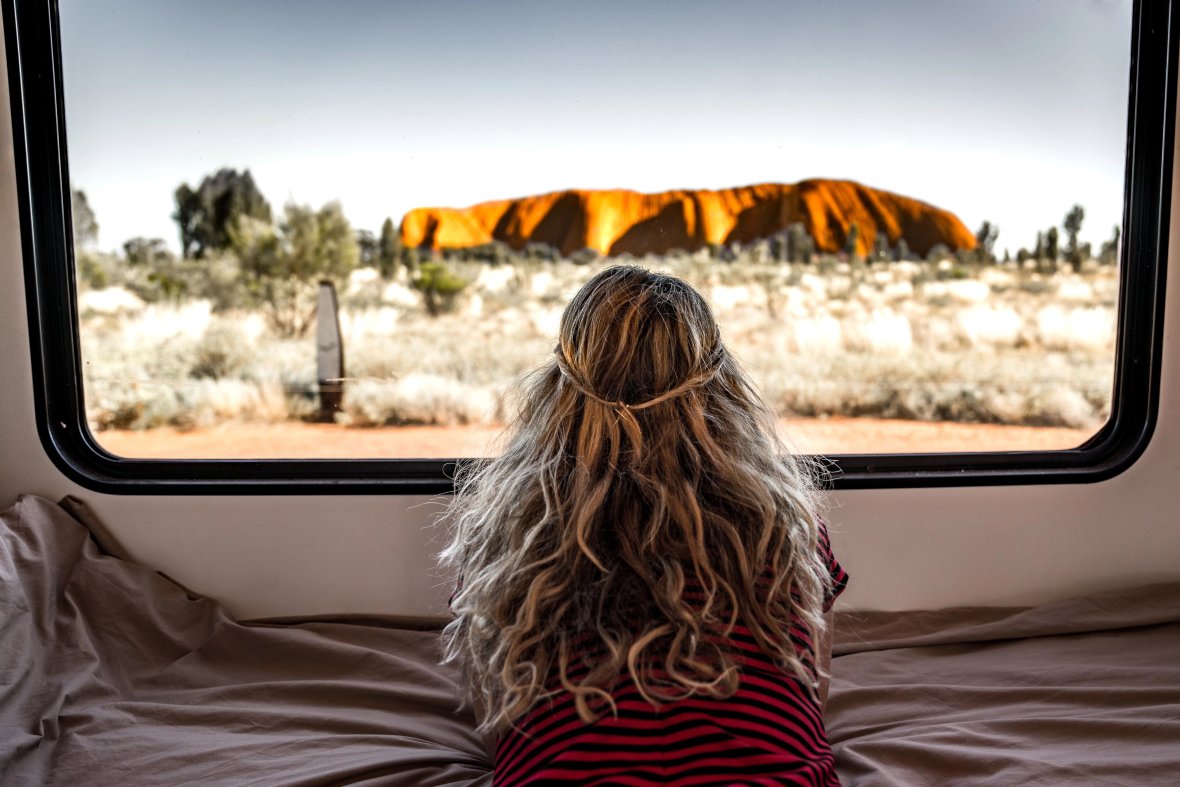 2. Enjoy tropical Port Douglas
This relaxed seaside village is the perfect place to unwind and use as a base to explore the Great Barrier Reef. Pick up your camper from the Cairns maui branch and enjoy the scenic coastal views as you drive north to this coastal town. Winter is the dry season in Port Douglas which means you can enjoy the beautiful sunny weather without the rainfall and humidity.
What to see: Experience the Great Barrier Reef.
What to do: Take a tour of the jungle.
Where to stay: BIG4 Port Douglas.
3. Discover hidden gems in Tasmania
Tasmania is the island state of Australia best known for its dramatic coastlines, unspoiled wilderness and culinary delights - throw in a dusting of snow, and it becomes even more stunning. As Tasmania is one of the coldest places in Australia to visit in the winter, it's essential to make sure you have everything you need for winter hiking and other activities you have planned when deciding what to pack.
To begin exploring the beauty of this island state, you can choose to fly to Hobart and pick up your camper from the Hobart maui branch, or pick up your motorhome from one of the other mainland maui branches and come across on the Spirit of Tasmania ferry.
What to see: Check the Southern Lights off your bucket list.
What to do: Find a picture-perfect hot pool to soak in.
Where to stay: BIG4 Tasmania.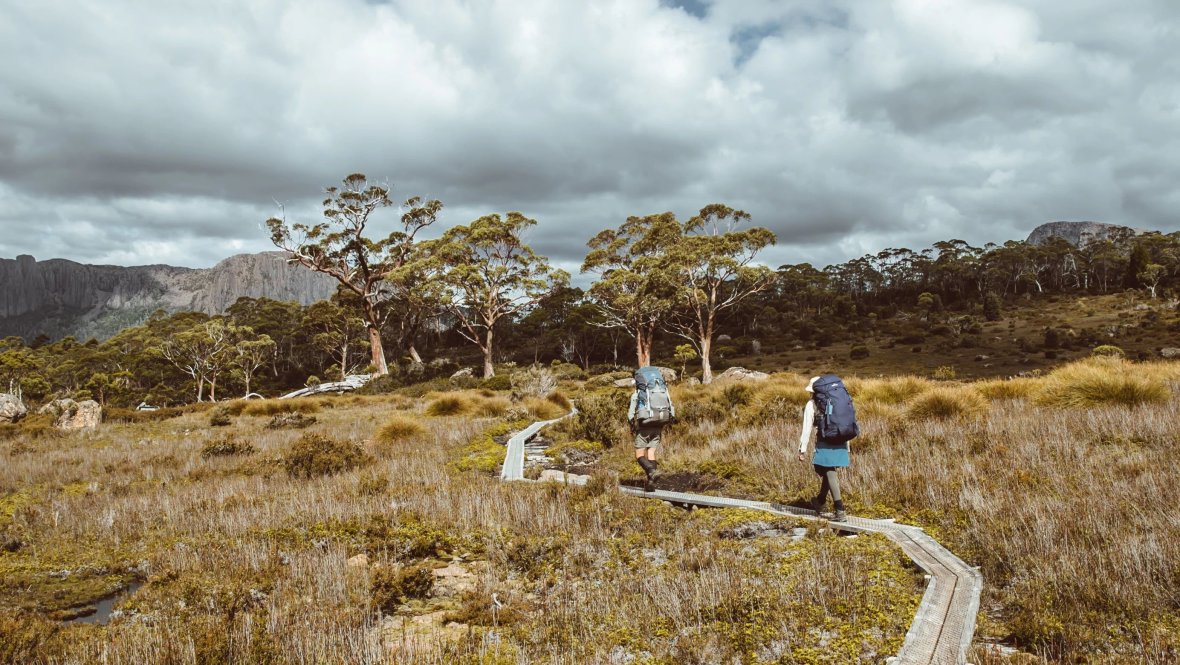 4. Hit the slopes in New South Wales
While Australia isn't best known for its skiing, with over 16 resorts dotted around the southern states and some of the best ski resorts located in New South Wales, a winter retreat to the snowy mountains is the perfect winter escape. With so much to see and do up in the mountains, ensure that you have all the equipment for your vehicle to drive in snow. Within five hours of picking up your camper from the Sydney maui branch, you can be on the doorstep of two of Australia's Premiere ski resorts.
Here you can spend your days immersed in the unique experience of Australian snowfields - riding amongst a beautiful bushland backdrop, wandering through the alpine village shops, and relaxing slope-side with the wide range of restaurants, bars and cafes to choose from.
What to see: The weekly flare run and fireworks at Thredbo Village.
What to do: Hit the slopes with a snowboard or pair of skis.
Where to stay: Thredbo Diggins Campground.
5. Explore Karijini National Park
While Karijini National Park offers spectacular rugged scenery and breathtaking gorges, its northern location means that it is unavoidably hot and wet during the summer. Lucky for us, this makes winter the perfect time to adventure here.
Pick up your campervan at the Broome maui branch and enjoy the scenic drive south on the way to explore the rugged beauty of this outback national park. As it is such a remote location and not all of the roads are sealed, it's important to consider where the closest water and fuel supplies are located. It's also worth checking which parts of the park are accessible before you go. Using a road trip itinerary planner such as the thl Roadtrip app can help with finding campsites, caravan parks, free camping, fuel, water and more.
What to see: Visit some of the stunning waterfalls in the national park.
What to do: Take a wildlife tour.
Where to stay: Karijini National Park.
6. Avoid the summer crowds at the Blue Mountains
There is nothing quite like escaping into the crisp mountain air of the Blue Mountains. And, what better time to do it than in winter, when you can be sure to avoid the summer crowds at this world-famous destination.
Pick up your motorhome at the Sydney maui branch, and within a short hour's drive, you will be perched up in the mountains amongst the heritage hotels, galleries, artesian boutique stores, and scenic hikes in the lush heritage-listed eucalypt forest.
What to see: View the Three Sisters.
What to do: Explore Jenolan Caves.
Where to stay: Blue Mountains Tourist Parks.
7. Wine and dine in Barossa Valley
After picking up your motorhome at the Adelaide maui branch, within an hour's drive northeast of Adelaide, you can immerse yourself in the award-winning Barossa Valley wine region. Cosy up in one of the many wineries and indulge in the famous red wines that are bound to warm you up on a cool winter day. Try cycling around Barossa for a fun afternoon and be sure to take advantage of the local tours and transport available so that you don't risk drink driving penalties.
What to see: Mengler's Hill Lookout and Sculpture Park.
What to do: Learn to cook your own pasta to match your wine.
Where to stay: Discovery Parks Barossa Valley.
8. Visit world heritage listed Kakadu National Park
Kakadu is a bucket list destination for nature lovers and anthropology enthusiasts alike. This world-heritage-listed park spans over 20,000 square kilometres and is the perfect place for croc-spotting, birdwatching, chasing waterfalls, as well as seeing rock artwork documenting Aboriginal life thousands of years ago.
Located in the northeast of the Northern Territory, it is best to visit in the winter dry season when the weather is more reliable. With the closest motorhome hire available for pick up at the Darwin maui branch, you only have a short three-hour drive before being immersed in this ancient landscape.
What to see: The waterfall sites.
What to do: Visit Aboriginal rock art sites.
Where to stay: There are several different options depending on what area you're in.
9. Ride camels in Broome
Broome is a beach resort town in the Kimberly region best known for Cable Beach and the iconic sunsets over the Indian Ocean. Travellers looking to visit this destination can hire a motorhome close by from the maui branch in Broome.
Make the most of this winterless north by spending your days by the beach, taking a tour of the pearls of this region, marvelling at the red rocks and enjoying a bucket list camel ride along Cable Beach.
What to see: Watch the sunset on Cable Beach.
What to do: Ride camels.
Where to stay: Broome Caravan Park.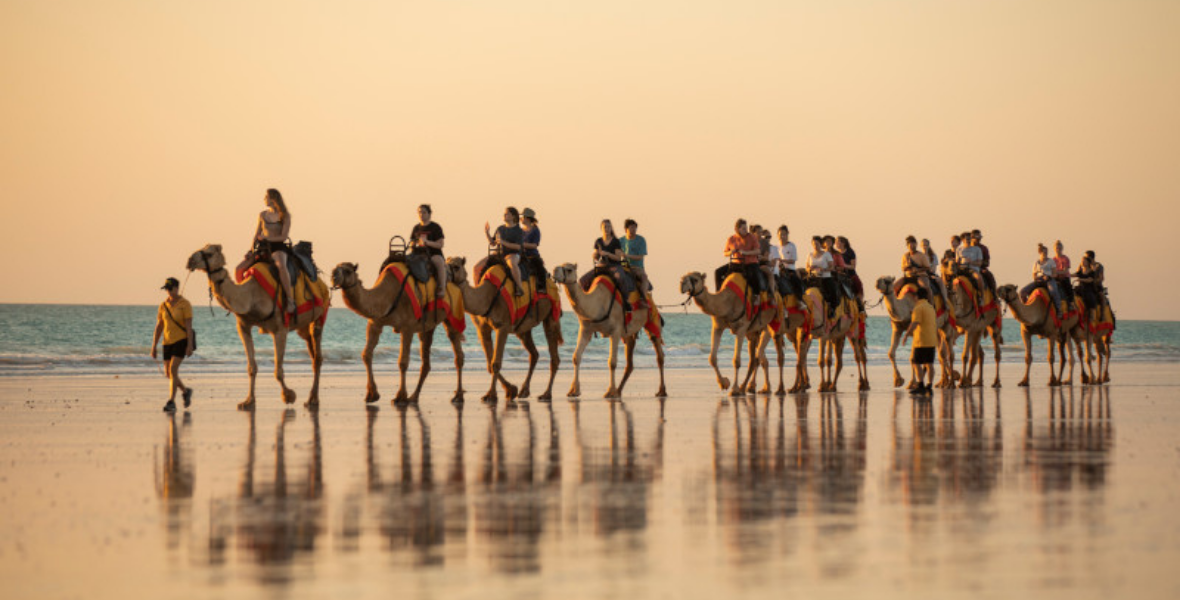 TWA Image Gallery
10. Make a snowman in Victoria
Just a three-hour drive from the Melbourne maui branch is the perfect Victorian Alps winter escape. Base yourself at the base of the Victorian Alps in the quaint valley town of Bright. From here you can easily drive to both Mt. Hotham and Falls Creek and spend your days on the slopes, exploring the boutique stores and eateries, or soaking up the beauty of this region with a scenic drive.
Unlike the north, the southern states do get quite cold during the winter months. So it's a good idea to make a ski trip packing checklist before you leave to ensure you will have all the equipment and layers you need.
What to see: Although very cold, there is so much to see in Bright - a quaint town at the base of the Victorian Alps.
What to do: Hit the slopes or make a snowman up Mt. Hotham, Falls Creek or Mt Buller.
Where to stay: Bright Cabin & Caravan Park.
Time to plan your stunning winter escape?
There is such a wide range of stunning winter escapes all around Australia ready to be explored and maui make it easy and cosy, with fully self-contained premium motorhomes that are designed for your comfort. In the southern states, the Australian weather can be unpredictable during the colder months, so drive to the conditions and follow road rules. That way you can get the most out of the beautiful views and exciting activities to do throughout Australia during winter.
If you're looking for more inspiration, check out our travel guides and download the thl Roadtrip app to plan your route. But if you're ready to rent a van to travel around Australia in these cooler months, take a look at our range of premium vehicles and book your motorhome today.