Join thousands of RV travellers
Sign up for our Go By Camper newsletter to receive inspirational travel content and awesome deals, and we'll send you a copy of our Ultimate RV guide!
Thanks
Please confirm subscription in your email.
To make it super easy to plan one of the best road trips in Victoria, you can pick up your maui campervan from our maui rentals branch in Melbourne. If you're planning to explore more of Australia, you can conveniently pick up your maui motorhome in one state and drop it off in another.
Ready to check out the top wineries in Victoria? Bring on the cheese and crackers and let's take a look!
What are the most beautiful wine regions in Victoria?
Home to 21 wine regions, Victoria has a large number of beautiful wineries to explore. Travellers flock from all over the world to sample the fine wine of Victoria and marvel at the beautiful views. Here are some of the best and most beautiful wine regions in Victoria:
Why you should explore Victoria wineries in your motorhome
With its stunning beaches, beautiful national parks, and of course, incredible wineries, there's no better way to explore Victoria than by motorhome. Sample some of the great varieties on offer and find your favourite local drop. Then look forward to parking up, pouring a glass, and sitting under the stars or outside in the afternoon sunshine.
With all your home comforts on board, you don't have to worry about finding accommodation or stressing about checking in and out. Remember, if you're planning on touring wineries in Victoria, be sure to avoid driving after drinking. Consider staying at a campground nearby and arranging an Uber, camp onsite if possible, or plan who will be your sober driver.
Ready to get sampling? Let's take a look at the top 10 wineries in Victoria.
Top 10 Wineries in Victoria
1. De Bortoli Yarra Valley Estate, Dixons Creek
Yarra Valley Cellar Door, 58 Pinnacle Lane, Dixons Creek
De Bortoli's Yarra Valley Cellar Door offers daily tastings between 10 am and 5 pm However, it is a good idea to book in advance to avoid disappointment.
While you're there, plan a special meal at Locale Restaurant where you can experience warm Italian hospitality, great food, and award-winning premium wine.
To learn more about winemaking, take an exclusive, behind-the-scenes tour with a unique De Bortoli experience. Tour the winemaking facilities, learn about the winery's viticultural practices and taste wines from the barrels and tanks. You'll then enjoy a delicious gourmet cheese, food, and wine pairing in a private tasting room. Finish your tour with a three-course Italian-inspired lunch with matched wines at Locale Restaurant.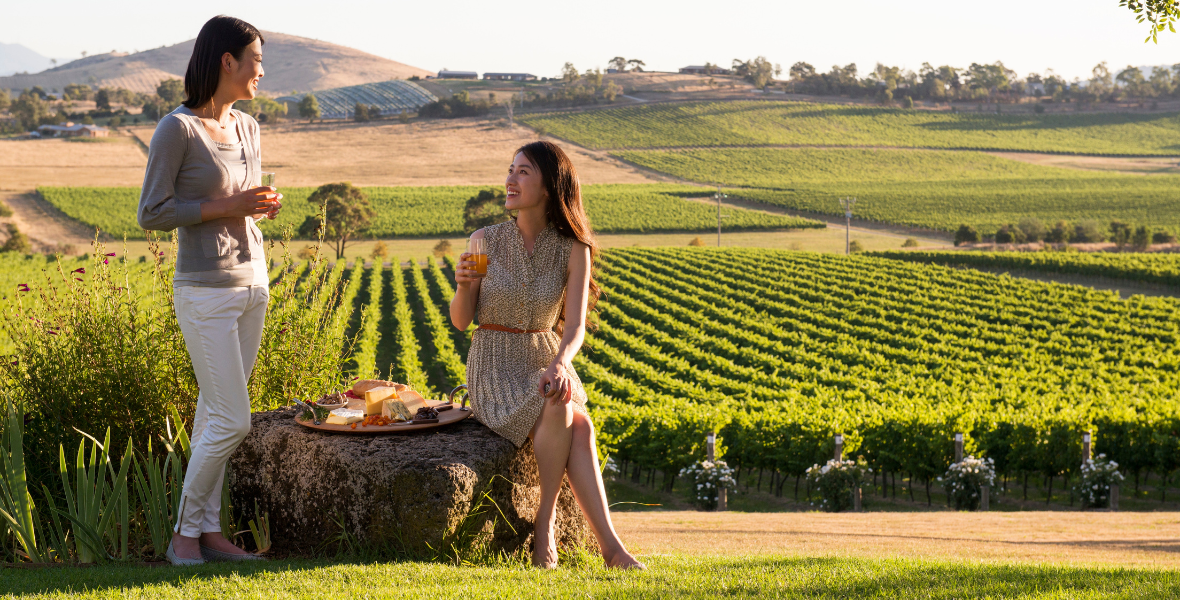 Image Source: Visit Victoria Content Hub
2. Dominique Portet, Coldstream
870-872 Maroondah Hwy, Coldstream
Dominique Portet's cellar door is open for walk-in tastings daily from 10.30 am until 5 pm. Your host will guide you through a tasting of six wines from across their Fontaine, Single Vineyard, and Dominique Portet ranges.
For a more in-depth experience, book an estate tour and tasting. Hear about the philosophies and winemaking techniques as you enjoy a hosted tasting experience of five wines.
If you're visiting between Wednesday and Sunday, book lunch at L'Apéro. The menu features a selection of seasonal French-inspired small plates to share, served à la carte.
3. Brown Brothers, Milawa
239 Milawa-Bobinawarrah Road, Milawa
Brown Brothers offer a variety of wine-tasting experiences, from a standing session at the bar with five wines, to a seated 45-minute session with access to the total wine collection.
Don't miss the opportunity to treat yourself to lunch (Thursday to Monday) at Brown Brothers Restaurant. Led by head chef Bodee Price, the restaurant's garden-to-plate ethos is based on homegrown Australian produce, sustainability, and a minimal waste approach. The season menu is served share-style across nine savoury plates.
For something special, book into one of the winery's fantastic experiences including a five-hour Food and Wine Adventure, Lunch in the Prosecco Lounge, the Slow Lunch, and more. You can even book a hot air ballooning experience!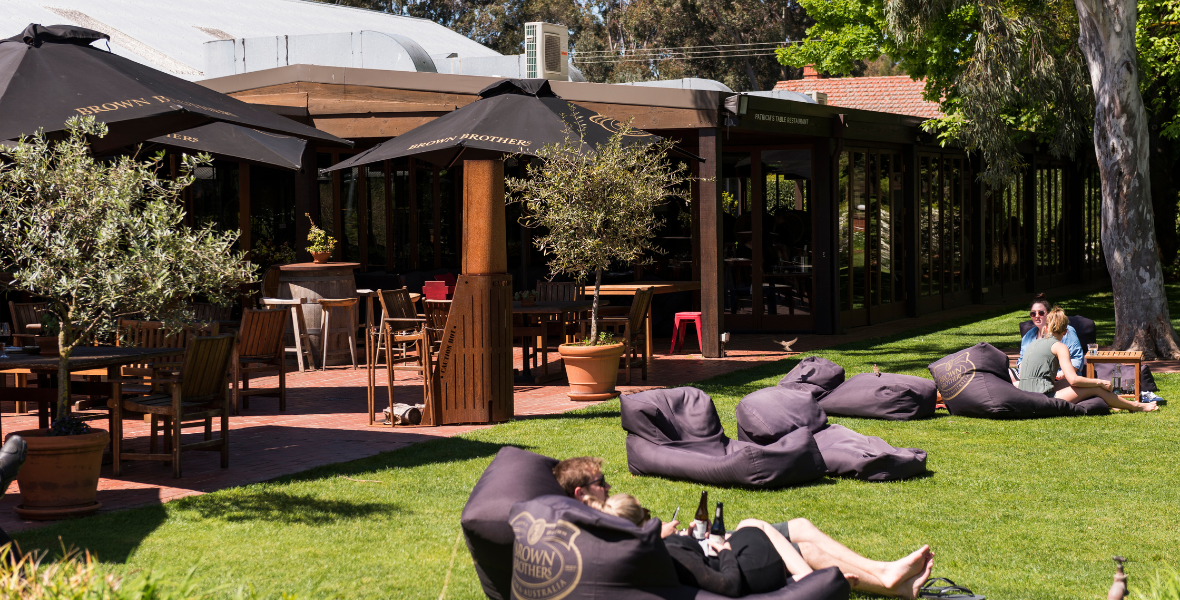 Image Source: Visit Victoria Content Hub
4. Montalto, Red Hill
33 Shoreham Road, Red Hill
Hosted by Montalto's award-winning wine team, an exceptional range of seated cellar-door tastings are available. Montalto's cellar door is open from 11 am until 5 pm daily. Walk-ins are welcome and bookings are available.
Plan a special lunch at The Restaurant at Montalto. The menu showcases a seasonal celebration of estate-grown heirloom produce, alongside the very best locally sourced ingredients from across the Mornington Peninsula.
For something a little more intimate, book a private picnic. Start with a bespoke wine tasting at the cellar door where one of the experienced team will help choose the perfect wine for your lunch. You'll then enjoy a delicious picnic on the grounds at a beautifully set table. You'll be served a selection of starters, hot mains, and decadent desserts.
5. Paringa Estate Winery & Restaurant, Red Hill
44 Paringa Road, Red Hill
Paringa Estate holds the titles of Best Cellar Door in 2017 and Best Large Cellar Door in 2020 at the Gourmet Traveller Wine Awards. The cellar door is open daily from 11 am until 5 pm, with bookings recommended.
The award-winning Paringa Estate Restaurant offers a truly unique experience. Relax and take in the views through the glass-walled dining area as you enjoy a menu that celebrates locally sourced, seasonal produce. Open for lunch Wednesday to Sunday, and dinner Friday and Saturday.
For a relaxing outdoor lunch, book in for a Garden Dining experience. Enjoy mouth-watering sharing plates such as baked beetroot and radicchio salad with burrata cheese, crisp fried barramundi wing, mushroom parfait with lemon thyme and crisp bread, cured ocean trout with avocado … and so much more!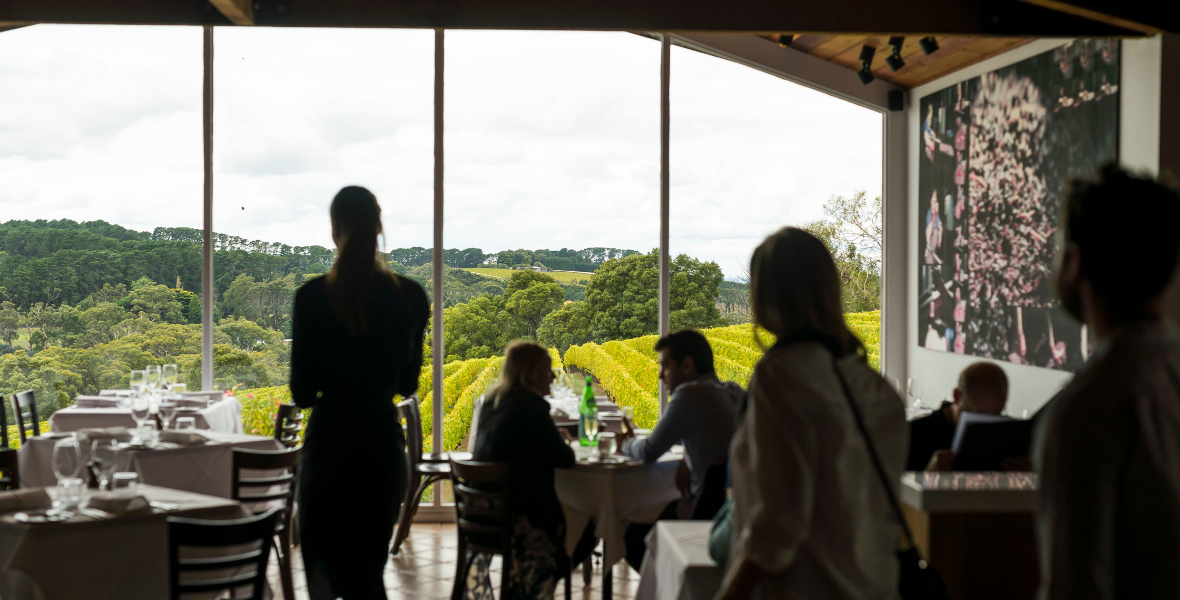 Image Source: Visit Victoria Content Hub
6. Domaine Chandon, Coldstream
727 Maroondah Highway, Coldstream
Domaine Chandon offers three fabulous tasting experiences. Choose from one of the 20-minute tasting explorations of five wines. Or for something a little more in-depth, head to the private Whitlands tasting room for a 50-minute tasting of six exclusive limited-edition wines.
Chandon also has three dining experiences on offer. Enjoy a three-course Chef's Table menu at the restaurant. Relax in the Lounge Bar with a shared menu, charcuterie, and cheese board. Or kick off the weekend with a Sparkling Brunch overlooking the Yarra Ranges.
Visiting during the summer? Book in for a Chandon Garden Spritz Picnic. Treat yourself to a picnic basket full of delicious locally-sourced delicacies matched with Garden Spritz – a blend of sparkling wine and handcrafted orange bitters.
7. Granite Hills, Baynton
1481 Burke and Wills Track, Baynton
Set among the granite rocks of the Macedon Ranges, Granite Hills' cellar door is open daily from 11 am – 5 pm. Enjoy a relaxed tasting as you learn about the history of Granite Hills and what makes it so special.
Bring your own picnic to enjoy in the picturesque vineyard with a glass of your favourite Granite Hills.
Image Source: Visit Victoria Content Hub
8. All Saints Estate, Wahgunyah
Rutherglen Wine Region, 205 All Saints Rd, Wahgunyah
Set within a heritage-listed castle, All Saints Estate's cellar door features a large wrap-around bar with three premium tasting experiences on offer.
Feeling hungry? Choose from two dining options! Take in views over the vineyards and lake as you enjoy the very best produce of the northeast region within the modern-Australian elegance of KIN. For a more casual experience, relax in the outdoor lakeside setting at Bonnie and enjoy woodfired pizza, salads, charcuterie, and cheese platters.
While you're here, take the opportunity to become a winemaker for a day. This immersive experience includes a vineyard tour, an introduction to winemaking tools and processes, a private tasting, and a three-course lunch for two.
9. Jack Rabbit Vineyard, Bellarine Peninsula
Jack Rabbit Vineyard 85 McAdams Lane, Bellarine
Choose from white, red, or mixed wine tastings at Jack Rabbit Vineyard's cellar door. One-hour tastings are available between 10 am – 11.30 am or after 2.30 pm.
Experience fine dining at its best at Jack Rabbit Restaurant. The restaurant enjoys a reputation as a gastronomic showpiece for the Bellarine Peninsula. Take in the unrivalled views across the bay to Geelong and Melbourne as you enjoy the contemporary a la carte cuisine of head chef, Dwayne Burke.
Fancy a spot of yoga? You've come to the right place. Jack Rabbit's Yoga in the Vines begins with a 60-minute yoga flow class in the stunning vineyard setting. After your class, enjoy a glass of bubbles and a delicious two-course breakfast.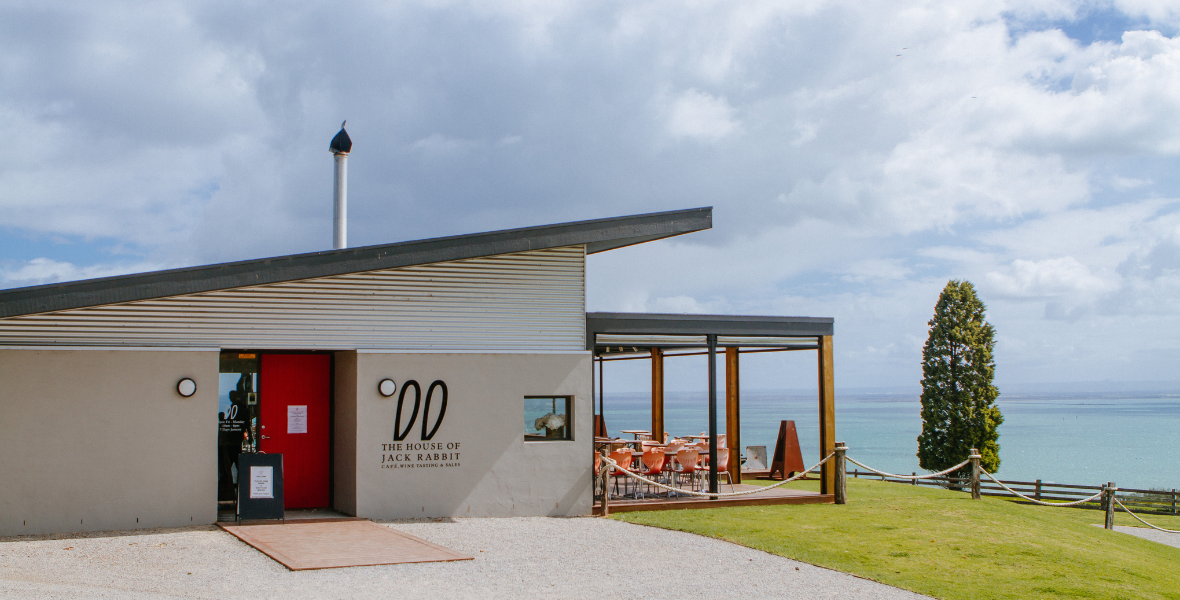 Image Source: Visit Victoria Content Hub
10. Mont Rouge Estate, Red Hill
232 Red Hill Rd, Red Hill
Mont Rouge Estate knows how to blend the best of life's luxuries including wine, chocolate, ice cream and coffee!
Sample Mont Rouge's pinot gris, pinot noir, chardonnay, and shiraz at the cellar door. Or enjoy delicious share plates at the restaurant. And for an indulgent treat, head to the onsite chocolaterie, Cocoa Rouge. The artisan hand-made chocolates and ice cream are made on the premises with both traditional and innovative techniques and flavours.
Ready to explore the best wineries in Victoria?
With so many amazing wineries to choose from, the only question is where to start! A private picnic in Red Hill, or yoga and breakfast in Bellarine?
Whichever wineries in Victoria you decide to visit, there's really no better way to do it than by campervan. The first step is to book your maui camper online and then pick it up from your nearest maui branch.
Looking for more great things to do on your Australian road trip? Check out some of our inspiring blogs: