Join thousands of RV travellers
Sign up for our Go By Camper newsletter to receive inspirational travel content and awesome deals, and we'll send you a copy of our Ultimate RV guide!
Thanks
Please confirm subscription in your email.
What food and wine is South Australia famous for?
South Australia is notorious for its food and wine. Home to 18 wine regions, it is a smorgasbord of experiences for even the most seasoned sommelier and gastronomes. First off, we have the infamous Adelaide wineries. This wine capital of South Australia is known for its warmer climate reds like shiraz and cabernet sauvignon varietals. Then venture just outside the city, and you are on the doorstep of world-famous wine regions like the Adelaide Hills, Barossa Valley, McLaren Vale and the Clare Valley.
In terms of food, South Australia is well known for its fresh seafood and produce. Being Internationally recognised for its pristine environment and regulations on biosecurity, the food here is simply just a whole new level of deliciousness.
A lot of people opt to feast their way through the very best food and wine regions of South Australia with a self-drive road trip referred to as the Epicurean Way. This itinerary winds its way through iconic wine regions like McLaren Vale, Adelaide Hills, Barossa and Clare Valley – four of South Australia's prime wine regions. This trip also allows you to experience the best culinary dishes South Australia has to offer.
Top food and wine experiences in South Australia
There are so many incredible wineries dotted across South Australia. Many of these offer regular cellar-door wine tastings, but some wineries turn 'wining and dining' into a unique experience of its own with their unique food and wine tours. Here is our list of the best food and wine experiences in South Australia.
Penfolds Blend Your own Wine, - Barossa
Penfolds is an iconic Australian winery located in the world-famous Barossa Valley. The cellar door has been the home of Penfolds winemaking since the 1970s and is the perfect stop for a tasting session in the Barossa. Alongside their cellar-door wine tastings, they offer a unique offering where you can Blend Your Own Wine! In this one-of-a-kind experience, you can step into the shoes of a master winemaker for the day. For just $85 per person, you will be shown the ropes of blending, experience blending your own wine first-hand, and even take the bottle home to enjoy! If you are feeling a little peckish, the Magill Estate Restaurant on-site offers stunning views and boasts a seasonal and inventive menu of contemporary food.
Location: 30 Tanunda Road, Nuriootpa, South Australia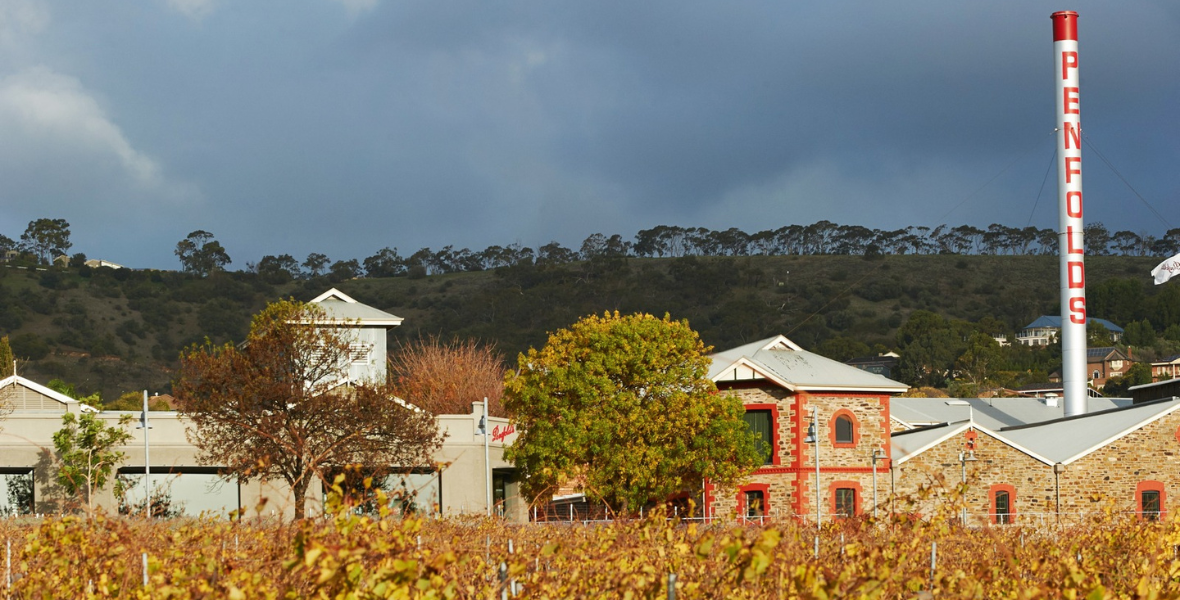 Image Source: SATC Media Gallery
Helivista Heli Fly-Thru Lunch, Currant Shed - McLaren Vale
Tucked away in McLaren Vale, the Currant Shed is home to a fantastic menu of fine wine and gourmet meals. Best of all, you don't have to wander far to enjoy a cellar-door wine tasting. Just a short 5-minute stroll across the estate is the sister business Shottesbrooke Cellar Door, where you can sample their local creations.
A must-do when visiting is to try the Heli Fly-Thru Lunch tasting room experience. The tour begins with a scenic helicopter ride above McLaren Vale. After marvelling at the views, the helicopter will drop you off at the Currant Shed, where you will then soak up the flavours of their food and wine in complete privacy for 90 minutes overlooking the vineyard.
Location: 104 Ingoldby Rd. McLaren Flat, South Australia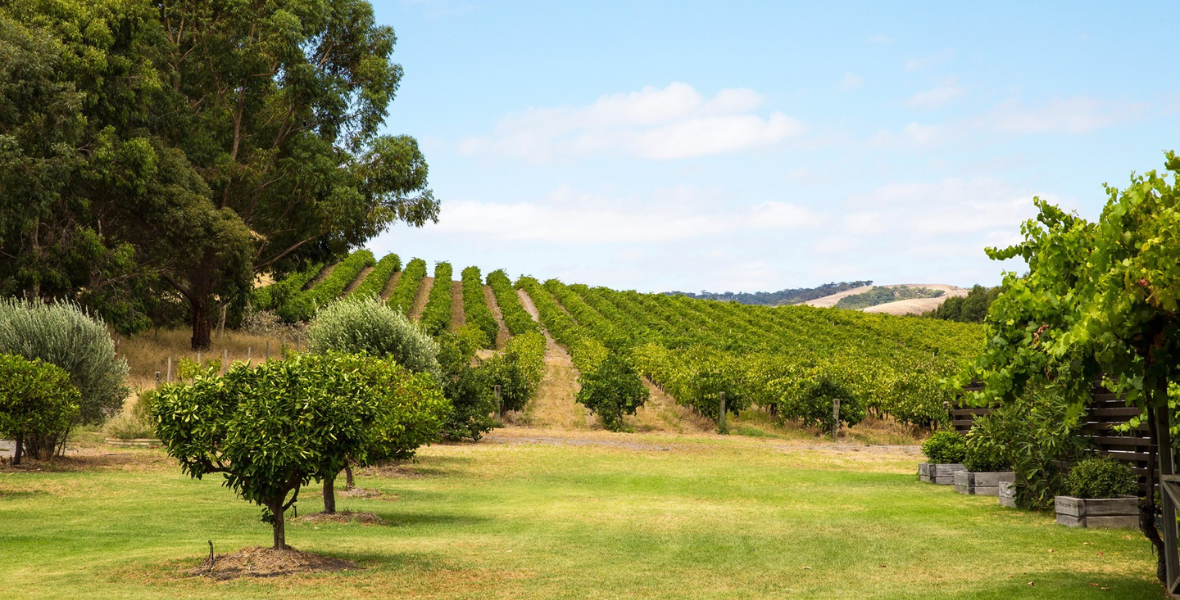 Image Source: SATC Media Gallery
The d'Arenberg Cube - McLaren Vale
When exploring the renowned wine region of McLaren Vale in SA, d'Arenberg is a must. Come meet the Osborn family who has been growing grapes and making wine for over four generations! If that wasn't enough, the d'Arenberg Cube tasting room setting is an experience of its own. The tasting room is located in the 'Cube' – a spectacular architectural design inspired by the 'puzzles' of winemaking. In addition to the tasting room, the cube features five levels to invigorate all five of your senses. Here you can soak up the panoramic views of the valley, lose yourself in the wine sensory room, marvel at the virtual fermenter and more! Of course, no visit here would be complete without dining at d'Arenberg. Choose from the seasonal produce of the Verandah Restaurant or dive into the south-east Asian inspired Singapore Circus – either way, you can't go wrong.
Location: 58 Osborn Rd, McLaren Vale, South Australia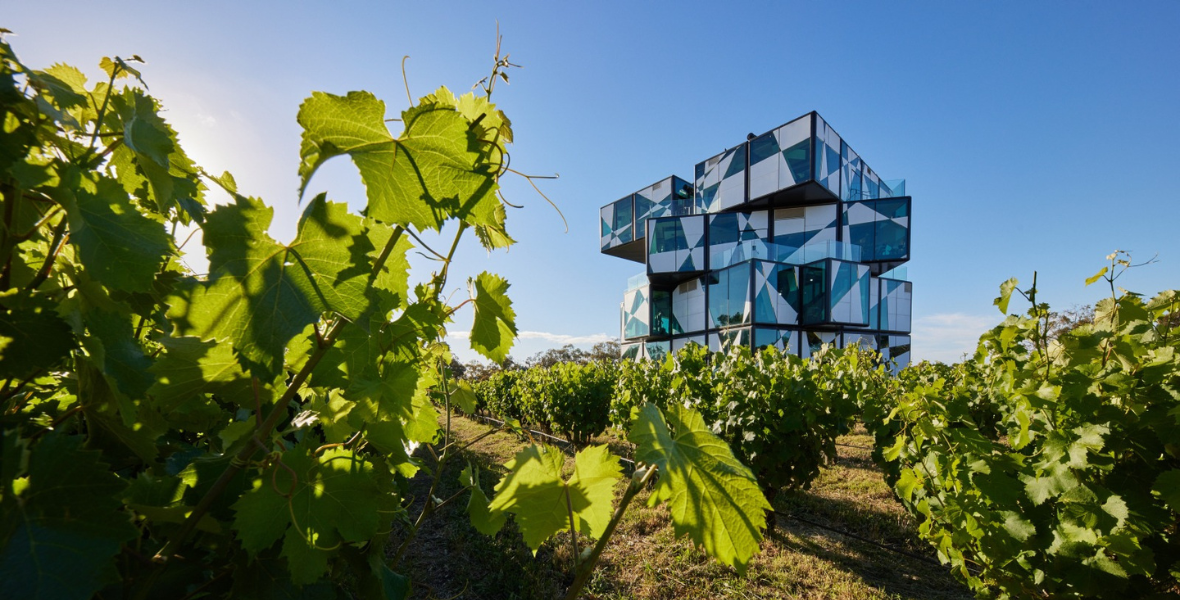 Image Source: SATC Media Gallery
The Florita Experience, Jim Barry - Clare Valley
Wandering a little further north, you will find the tranquil eucalypt-lined paths of the famed Clare Valley wineries. This renowned wine region in SA is home to Jim Barry Wines – an essential stop on a wine lovers South Australia road trip.
The Jim Barry cellar door offers both immersion tastings as well as an exclusive Collector Tasting for those with a palette for vintage wines. However, if you are a Reisling fan, do not miss the chance to join their famous Florita experience.
Location: 33 Craig Hill Road, Clare Valley, South Australia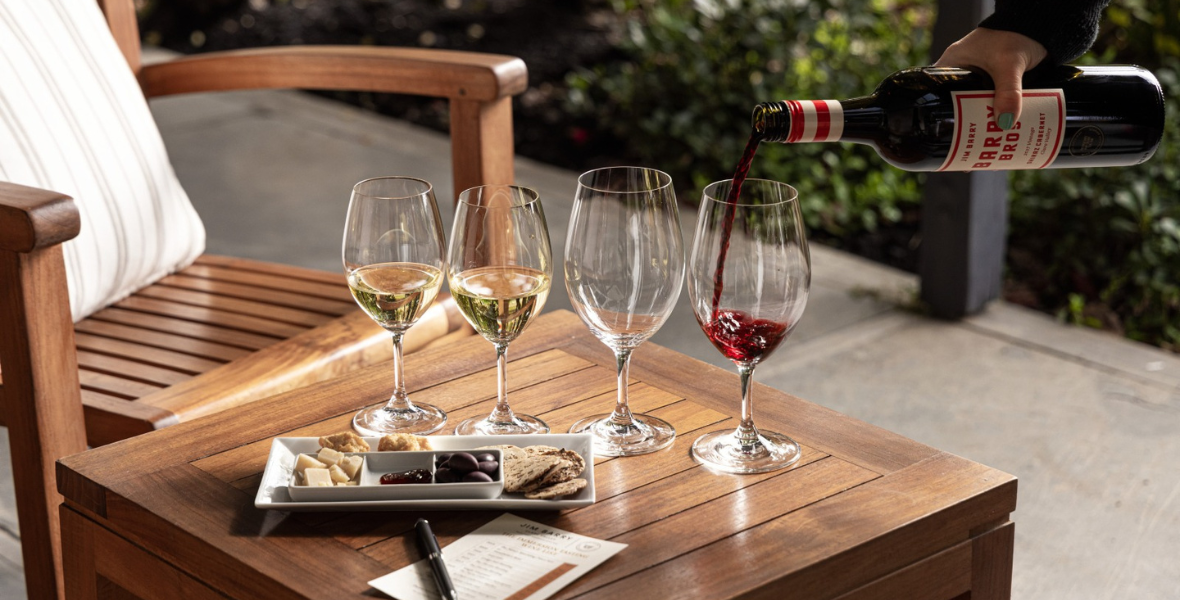 Image Source: SATC Media Gallery
Picnic at Lake Breeze - Langhorne Creek
Tucked away in Langhorne Creek is a spectacularly underrated vineyard called Lake Breeze. This vineyard is best known for the picnic at Lake Breeze experience. After picking up your basket of the finest local meats, cheese, olives, chutney and rustic sourdough – and a bottle of your favourite wine from the cellar door of course – you can make your way down to settle under the gum trees for an afternoon of gourmet bliss. If you're still hungry, you can head back inside and enjoy something from their simple yet tantalising menu featuring simple delicacies of barramundi, the more refined confit duck and the fresh jackfruit tacos in between.
Top tip: this is also one of the Winery Havens camping spots located in South Australia. Take advantage of their camping spots and park up for a night at the winery, so you don't have to drive!
Location: 319 Step Road, Langhorne Creek, South Australia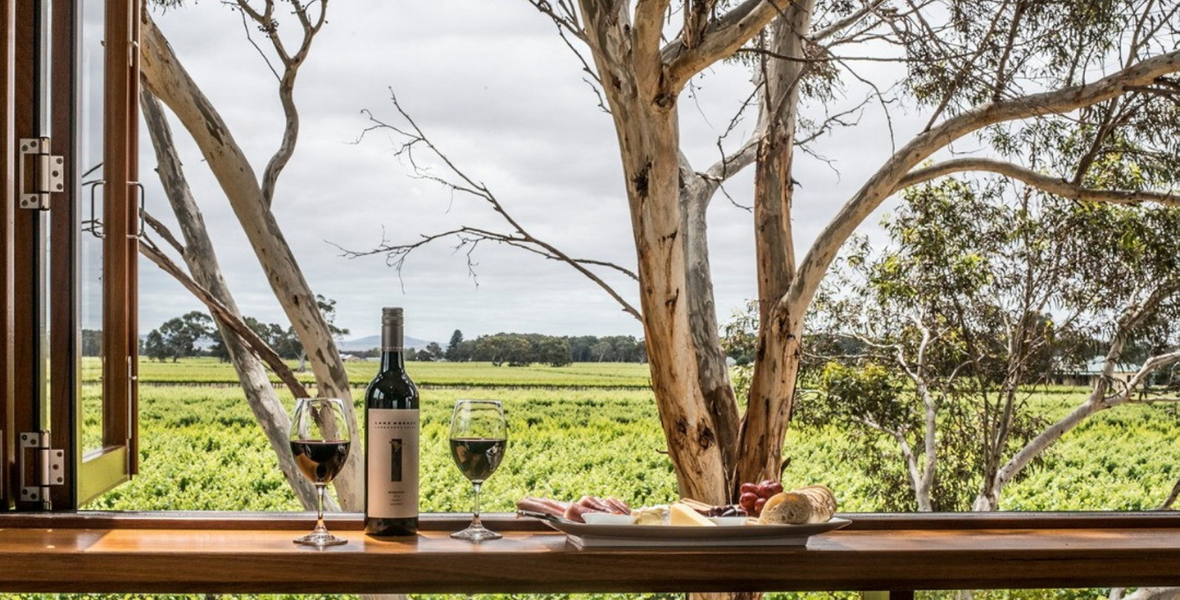 Image Source: SATC Media Gallery
Yalumba Cooperage Tour - Eden Valley
If you are planning a trip to Eden Valley (another renowned wine region in SA), be sure to add Yalumba to the list. Here you can treat yourself to a tasting of the Yalumba wines, including the unique offering of the Cabernet Shiraz. Then treat yourself to an equally unique experience with the Yalumba Cooperage Tour. This tour guides you through the on-site Cooperage (one of only five in the world) and the fine art of wine barrel making.
Location: 40 Eden Valley Road, Angaston, South Australia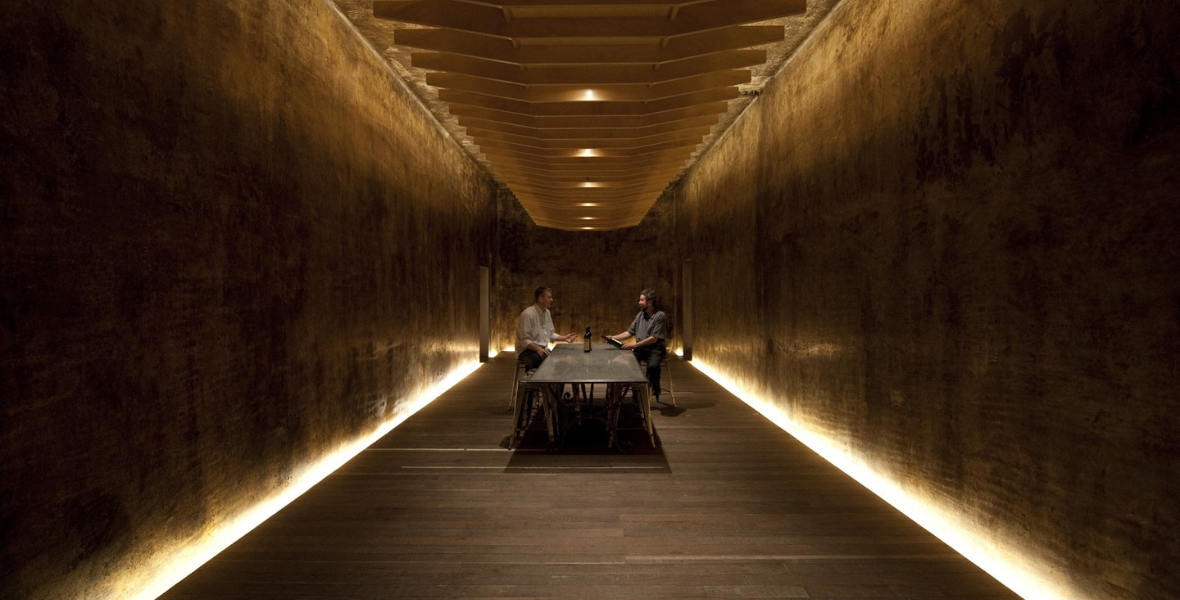 Image Source: SATC Media Gallery
Wine flight with six bites, DiGiorgio Family Wines - Coonawarra
DiGiorgio Family Wines is a must-do when travelling through Coonawarra on a South Australian road trip. Whether you are interested in a cellar door experience checking out their sparkling varieties or treating yourself to a gourmet sensory experience with their Wine Flight with Six Bites – there is plenty on offer. Outside their cellar door, they also host a number of other incredible experiences for food and wine lovers including a pasta-making lesson, pick your own produce platter, and private tours and tastings.
Location: Riddoch Hwy, Coonawarra, South Australia
The NIDO Experience, Golding Wines - Adelaide Hills
Adelaide Hills and Golding Wines go hand in hand. Whether you are dining at the Ginkgo Restaurant with its seasonal grazing menu or lavishly sampling wines in the rustic stone walls of the tasting room, Golding wines deliver an experience to remember. If you want to step it up a notch, do not look past the NIDO experience. Inspired by the Italian word 'nido' – meaning 'nest' – this experience is set amongst a whimsical hand woven nest on the highest perch on the property. Featuring wines as well as a six-course degustation menu, you will leave full and yet somehow, a little lighter and more whimsical.
Location: 52 Western Branch Rd, Lobethal, South Australia
Image Source: SATC Media Gallery
Ready to wine and dine in South Australia
Whether you're planning a solo road trip or planning on sharing the adventure with a significant other, there are plenty of food and wine experiences that are must-dos on a South Australia road trip. Whether you are seeking coastal cuisines or hinterland vineyards, you'll have the opportunity to experience it all in South Australia.
Prefer to take your wine to go and enjoy in your campervan? Check out our guide to pairing wine and food on your upcoming campervan trip. Or perhaps you are looking for a place to stay during your South Australia food and wine adventure? Be sure to check out the maui winery haven experience network to find the perfect spot for your upcoming trip.
Otherwise, if you are ready to wine and dine your way through South Australia with a motorhome hire in South Australia, book your maui campervan online today. Then all that's left to do is to pick up from your nearest maui branch to begin the adventure of a lifetime. If you want more information on what's included in your motorhome, where to stay along the way, what to pack, and more, check out the maui blog.