Join thousands of RV travellers
Sign up for our Go By Camper newsletter to receive inspirational travel content and awesome deals, and we'll send you a copy of our Ultimate RV guide!
Thanks
Please confirm subscription in your email.
The perfect way to see the best of Tasmania is to rent a travel van with a maui motorhome hire. When you travel by campervan, you've got the freedom and flexibility to create your own adventure! Relax and enjoy the sights as you take your time to explore Australia. Stop for photos, or just marvel at yet another awesome view.
Not sure where to start? No worries! We've done the hard work for you. Just take your pick of unforgettable locations from our list of 15 of the most breathtaking views in Tasmania. Pick as many as you like and start creating your ultimate Tasmanian road trip itinerary planner!
Top of Mount Wellington
Bay of Fires
Cradle Mountain, Dove Lake
Russell Falls
Wineglass Bay – Freycinet National Park
The Neck – Bruny Island
The Totem Pole – Three Capes Track
Gordon River Dam
Tessellated Pavement
Federation Peak
Frenchman's Cap
Mount Amos
Cataract Gorge
The Nut
The Tarkine
1. Top of Mount Wellington
At 1271 metres above sea level, Kunanyi / Mount Wellington is the tallest mountain in the Wellington Range. The summit offers panoramic views of the greater Hobart Region, Bruny Island, and the southwest wilderness area. It's also a great spot for capturing incredible images of the sunset and sunrise. You'll find an observation shelter at the summit which is welcoming on days when the weather is a bit chilly!
Mount Wellington is just 30 minutes drive from Hobart in the southeast of Tasmania. To reach the summit, drive up Pinnacle Road. You'll find a carpark at the top. Note that access may be restricted during winter snowfall.
2. Bay of Fires
If you ever wanted proof that Mother Nature is the world's greatest artist, Bay of Fires is it. Here, the turquoise waters of the ocean meet brilliant orange lichen-coated boulders in a clash of colours. The result is simply stunning! The Bay of Fires stretches for 50 km from Binalong Bay in the south to Eddystone Point in the north. Take your time to explore the white sandy beaches in between. Even better, park up your campervan for a night or two at one of the nearby campsites.
Bay of Fires is approximately four hours drive from Hobart and three hours from Launceston. Binalong Bay is less than a ten-minute drive from St Helens.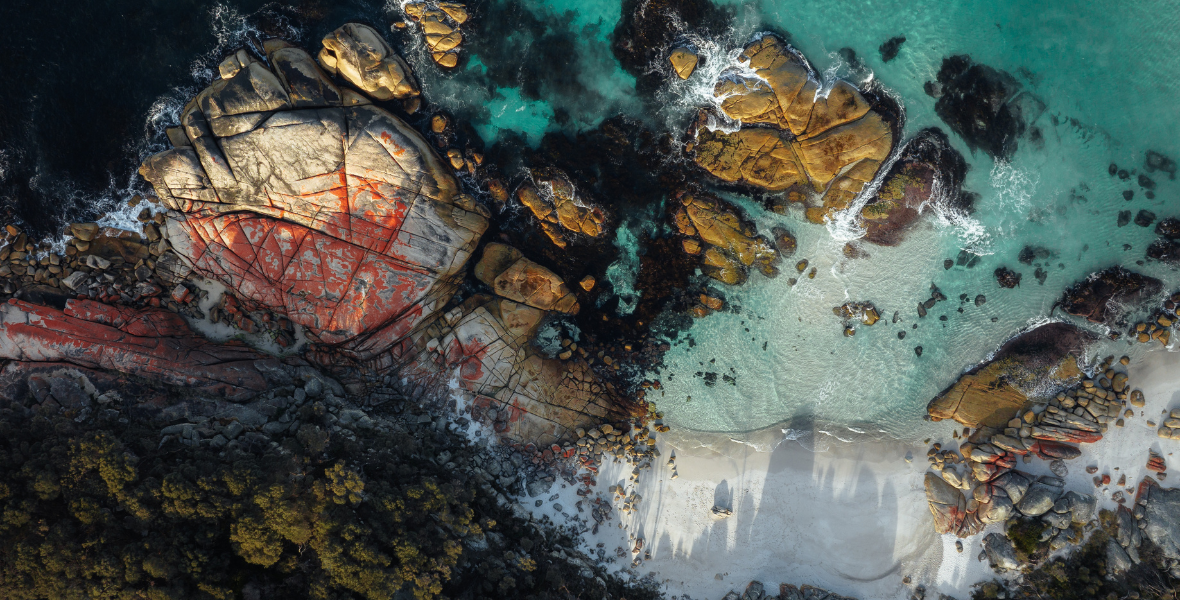 Image Source: Tourism Tasmania Visual Library
3. Cradle Mountain, Dove Lake
One of Tasmania's premier nature walks, the 6 km track that circles Dove Lake in Cradle Mountain is a must-do for nature lovers. From sandy lake beaches to cascading waterfalls, this loop track offers one awesome sight after another.
The walk takes around two hours, with boardwalks for much of the way. Along the way, you'll see three standout highlights.
Glacier Rock: A massive rock on the east coast of the lake. Look carefully to spot the rock striations carved by the receding glacier.
The Ballroom Forest: Filled with moss-covered Myrtle-Beech trees, this ancient rainforest is the perfect place for some quiet reflection.
Boatshed: Built in 1940 to house boats and rafts for visitors, this rustic shed makes for some fantastic photos.
The trail starts at the Dove Lake car park on Road C132 in the northern reaches of Cradle Mountain-Lake St Clair National Park.
4. Russell Falls
You simply can't beat a beautiful waterfall, and Russell Falls definitely fits into that category! In fact, this picture-perfect waterfall is said to be the most photographed in Tasmania. Russell Falls is tucked into the Tasmanian Wilderness World Heritage Area in Mount Field National Park. It features two main drops pouring into a pool surrounded by tall tree ferns. And at night, the falls take on a whole new kind of magic. A small grotto just before the falls comes to life as a colony of tiny glowworms spark up their light show.
Mount Field National Park is just over an hour's drive from Hobart via New Norfolk and Westerway on the A10 or B62. To reach the falls, it's a short and scenic 25-minute walk (1.4 km return) through an easy flat walking track.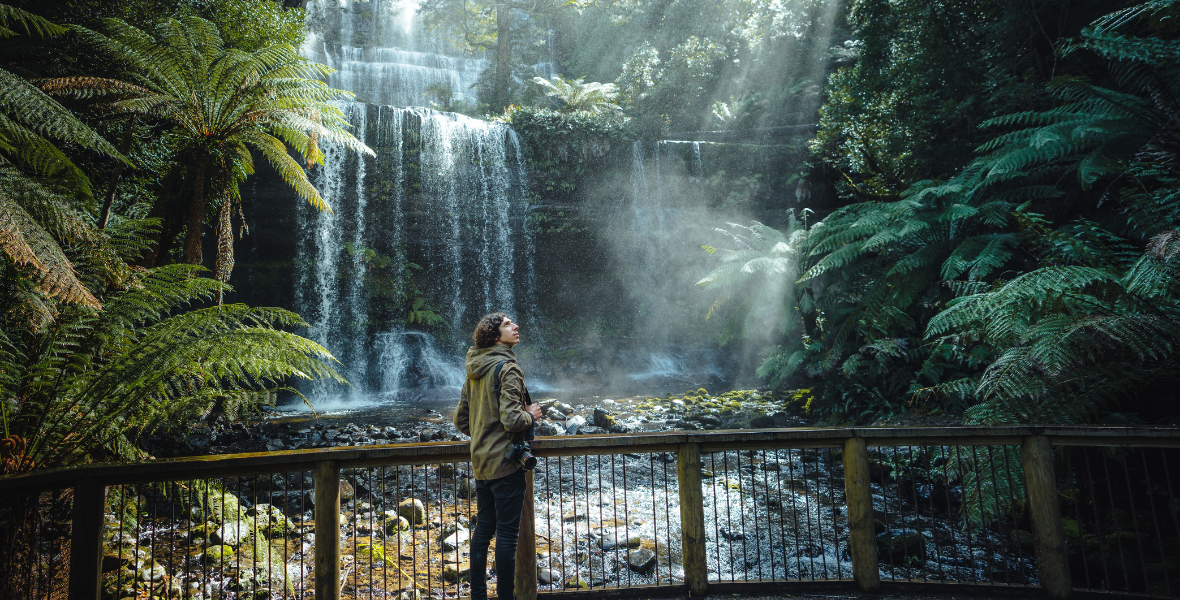 Image Source: Tourism Tasmania Visual Library
5. Wineglass Bay – Freycinet National Park
Topping the bucket list for many campervan travellers, the views at Wineglass Bay are simply sublime. This beautiful bay sits in the Freycinet Peninsula, an outcrop of wild, pristine coastline on Tasmania's east coast. In fact, it's so beautiful, it's considered to be one of the world's top ten beaches. Think white sandy beaches, turquoise waters (dolphins included!), and a plethora of wildlife and plant life. Keep an eye out for some of the 80 species of orchids, Tasmanian Devils, quolls, and beautiful birds.
Wineglass Bay is around 2.5 hours drive from Hobart. The nearest town is Coles Bay (12.6 km).
6. The Neck – Bruny Island
Just 40 kilometres from Hobart, Bruny is Tasmania's fourth-largest island. The Neck, which connects the north and south of the island, is home to some of Australia's unique wildlife. Boardwalks and viewing platforms let you observe short-tailed shearwaters and little penguins returning to their burrows at dusk. For the best views of the area, head to the Truganini Lookout. It's a bit of a climb – 300 steps – but well worth it! You'll be rewarded with 360-degree views of the ocean on both sides of The Neck.
In order to get to The Neck, you'll first need to get to Bruny Island. Ferries depart from Kettering, approximately 30 minutes south of Hobart.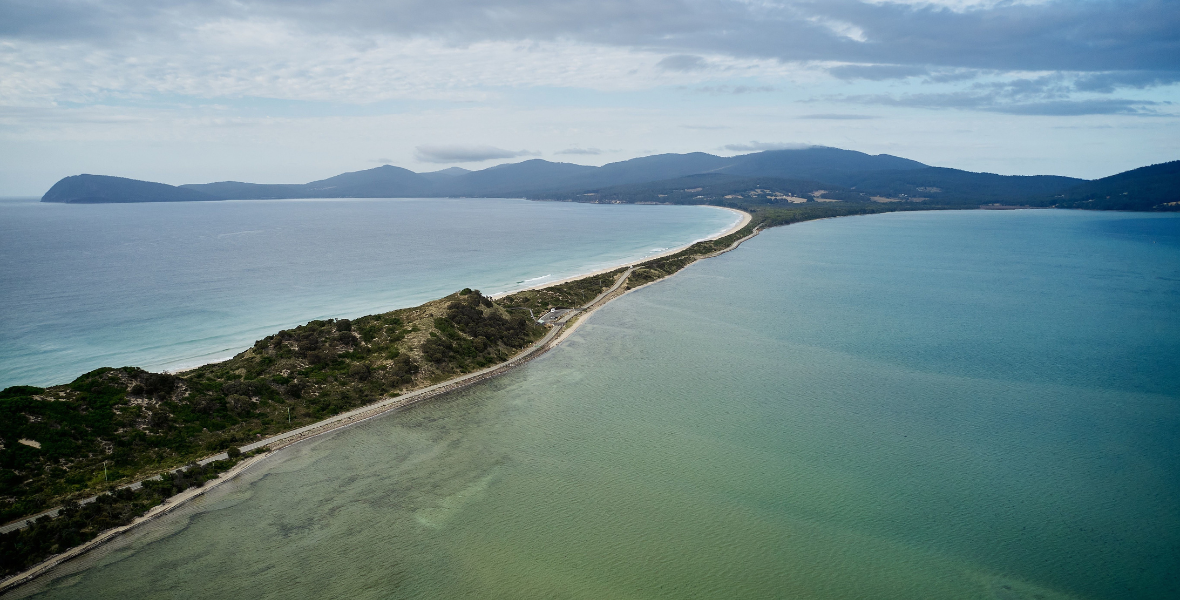 Image Source: Tourism Tasmania Visual Library
7. The Totem Pole – Three Capes Track
Remote, raw, and utterly awesome. That's how many describe the experience of the Three Capes Track. This track takes in spectacular areas of coastline in the southeast of Tasmania, within the Tasman National Park. The highlight of the track is The Totem Pole, a sheer rock face jutting out from the cliffs. This multi-day 46 km track is designed to take four days. You'll start and finish at the Port Arthur Historic Site where you'll make your way to the track by boat.
Although the well-formed track is suitable for a wide range of ages, bear in mind that each day will involve around four hours of walking.
8. Gordon River Dam
Standing at 140 metres in height, the massive Gordon River Dam is a marvel of engineering and a sight to behold. Completed in 1974, the dam is the tallest in Tasmania, making it a great spot to take in some incredible views of the Gordon River and surrounding national park.
To get to the dam, take the Gordon River Road. This scenic drive – one of the prettiest in Tasmania – also offers some spectacular views. There are plenty of places to stop for photos or a short nature walk.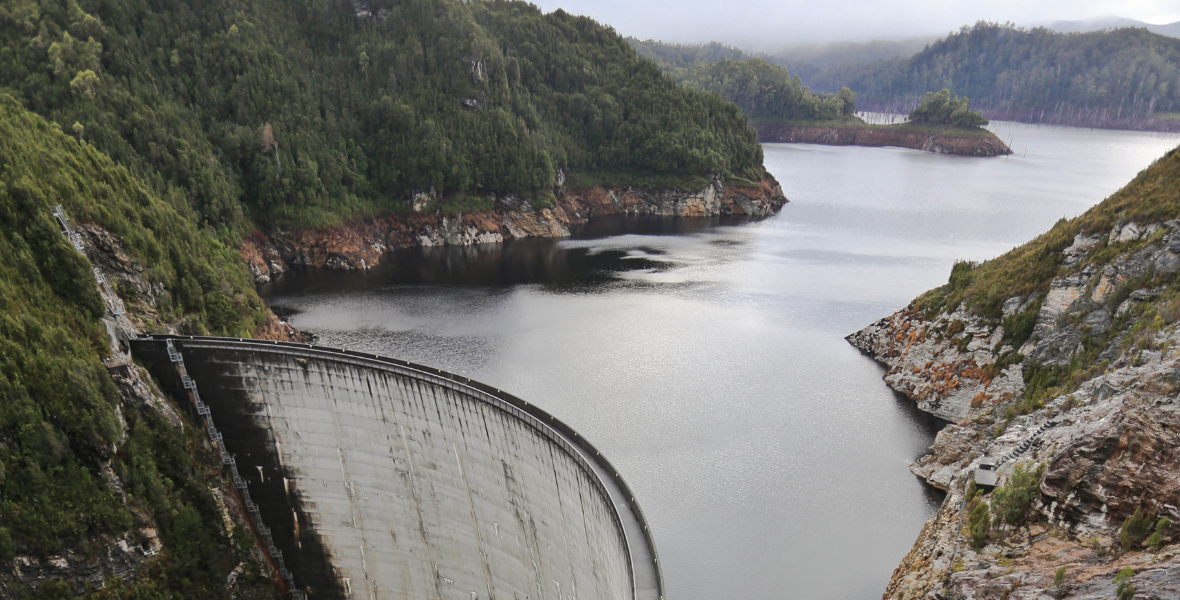 Image Source: Tourism Tasmania Visual Library
9. Tessellated Pavement
The Tessellated Pavement is a natural geological wonder. The tiled rocks, at first glance, appear almost manmade. In fact, the fascinating patterns were formed by the movement of the Earth about 300 million years ago. This spot is popular with photographers who like to explore the various angles in the changing sunlight. We recommend timing your visit to catch the sunrise – be sure to have your camera at hand!
The pavement is near the small town of Eaglehawk Neck and approximately one hour drive south of Hobart.
10. Federation Peak
For serious and very experienced hikers only, Federation Peak offers both a challenging and incredibly rewarding experience. The track is around 40 km, so allow for 4-5 days. This remote peak is in Tasmania's Eastern Arthur Range. As you can imagine, with a summit at 1274 metres, the views are simply unbeatable.
The best times to visit this trail are November through March. Don't forget to register before departing, check the weather, and ensure you're well prepared.
The Federation Peak trailhead at Farmhouse Creek is located 109 km southwest of Hobart.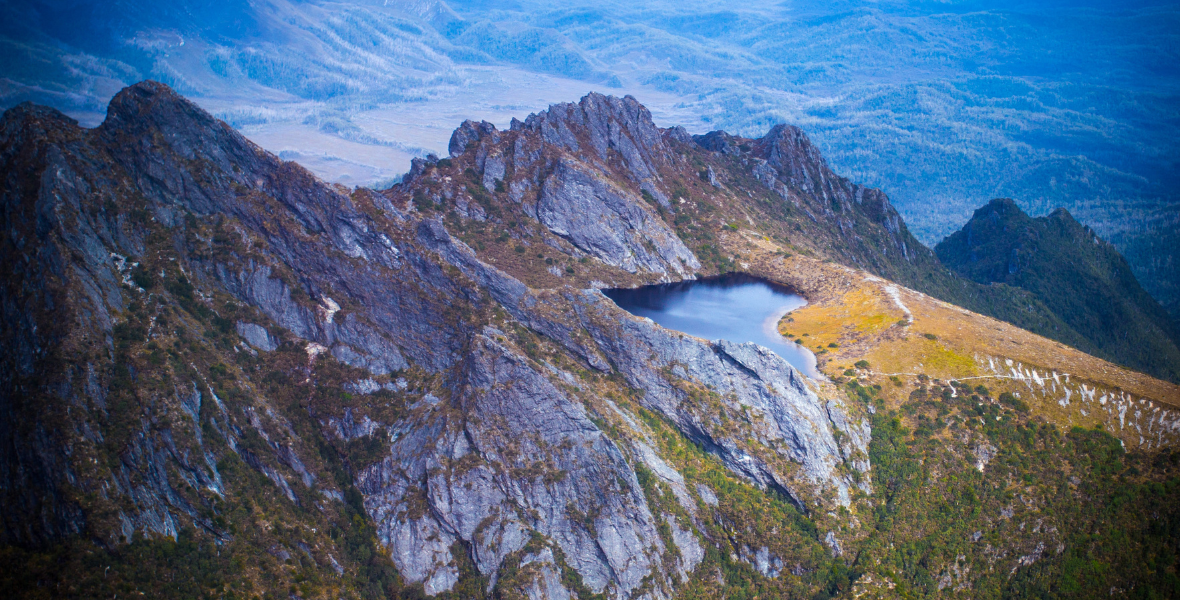 Image Source: Tourism Tasmania Visual Library
11. Frenchman's Cap
Another great track for experienced hikers is Frenchmans Cap. This 54 km return track (3-5 days) is a Grade 4, so bushwalking experience is recommended. Along the way, you'll pass through a variety of landscapes, from moorlands to Eucalypt forest. As you reach the summit, you'll be treated to expansive views of Macquarie Harbour to the west; the southwest wilderness and the many peaks of the Overland Track.
The start and end of The Frenchmans Cap walk is a carpark 29 km west of Derwent Bridge on the Lyell Highway, three hours from Hobart.
12. Mount Amos
Although steep and strenuous, the Mt Amos walk offers outstanding panoramic views of Wineglass Bay and Freycinet Peninsula. The track is 3.6 km (about three hours return) but is only suitable for physically fit and well-equipped walkers. Make sure you've got good shoes/hiking boots as some areas of the track involve walking over smooth rocks.
The park is about 2.5 to three hours drive from either Launceston or Hobart. Turn off the Tasman Highway (A3) onto Coles Bay Road (C302), 12 km south of Bicheno.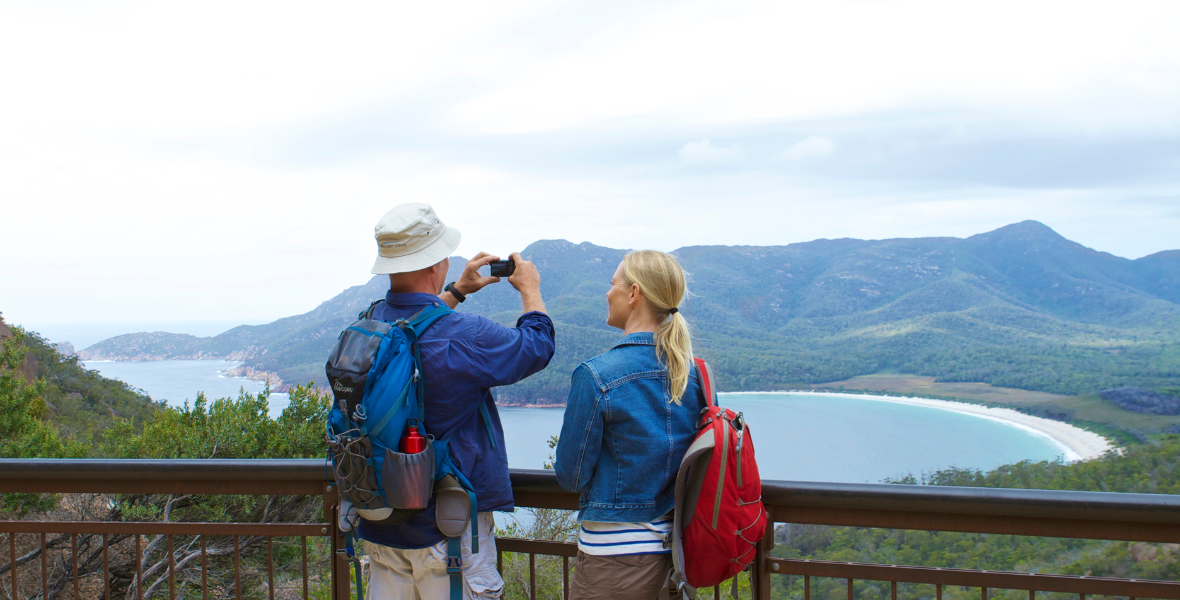 Image Source: Tourism Tasmania Visual Library
13. Cataract Gorge
Just a few minutes from the CBD of Launceston, Cataract Gorge is a hidden gem and one well worth checking out! Located in the Trevallyn Reserve, the gorge feels like a million miles away from the hustle and bustle of the city. On the northern side (known as the 'Cliff Grounds'), a Victorian-era garden is home to peacocks and exotic plant life. For the best views, ride the world's longest (457 metres) single-span chairlift over the gorge. There are also several walking and cycling tracks to choose from.
14. The Nut
A visit to The Nut is a must-do for any visitor to Tasmania. Located in Stanley, this fascinating natural formation stands 152 metres above sea level. That of course means, amazing views from the top! The walking track takes around 20 minutes and is quite steep – a great challenge if you're up to it! But the other option to reach the top is to take the chairlift. This five-minute ride also provides some great photo opportunities along the way. From the top of The Nut, you'll enjoy 360-degree views of the surrounding area.
Stanley is approximately five hours drive (404 km) from Hobart, or two hours and 40 min (225 km) from Launceston.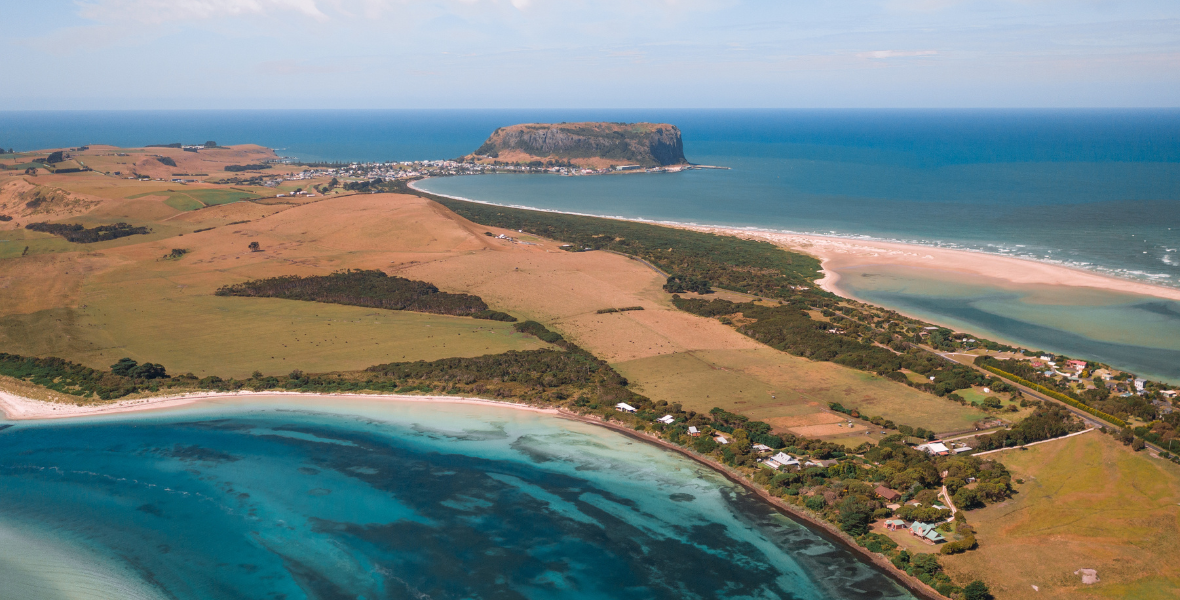 Image Source: Tourism Tasmania Visual Library
15. The Tarkine
Spanning 477,000 hectares of untouched wilderness, the Tarkine is one of Tasmania's hidden treasures. The Tarkine is home to the largest temperate rainforest in Australia. And that means it's also home to unique wildlife and habitats not found anywhere else. A drive through the area along the Tarkine Drive reveals remote beaches, sand dunes, forests, and waterfalls. Keep an eye out for Tasmanian Devils and colourful parrots.
The nearest town is Savage River (24.8 km).
Ready to see the most spectacular views in Tasmania?
From The Nut to The Neck, the Totem Pole to the Tarkine, Tasmania is bursting with unbeatable views! If you're ready to start your Tasmanian road trip, now's the time to take the first step! Simply book your maui motorhome online today then pick it up from our Hobart branch.
A campervan road trip means you can truly relax and take your time. Discover all the best things to do in Tasmania at your own pace. There are also plenty of great places to stay in Tasmania. Choose from one of the picturesque campgrounds in the region's national parks or free camping sites.
For more campervan travel inspiration, check out our helpful blogs and travel guides: