Join thousands of RV travellers
Sign up for our Go By Camper newsletter to receive inspirational travel content and awesome deals, and we'll send you a copy of our Ultimate RV guide!
Thanks
Please confirm subscription in your email.
The first question you need to ask yourself is: how many people are going on this trip?
Our campervans can fit up to six people so tally up your family and friends. If you have more than six people, book two or more vehicles and you can sort out who goes in which vehicle later.

The second question is: would you rather have some extra space?

Even if there are two of you, you might prefer to book a campervan that sleeps four to six, to give you more space on those longer trips. So if you want more legroom, why not upgrade yourselves?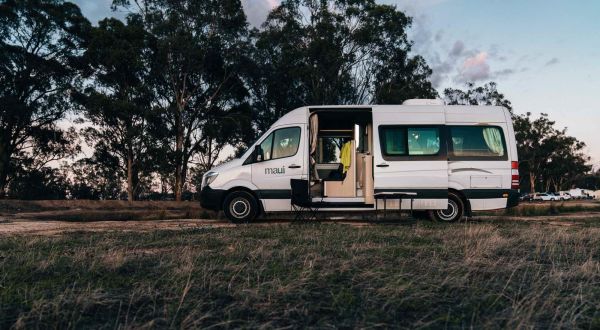 Motorhomes For 1 - 3 People
Perfect for a couple, or a young family with a child under 7, the Ultima and Ultima Plus are for you. With big double doors that open the lounge/bedroom into nature, a kitchen with fridge, gas hob, microwave oven and even a BBQ you'll have all your home comforts with you.
2 people: Ultima
2 people: Ultima Plus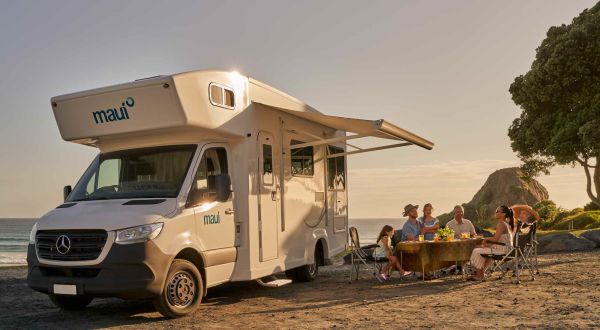 Motorhomes For 4 - 6 People
Does Size Matter?
Everyone loves more space - it just makes life a bit easier when travelling. You might think a larger motorhome would be more difficult and daunting to drive, but fear not! No matter a motorhome's size, they're easier to drive than it may seem, a key to this being built on high-quality Mercedes Sprinter chassis - so try not to let size become a defining issue. All models have large side mirrors and built-in GPS, while some have to reverse cameras, making your drive even smoother.

Toilet & Shower?
If you're thinking of freedom camping whilst you travel, you'll need a toilet and shower on-board to do so. Luckily all our maui motorhomes come with a built-in toilet shower allowing you increased freedom to camp and opening up many many more overnight spots. We still suggest staying at a campground or holiday park with powered sites every other night to keep that battery charged - but the choice is really yours.

Motorhome Features
maui offers a range of motorhomes to suit all travel styles and groups. From the Ultima perfect for a couple, with rear doors that open to extend the lounge into nature, the Cascade with innovative drop down bed to enhance space and the River with all the storage you'll ever need. Each vehicle has a few unique features that it's worth knowing about before you pick.
Ultima
Perfect for a couple, with a double bed that converts into a lounge, big rear doors that open into nature and an external BBQ you can cook up a storm. With a full kitchen including microwave fridge and stove you're set to cook inside too should you choose. A toilet and shower complete this easy to drive package.
Ultima Plus
For a young family this is the perfect vehicle. Built on a similar base to the Ultima, but with an additional child bed for kids up to 7 years old, the Ultima Plus is perfect for a family getaway.
Cascade
Perfect for a couple looking for more space, or a family with a couple of children, the Cascade will wow you with its unique drop-down bed. Great for kids, or equally a couple who desire not to set up the bed every night, press a button and the bed drops down from the ceiling. Combined with a full kitchen, toilet & shower and separate seating area in the front of the vehicle, the Cascade is easy to drive and fulfils all your road trip needs.
Beach
If you're looking for space, look no further than the Beach. With two separate sleeping areas, one above the cab and one in the rear of the vehicle you'll sleep soundly. Relax in the rear lounge with large windows to frame the view, cook up a feast in the kitchen and dine in the dinette. Whether you're a couple looking for ultimate space, or a family with two kids, you'll find your vehicle in the Beach.
River
Pack the family and all the toys into the River. With three separate sleeping areas, you can take the kids and their friends, or maybe invite the grandparents along for a multi-generation road trip. Relax in the rear lounge with large windows to frame the view, create a tasty dish in the kitchen complete with hob, oven, microwave and fridge and enjoy your away from home cooking in the dinette. A toilet & shower on board means no runs to the toilet block in the middle of the night, and with ample storage, you can take all the kids toys to keep them entertained.
You can use our tool to compare our motorhomes in much more detail, or ask us any questions on our live chat.