Join thousands of RV travellers
Sign up for our Go By Camper newsletter to receive inspirational travel content and awesome deals, and we'll send you a copy of our Ultimate RV guide!
Thanks
Please confirm subscription in your email.
However, with so much to see and do, it can be hard to know where to stop along the way. To help, we've put together this guide of the top 23 spots to stop along the Great Ocean Road. Let's dive in.
What's the best way to explore the Great Ocean Road?
The Great Ocean Road is made for road tripping with its long winding roads, oceanside caravan parks and endless attractions dotted along the coastline. Renting a travel van is the best way to see more of this corner of Victoria and experience everything this picturesque state has to offer.
There are plenty of options for itineraries to explore the Great Ocean Road, but the Great Southern Touring Route is by far one of the most popular. This route offers a mix of beaches, coastline, forests and Australian heritage - all within a compact 800km loop. This is easily one of the best road trips from Melbourne.
Top tip: It's a good idea to plan your route using a road trip itinerary planner such as thl Roadtrip app. This helps you find places to stay, mark local attractions, dump stations and more. There is also an offline maps feature for those stretches of road with limited service. It's the ultimate road trip companion.
Top 23 stops on the Great Ocean Road
This coastline is dotted with stunning beaches, relaxed cafes and top Australian attractions. These are our top 23 favourite places to stop along the way.
1. Point Addis Marine National Park
Point Addis Marine National Park is 4420 hectares of expansive ocean, white sandy beaches and crumbling limestone cliffs. Located between the rugged coastline of Torquay and Anglesea, it is best known as being home to the annual Bells Beach surfing comp 'Ripcurl Pro'. This park is perfect for diving, snorkelling, surfing, or enjoying a leisurely walk to see the lookout at Point Addis.
2. Thunder Cave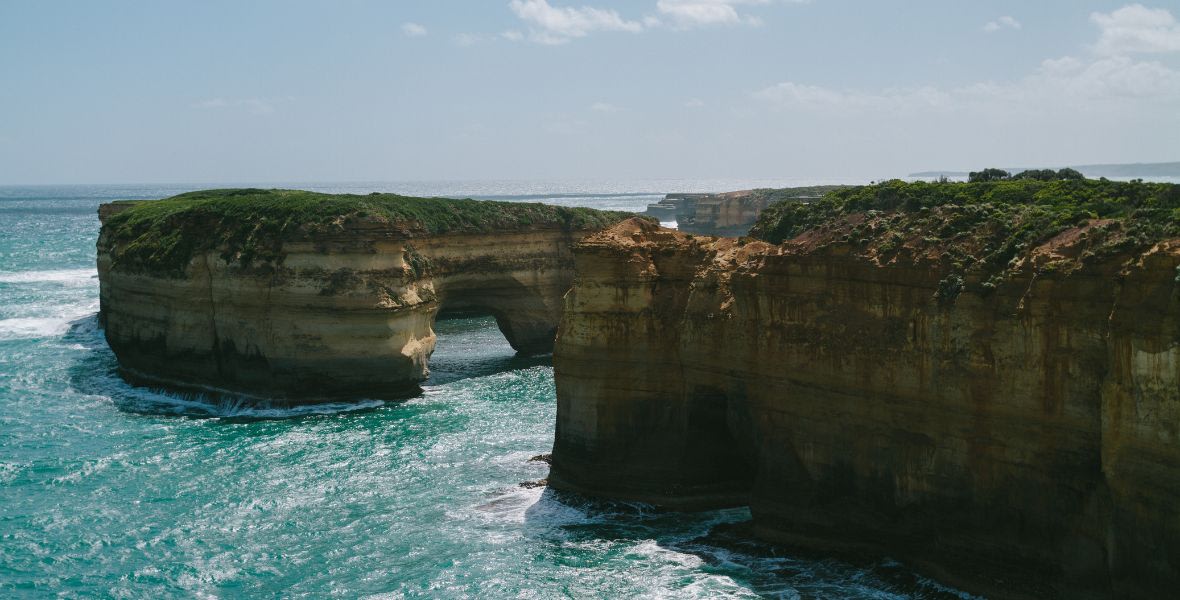 Image Source: Visit Victoria Content Hub
Listen in awe as the crashing waves of this southern ocean move with force through the Thunder Cave. This cave is located on the final section of the Great Ocean Road coastline in the Port Campbell National Park. To access this natural wonder, head to the Loch Ard Gorge car park and enjoy the leisurely walk to the cave.
3. Childers Cove
Amidst the crowded attractions, Childers Cove is a Great Ocean Road stop that gives the impression of isolated tranquillity. To access these panoramic seascapes, turn off the Great Ocean Road at Nirranda South. From here, you follow the sandy pathways to the cove.
4. Beech Forest
Beech Forest is a forested landscape located in the Otway National Park hinterlands. This area is primed for scenic walks and waterfalls and incredibly flavourful produce. Centrally located on the Otway Harvest Trail, the produce grown here is influenced by a combination of volcanic soil, climate and unique farming practices. Simply put - the food here just tastes better. Come and try it for yourself!
5. Hopetoun Falls
Another favourite just inland of the Great Ocean Road is Hopetoun Falls. This short 0.6km walk winds through the stunning beech forest and ends at a cascading waterfall surrounded by lush ferns, making it perfect for the whole family.
6. Bells Beach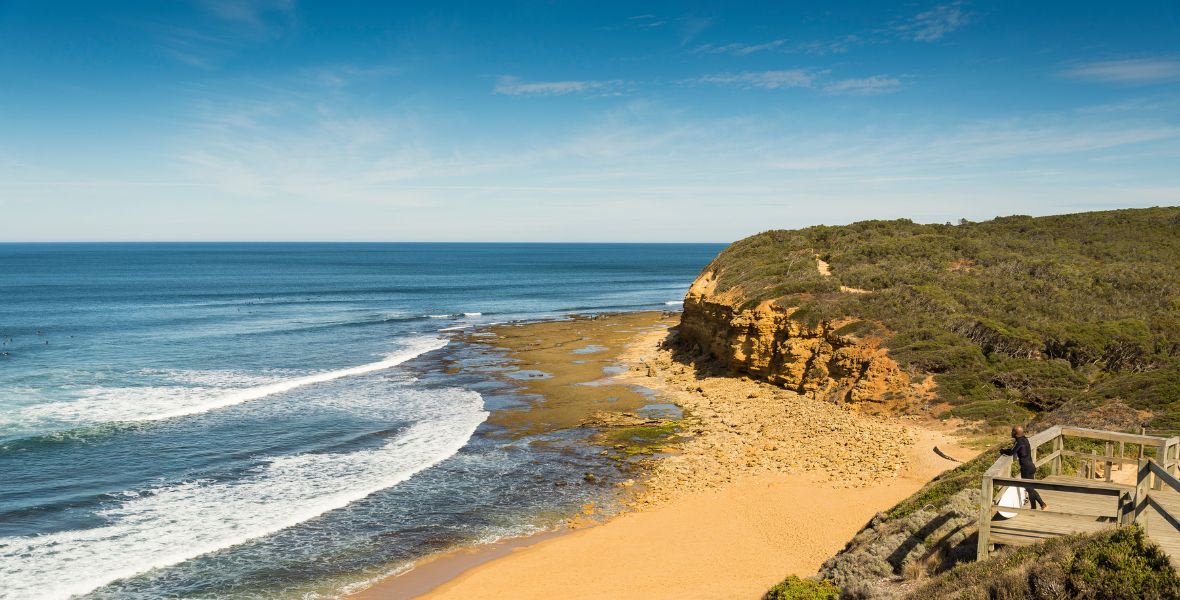 Image Source: Visit Victoria Content Hub
When driving past Torquay, make sure you check out the iconic Bells Beach. This surfing mecca is best known for the Rip Curl Pro surfing competition. This stunning beach with high cliffs and large southern ocean swells draws the world's best surfers. Whether you are looking to surf or sit and watch the locals - it's worth a stop.
7. Aireys Inlet
Aireys Inlet is a small coastal town tucked in between the larger Anglesea and Lorne. While in town, stop by the Split Point Lighthouse to enjoy panoramic coastal views, as well as stop by the Allen Noble Sanctuary to observe the local wildlife.
8. Lorne
Lorne has an air of a relaxed Mediterranean coastal village with its pristine white beaches and laid-back community vibe. Whether you are soaking in the rock pools on Shelley Beach or fishing off the Lorne Pier, Lorne is a must-do on a Great Ocean Road Australia road trip.
9. Kennett River
Venture inland to see the wild koala bears of Kennett River. Tucked away 30 km southwest of Lorne, Kennett River is home to the Great Ocean Road koala walk located on Grey River Road. This is a great opportunity to see these sleepy animals resting in the eucalyptus trees.
10. Cape Patton Lookout
Cape Patton Lookout is another fantastic stop in the Kennett River region. Enjoy a short driving break with a view of the ocean running along the Great Ocean Road, all the way to Apollo Bay. You can access this beautiful lookout by turning off the highway halfway between Lorne and Apollo Bay.
11. Great Otway National Park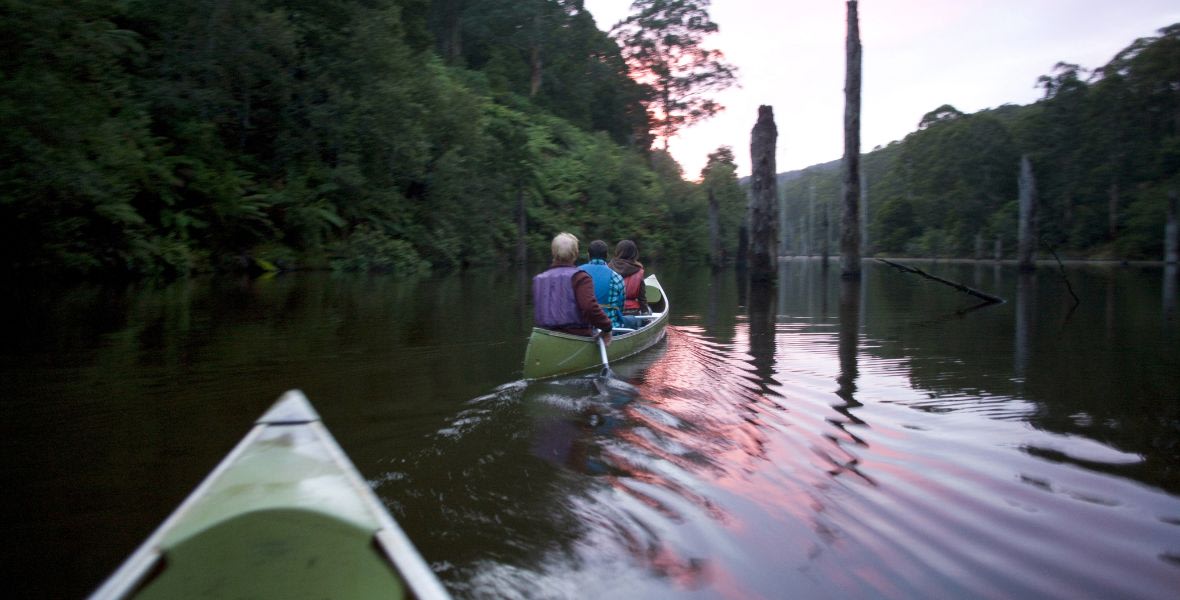 Image Source: Visit Victoria Content Hub
Great Otway National Park is a collection of steep timbered ridges, lush fern gullies and tranquil waterfalls. Stretching all the way from Torquay to the Otways hinterland, this National Park is filled with stunning nature, maritime history and underwater ecosystems to explore.
12. The Redwoods
Experience the magic of the world's largest trees at The Redwoods forest. These trees are considered one of the world's hardiest and largest trees. Growing up to 76 metres tall and 4 metres in diameter, these trees are an awe-inspiring sight.
13. Apollo Bay
Tucked away in the foothills of the iconic Otways is the coastal town of Apollo Bay. Here you can swim, dive, surf and kayak - and maybe even see a seal or two at the local colonies. Enjoy seafood? Treat yourself to the freshest local finds caught by local fishermen. If you're here in May, join in the madness of the Great Ocean Road marathon as runners from around the world tackle this coastal run.
14. The Twelve Apostles
There is something memorable about witnessing the crumbling limestone of the Twelve Apostles. Knowing that these will one day disappear makes this experience more special somehow. Whether you're a photographer looking to capture the remaining rock stacks or simply wish to see them - it is worth a stop. Located under four hours' drive from Melbourne, this is easily one of the best road trips from Melbourne.
15. Loch Ard Gorge
Don't miss a stop to wander along the impressive shores of Loch Ard Gorge. Soak up the immensity of the stunning rock stacks on one side and sheer yellow limestone cliffs on the other. This is a must when renting a van to travel the Great Ocean Road.
16. London Bridge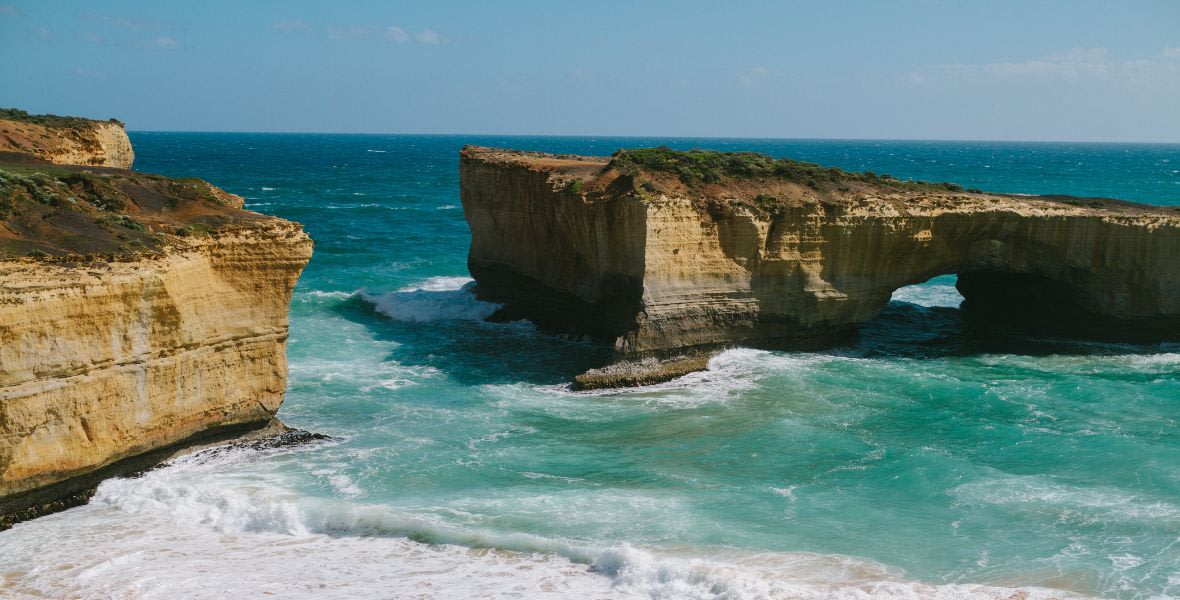 Image Source: Visit Victoria Content Hub
Another unique formation carved by these southern oceans is London Bridge. This archway out to sea carries a familiar likeness to the English namesake. Similarly to the Twelve Aapostles, we recommend visiting in the early morning or late afternoon to forgo the crowds.
17. The Grotto
Located 9 km west of Port Campbell, the Grotto is an interesting combination of cave, archway and blowhole. For the best views, follow the path to the lower viewing platform at sunrise or sunset. This will give you unspoiled views of the horizon through the arch of the Grotto.
18. Port Campbell
Port Campbell is a vibrant seaside village dotted with restaurants, galleries and unbeatable victorian cafes. The Port Campbell Jetty is perfect for an afternoon stroll.
19. Warrnambool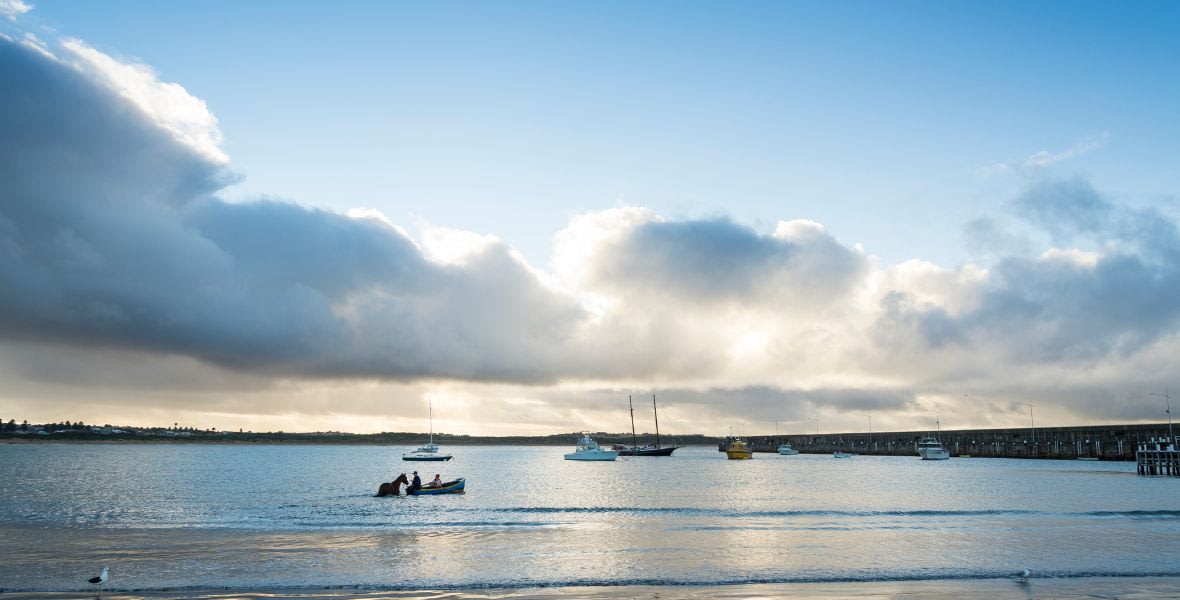 Image Source: Visit Victoria Content Hub
Warrnambool is situated on the southwest coast, nestled between the rolling countryside and the Southern Ocean. While in town, check out the native flora taking refuge in the Tower Hill Reserve, watch whales at Logan's beach, and feast on the local produce.
20. Griffiths Island
Griffiths Island is a compact 1.5 km long and 0.8 km wide island known for its flourishing wildlife. Enjoy the best of this island by taking a walk around. Starting at the visitor information centre, there is a convenient path that will guide you through this spectacular scenery.
21. Gibson Steps
Find yourself dwarfed by the 70-metre high cliffs as you descend the Gibson Steps. Look out in awe at Gog and Magog - the nicknames for the giant rock stacks out to sea - as you walk along this spectacular coastline. This is a quintessential stop when renting a travel van to explore this coastline.
22. Blue Lake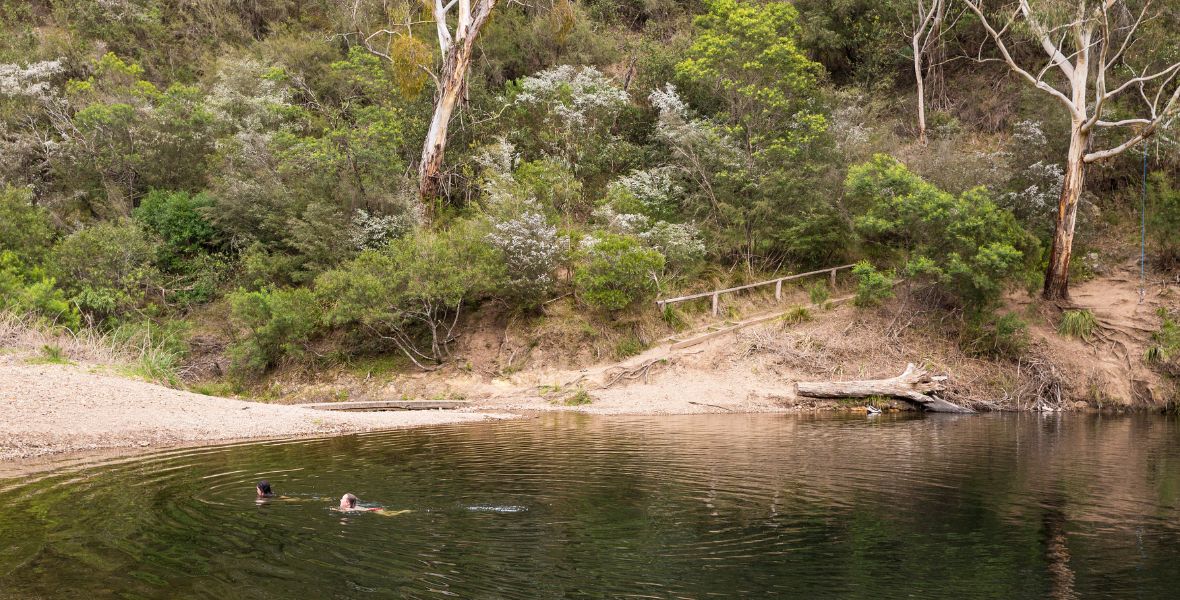 Image Source: Visit Victoria Content Hub
Want to extend your Great Ocean Road adventure and make your way toward Adelaide? Make sure you add the Blue Lake to your list. This cobalt-blue crater lake is an iconic attraction in Mount Gambier in South Australia. The blue colour will vary depending on the time of year you visit: deep blue in the winter, turquoise in the summer, and a subtle blue in between. Regardless of when you visit, it's a sight to see!
23. Grampians National Park
Grampians National Park is tucked away an hour north of the Great Ocean Road. Best known for its world-famous hiking trails, here you can wander past rushing waterfalls, bask in the budding wildflowers and soak up the panoramic mountain views. This region is also heritage listed for its Aboriginal cultural significance. Be sure to check out the huge collection of ancient Aboriginal rock art and paintings.
Ready to book your Great Ocean Road adventure?
The Great Ocean Road is filled with incredible seascapes, natural attractions and vibrant coastal towns with incredible eateries. What better way to explore them all than to rent a van to travel and tackle this top Australian road trip.
Ready to begin exploring the Great Ocean Road? Book your maui motorhome today. For more details on what is included in a campervan hire and choosing the right motorhome for your Great Ocean Road adventure, check out our blog. Best of all, with this trip starting and ending in Melbourne, you can pick up your camper from the maui branch in Melbourne.