Join thousands of RV travellers
Sign up for our Go By Camper newsletter to receive inspirational travel content and awesome deals, and we'll send you a copy of our Ultimate RV guide!
Thanks
Please confirm subscription in your email.
Why you should visit Byron Bay
Byron Bay is an idyllic coastal town about two hours south of Brisbane, Australia. It's known for its sunny weather, beautiful beaches, and laid-back lifestyle. The town has been a popular tourist destination since the 1970s when hippies flocked there to escape city life. Today, Byron Bay draws people from all over the world who want to experience its relaxed vibe — or just get away from it all.
Visitors come for surfing and diving (or other water sports) but also for music festivals and romantic getaways (there are plenty of romantic things to do in Byron Bay with your significant other). Byron Bay has plenty to offer — making it a perfect first stop after starting your campervan trip in Brisbane.
The best annual Byron Bay festivals
There are many great annual festivals in Byron Bay, from music to art and more. Here's our guide to the best festivals to check out when you're in town.
The Falls Festival
Falls Festival is easily one of Australia's most loved festivals and one of the world's biggest music festivals. It's a three-day event taking place at Byron Bay, featuring top international performers and an all-ages crowd. The festival is held on New Year's Eve every year, so it's a great way to celebrate the end of the year with friends and family. Festival Goers can expect a wide range of acts, including rock, dance, hip-hop, pop and indie bands. Attendees can also choose to add a camping ticket and park on-site. Making this the perfect festival to bring along your campervan for the ultimate festival luxury.
Byron Bay Bluesfest
If you are visiting Byron Bay during the Easter long weekend, don't miss the chance to check out Byron Bay Bluesfest. The Bluesfest is Australia's largest annual blues festival, held over five days. It features an impressive line-up of local and international artists, including major names like Gang of Youths, Buddy Guy and the Doobie Brothers. The festival started in 1990 with an intimate setting of 6000 attendees but has grown considerably into one of Australia's most popular music festivals attracting over 100 000 people each year!
If you are looking to stay on-site, Byron Bay Blues Festival accommodation has you covered. There is on-site camping available for 6,000 guests – making it the perfect stop on a campervan adventure! For many, the campground is one of the best reasons to visit Bluesfest. With options for 'tent motels' as well as campervan camping, you have plenty of options for parking up on-site to soak up the full experience of this iconic Byron Bay music festival.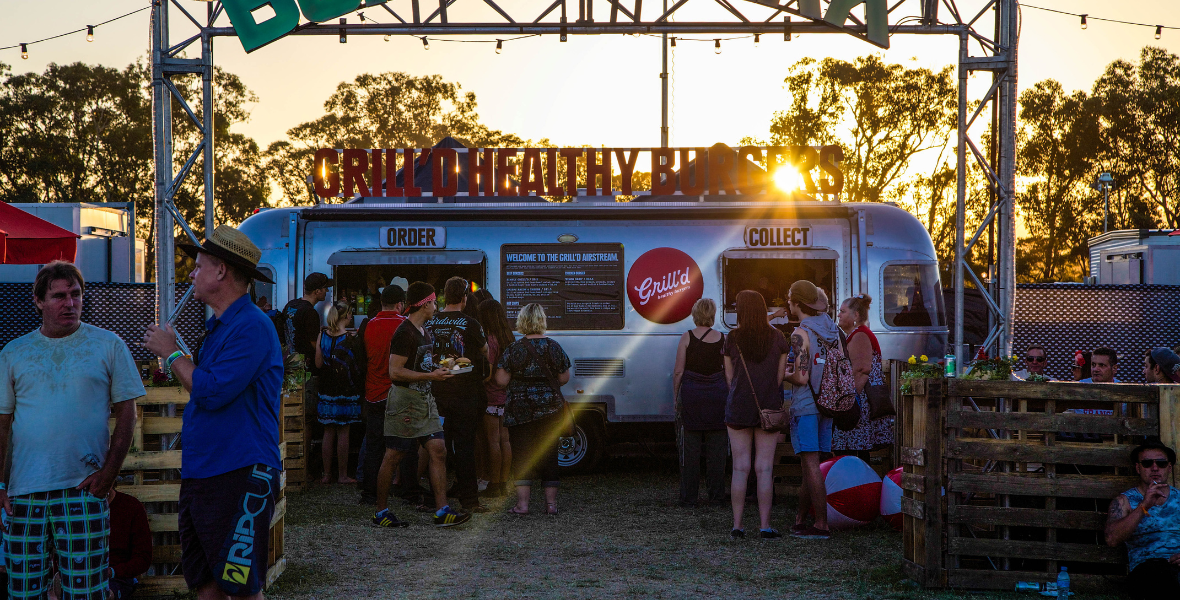 Sample Food Festival
Sample Food Festival Bangalow is an annual event held in September in the Byron Bay hinterland. This is the premiere food event for Northern New South Wales and is a celebration of the best local produce from this region. The festival aims to celebrate the best of Australian cuisine by showcasing the distinctive flavours and characteristics of our native ingredients as the top restaurants battle it out for the "Gold Fork" on the main stage. The festival has become a must-do for locals and visitors alike - with stalls offering delicious fresh food at affordable prices, including everything from small bites to full meals as well as dessert stalls, wine bars, beer stalls and more.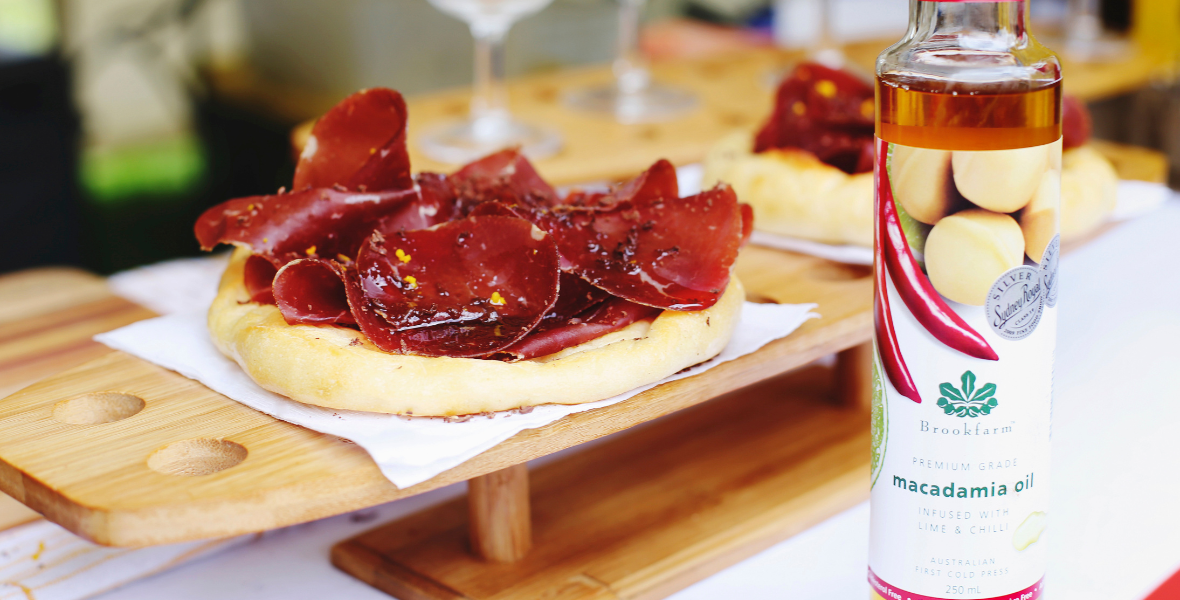 Byron Bay Comedy Festival
Byron Comedy Festival is an annual comedy event held in Byron Bay, Australia, in June. The festival was created with the aim of bringing together some of the best stand-up comedians and improv performers in the world. Since its inception, it has grown into a major cultural event on Australia's East Coast. It features a variety of shows, including stand-up comedy sets from local and international comedians. With a mix of child-friendly sets in the day and more adult-centred shows in the evening – there is a little something for the whole family.
Byron Bay International Film Festival
The Byron Bay International Film Festival is a multi-day event that celebrates the best of independent cinema from around the world, from documentaries to shorts and feature films. For ten days each October, filmmakers and film lovers have the chance to come together and share their love for cinema.
Byron Writers Festival
The Byron Writers Festival is held in August each year and is one of Australia's premier literary events. This three-day event is a celebration of literature and storytelling and attracts authors from all over the world to share their stories with the local community. It's a great opportunity for locals and visitors alike to get up close with some of the biggest names in Australian literature. The festival also includes talks and workshops by local writers as well as panel discussions on topics and issues facing writers and the literary community today. In addition to the wonderful literary panels, there will be markets where you can get your coffee and food throughout the weekend as well as a bookstore to pick up a few new favourite reads.
Splendour in the grass
Splendour in the Grass is a music festival that takes place at North Byron Parklands every July. Splendour in the Grass has become known for its big-name headliners but also features smaller acts and plenty of local bands throughout the weekend who are always a highlight for many attendees. The festival promotes itself as being 'family friendly' but does not allow children to attend without being accompanied by an adult.
Byron Latin Fiesta
Byron Latin Fiesta is a multi-cultural festival that takes place every year in November in the Byron Bay hinterland. The festival showcases the music and dance styles of Latin America with performances by local and international artists. The festival also features an array of food stalls selling traditional Latin American cuisine, such as empanadas and arepas, as well as plenty of craft stalls selling souvenirs and clothing from Latin America. What's more, there is also a range of activities for children, including face painting and arts & crafts workshops – making this the perfect festival for the whole family.
Where to stay in Byron Bay
While some festivals have options to stay on-site, many of these can book out very quickly (or are simply too busy for some tastes). So it's good to have a few other great local Byron Bay caravan parks up your sleeve for your road trip. Here are some of the top Byron Bay caravan parks, including their pricing and main features:
Big4 Ingenia Holidays Byron Bay
Facilities: Bike hire, swimming pool, direct beach access, jumping pillow, playground, basketball court and more.
Cost: Starting at $61 per night
Facilities: Camp kitchen, dump point, free Wifi, private beach access, surfboard and bike hire, outdoor dining area and more.
Cost: Starting at $67 per night
Facilities: BBQ area, cafe, waterpark, tennis court, dump site, laundry, swimming pool, bouncing pillow and more.
Cost: Starting at $49 per night
Facilities: Waterfront property, BBQ area, and children's facilities.
Cost: Starting at $76 per night
What to pack for Byron Bay festivals
Packing for each festival will be a little different. Watching movies at the film festival? You may want to pack comfy pants. Headed to soak up the ambiance of a Byron Bay music festival or dance the night away at the Latin Festival? Pack your best dancing shoes and outfit to match.
With that being said, as many of these festivals are being held outdoors, it's important to bring along sun protection even if you are visiting in winter. Good footwear is also a necessity for grassy area events, as these have been known to get muddy after rain. Also, remember to bring along plenty of water for rehydrate if you will be outdoors for long periods.
A few other handy things to bring include:
Hats
Sunblock (SPF 50+)
Lights layers
Hand sanitiser
Cash
Bug spray
A reusable bag
For more ideas on things to bring on your campervan holiday, check out our campervan packing list.
Ready to experience the best festivals in Byron Bay?
Byron Bay is a stunning corner of the world to experience these world-class Byron Bay Australia events and festivals. Whether it's a music festival, art festival, or film festival, there's one out there for you. If that wasn't enough, there are also plenty of things to do in Byron Bay outside of festival activities. Soak up the local scenery, take a surf lesson and make a whole holiday out of it!
Ready to experience these festivals for yourself? Hire a campervan with maui today and enjoy the creative scene in Byron. Simply book online or in your local maui branch, and you will be all set to experience these world-class festivals for yourself! For more tips on planning your travel itinerary or for a full rundown on what is included in your campervan, check out the maui blog.