Join thousands of RV travellers
Sign up for our Go By Camper newsletter to receive inspirational travel content and awesome deals, and we'll send you a copy of our Ultimate RV guide!
Thanks
Please confirm subscription in your email.
Why summer is a great time to visit
When people think of Australia, stunning beaches and surfing often come to mind. But, the reality is that Australia is a huge country, with lots of different things to offer. Australia's climate differs from state to state. Western and Northern Australia historically have much hotter summers than the Eastern Australia side of the country. For example, Perth, in Western Australia has an average maximum temperature of around 30℃, while Melbourne, the southernmost city in mainland Australia, has an average maximum temperature of around 25℃. You're generally treated to warm temperatures during the summer months, no matter where you are in the country. So, If you want to experience the classic In order to fully embrace a proper Australian summer holiday, summer is definitely the time to go
Top Destinations to visit during Summer in Australia
Newcastle, New South Wales
Newcastle is a wonderful place to visit during the summer months. Spend your days exploring the local beaches and roaming around the city. Newcastle often gets overlooked because it's so close to Sydney and the popular Hunter Valley wine region. But there is definitely lots to see and do in this vibrant city.
Summer is made for beach-hopping and Newcastle offers that and so much more. Cruise along in your campervan and visit one of Newcastle's stunning beaches like Newcastle Beach, Horseshoe Beach or the famous Nobby's Beach. Nobby's Beach is a popular swimming spot for families, surfing learners and the local dolphins. Enjoy relaxing by the beach or head off on the Shoreline Walk. This walk takes you from the Destiny Monument at Dyke Point to Strzelecki Lookout on the Newcastle Memorial Walk, allowing you to soak in both the buzzing city and the stunning beaches as you go.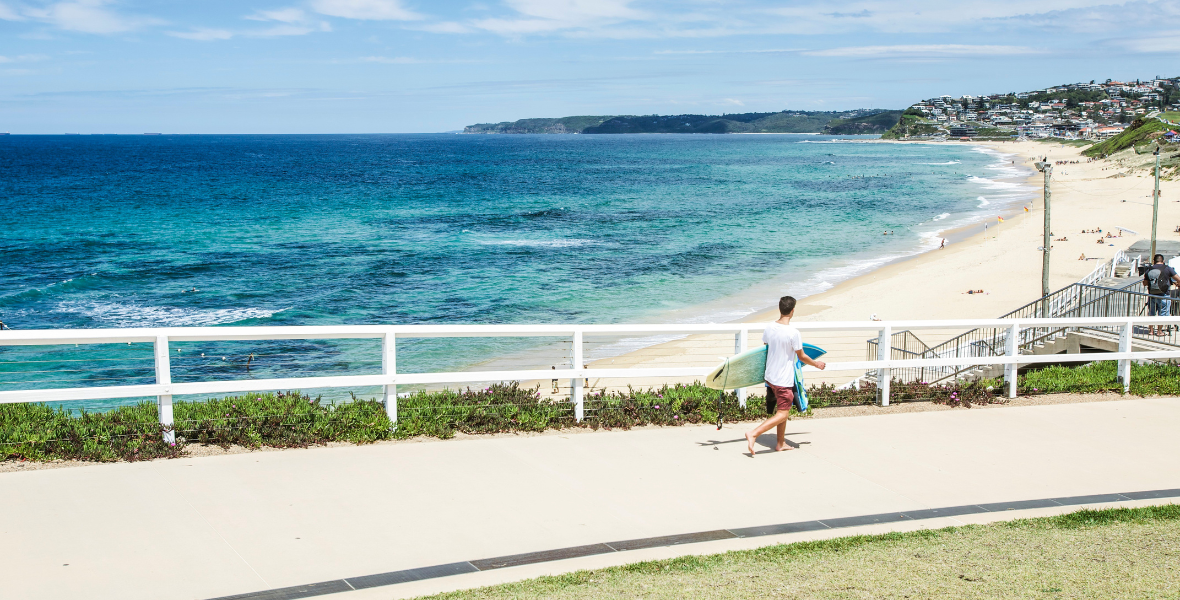 Image Source: Tourism Australia Image Gallery
Bay of Fires, Tasmania
The 50-kilometre coastline packed with white beaches and crystal clear waters makes the Bay of Fires the perfect summer spot. Located on the island state of Tasmania, this tranquil paradise is full of vibrant, natural landscapes. This is a great destination to explore in your campervan. Pick up your maui campervan from the maui branch in Hobart, and begin your 3 and half hour journey to the beautiful Bay of Fires.
Binalong Bay is the perfect place to base yourself while exploring the Bay of Fires. The crystal clear waters washing over the white sand makes for a stunning backdrop. Aside from relaxing on the idyllic beach, you can try your hand at snorkelling, kayaking and fishing. After soaking in the sparkling waters, the 10-kilometre Humbug Point Loop is a popular trail for bird watching and hiking. It takes around 3 hours to complete this walk, so make sure to be prepared with water, covered shoes and sunblock. The beach and bush hikes are both great summer activities. Check out Cosy Corner for a free spot to park your campervan for the night. The campsite only has unpowered sites, creating a more natural and wild aura to your stay.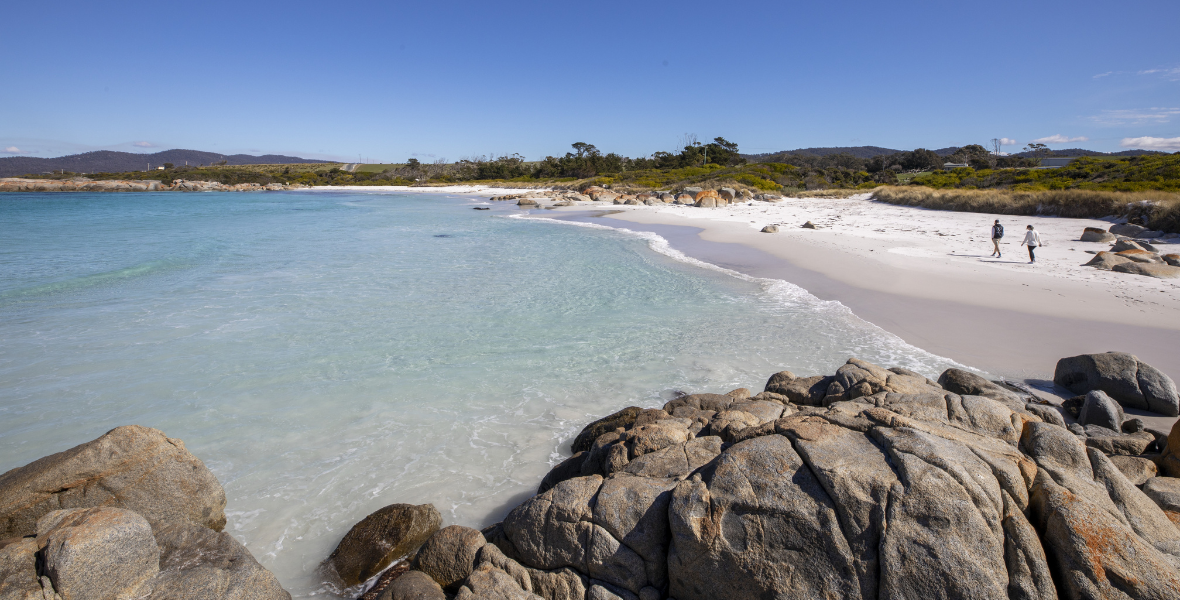 Image Source: Tourism Australia Image Gallery
Bruny Island, Tasmania
Bruny Island is another underrated destination, located in Tasmania. This rugged island is accessible via a 20-minute ferry ride. Sample the local produce of oysters, cheese, honey, whisky and chocolate. The spectacular landscapes and clear waters are inviting, and the perfect escape during summer. Fill your days with walks, picnics and guided tours.
One of Australia's oldest lighthouses sits on Bruny Island, the Cape Bruny Lighthouse. The lighthouse has guided ships through reefs and off-shore rocks since 1836, and is the only Southern Tasmanian lighthouse available for tours. If you're looking for some beach action to cool off on the hot summer's day, then Adventure Bay is where you want to head. Compared to most Tasmanian beaches, Adventure Bay is calm for the majority of the year, perfect for beach walks, sunbathing, learning to swim and all other watersports. There is a caravan park directly behind the beach, like most things, within walking distance of the beautiful water. Park your campervan there for the night in the campground, watching the sun rise and set.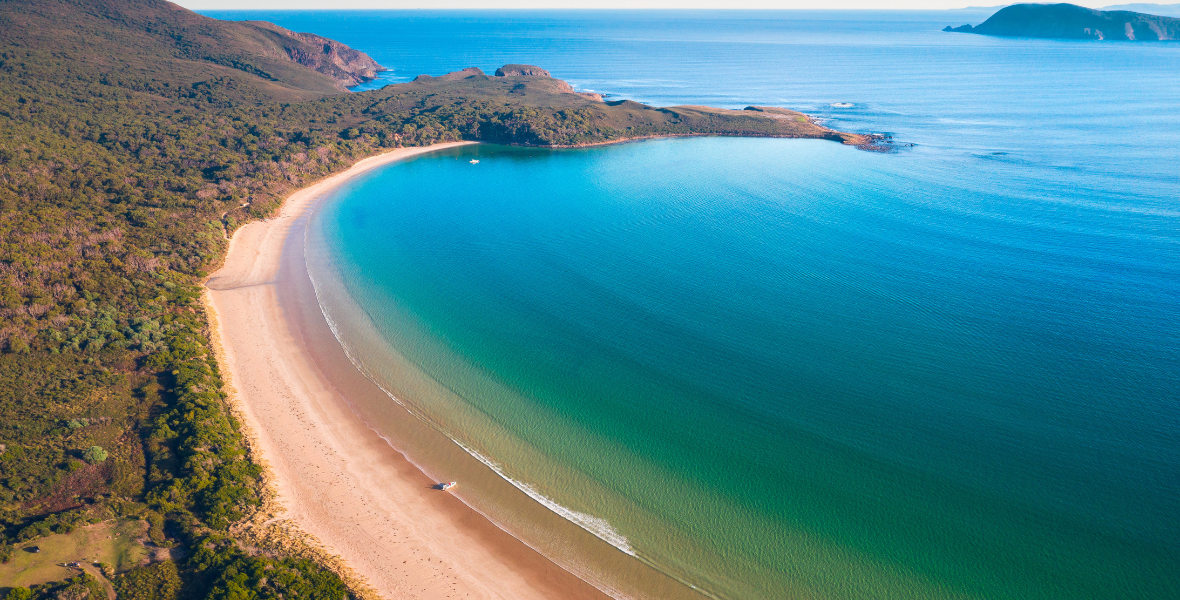 Image Source: Tourism Australia Image Gallery
Cradle Mountain, Tasmania
Visit Cradle Mountain and discover Tasmania's most famous peak. Located in the Cradle Mountain-Lake St Clair National Park. Visitors will be treated to panoramic views of mountain ranges and crater lakes. Cradle Mountain watches over Dove Lake and is quite the sight in summer.
Stroll along the Dove Lake Circuit for a stunning walk around scenic Dove Lake. The walk takes anywhere from 2-3 hours, over a distance of 6 kilometres. You'll walk by the old boatshed and through the Ballroom Forest. Enjoy the endless views of Cradle Mountain. Tourists flock to Cradle Mountain for the scenery, so be sure to have your camera ready. There's plenty of wildlife in the area too. Take a Night Spotting Tour along the boardwalk and catch a glimpse of wombats, possums, wallabies and quolls foraging at night. You'll be professionally guided and with luck, might even experience hearing or seeing a Tasmanian Devil in the wild.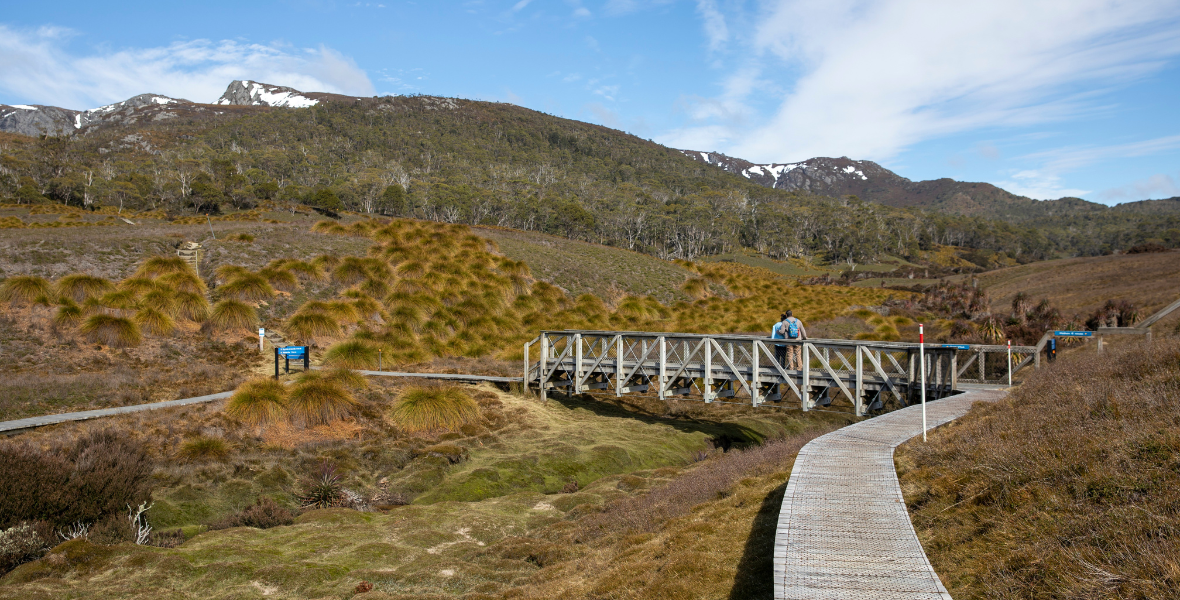 Image Source: Tourism Australia Image Gallery
Hahndorf, South Australia
Hahndorf is another underrated destination to consider visiting this summer. It's so close to Adelaide, which means people can forget all about Hahndorf. But make no mistake, this heritage-listed town is well worth visiting. Hahndorf is Australia's oldest surviving German settlement, full of heritage German buildings, bakeries and pubs. It is quaint, with plenty of greenery. Best enjoyed while the trees are green in summer, providing shade from the South Australian heat above.
Hahndorf Academy is a boarding school that was built in the 1800's. It was converted into an art gallery and museum, teaching visitors about Hahndorf's history both as a colony and from the local Aboroginal people's culture. Take some time out of your day wandering this splendid little town to have a look inside. The Hahndorf Inn embraces its German roots in Hahndorf and serves delicious German cuisine and beer. Pop in for a meal, the menu is also great for kids.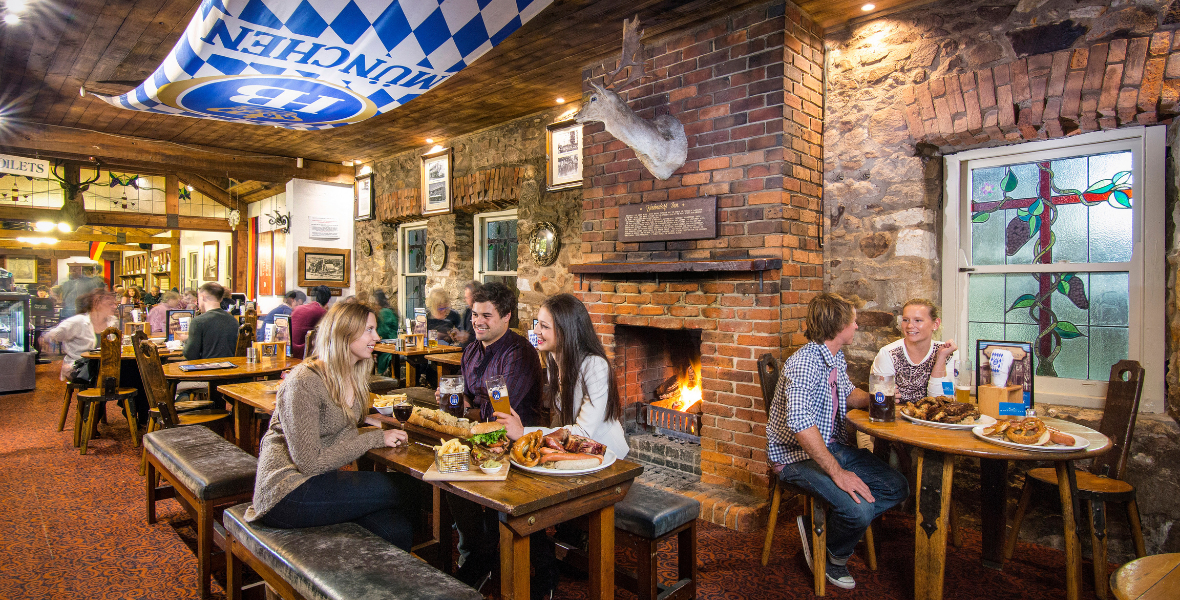 Image Source: Tourism Australia Image Gallery
Kangaroo Island, South Australia
Known as a natural playground, Kangaroo Island is a remarkable, rugged coastline. Take the Sealink vehicle ferry over and park your campervan at one of the 7 council run campgrounds, some with powered sites, others unpowered, but always great facilities. Due to Kangaroo Island's isolation, it has slipped under the radar of many tourists, leaving it with a real untouched and wild feel to it. Fishing, surfing, snorkelling and safe swimming are all main highlights of this wonderful natural retreat, making it an essential part of your South Australian campervan road trip.
No trip to Kangaroo Island is complete without a visit to Seal Bay. Seal Bay has been home to an Australian sea lion colony for thousands of years and is one of the most epic natural experiences in the world. Experienced guides will take you into the heart of the colony and teach you about the habitats and lifestyles of these amazing and rare creatures. Another guided tour well worth looking into is swimming with wild dolphins with Kangaroo Island Marine Adventures. This licensed tour gives you an experience of a lifetime, swimming freely with these friendly dolphins in their natural habitat, in a true display of eco-tourism at its finest.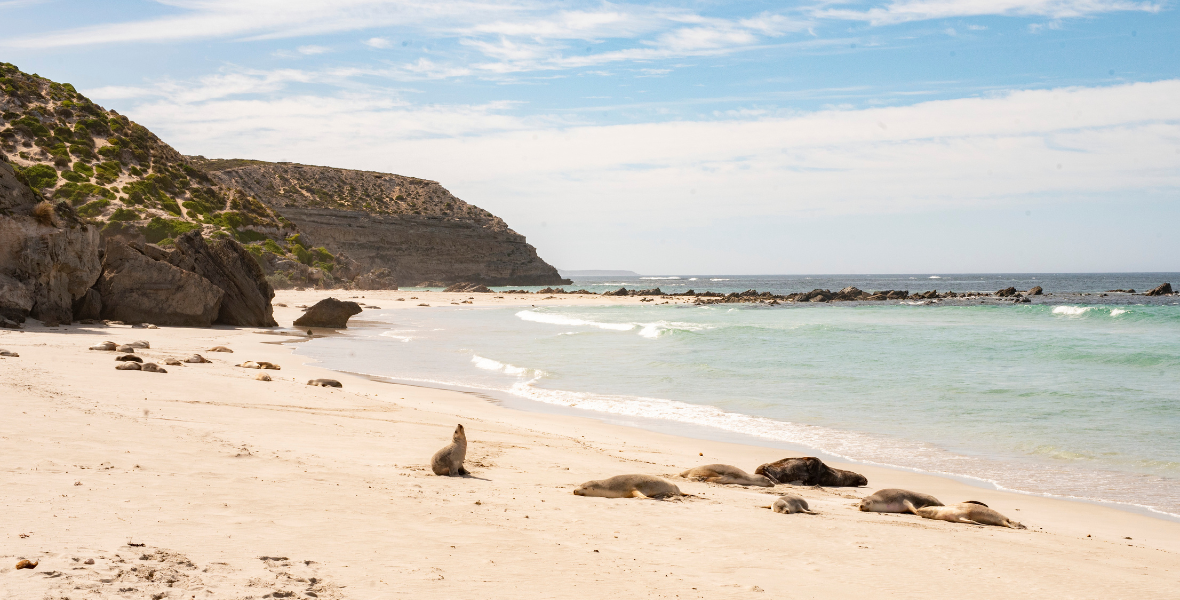 Image Source: Tourism Australia Image Gallery
Echuca, Victoria
Back in the mid-1800's Echuca was one of Australia's busiest inland ports, full of paddle steamers moving supplies throughout Australia. Echuca has leaned into this, with much of its tourism industry based around the paddle steamers and the river network beyond. The Murray River that Echuca sits upon is a popular spot for swimming, fishing and houseboats. It really has its own distinct vibe.
The Port of Echuca Discovery Centre is a free learning centre that teaches visitors about Echuca's history and why it was so important to the history of Victoria. Take a look at Evan Bro's Sawmill, a working exhibit interpreting how red gum timber was used for shipbuilding and building in general. Also on display is the now-antique P.S Adelaide, the oldest wooden-hulled paddle steamer still operating anywhere in the world. A trip to Echuca would not be complete without a river cruise down the Murray River. There are the options of a History Cruise on the P.S Canberra, a Murray Explorer Cruise or if you're in the mood, a Wharf to Winery lunch package. A brilliant spot to park the campervan for the night is the NRMA Echuca Holiday Park, situated right by the main street of Echuca. It has powered campsites, brilliant facilities and even a tennis court.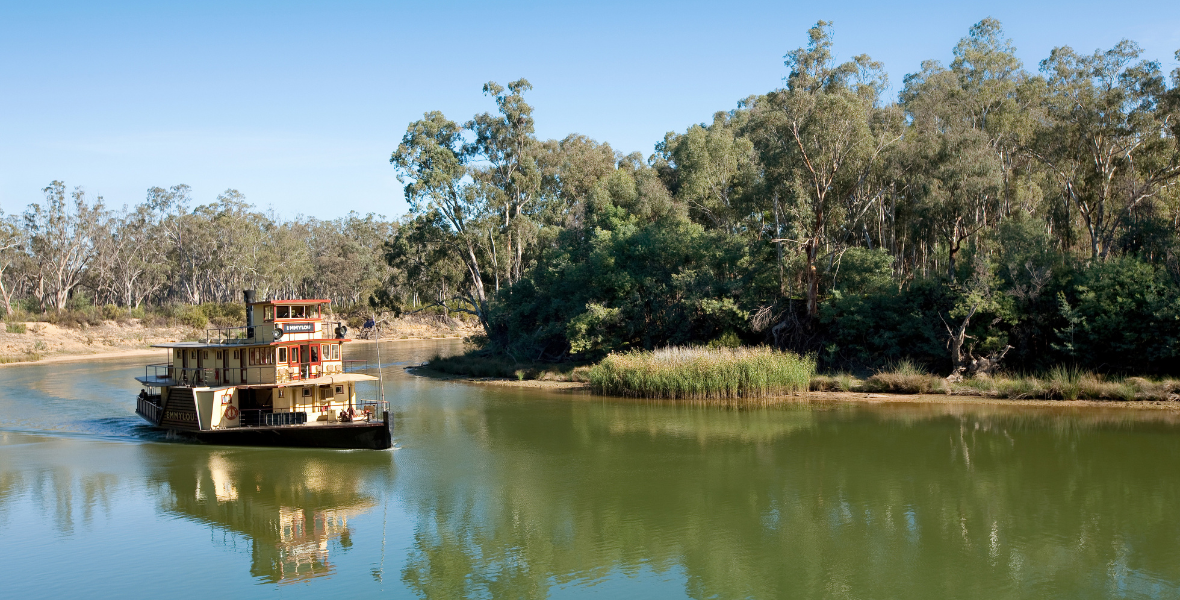 Image Source: Tourism Australia Image Gallery
Kings Canyon, Northern Territory
Kings Canyon in the Watarrka National Park has been home to the Luritja and Arrente peoples for over 20,000 years. It is completely bursting with culture and tradition. Kings Canyon is an awesome summer destination that is underrated due to its isolation. Remember to bring sun protection like a sun hat and sunblock.
The Kings Canyon Rim Walk is a 6 kilometre walk up and along the top of Kings Canyon. On this walk you'll walk through Priscilla's Crack, made famous from the 1994 classic film, Priscilla Queen of the Desert. It takes about 3-4 hours to walk, depending on how often you're stopping, and chances are you will be with the amazing sights to be seen. As one of the most important parts of this area is the Aboriginal peoples culture, take part in the Karrke Aboriginal Culture Experience. The experience is a 1 hour walk and talk on the traditional and special lands of the Wanmarra family group. Visitors learn about the making of spears and the famous boomerang, as well as the forging of seed jewellery and music sticks. The Discovery Parks - Kings Canyon campground is the best camping spot in the area, with ensuite powered sites and stunning uninterrupted views.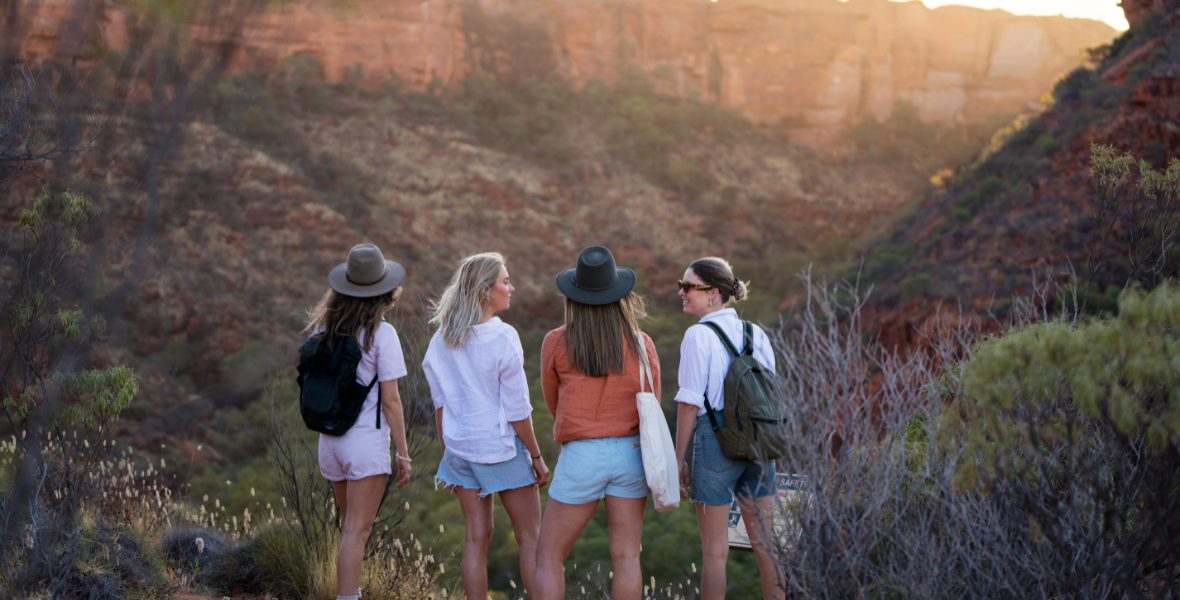 Image Source: Tourism Australia Image Gallery
Ningaloo Reef, Western Australia
Ningaloo Reef is the world's largest fringing reef and one of the longest near-shore reef systems in the world, stretching 300 kilometres. This is an epic spot to explore during the summer months. You'll be treated to mesmerising ocean views. Ningaloo Reef is home to one of the world's biggest aggregations of whale sharks, making it a top spot to swim next to them, while also observing the resident manta rays, sea turtles and humpback whales. Ningaloo Whale Sharks is a gold medal winning whale shark cruise, taking tourists cruising and diving with the gentle giants that are the whale sharks. The crystal clear waters make it even more delightful, looking at the vibrant coral gardens below. Ningaloo is also well known for its Aquarium and Discovery Centre, an immersive experience for the whole family. Showcasing over 100 species of exotic fish and other reef dwelling critters, this is an experience you won't want to miss. While in Ningaloo, the best camping spot to stay is the BIG4 Plantation Caravan Park. With free wifi, barbecues, a pool and a playground, it's a great spot for the whole family.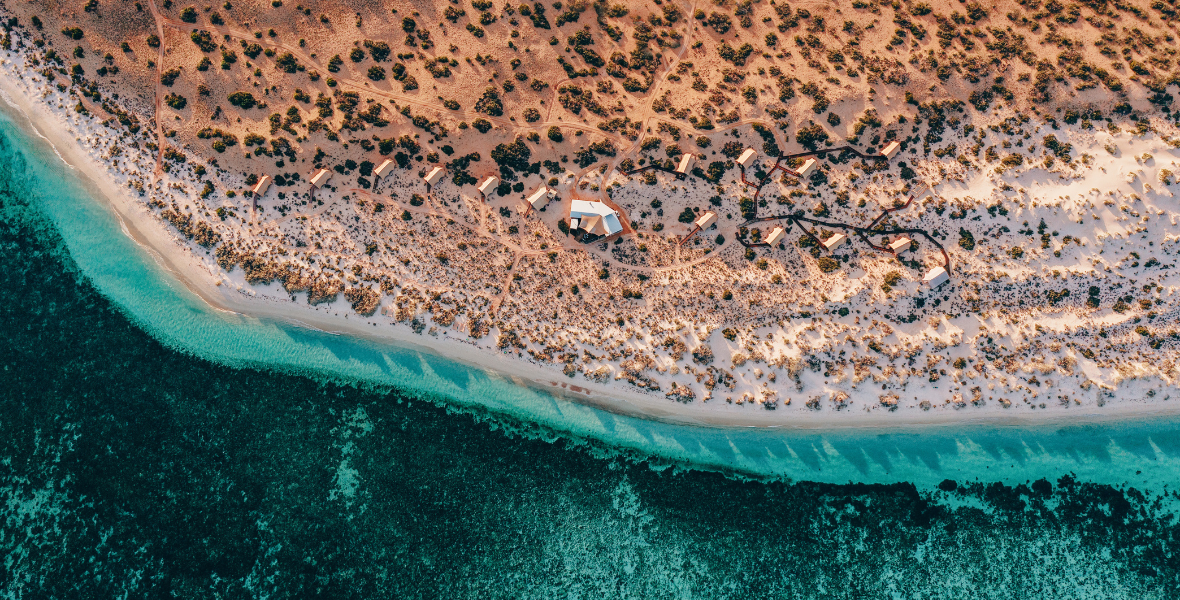 Image Source: Tourism Australia Image Gallery
Go on your next summer road trip with maui
These locations listed above are truly some of Australia's most beautiful, historic and culturally important destinations. As they fly a little under the radar, accessibility and accommodation is so much easier to get hold of, during peak times. So, book a maui campervan and head to your destination of choice. Before embarking on your wonderful journey, make sure to check out some of maui's tips and tricks, essential to having the best time on this Australian road trip. Book your maui campervan online and pick it up from your nearest branch.