Join thousands of RV travellers
Sign up for our Go By Camper newsletter to receive inspirational travel content and awesome deals, and we'll send you a copy of our Ultimate RV guide!
Thanks
Please confirm subscription in your email.
What you need to know about Byron Bay
Byron Bay is a popular tourist destination and thriving coastal town in northern New South Wales, Australia. This town is best known for its temperate climate, beaches and rainforests, as well as for its deep-rooted surfing culture. This once small hippy town has now transformed into a boho chic attraction, and flaunts some of the best dining experiences, natural attractions and shopping in the region.
The weather in Byron Bay
The area experiences warm sunny weather for most of the year, making it a fabulous holiday spot for outdoor adventures. The winter season experiences little cloud and has an average temp of 19 degrees, while summer is closer to 27 degrees on average. Overall, sunblock and sun protection are a must year-round, so be sure to pack your SPF 50+!
The best time to visit Byron Bay
Because the weather is so good year-round, Byron Bay is always beautiful to visit. That being said, if you want to avoid crowds, come in the off-seasons. Generally speaking, the best time to visit Byron Bay is between May and September. The weather is mild, the beaches are less crowded and you can enjoy the Byron Bay sunsets in solitude (and maybe even catch a whale sighting or two!).
Byron Bay caravan parks
When exploring this corner of New South Wales by campervan, there are a number of fantastic Byron Bay caravan parks to choose from to park up at:
Big4 Ingenia holidays Byron Bay is set on 28 acres of stunning bushland and features an on-site swimming pool, bike hire, direct beach access and is pet friendly!
Discovery park Byron Bay is another Byron Bay classic that features an on-site cafe, waterpark, laundry, camp kitchen, sports facilities and more.
Reflections holiday park is a quiet and secluded park located just 10-minutes from the heart of Byron Bay. Featuring waterfront access, BBQ areas, laundry facilities and camp kitchen, you have everything you need for a Byron Bay escape.
Top things to do in Byron Bay
Whether you are planning on staying for a day or a week, there are plenty of things to do in Byron Bay. Here are 15 of the top things to do, including restaurants to visit, shopping, festivals, activities, tours and more!
1. Visit Three Blue Ducks
Three Blue Ducks in Byron Bay is the perfect spot for grabbing a delicious bite to eat – breakfast, lunch and dinner. The menu is healthy and fresh, with an emphasis on local ingredients, with many of them sourced from the on-site farm. They serve delicious classics like poached eggs or avocado toast with a farm-fresh feel. Want to make a day of it? You can even grab a picnic hamper to enjoy on the farm, buy fresh produce and wander the farm to meet the resident animals.
2. Go shopping in the boutique stores
For lovers of fashion, Byron Bay is a must-stop. The town is known for being home to iconic beachy labels like Byron Bay SPELL and ROWIE The Label. You can even pick out stunning homewares and decor at Habitat Byron Bay. Whether you're looking for something more casual or for a special occasion, you are bound to find the perfect keepsake.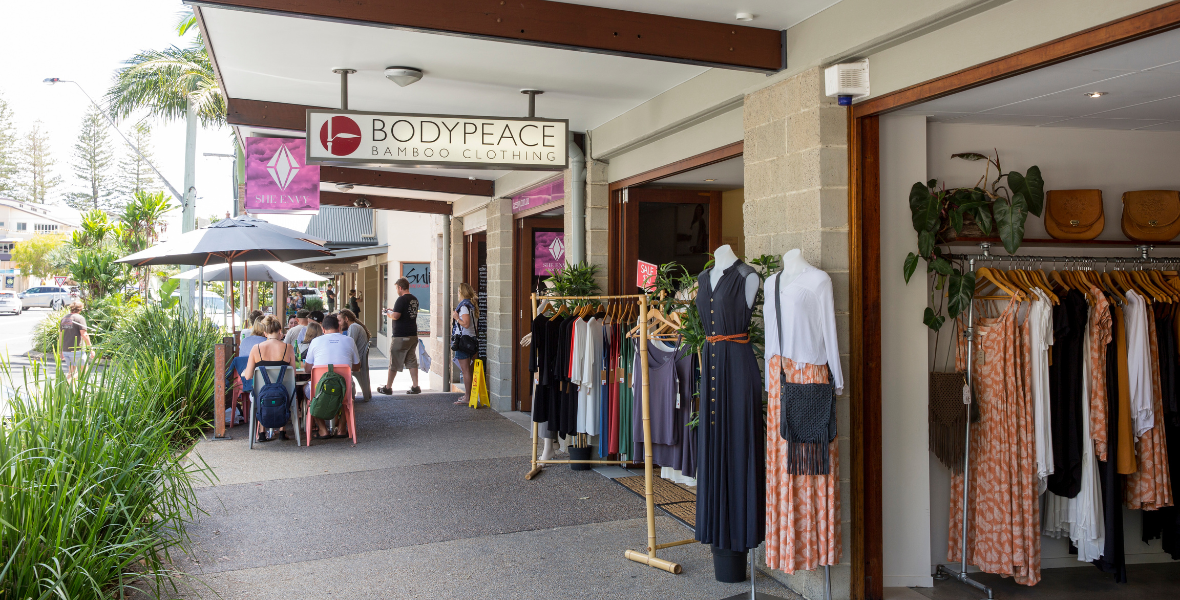 Image Source: Destination NSW Content Library
3. Let your hair down at a festival
Each year Byron Bay hosts top Australian festivals, attracting festival and music lovers from around the world. In Byron Bay, you can kick off the new year at Falls Festival, soak up the vibes at the Byron Bay Bluesfest over the easter long weekend, and in July you can come to see some of the biggest names in the business at Splendour in the Grass.
Top tip: Be sure to plan ahead and book your Byron Bay caravan park accommodation early if you are hoping to line up your visit with one of Byron Bay's annual festivals and events, as they book out fast!
4. Cool down at Main Beach Byron Bay
Main Beach Byron Bay is the most popular beach in Byron Bay, and it's easy to see why. The golden sands stretch out for miles on either side of you, and there are plenty of places to relax in the sun while taking in the oceanside views. If you're looking for something more active, though, Main Beach has plenty of options as well--you can hire surfboards or bodyboards or just spend time watching others practice their skills on the waves rolling into shore.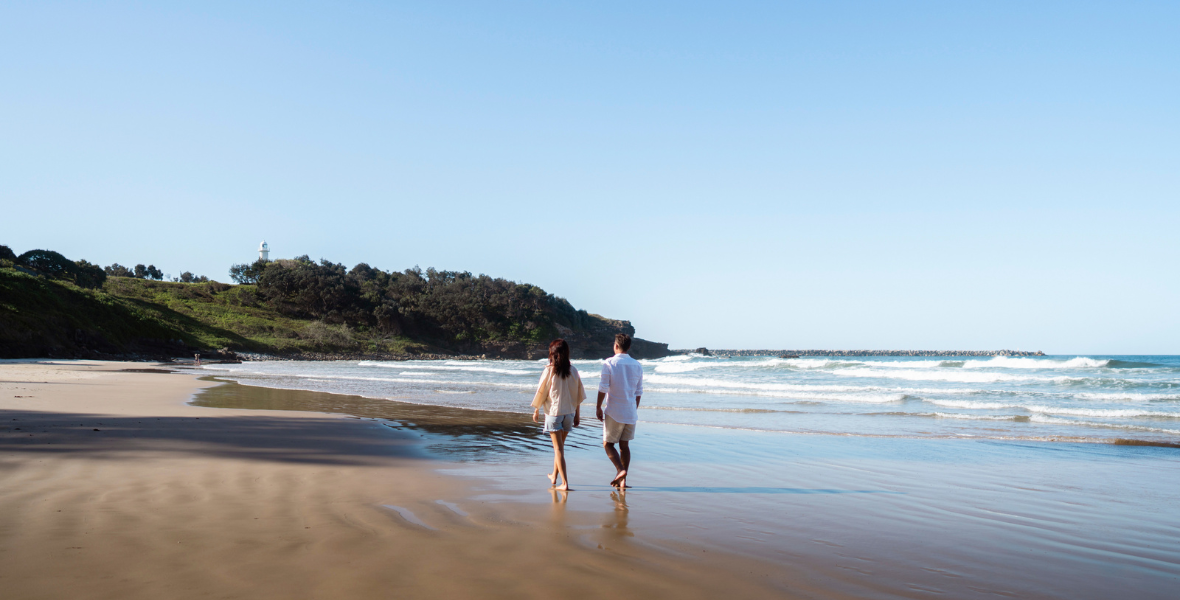 Image Source: Destination NSW Content Library
5. Look around the Byron Bay Markets
Byron Bay Markets are a must-visit for anyone looking to take home some souvenirs or simply soak up the local delights of the Northern Rivers region. There are several different markets you can visit, including the Byron Bay community market, the Byron Bay farmers market, and the Byron Bay twilight market. Whether you are searching for local produce to stock up your camper kitchen or on the hunt for boutique items or arts and crafts, the Byron Bay Markets deliver.
6. Check out Byron Bay Lighthouse
If you're looking for things to do in Byron Bay, then the Cape Byron Lighthouse (Byron Bay Lighthouse) is a must. The iconic symbol of this seaside town has been converted into a museum, cafe, and gift shop. It also offers great views of the bay and as Australia's most easterly point, it offers a prime position to view the whale migration out to sea!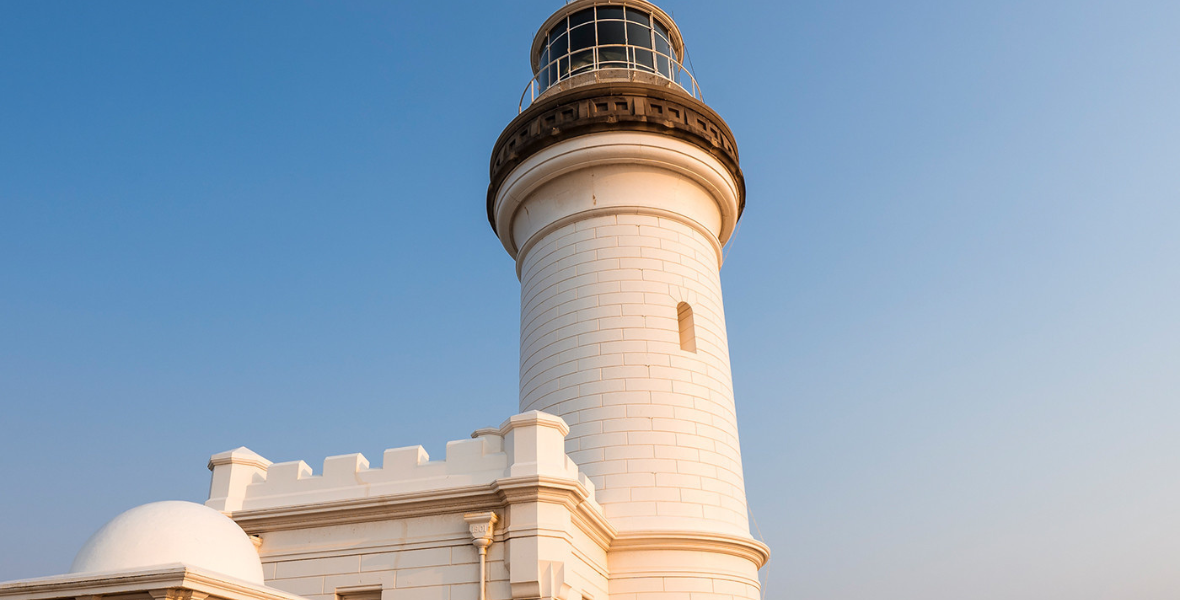 Image Source: Destination NSW Content Library
7. Take a dolphin kayak tour
Kayaking with Dolphins is easily one of the best things to do in Byron Bay for adventure and animal lovers alike. Dolphin kayaking tours offer a unique experience in which you can get up close and personal with these beautiful creatures as they swim by your side. If you want more than just a glimpse at dolphins while visiting Australia's Northern Coastline (and who wouldn't?), then consider booking yourself onto one of these unforgettable experiences.
8. Visit Cumbebin Wetland Sanctuary
Cumbebin Wetland Sanctuary is a great place to see the Northern Rivers wildlife. The sanctuary offers several walking tracks through the lush rainforests that will take you past ponds teeming with life – from frogs on land to fish underwater – and over boardwalks that allow you to get up close but not too personal with local inhabitants, including the elegant egrets, herons and ibis.
9. Learn to surf
Learning to surf is an unforgettable experience that is a must-do for anyone exploring the beautiful and temperate waters of Byron Bay. If you're looking for a fun activity, consider learning how to surf with Byron Bay's Soul Surf School. They offer lessons for all levels of experience – from beginners who have never been on a board before, to intermediate surfers who want to improve their skills and become more confident in the water.
10. Cape Byron Marine Park
Cape Byron Marine Park is located at the tip of the Cape Byron headland at Byron Bay in far northeastern New South Wales, Australia. The park extends approximately 37 km along the coast and protects important subtropical marine habitats. This is the perfect place to come observe wild sea life in their natural habitats, including whales, sharks, rays, turtles and more.
11. Take an aboriginal walking tour
Aboriginal culture is an integral part of the Byron Bay area. Exploring Byron Bay on an Aboriginal walking tour is easily one of the best ways to capture the true spirit of this region. On the tour, you will have the chance to walk through some of Byron Bay's most significant Aboriginal sites, learn about Aboriginal history in this part of Australia, as well as Aboriginal stables like bush tucker, natural medicine and more.
12. Take a sea turtle snorkelling tour
Sea Turtle Snorkeling at Julian Rocks is an incredible bucket list experience to add to your Byron Bay travel itinerary. These tours are hosted in Julian Rocks and are packed with wildlife. For just $120 per person, you will get equipment, a boat ride to and from the snorkel spot, as well as the chance to swim amongst peaceful rays, gentle wobbegong sharks and blissful floating turtles.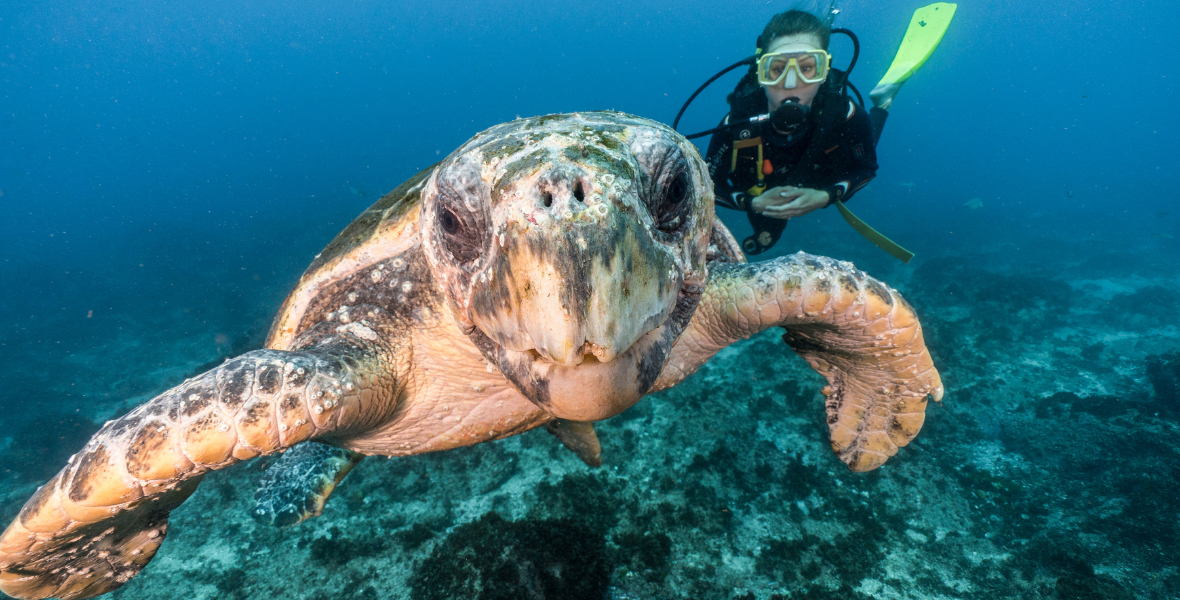 Image Source: Destination NSW Content Library
13. Visit Cape Byron Distillery
Whether you are a whiskey connoisseur or simply looking for fun things to do in Byron Bay, you will want to add Cape Byron Distillery to the list. Here you can kick back and enjoy a whiskey tasting at the cellar door or simply relax with a cocktail on the balcony while overlooking the surrounding rainforest – what a dream!
14. Visit Crystal castle
Crystal Castle is a unique attraction in Byron Bay that you won't forget. Tucked away in the Byron Bay hinterlands, this garden is home to some of the biggest and most beautiful crystals in the world. Here you can stand between two of the tallest crystals on earth, wander the Shambhala Gardens and the surrounding rainforest, and have the chance to join one of the sound healing rituals held on-site each day.
Image Source: Destination NSW Content Library
15. Relax at Kiva Spa
If you're looking to relax and unwind in Byron Bay, Kiva Spa is the place to go. This luxury spa is located just 20 minutes from the heart of Byron Bay, tucked away in the quiet Mullumbimby. Choose from a range of treatments and packages that will help you feel refreshed and rejuvenated. Wander through the tropical bamboo gardens, sweat away your worries in the sauna, and ease your muscles with a soak in the bathhouse or with one of their signature massages.
Is Byron Bay calling your name?
So there you have it, the best things to do in Byron Bay. Whether you're looking for an adventure or just some quiet time in nature, this beautiful town offers a little magic from both worlds that is well worth exploring for yourself. Ready to answer the call of Byron Bay? Hire a campervan with maui today and get exploring. Simply book online or at your local branch, and then all that's left to do is start packing.