Join thousands of RV travellers
Sign up for our Go By Camper newsletter to receive inspirational travel content and awesome deals, and we'll send you a copy of our Ultimate RV guide!
Thanks
Please confirm subscription in your email.
Do Motorhomes have Kitchens?
When it comes to camping cooking supplies, we've got you covered. Our motorhomes come with apartment-styled kitchens, complete with gas stoves, microwave ovens, fridge/freezer and space for food storage. Our Ultima models even have a slide-out outdoor BBQ! Not sure what type of motorhome rental to choose? We can guide you through choosing the right vehicle for your adventure.
Our motorhomes are fully fitted out with all you need: plates, bowls, cups, cutlery, glasses, coffee plunger, bottle/can opener, mixing bowls, colander, saucepans, frying pans, chopping board, kettle, tea towel and toaster. You may wish to pack a few tupperware containers to store leftovers and keep things fresh throughout your trip. Whichever motorhome you choose, you will have all the motorhome kitchen accessories you need to create gourmet fare. Here are 10 easy camping recipes to get you started.
1. Mediterranean orzo salad
Quick, easy and delicious, this orzo salad is full of flavour and you can serve it up in less than 15 minutes. Orzo is the only ingredient that requires cooking and that takes just 6 minutes. If you don't have orzo, you could use more generic pasta. If you don't have chorizo sausage, you could use some of last night's bbq sausages, salami or even ham. If you want to make this dish vegetarian, leave out the meat completely, and try subbing in mushroom or zucchini The dressing keeps well, so save any leftovers.
Ingredients:
1 cup of orzo, cooked and cooled
2 cups fresh baby spinach leaves, torn
100g feta (about ½ a packet), chopped
A handful of fresh cherry tomatoes or ½ cup of chopped sundried tomatoes
3 cooked chorizo sausages, chopped
For the jar dressing, you need 3 parts oil to 1 part acid. Add 6 tbsp of olive oil, the juice of a lemon OR 2 tbsp of balsamic or white wine vinegar, 1 tsp of Dijon mustard, salt and pepper to a jar, seal tightly and shake well.
Instructions:
All you need to do is mix all the ingredients together, pour over the dressing and toss.
2. Spaghetti carbonara
This meal comes together quickly, in about the time it takes for the pasta to cook. Use fresh spaghetti and it takes even less time. The trick to a carbonara sauce is to stir the egg quickly into the pasta which should be hot enough to cook it but not so hot as to curdle it. Make sure you have all your ingredients ready to go, including the beaten eggs to whip this delicious dish up in no time.
Ingredients:
1 tbsp olive oil
500g pancetta or thick-cut bacon, diced
2 garlic cloves, minced
4 eggs, whisked
1 cup grated Parmesan cheese
500g spaghetti or fettuccine
Salt and plenty of freshly ground black pepper
Instructions:
Cook the pasta by boiling in a pot of well-salted water following the time on the packet. Fry the meat until crispy then add the garlic. Cook for another minute then put in a large serving bowl.
Transfer the hot al-dente pasta from the pot straight into the serving bowl using tongs. You want it to still be dripping, so don't drain the pasta before you do this. Mix well to combine the meat, garlic and pasta.
To the separate bowl containing the whisked eggs, quickly add a few tablespoons of hot pasta cooking water and whisk to combine, before adding ½ of the cheese. Add the egg and cheese mix to the pasta and toss quickly. Add some more pasta water if necessary to achieve a creamy texture. Serve with the rest of the parmesan, a little more pepper and some freshly chopped parsley.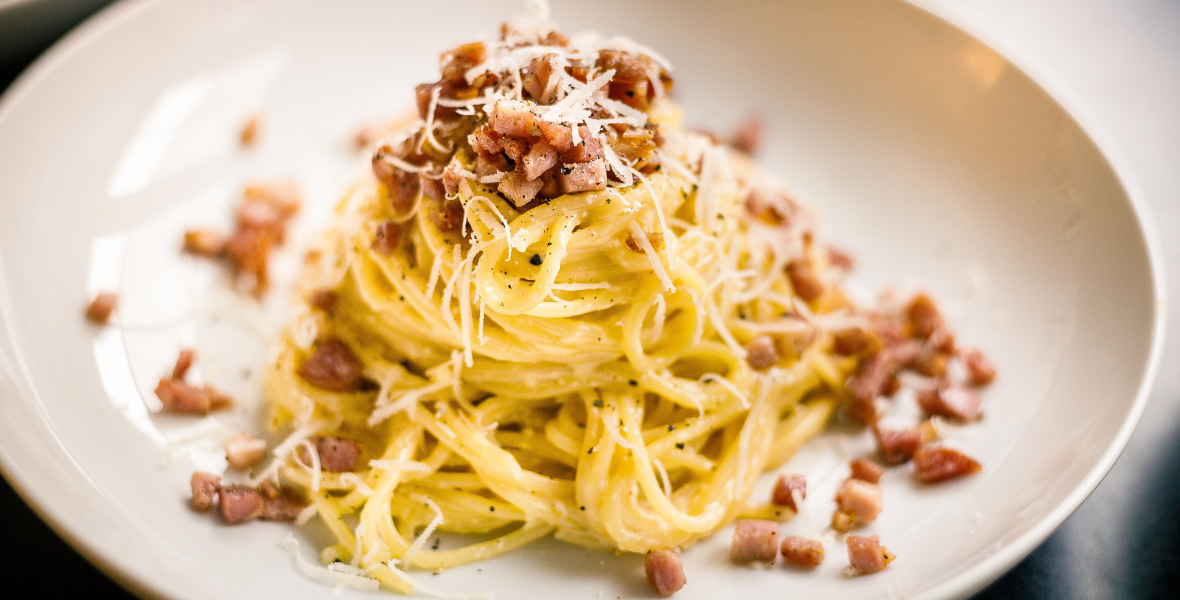 Image Source: Unsplashed
3. Buttermilk French toast
This French toast recipe uses buttermilk which gives the bread a nice tang. If you don't have buttermilk, it's not an issue. You can make a substitute with normal milk and lemon juice or vinegar.
Ingredients:
1½c well-shaken buttermilk
4 large eggs
3 tbsp sugar
¼ tsp salt
12 thick slices of bread (about 1.5 cm thick)
4 tbsp butter
Maple syrup
Instructions:
Whisk together buttermilk, eggs, sugar, and salt. Pour into a large shallow pan, then add the bread in 1 layer and soak for about 20 minutes, turning occasionally.
Heat 1 tbsp butter over medium-high heat and cook bread 4 bread slices at a time, turning once, until slightly puffed and golden brown. Gobble up with maple syrup.
4. Chicken and vegetable stirfry
This Chinese-style stir-fry recipe is easy, delicious and good for you, not to mention incredibly flexible! You can swap fresh corn for canned and use frozen beans instead of sugar snap peas or exchange the chicken for another protein. Try minced chilli from a jar. This recipe just uses one big pan and a pot to cook the noodles, or you could use the microwave on board.
Ingredients:
1 clove of garlic, minced
4 cm piece of ginger, finely grated
1 tsp minced chillies (or to taste)
2 carrots thinly sliced lengthways
½ red onion, sliced
1 red pepper, sliced
1 good handful of broccoli chopped into florets
80g mushrooms (about 15), quartered
2 chicken breasts, sliced into 1cm strips
1 tsp Chinese five-spice
1 tbsp sesame oil
1 tsp vegetable oil
130g (1/2 can) baby corn
1 handful of sugar snap peas or sliced beans
2 noodle nests
1 tbsp soy sauce
1 tbsp black bean sauce
1 tbsp sesame seeds
Fresh coriander
Instructions:
Cut the chicken into 1cm strips and toss in a bowl with the Chinese five-spice and sesame oil.
Cook the noodles following package instructions.
Add oil, garlic, ginger, and chilli to a large frying pan and toss for 30 seconds. Add the chicken and cook for 1 to 2 minutes then add all the vegetables for a further 3 to 4 minutes. Add the cooked noodles, and the soy and black bean sauce and toss.
Serve, scatter over the sesame seeds and coriander and dig in.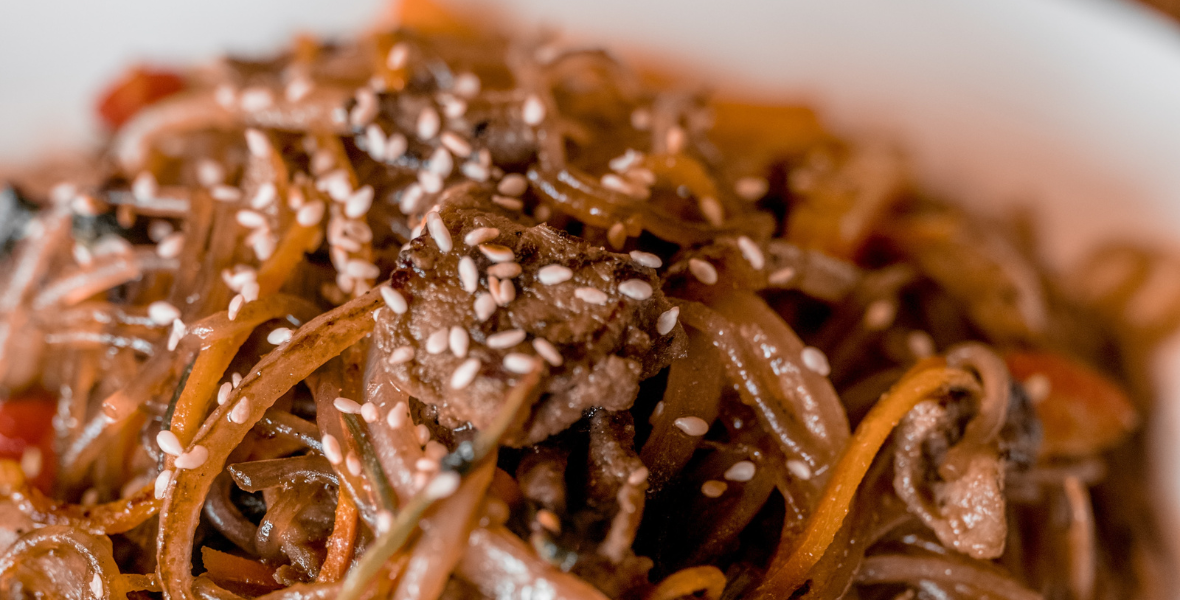 Image Source: Unsplashed
5. Chicken souvlaki with tzatziki
Our souvlaki is chicken served in warm pita bread with salad and is sure to be a fast favourite on the road. Simple to cook in your campervan, all you need is one frying pan. You can marinate bite-sized chicken breasts in a zip-lock plastic bag in the fridge in the juice of one lemon, 2 tbsp of olive oil, 5 crushed garlic cloves, 1 tbsp of oregano, salt and pepper for at least 30 minutes. Alternatively, you can skip this step and buy a cooked chicken.
Ingredients:
1 small red onion, sliced into rings
1/2 tsp caster sugar
2 tbsp apple cider vinegar
1 cup Greek-style yoghurt
3 garlic cloves, crushed
Finely grated zest and juice of 1/2 lemon
1 small cucumber very finely chopped or grated
2 tbsp olive oil
1 barbecued chicken, shredded
1 tsp chilli
1 tbsp oregano
4 pita breads, warmed
2 tomatoes, sliced
Sliced lettuce
Instructions:
Pickle the onion in the sugar, vinegar and 1 tsp salt for 5 minutes, then drain.
To make tzatziki, combine yoghurt, crushed garlic, lemon zest and juice, and cucumber in a bowl. Season with salt and pepper to taste.
Cook the chicken with chilli, oregano and crushed garlic, until crispy, golden brown and cooked through
Stuff pitas with chicken, pickled onion, tomato, tzatziki, and lettuce and get eating.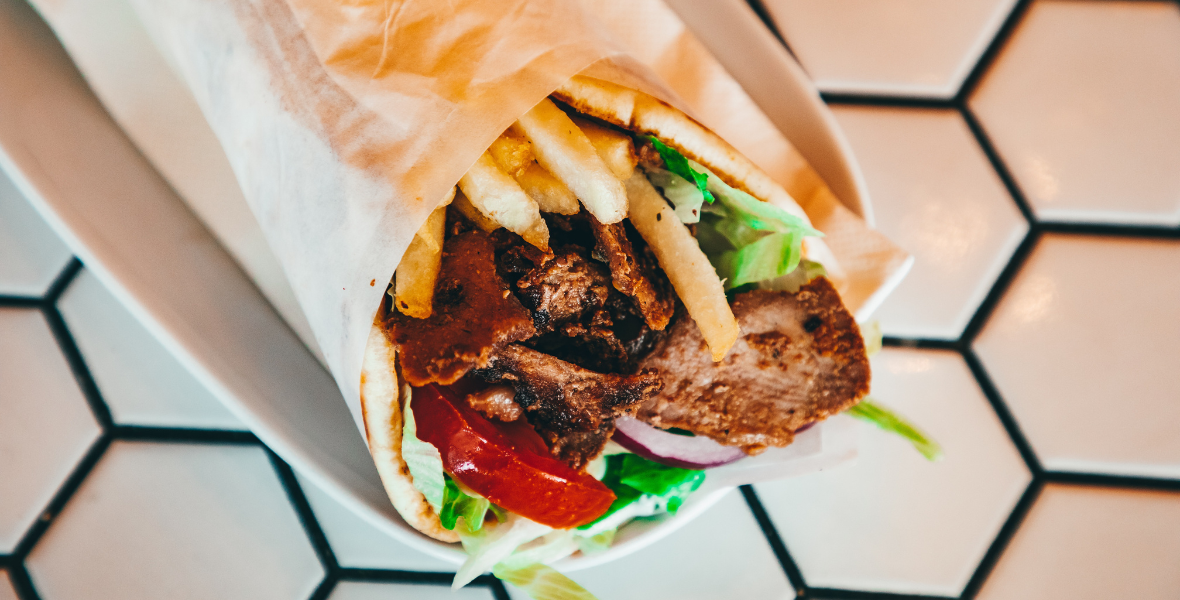 Image Source: Unsplashed
6. Salmon and couscous salad
Salmon and couscous salad is tasty, healthy and fast. This is served with courgettes and asparagus, but if they are out of season, you can use broccoli or frozen green beans instead. Couscous couldn't be easier to prepare. All you need is 1¼ cups of boiling water or stock per 1 cup of couscous. Put the couscous into a bowl, add the boiling liquid, add salt, cover with a plate and leave to steam for 10 minutes. Then fluff with a fork and a bit of oil or butter.
Ingredients:
1 cup couscous
2 courgettes sliced into thin batons
1 bunch of asparagus snapped into pieces (discard the woody ends)
1 fresh red chilli or 1 tsp of minced chili from a jar
2 ripe tomatoes, chopped roughly
Fresh coriander
Salmon fillet, about 120g per person
Olive oil
½ a lemon
2 tbsp natural yoghurt
Instructions:
Slice the salmon into strips, drizzle with olive oil, and then season with salt and pepper. Cook for 2 minutes over a medium high heat with the courgette (or beans) and chilli, turning the salmon slices after 1 minute. Carefully remove the salmon from the pan,set aside and continue cooking the vegetables until tender.
Cook the couscous following instructions, then stir in the chopped tomatoes, lemon juice, 2 tbsp of oil and the chopped coriander. Add the couscous mix and the asparagus to the pan. Toss together and cook for 2 or 3 minutes. Then place the salmon strips on top. Cover with a lid or tin foil and place back on high heat for 1 minute, or until the fish is cooked.
Serve with the yoghurt spooned over.
7. Risotto primavera
Risotto is incredibly adaptable. This risotto recipe is perfect for spring when asparagus is in season, although you could also use canned. By following the same basic instructions, however, you can make risotto out of nearly anything. All you need is a large frying pan and a pot and the following:
Ingredients:
Arborio rice
Chicken or vegetable stock
Onion
Garlic
Butter
Parmesan cheese
Wine
From there it is almost up to you. You can make delicious creamy risotto using leeks (fresh or frozen), peas (canned or frozen), spinach (fresh or frozen), mushroom, chicken, bacon, chorizo, pumpkin, even canned beetroot and rocket or kale. Get inspired and get cooking.
8. Chicken and mango coconut curry
This chicken curry recipe is super quick and very tasty. The 12 minutes it takes to cook your rice is the longest part. Mango adds sweetness and offsets the chilli heat. If you can't find fresh mangoes, you can use frozen or canned. Fresh or canned pineapple is another good substitute, just drain beforehand. Instead of making the paste, buy a jar or sachet of Thai green curry paste. You can use cooked chicken from the supermarket.
Ingredients:
2-3 tbsp Thai green curry paste
400g tin coconut milk
180g cooked chicken, chopped
115g baby spinach leaves
1 large fresh mango, peeled, stoned and cut into 1cm chunks
2 tbsp light soy sauce
Juice 1 lime
Cooked rice to serve
Instructions:
Heat the oil in a large frying pan and tip in the paste, then stir-fry for 2-3 minutes. Add the coconut milk and simmer for 5 minutes.
Add the chicken with the spinach and chopped mango. Cook for 1 or 2 minutes to warm through, then season with the soy sauce and a good squeeze of lime. Serve immediately in bowls, over cooked rice and scattered with sliced chilli and coriander.
9. Quinoa, fennel and pomegranate salad
Forget a side salad, this salad is a meal in itself. It is warm, hearty and delicious and the gorgeous pomegranate seeds add colour and texture. The trick to perfectly fluffy quinoa is to use twice as much water as quinoa, then cook uncovered until the water has been absorbed. Then remove from heat, cover and let the quinoa steam for 5 minutes. The best way to get out pomegranate seeds is to hit the back of the pomegranate with a wooden spoon while holding over a large bowl.
Ingredients:
1/4c olive oil
2 medium fennel bulbs
1/2 tsp ground cumin
1 tsp sugar
1c quinoa, rinsed
Lemon
Chili
½ c coriander
½ c mint
1 tsp fresh dill
1/2 small pomegranate
Instructions:
Cook the fennel in the oil until tender and golden, 10–12 minutes. Stir in lemon juice, cumin, and sugar; cook for 1 minute. Season.
In a large bowl, add chopped, peeled lemon, 1 tbsp oil and cooked quinoa. Add fennel, chili, herbs and season with salt and pepper. Transfer salad to a platter or chopping board, sprinkle with pomegranate seeds and serve.
10. Cauliflower steaks
Thick slabs of cauliflower steak are delicious and satisfying. They work well as a main or a side dish. The key is the seasoning. This recipe uses hazelnuts and browned butter, but you could cook them in garlic, lemon zest, turmeric and smoked paprika, a lemon-garlic sauce, serve with chimichurri or top with roasted tomatoes, olives, and feta. All you need is a hot, heavy frying pan for cooking.
Instructions:
1 large cauliflower
¼c olive oil
Salt
Pepper
4 tbsp butter
¼c hazelnuts
Fresh marjoram or oregano
Lemon zest
Instructions:
Slice cauliflower in half top to bottom. Cut each half crosswise into 2cm thick steaks. Brush with oil and season well. Get your pan hot and cook cauliflower until browned on both sides. Make the nut sauce by combining the rest of the ingredients.
Return cauliflower to the pan and spoon over the butter mixture. Top with herbs and lemon zest.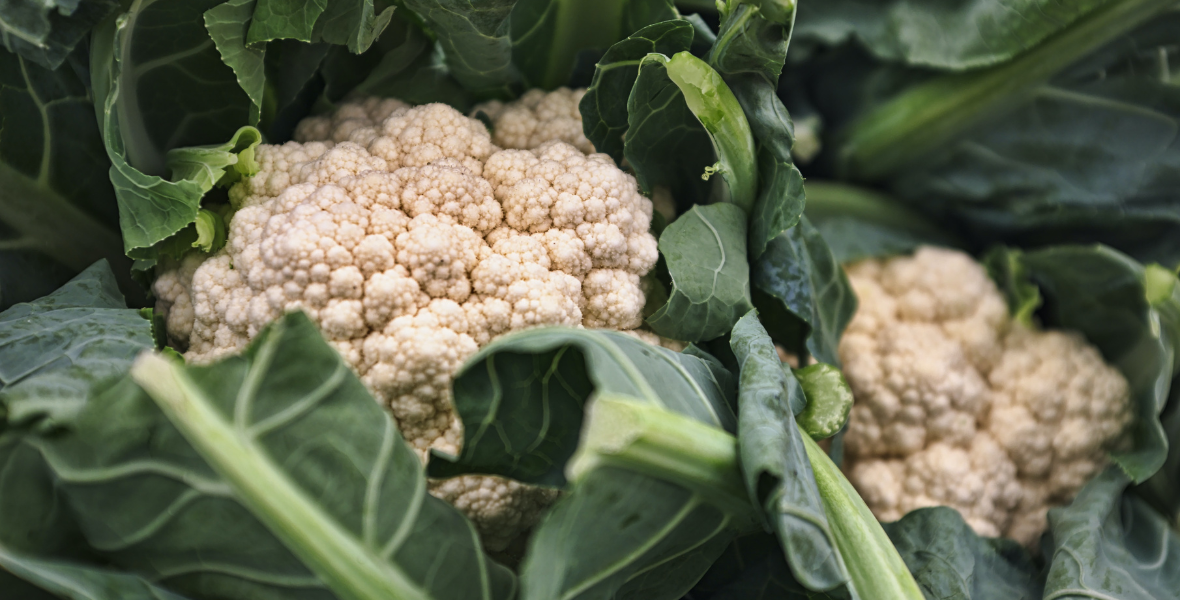 Image Source: Unsplashed
Ready to cook a tasty meal in your motorhome?
There's no reason to compromise on your culinary creativity while on your Australian road trip. We think these recipes for the road are a great way to enjoy great food on your adventure, so what are you waiting for? Book your maui campervan online and then take off from your nearest maui branch.