Join thousands of RV travellers
Sign up for our Go By Camper newsletter to receive inspirational travel content and awesome deals, and we'll send you a copy of our Ultimate RV guide!
Thanks
Please confirm subscription in your email.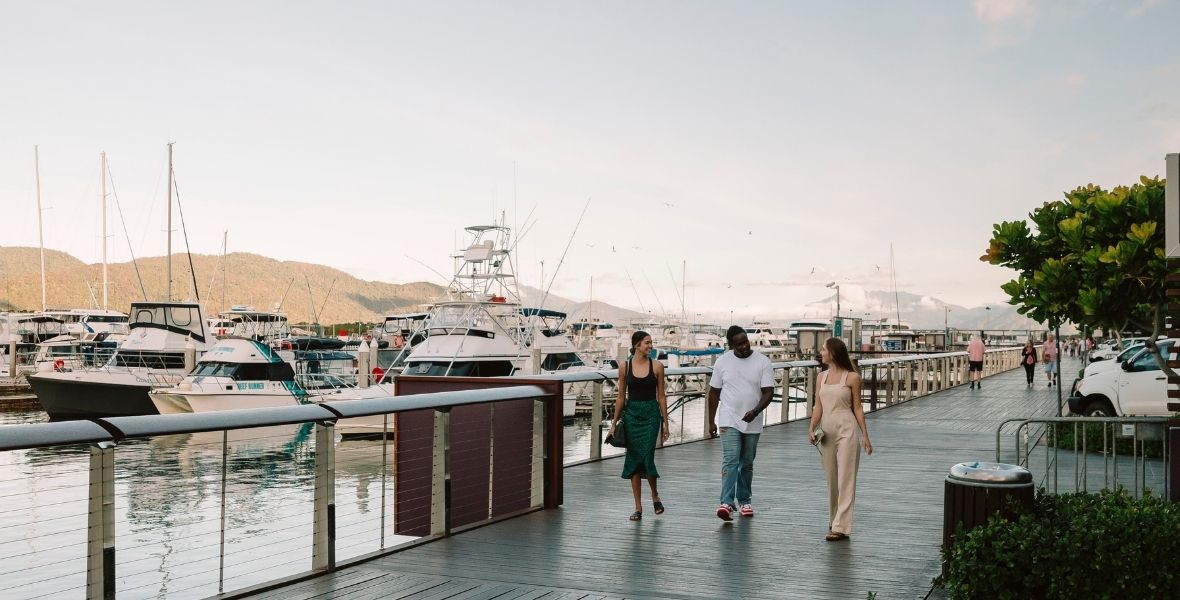 Image Source: TEQ Visual Gallery
Spend your days immersed in the beauty of natural Australia attractions, meander through the bars and restaurants on the esplanade, swim in the lagoon overlooking Cairns beaches or spend an evening exploring the underground maze of food and shopping at the Cairns Night Markets. With a maui branch right in town, you can pick up your campervan and waste no time exploring some of the best things to do in Australia in this tropical northern destination.
The weather in Cairns
Queensland has been nicknamed 'The Sunshine State' for its tropical and subtropical climates. Here you can expect hot humid summers and mild dry winters, with the average temperature sitting around 29°C . In summer, when the heat peaks with 30°C weather, so too does the rainfall, with January to March averaging around 380mm of rain.
The best time to visit Cairns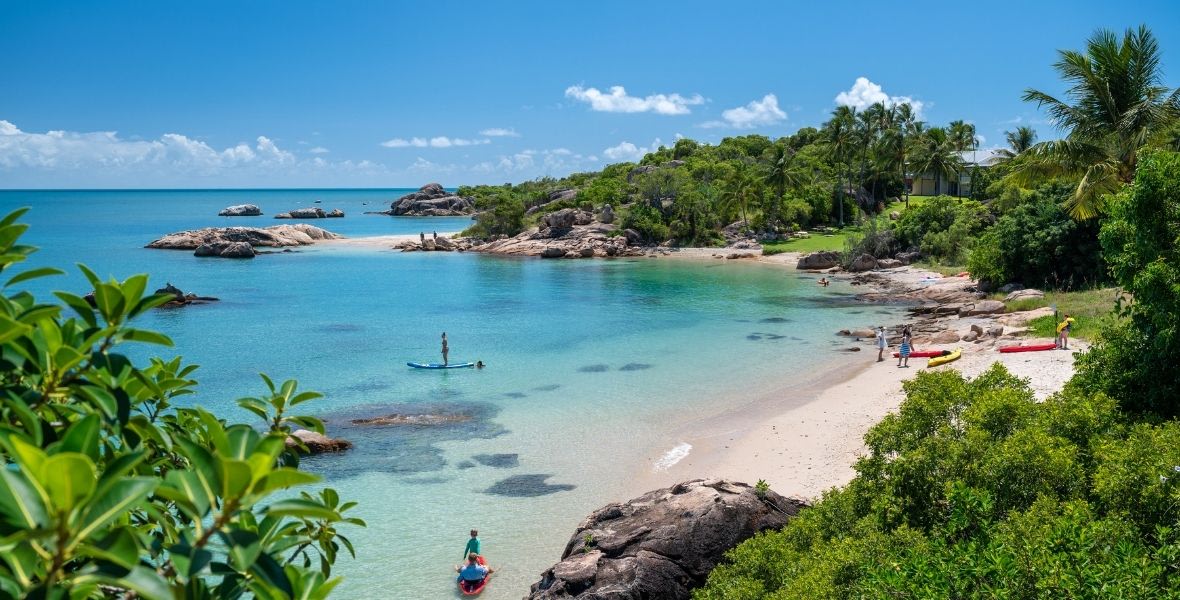 Image Source: TEQ Visual Gallery
Cairns is best known as a tropical summer retreat and is typically hot and rainy in the summer. The summer months are also peak stinger season, so you should be careful when going in the water and be sure to wear the appropriate stinger gear.
For these reasons, winter is a popular 'summer vacation' time for tourists as the temperature is more comfortable at a temperate 29°C and the northern Australia weather is drier. Overall, September to October is one of the best times to plan a visit to this Queensland coastal city and explore all the beauty this region offers.
What you need to know about The Great Barrier Reef
Cairns is the gateway to the Great Barrier Reef - the largest reef system in the world. With almost 3,000 individual reefs stretching for 2,600km, this incredible ecosystem is roughly the size of Italy and can even be viewed from space. While it's a huge attraction and draws tourists from all around the world, this is a very important ecosystem - as such, it is vital that it is cared for and respected by all visitors. There are some basic rules for exploring the Great Barrier Reef:
Look but don't touch the coral. The coral lives and breathes, so can be incredibly fragile
Be careful of the marine life. Brush up on the various animals that can be lethal to humans so that you know what to steer clear of
Always book a tour. Tour operators will have all the best equipment and knowledge to ensure your trip is safe for everyone
We can ensure the Great Barrier Reef's preservation by following these guidelines.
Things to do in Cairns on a budget
If you're a bit tight on cash during your Australia road trip to Cairns, there are some fantastic things to do and see on a budget.
Check out Babinda Boulders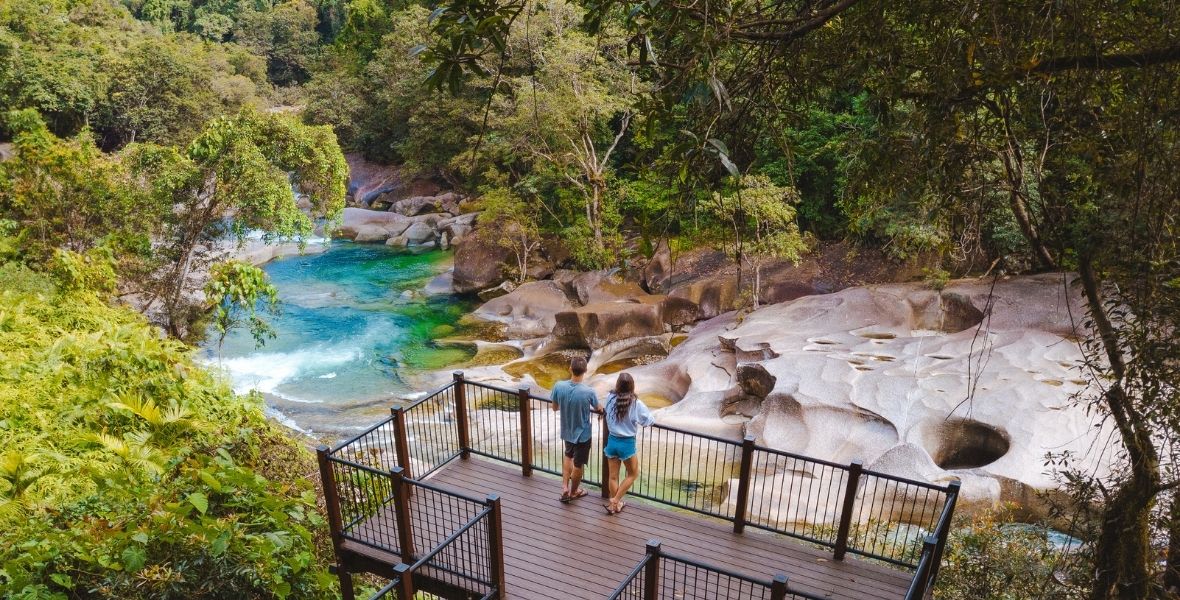 Image Source: TEQ Visual Gallery
Surrounded by lush rainforest, Babinda Boulders is a popular swimming hole and an iconic Australian attraction. A day out at Babinda Boulders can include:
Swimming
Enjoy a picnic
Walk along Devil's Pool walking track 1.3km to viewing platforms where you can see the creek cascade down a series of granite boulders to form spectacular waterfalls
Babinda Boulders is popular for good reason!
Visit Mount Whitfield Conservation Park
Mount Whitfield Conservation Park is a forested range in regional Cairns. This is the perfect place to escape city life and immerse yourself in the beauty of these forested slopes. This park has two circuit walking tracks leading to lookouts offering picturesque views of Cairns beaches, the city and the surrounding area.
Visit Cairns Botanic Gardens
Cairns Botanic Gardens are a tropical oasis and have one of the best exhibitions of tropical plants in Australia. Take advantage of the free entry every day from 7.30am to 5.30pm and explore this huge biodiverse garden at your own pace. For a deeper look at the tropical flora, you can join a walking tour led by the Friends of the Botanic Gardens at 10am Monday through Friday. On the 60-minute tour, you will be guided around these scenic tropical gardens and learn about the key areas of the gardens as well as the Aboriginal plant use section.
Things to do in Cairns with kids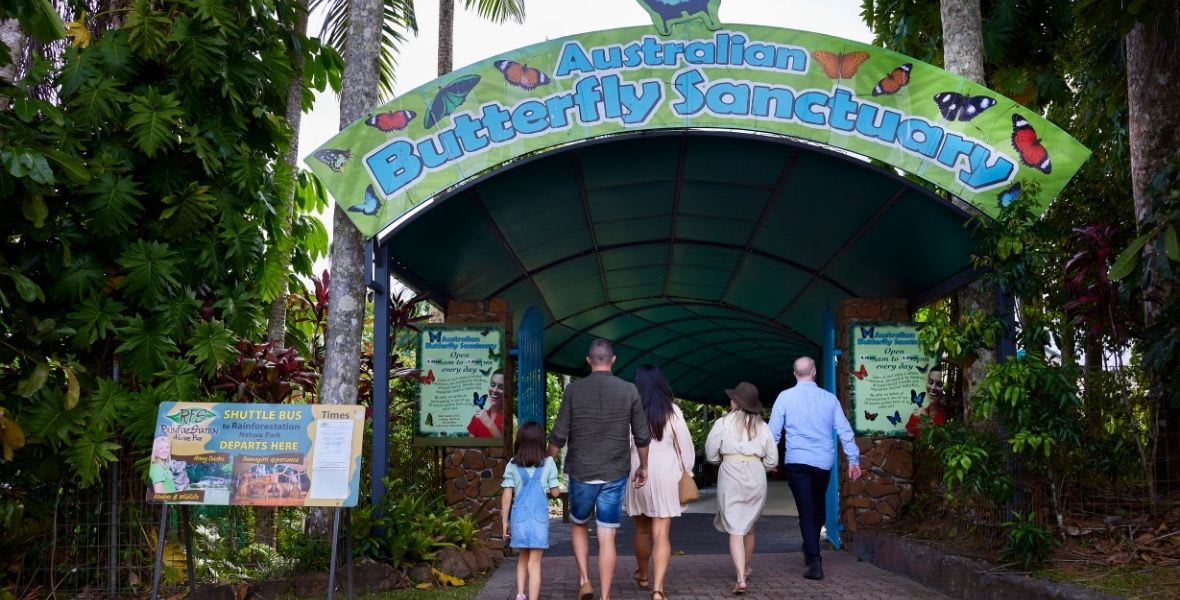 Image Source: TEQ Visual Gallery
If you're taking your kids along with you to Cairns, never fear. There are so many activities to keep them occupied. This destination is a bucket list for family road trips.
Visit the Butterfly Sanctuary
Only a short walk from Kuranda scenic Railway station, you will find the Butterfly Sanctuary. This is the largest butterfly flight aviary and exhibit in the southern hemisphere and is home to over 1500 butterflies.
Wander around Cairns Esplanade
Cairns Esplanade is the perfect family-friendly afternoon adventure. There are loads of activities to include the kids, like:
The playground
Have a BBQ
Play beach volleyball
Swim in The Lagoon - safe from the fierce salty crocodiles that roam these coastal waters
Your kid will make life long memories from their time spent in Cairns.
Get your heart racing at Cairns Zoom
Cairns Zoom and Wildlife Dome is the world's first challenge ropes course in a wildlife park, conveniently located in the heart of Cairns CBD above The Reef Hotel Casino. Activities at Cairns Zoom and Wildlife Dome include:
Cimbing courses ranging in difficulty
Suspending high above the casino on the dome-climb, free fall with the power jump
Interacting with the wildlife in this inner-city adventure
There is something for every thrill seeker!
Take a dip at Cairns lagoon
Cairns Lagoon is a 4800 square metre saltwater swimming pool that offers year-round safe swimming, free of crocodiles and stingers. The lagoon is free to use and is the perfect place to sit down and relax or host an afternoon family dinner at one of the barbeque stations.
Things to do in Cairns in nature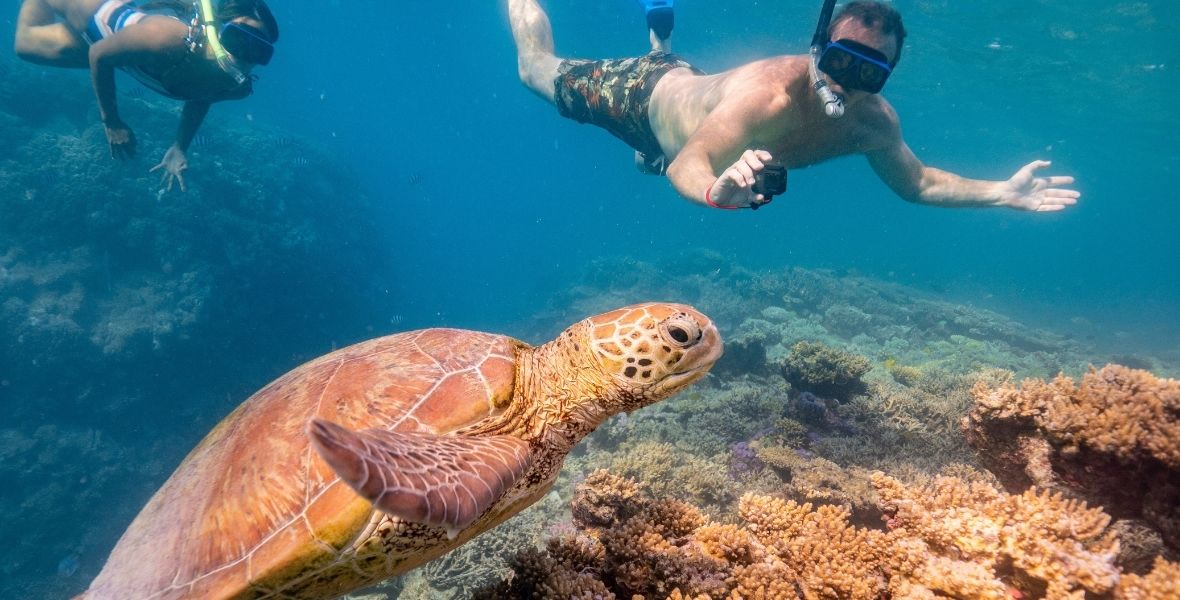 Image Source: TEQ Visual Gallery
If you love nature, look no further than visiting Cairns.
Visit the Great Barrier Reef
With over 3000 individual reef systems to explore, there are so many ways to see this seventh natural wonder of the world. Choose from:
Helicopter tours
Self-sail boats
Cruise ships
Whale watching
Swimming with dolphins
Diving or snorkelling with incredible coral and marine life waiting to be explored
Visit Wooroonooran National Park
Wooroonooran National Park National Park offers a scenic backdrop for a wide range of recreational activities:
Hike the famed Walsh's Pyramid
Goldsborough Valley for canoeing and mountain biking
Take a swim in the glacial Josephine Falls
Explore the lush beauty of Palmerston rainforests
The Wooroonooran National Park is truly something to behold.
Visit Lake Eacham
Just an hour's drive from Cairns, nestled in the surrounding rainforests, sits the clear blue Lake Eacham. This is the perfect place to come for a swim, stroll around the shady walking tracks, go birdwatching, or enjoy an alfresco meal in the picnic areas.
Things to do in Cairns in Spring
There is a range of Spring themed festivals and events in Cairns.
Cairns Festival
The Cairns Festival began in 1962 and has since grown into an annual ten-day celebration of art, culture and the beauty of living in tropical north Queensland, Australia. Between the months of August and September, the city comes alive with music, visual arts, circus acts, comedy shows and more.
Carnival on Collins
Carnival on Collins, dubbed the garden of tropical delights, is designed to showcase the local produce unique to the tropical far north Queensland. This free event runs annually in September as part of the Cairns Festival and features street performers, market stalls, food vans and free live music.
Things to do in Cairns in Summer
Just like Spring, there are incredible seasonal events to experience in Summer when in Cairns.
Cairns Chinese New Year Festival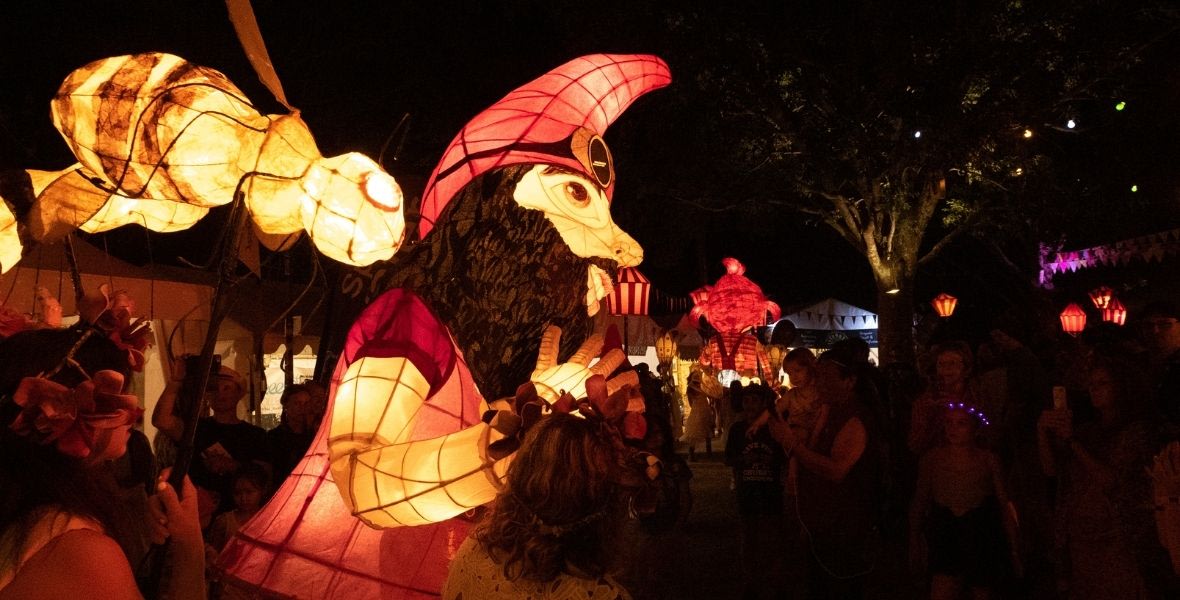 Image Source: TEQ Visual Gallery
Chinese New Year Festival is 15 days of celebration of this region's rich Chinese history and culture. During the celebrations, you can expect anything from feasts, exhibitions, dragons, music, as well as the highly anticipated lantern festival on the final day of the festival.
Cairns Summer Sounds
Summer Sounds Music Festival brings the big names in music for the perfect summer festival vibes. With the perfect mix of live music, food, world-heritage listed Australia attractions and this region's amazing hospitality - this is the perfect excuse to book your trip to experience the very best of Cairns.
Things to do in Cairns in Autumn
The fun doesn't stop in Cairns during Autumn. There are some fantastic festivals and events to explore.
Cairns Children's Festival
Cairns Children's Festival is an annual event that showcases a range of free activities, workshops, ticketed shows and more. While most of Saturday is ticketed, you can join the festival on Sunday for a free day of entertainment, activities, art and performance the kids are bound to love.
Great Barrier Reef Masters Games
Watch 2000 masters-aged men and women from Australia compete in over 20 individual and team sports at the Great Barrier Reef Masters Games. This bi-annual event runs across four days and features a huge range of sports, including:
Archery
Netball
Rugby league
Things to do in Cairns in Winter
It might be a bit cooler, but Cairns hosts some famous events during Winter.
Cairns Indigenous Art Fair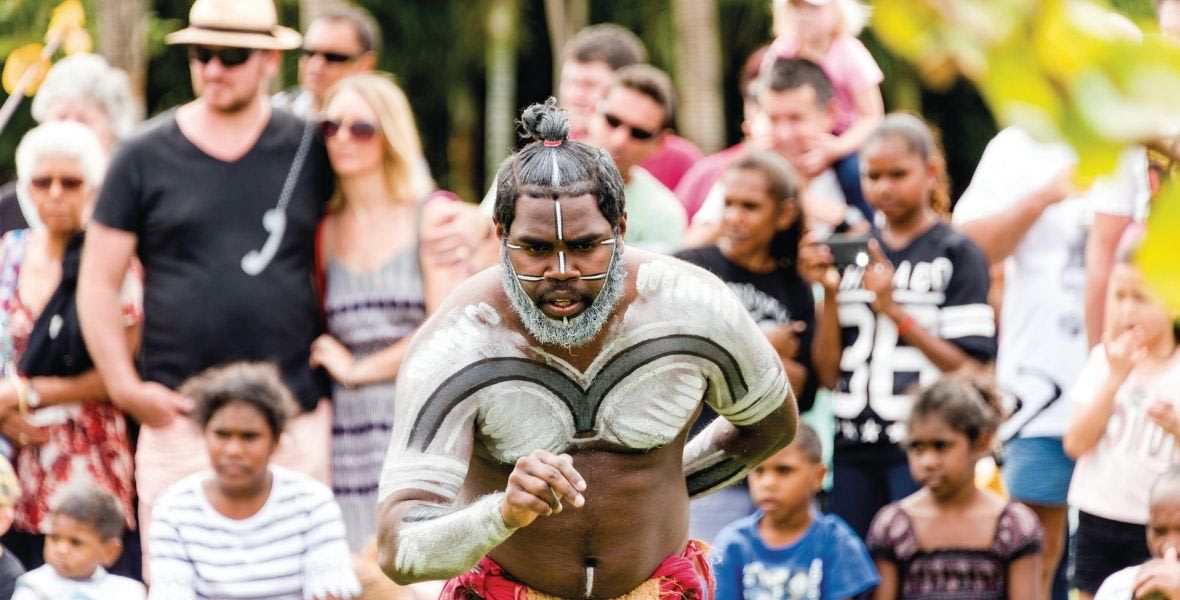 Image Source: TEQ Visual Gallery
Experience the vibrant Aboriginal and Torres Strait Islander cultures of Queensland at the Cairns Indigenous Art Fair. Running every year in July, this ethical art marketplace was born to create cultural exchange and economic opportunity. It has since grown to attract national and international collectors looking to experience the culture and art of Australia's first nations.
Cairns Show
The Cairns Show is one of the largest regional annual events in this region and is the ultimate carnival-style weekend. Showcasing the very best of Cairns and the surrounding region, come to the showgrounds to see over 400 local industries over three jam-packed days. Enjoy:
Showbags,
Woodchopping competitions,
Animals,
Carnival rides and more.
Cairns Ecofiesta
The Cairns Ecofiesta sustainability festival features a lineup of bands, workshops, activities, as well as food vans with local and vegetarian eats. Fittingly held on the doorstep of two World Heritage areas; the Wet Tropics and Great Barrier Reef, it is the perfect location for a day of fun, food, and eco inspirations.
See and do more with a maui motorhomes
There are so many things to do in Cairns, Australia - making it the perfect Australia road trip destination. Best of all, with a maui branch in Cairns, renting a van for a road trip around this region has never been easier. If you're looking for more inspiration, check out our travel guides, popular driving routes, and download the thl Roadtrip App to help plan your route.
If you're ready to rent a van to travel on your upcoming Cairns holiday, take a look at our range of premium vehicles and book your motorhome today.