Join thousands of RV travellers
Sign up for our Go By Camper newsletter to receive inspirational travel content and awesome deals, and we'll send you a copy of our Ultimate RV guide!
Thanks
Please confirm subscription in your email.
Campervan roadtrips offer a unique experience for families whilst also allowing kids to be occupied in new ways. While they may require a little more planning, they can be a great way to experience all the best family friendly attractions Australia has to offer. If, however, you fancy a kid-free trip and don't mind heading further afield for fun, then this guide is for you! There's so much to be discovered off the beaten track, and taking the road less travelled often means avoiding school holiday crowds while collecting new travel stories that are sure to impress friends and family.
Travelling with a maui motorhome allows you to become a master of your own destiny. By escaping the big cities, and popular tourist spots in favour of a path less travelled, you'll have the chance to sit back, relax and enjoy your break at your own pace, and without too many distractions.
To make the most of your time off, book your trip outside of the peak travel times, like school holidays or over the Christmas and New Year period, instead favouring weekdays and school term times. Consider a springtime, autumn or mid-winter escape from work and enjoy fewer crowds, easier driving conditions and more comfortable campervan living.
We've pulled together our top tips by state that include attractions for adults, all to help you make the most of your Australian getaway. Think everything from artisan food and wine to remote beaches, fascinating history, art, shopping and more. Let's explore!
Things to do in Western Australia
Western Australia is vast and diverse, offering plenty of opportunities for relaxation, exploration and adventure. Explore the Great Southern Coast and take in the dramatic coastline from waves crashing on cliff faces to picture-perfect beaches. You'll find plenty of spots for rock climbing, windsurfing, hiking and lazy afternoons on the sand.
Head to the Great Southern region and visit Albany, home of the National Anzac Centre and where European sailors first landed in Australia. While you're in town, nip down to the whisky distillery for a tour and some tastings, or go whale spotting on the coast at Torndirrup National Park. If you're feeling adventurous, have a go at mountain biking along Ellen Cove to Albany Port.
Head an hour up the road and find yourself in Denmark, where you'll find more cellar doors that you'll know what to do with (grabbing a bottle or two for later in your trip is highly recommended). Stay awhile, check out the Denmark historical museum, or take one of the many coastal trail walks and get back to nature. You'll find plenty of other pleasant surprises along the way, including local seasonal produce served with care and attention at one of the many popular restaurants in town.
An easy half-day drive from Perth, you'll find rural country town Katanning, where you can enjoy a bite at the Premier Mill, a former flour mill. Sample some of the great wines from the region, wander through the town and check out the colourful and picture-worthy murals done by street artists in this culturally diverse township.
If you're seeking the chance to reconnect with nature, walk the multiple-day Cape to Cape track for stunning coastal scenery in the Margaret River region.
Park up at Bremer Bay for some snorkelling or marine life spotting, including keeping an eye out for the local pod of Killer Whales.
Head north and explore the Kimberly, where you'll find plenty of reasons to stop and stare at the unique wildlife, marvel at the epic canyons or take a dip in freshwater swimming holes. Despite its size, Kimberly is fairly remote, giving you a chance to get some peace and quiet in tranquil surroundings.
Make a bee-line for Kununurra and take a guided tour through Bungle Bungle where you will learn about bush food and the aboriginal culture that has deep roots here. Or, take the art centre tour at Waringarri arts and bring home something to remember your trip by. If you're feeling extra adventurous, head to Mitchell Falls by plane for stunning aerial views.
Explore Broome and take a camel tour across the beach or have the unique experience of harvesting your own pearls. You can even stop in for a cold one at Australia's most remote brewery.
Note that some areas of the Kimberly region are remote and only accessible by 4WD, so check before you travel if exploring in your Maui 2WD camper. There's plenty of beautiful places to explore without the need for 4WD.
Can't decide where to go? Explore our Western Australia Perth to Shark Bay itinerary or discover the gems between Perth and Exmouth.
Things to do in Tasmania
Tasmania is having a moment! As it gains in popularity, it offers even more to interested travellers willing to venture to slightly more remote places in Australia. With a growing number of festivals celebrating everything from chocolate to the winter solstice, and the chance to spot the Southern Lights, Tasmania has something for everyone. Check out upcoming events to ensure you don't miss out on specialist festivals.
Take a romantic boat tour to Wineglass bay - voted one of the best beaches in the world. You'll see the granite coastlines and have a chance to spot marine life, like the little penguins who call the bay home. If you'd rather stretch your legs, head through St Clair National Park, and visit St Clair Lake - the deepest lake in Australia.
For history buffs, the Port Arthur historic site includes a tour of the ruins. The museum contains all sorts of relics and historical documents.
If you need a little more direction, explore one of our self-drive itineraries that have been traveller suggested and approved. Craving a connection with nature? Head west and bathe in the rainforests, mountains, and rivers on offer. Want to indulge your palate? Head north for fresh and locally grown produce, including plenty of wine. Need some time to relax on the beach? Head east for seaside villages, fresh seafood and sand between your toes. Or go south and indulge in stargazing, wildlife watching and peace and quiet.
Things to do in Victoria
Victoria is best known for its state Capital Melbourne, where it's almost impossible to get a bad coffee. But, there is plenty more to see and do if you explore the roads less taken. Get out of the big city, and experience smaller towns both on the coast and inland.
Take yourself to Gippsland, where you can match incredible walks and natural sights with fabulous food, wine and artisanal spirits for an indulgent break.
Head further inland to Walhalla, an old gold mining town, where you can take a tour of an old mine, enjoy the tramline walk, visit Baw Baw National park and find your own nugget to take home.
Or head towards the coast and the beautiful Mallacoota Inlet. Do the Thurra river dunes walk and enjoy a refreshing sea breeze!
Visit Healesville, just out of Melbourne, to see the Four Pillars distillery and do a gin tasting or two. Browse some of the local galleries and check out the handcrafted jewellery at Silvermist Gallery.
Take on the Great Ocean Road, and explore the Beech forest when you can zipline across the rainforest, hit the Otway harvest trail and try some food at one of the world-renowned restaurants.
Check out an itinerary for the drive between Melbourne and Sydney and the Great Southern Tour.
Things to do in the Northern Territory
From the mighty monolith of Uluru, the desert town of Alice Springs and the red sands of the outback, the Northern Territory offers awe-inspiring nature and adventures for its visitors.
While the Northern Territory might be best known for rock formation Uluru, but it's also worth visiting Kata Tjuta (also known as the Olgas).
If you're after something a little different, or you need some more plant and garden inspiration, give the Walpa Gorge Walk or the Valley of the Winds Walk a try. They may be challenging, but the views are worth it.
Head towards Katherine and stop in at the Nitmiluk National park. You can explore the gorge country on foot, boat or by helicopter. Visit the Northern rockhole and walk over volcanic rock to reach the waterfalls or take a river cruise in the evening. Bliss!
While you're in the area, stop by at Mataranka and visit the Bitter Springs thermal pools to unwind and relax after driving - the perfect reason to stop.
Check out an itinerary for Northern Territory with trips from Darwin to Uluru, Alice Springs to Darwin and beyond.
Things to do in New South Wales
If you're thinking of Australia, you can't go past Sydney and its famous opera house or harbour bridge. Spread out a little, and you'll find the rugged Blue Mountains, opal mines, surf beaches and wineries - there's so much to explore in New South Wales!
Head to the north and experience one or all of these unique Hinterland towns near Byron Bay:
Get your whitewater rafting fix in Nymboida, where the local hydroelectric power station creates a world-class competitive course.
Head to Grafton and spend time admiring the heritage buildings or checking out an exhibition at the Grafton Gallery. Plan your visit during the annual Jacaranda festival in Spring to see the flowering purple trees that have become synonymous with the town.
Buy up locally produced homeware, crafts and food at The Channon. Visit their famous craft market, which happens on the second Sunday of the month. Once you've finished shopping up a storm, take a stroll through Nightcap National Park and see the Protesters waterfalls.
North of Sydney, head to coastal Port Stephens and get your heart pumping on a quad bike tour. Once the adrenaline has worn off, treat yourself to a bite to eat and a beer and wine tasting at Murray's brewing company.
For a spot of romance and indulgence, head to Hunter Valley to take a romantic sunrise hot air balloon trip over vineyards. For a relaxed afternoon, sit back and taste some cheese at Hunter valley cheese before sampling a wine of your choice from one of the local vineyards.
Make your way out west, and visit Mungo National Park, where you can explore a place rich in Aboriginal culture and history on the Walls of China tour. Spend time taking a walk, enjoy a picnic, or set up camp near Lake Mungo.
Explore more tips on trips between Sydney to Brisbane or check out the pacific coast journey.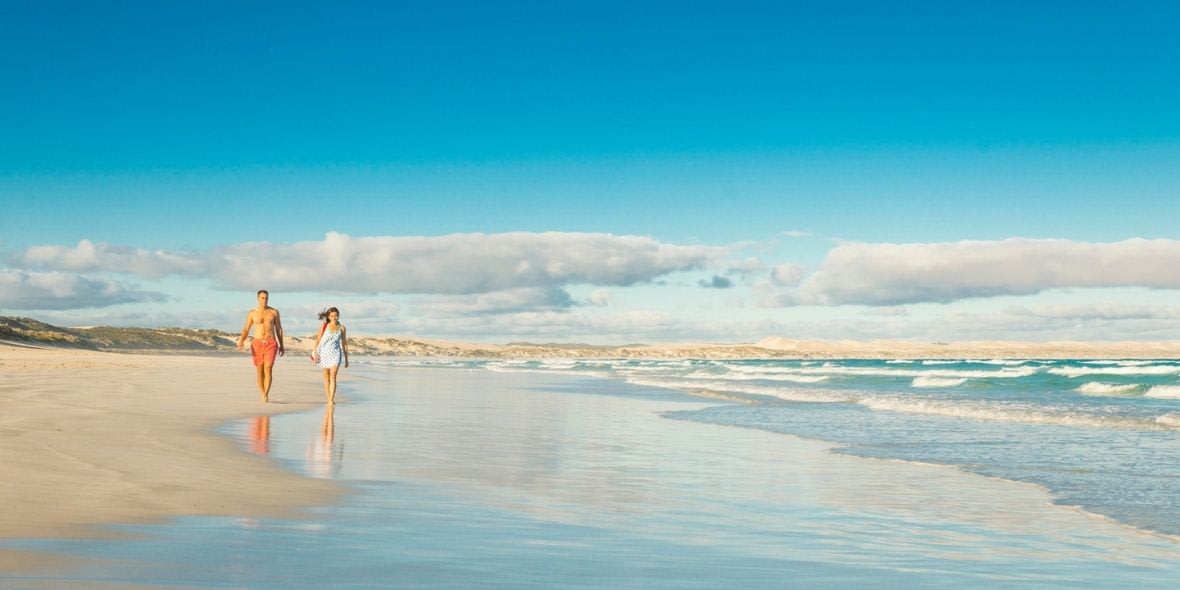 Things to do in South Australia
Sophisticated South Australia has plenty to keep you busy and loads of space to spread out if you want to chill out.
Explore the Eyre Peninsula, and taste award-winning local seafood at The Fresh fish place. Visit white sand Almonta beach where you can see kangaroos and emus or check out Talia caves where you can see dolphins, sea lions and whales in winter.
Cross the Nullarbor plain and take in the sites of the outback. You'll spot camels and other forms of wildlife, and on the way, stop in at the Bunda cliffs to see undisturbed stunning beaches, reptiles and whales. Visit the Balladonia museum to look at ancient artifacts, stay at the caravan park and play a spot of golf at the longest golf course in the world.
Check out an itinerary for South Australia.
Things to do in Queensland
With almost 7000 kilometres of coastline, it's easy to see why beach-lovers flock to Queensland hotspots Brisbane and the Gold Coast. Plus, with sunshine on tap for most of the year, Queensland is one of the best places to travel in Australia during the winter months.
Head north and the Sunshine Coast hinterland offers plenty of variety to those willing to scratch the surface and move away from the tourist hot-spots.
A couple hours from Brisbane, you'll find artistic Maleny. Take a bush walk through Glasshouse Mountains National Park for panoramic mountain views. Once you're ready to do a spot of shopping, choose something nice at Maleny Art Direct and check out one of the many markets they host weekly. When it comes time for a break, enjoy a bite to eat and a craft beer at Brouhaha brewery.
Duck further inland to Montville entry to the Hinterland great walk. Wander past waterfalls, rock pools and more beautiful scenery. Check out the quirky clocks at the Clock shop, and make tracks to visit Flame hill vineyard for a glass of wine and paddock-to-plate produce grown on the surrounding farms.
Head to Kenilworth to stretch out your legs on the Conondale range great walk for waterfalls and tall open forests. Visit the Kenilworth dairies to buy locally made products such as award-winning cheeses.
Queensland has plenty to see and do. Explore the north with this trip to the great barrier reef or around the whole of Northern Queensland.
So where will you go first?
With so many options to help you escape the crowds and enjoy the best of what Australia has to offer, what will you choose to include in your trip? When you travel by campervan, you have all the freedom to make your adventure as unique as you are. See more and do more with maui. Book now.