Join thousands of RV travellers
Sign up for our Go By Camper newsletter to receive inspirational travel content and awesome deals, and we'll send you a copy of our Ultimate RV guide!
Thanks
Please confirm subscription in your email.
1. Stand-up paddle boarding
Make the most of Newcastle's beautiful beaches with a stand-up paddleboarding experience at SUP Newcastle. Never tried paddleboarding before? Perfect! Enjoy time together out on the water as you try something new together. Book a lesson and before long, you'll be SUPing like pros! If you're both seasoned SUP'ers, you'll both enjoy discovering and sharing this beautiful part of NSW.
2. Sunset kayak tour
What could be more romantic than watching the sunset as you paddle together in a kayak? Take in the beauty and romance of Newcastle's stunning harbour with Newcastle Kayak Tours. After your evening on the water, head back to your campervan and enjoy a relaxed meal and a bottle of wine – the perfect way to top off the day!
3. Go for a romantic bike ride
Discover the countryside or city streets of Newcastle together on a romantic bike ride with Newy Rides. Park up your campervan and go exploring! Take in the sights of Nobbys Beach, check out the street-art scene, and plan stops at local cafes. For a longer ride, take the 15km Fernleigh Track trail through bushland and wetlands. On this ride, you can take advantage of great photo opportunities as you explore the infamous Fernleigh Tunnel, Whitebridge, Redhead, and Jewells Stations.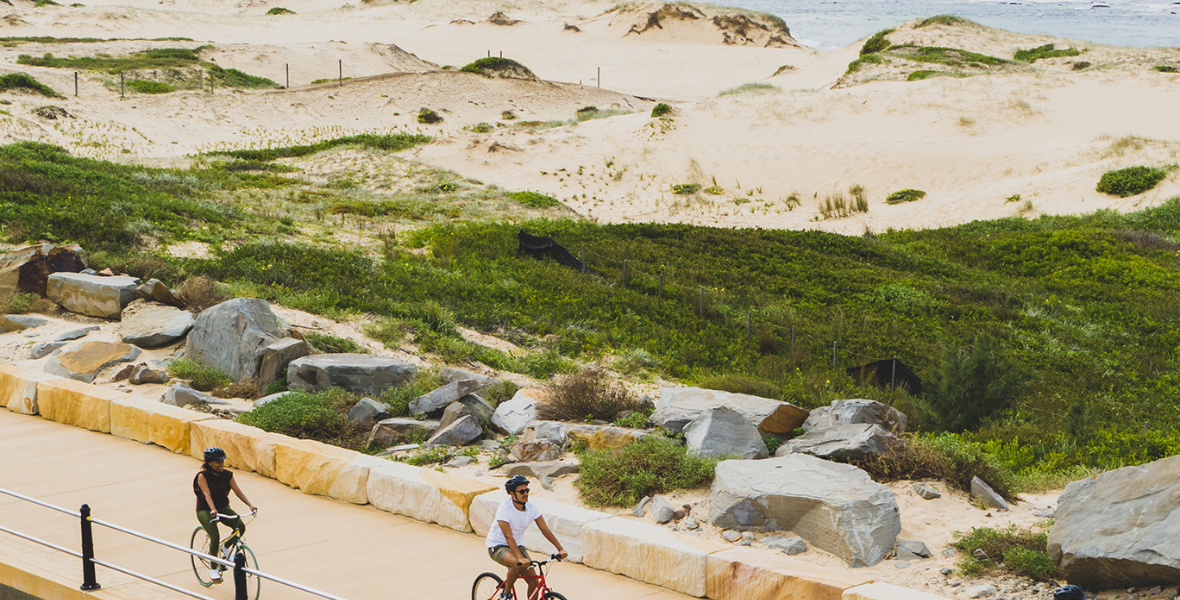 Image Source: Destination NSW Image Library
4. Admire the local art
Head along to Blackstone Gallery and check out the local exhibitions showcasing Australian and international artists. Or for a more immersive art experience, take a painting workshop together and create your own masterpieces!
5. Take a cooking class
Learn a new skill together with a local cooking class or gin blending class! Earp Distilling Co offers a range of great experiences to enjoy together. Besides learning to make tasty dishes, you can also choose from distillery tours, guided gin tastings, or even become a distiller for a day – a special experienced designed for two.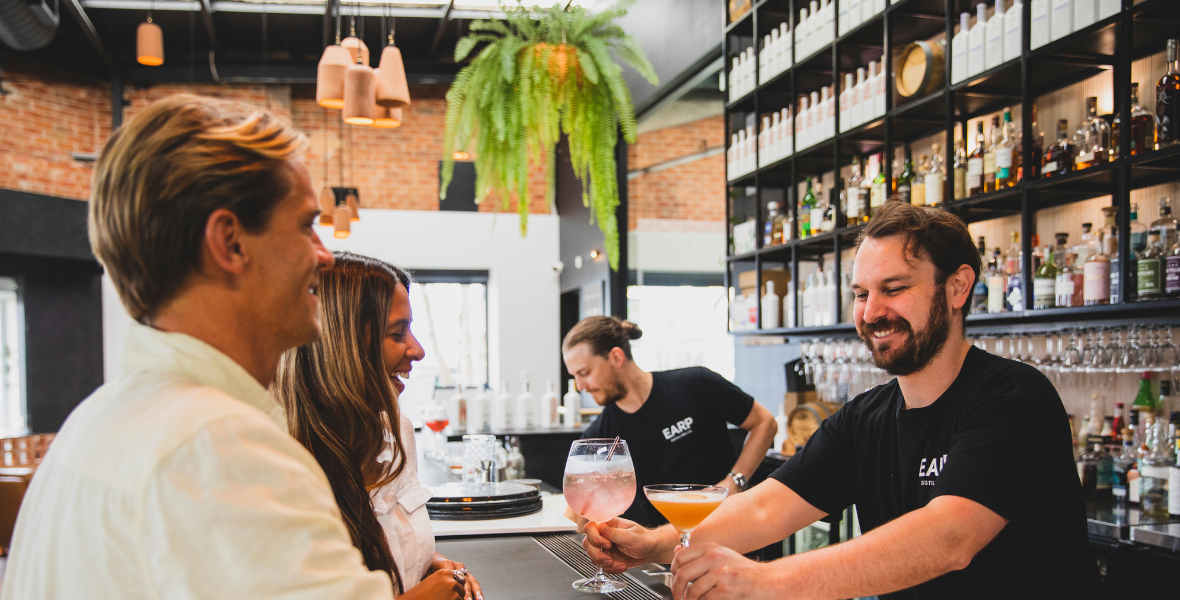 Image Source: Destination NSW Image Library
6. Sample the local wine
Australia's Hunter Valley is internationally renowned for its outstanding wines. One of the best ways to sample the offerings is to take a food and wine trail together. And there's a trail to suit every style – from exploring some of Australia's oldest vineyards in Pokolbin to the small and intimate cellar doors of Lovedale.
Hunter Valley has some great campsites to explore while you're there too. If you're keen on freedom camping, check out the McNamara Park campsite.
7. Visit a brewery
Kick back together with a great brew and some tasty tucker. The FogHorn Brewery is located in a cool, historic building in King Street. Choose from the 16 beers on tap along with a menu full of favourites – from pizza and burgers to tasty tapas and juicy steaks. The Foghorn does takeaways too, so if you prefer a quiet night in after a long day, order a meal to enjoy in your campervan.
8. Enjoy a games night
If the weather isn't so flash outside, no problem! Stay warm and dry indoors with a game of bowls at Strike Bowling Charleston. Make a night of it and enjoy a meal together and perhaps a cocktail or two at the bar. Top off the evening by belting out a few favourite songs in the karaoke room!
9. Whale watching
A whale-watching cruise should be on every romantic couple's must-do list! For the ultimate experience, book in for a sunrise whale photography experience with Coast XP. You don't need to be a professional photographer either. Your guide will cover all the basics and help you get an amazing shot of one of the majestic whales that frequent the Newcastle coastline.
10. Have a picnic on the beach
There's nothing quite as romantic as a simple picnic on a beautiful beach. We recommend heading to Stockton Beach at the southern end of Newcastle Bight. From the city, catch the Stockton Ferry from Queens Wharf and enjoy the ferry ride across the harbour. Need help putting together a special picnic? The folks at Sharp + Co can put together something tasty.
11. Explore natural bushland
If you and your partner fancy the idea of getting back to nature on your Australian road trip, then Blackbutt Nature Reserve is the place to do it. With over 182 hectares of natural bushland, you can both enjoy walking the nature trails and getting up close with some of Australia's unique wildlife. Bring lunch and a blanket, the reserve's beautiful setting is the perfect spot for a picnic.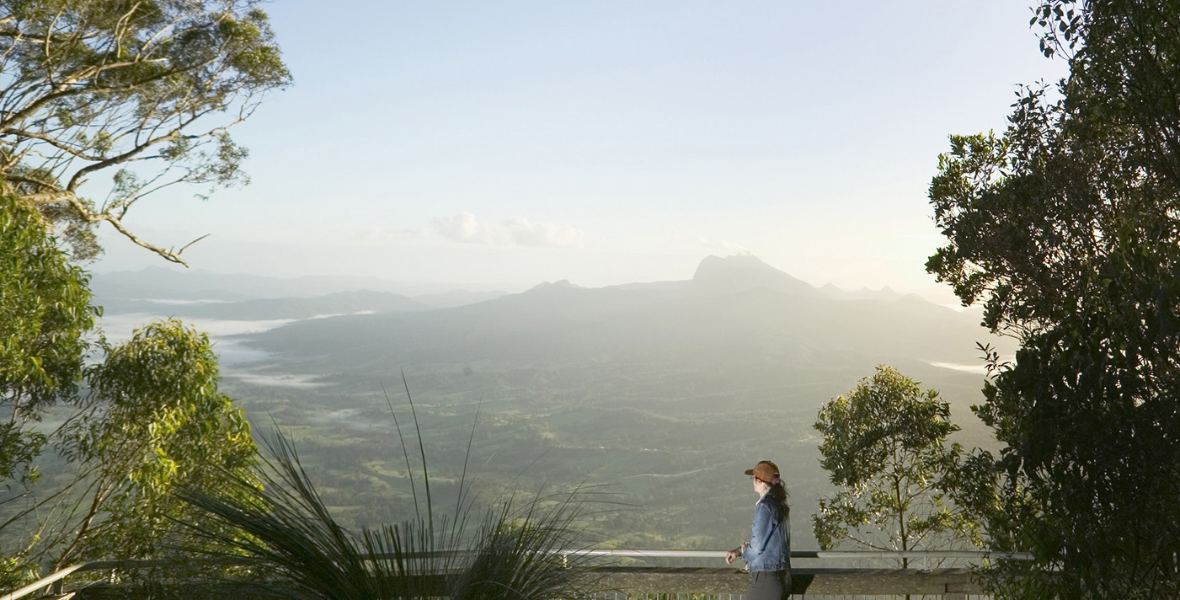 Image Source: Destination NSW Image Library
12. Take a dip in a unique sea bath
Newcastle's Bogey Hole is a must-see attraction – and definitely one for your Instagram! Situated at the bottom of Shepherds Hill in King Edward Pak, Bogey Hole is a heritage-listed natural sea bath and a great place to cool off together, watch the waves, and enjoy the sunshine.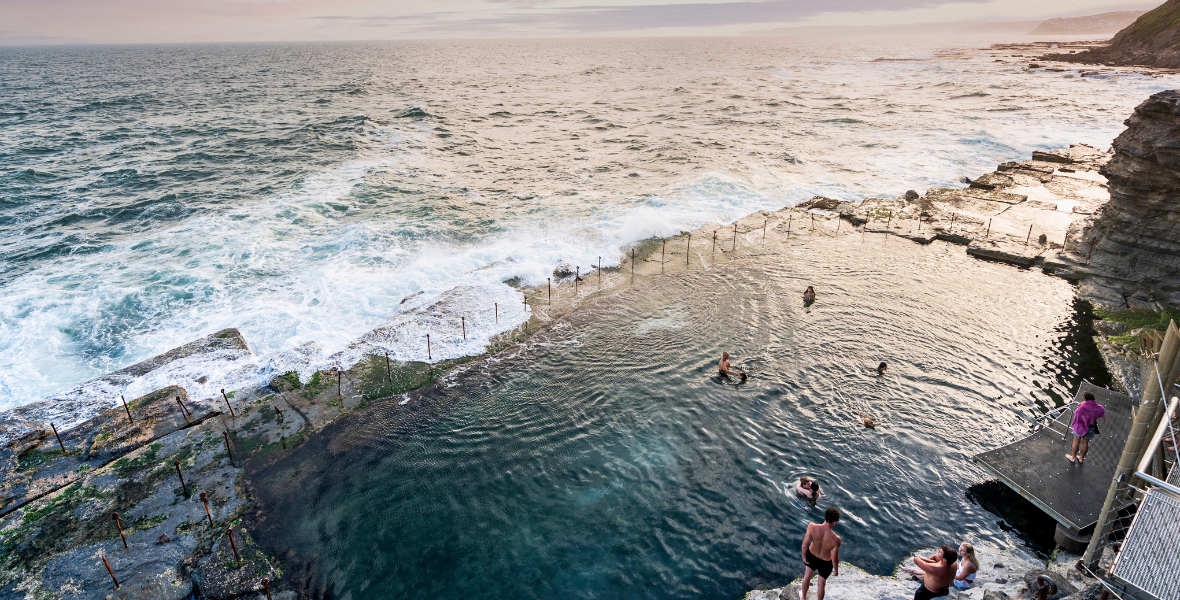 Image Source: Destination NSW Image Library
13. Visit a New York-style speakeasy
Add a little mystery to your romantic Australian road trip with a stop at the Coal and Cedar. This hidden speakeasy has no signage or doorbell. Instead, you'll need to text a special code to a number on the wall and wait for the host to usher you inside. You can also book a table online. You'll find Coal and Cedar at 380 Hunter Street.
14. Enjoy some live music
In the mood for some entertainment? Head to The Cambridge at 789 Hunter Street. This vibrant spot is one of the most popular live entertainment venues for original Australian bands. The Cambridge brings some of the best local, national, and international acts into Newcastle. Head along on any Wednesday – Sunday evening.
15. Try out mini golf
Mini golf is a great activity to enjoy together – and a chance to let your competitive streak show! Holey Moley Golf Club Charlestown is one of the craziest, most fun mini golf courses you'll ever play. Putt your way past the Simpsons, through shark-infested waters (don't worry, it's safe!), and even the Mad Putter's Tea Party!
16. Soak up Newcastle's history
Newcastle has a fascinating history and much of it can be discovered at Nobbys Headland. For the best experience, park up your campervan and take a self-guided walk of the Macquarie Pier using the free audio guide. The audio guide can be accessed by scanning the QR code on the bottom of each sign with your smartphone.
17. Unwind in nature
If walking hand-in-hand along the shores of a beautiful lake ticks your romantic boxes, then head to Rathmines Park. Located in Stilling Street, this beautiful bush reserve sits on the shores of Lake Macquarie. Walk along the Wangi Point Flora and Fauna Reserve and take some time to check out the photos and original artworks at Dobell House.
18. Take a stroll through National Park
Newcastle is home to Glenrock State Conservation Area, another top must-do on your Australian road trip! Park up your campervan and explore the park's beaches, rainforest walks, and spectacular waterfalls. The park also has some great mountain bike tracks for those who are travelling with bikes.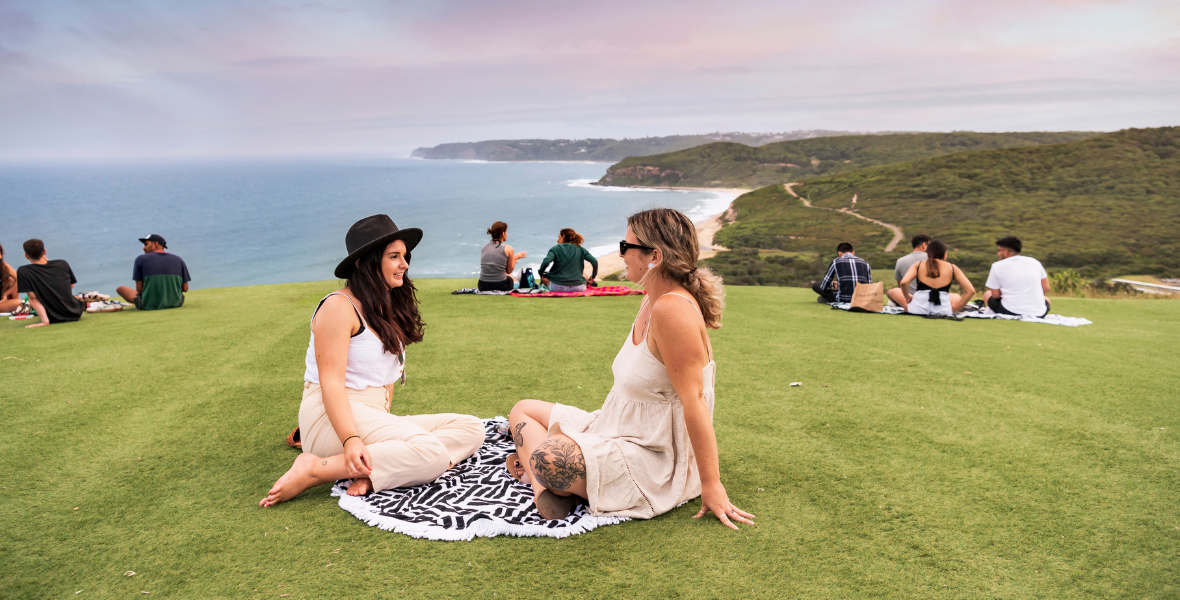 Image Source: Destination NSW Image Library
19. Cycle along the coast
Another great option for couples keen on cycling is the Tuggerah Lake Bike Path. This 12 km picturesque track follows the shores of Tuggerah Lake and is nice and flat, making for a relaxing day out. Your bike ride will take you past Long Jetty – a small town with a very long jetty! Stop for a coffee, explore the vintage stores, and grab a photo of the jetty.
20. Coastal walking track
If surfing, fishing, and birdwatching all feature on your road trip itinerary planner, the coastal walking track at Wallarah National Park is a great place to do it all. The track links Caves Beach with the headland just south of Pinny Beach. Take in the incredible views over the coastline as you enjoy your walk. You may even spot a passing humpback or southern right whale if you're there in winter.
Ready to book your romantic getaway to Newcastle?
As you can see, Newcastle is an absolute haven for romance! And what better way to make the most of it than to rent a travel van and take an Australia road trip?
Whatever time of year, whatever the weather, there's plenty to do, see and enjoy as a couple. From karaoke and gin distilling to nature walks or a romantic picnic, Newcastle has it all on offer.
A campervan road trip means you can truly relax and take your time, explore Australia together, and make the most of the flexibility and spontaneity that travelling by campervan offers.
Ready to pack your champagne and picnic basket and hit the road? Take the first step and book your Maui camper. Pick up and drop off your camper from our handy Sydney branch and enjoy the 2-hour 15-minute road trip to Newcastle.