Join thousands of RV travellers
Sign up for our Go By Camper newsletter to receive inspirational travel content and awesome deals, and we'll send you a copy of our Ultimate RV guide!
Thanks
Please confirm subscription in your email.
We've identified 8 of the best places to visit on the drive between Cairns and Brisbane and put them into one easy list for you! All you need to do now is get inspired and start creating your very own plan for unique things to do in Queensland.
Spanning over 1,680kms and nearly 20 hours of travel, we reckon you could tick off everything on this list in about a week if you wanted to, but we recommend you take your time and soak up all the Australian attractions, sunshine and sand along the way.
To get you started, pick up the camper at the Cairns Maui branch and head south towards Brisbane for your Queensland campervan trip. You can always switch it up and start at Maui Brisbane - like with so many things to do with campervan travel; you have the freedom to choose!
This list includes a southern hemisphere first, a natural wonder, Australia's tallest waterfall, and more, are you ready to get inspired?
Why you should holiday in Queensland
When you imagine yourself holidaying in Australia and dream about sun, sand, surf, and relaxation, you're basically picturing a Queensland holiday!
Queensland is known for its stunning golden beaches, al fresco dining, crystal blue oceans, tropical walkways and coastal activities. It is a popular spot for Australians, New Zealanders, and international tourists to visit and enjoy. There really is something for everyone in Queensland but beach-lovers will be exceptionally well catered for.
Despite its vast size, you'll find plenty of cities, country towns, beautiful beaches, and even some rugged outback locations to explore, all within hours of each other. That means you have plenty of opportunities to explore and adventure along the way.
While you're holidaying in Queensland, you can tick off a handful of your bucket list wishes. Visit some of the most famous and well-known spots in Australia, including the Great Barrier Reef, Australia Zoo, and Fraser Island. You could even extend your travels to popular places like the Whitsundays if you feel like taking a small detour.
A Queensland holiday offers up a perfect Australian escape with unbeatable weather and regular flights into both Brisbane and Cairns. Plus, you'll find Maui branches in both.
What is the weather like in Queensland?
If it's sunshine and beach weather you're after, Queensland is the place for you. While the weather varies across the state, the East Coast is known for its sunshine and beachy weather. Locals reckon there are two major seasons; a warm and dry Summer that sits at a comfortable 21-28 degrees and a slightly-less-warm, subtropical Winter where temperatures range from 12-21 degrees.
Want the other good news? When it rains, it's never around for long, with short tropical downpours, which are actually the most frequent during the middle of Summer! It's this kind of weather that helps the tropical rainforests flourish.
With all that sunshine, a Queensland escape is well suited to a road trip adventure. You should have comfortable temperatures for driving and sleeping in a campervan. Just find a beautiful spot to park up at, set up your camp chairs and glass of something nice, and you won't be able to help yourself from feeling relaxed.
Bests stops on a Cairns to Brisbane road trip
We've gathered up eight of the best places to stop on your drive from Cairns to Brisbane; now you just need to pick which ones tickle your fancy and start planning your own adventure!
Great Barrier Reef
The Great Barrier Reef is a must-see in Queensland and a popular bucket-list destination. It's one of the world's great natural wonders - you can't visit Cairns without a trip to the Great Barrier Reef.
If you're confident in the water, try snorkelling and discover the coral rays, tropical fish and dolphins. Experienced and learner divers can go deeper with a diving tour. A swim in the clear and refreshing waters will do you wonders.
If you would prefer to stay a touch drier, give up a day to do a submarine tour or glass bottom boat trip and see the wonders without getting wet! Don't forget your camera.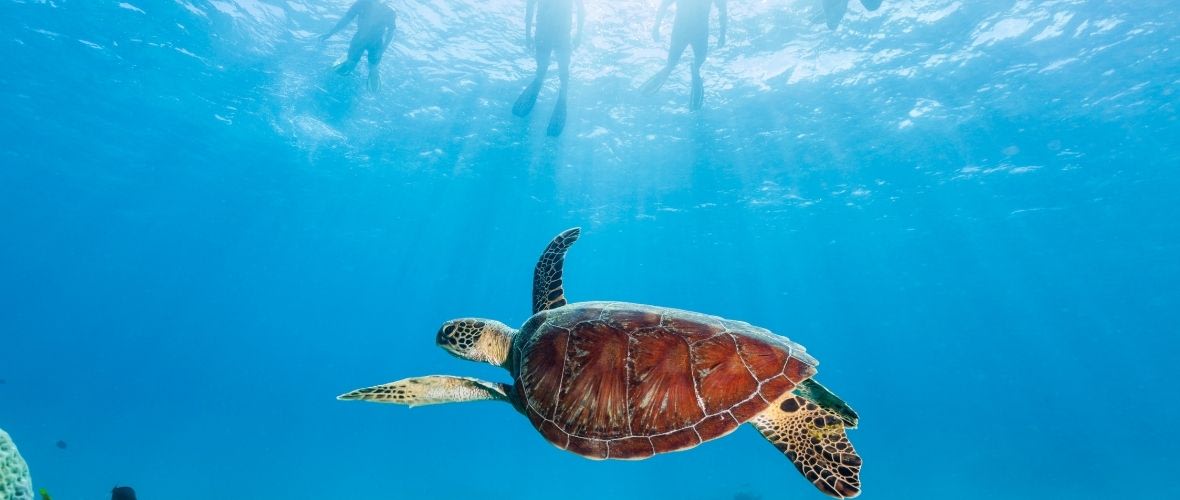 Image Source: TEQ Visual Gallery
Babinda Boulders
Another great attraction before you officially leave Cairns, a trip to the iconic Babinda Boulders. Cool off and escape the sunshine for a bit of shade.
Take a wander to Devils Pool through the rainforest and stop for a picnic lunch before a rewarding dip in the cool creek from Queensland's tallest mountain, Mount Bartle Frere. While you're there, check out the giant boulders, which have been worn smooth by millions of litres of water.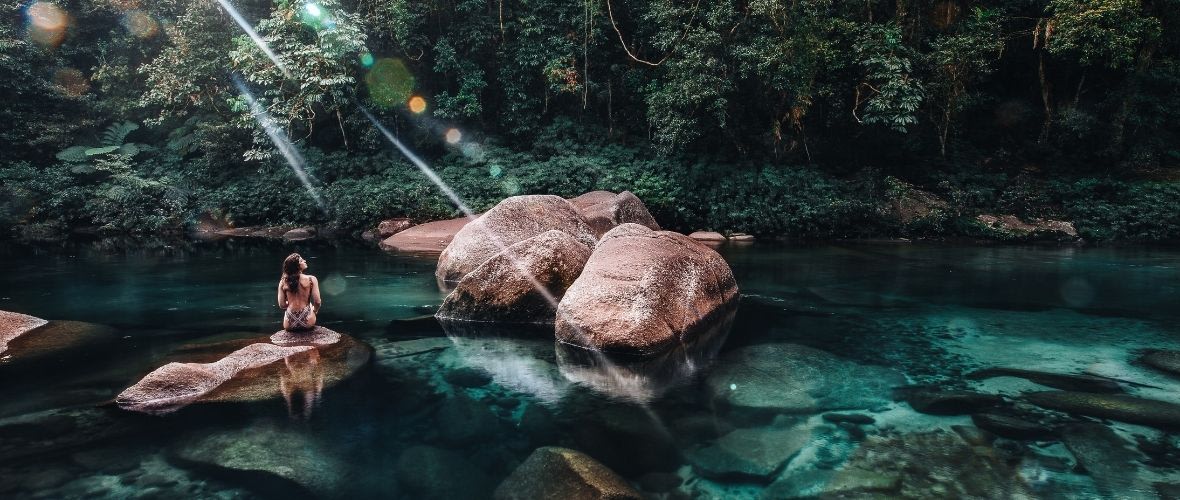 Image Source: TEQ Visual Gallery
Girringun National Park
When leaving Cairns, head south for a spot of natural beauty at the Girringun National Park. Here you'll find plenty of walking tracks and a few chances for another refreshing swim. Check out the views at Wallaman Falls, Australia's highest single-drop waterfall, see waterfalls on the nearby Wet Tropics Great Walks or go for a dip at Mission Beach.
If giving free camping a try sounds like you, check out the appropriate campervan sites you can book in the national park and spend a day or two reconnecting with nature.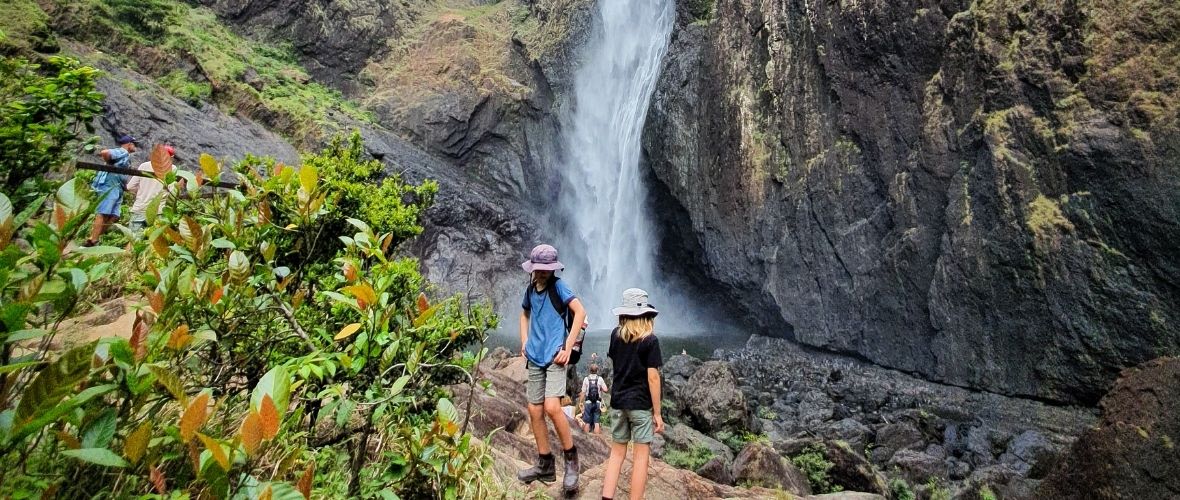 Image Source: TEQ Visual Gallery
Museum of Underwater Art
Heading south on the east coast of Queensland, you can't miss a stop in Townsville to visit the incredible Museum of Underwater Art (MOUA).
You'll explore the southern hemisphere's only underwater museum by snorkelling or diving to see the art pieces which have been created to inspire and educate the globe about reef conservation. Over time the artworks will be enveloped by the reef and create their own marine-life ecosystems, so the art will change and develop over the years. That means your experience may be different to those of people who have visited before and after you! How's that for a unique experience?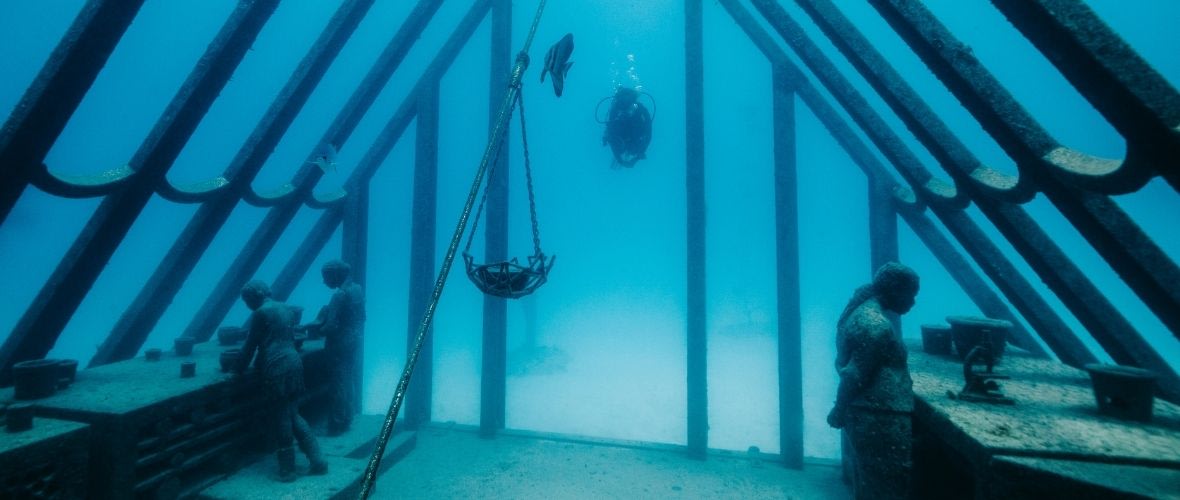 Image Source: TEQ Visual Gallery
Airlie Beach
A half-day drive south from Townsville, lies the coastal town of Airlie Beach. This is a popular holiday destination that acts as a gateway to both the Great Barrier Reef and the Whitsunday Islands offering you lots of opportunities to explore both.
Take your time soaking up the beachy vibe here. Take the chance to get out and about by going for a wander to spot waterfalls at Cedar Creek Falls or enjoy the ocean views on the laid-back Airlie Beach boardwalk.
If you can't get enough of it, or if you haven't been brave enough to give it a try yet, you'll find another chance to go snorkelling on tour around the Whitsunday islands in a jet boat!
Image Source: TEQ Visual Gallery
Eungella National Park
Just over a 2-hour drive from Airlie Beach, you'll enter Eungella National Park. With over 860 plant species and lots of wildlife to look out for, you could spend a day or two taking one of the walks among rainforest and bushland, birdwatching and frog spotting along the way. Head towards the broken river for your best opportunity to see platypus and eels in the wild.
Stop here for a picnic, or park up at a designated campervan site for the opportunity to reconnect with nature and disconnect from everything else!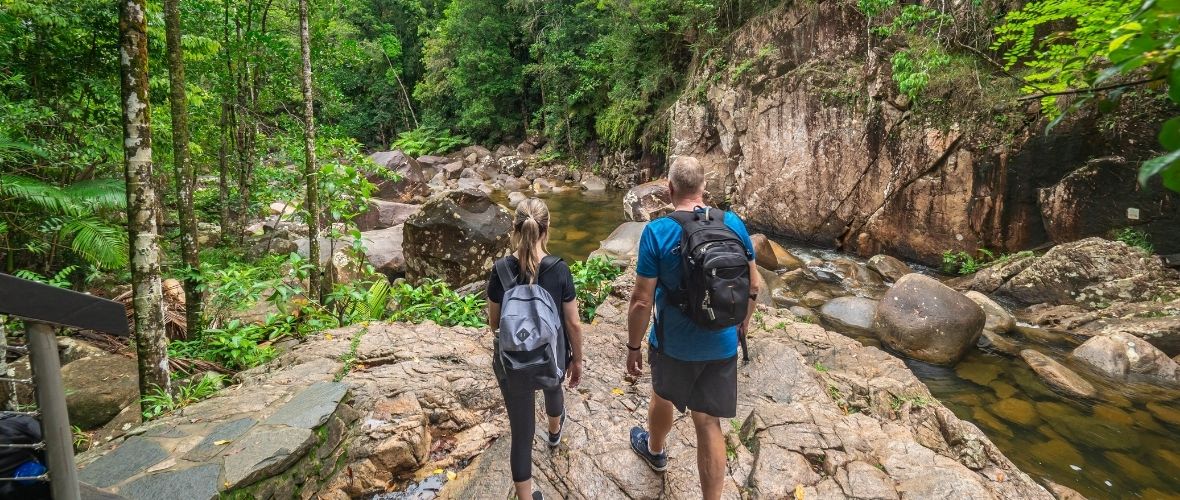 Image Source: TEQ Visual Gallery
Bundaberg Rum Distillery
A chance to learn about the history of rum making at the Bundaberg rum distillery. Go on a tour to see how the rum is made and even have a go at blending your own! You'll also find a fully stocked shop ready for you to treat yourself to a tipple for later.
If rum doesn't tickle your fancy, check out some of the other highlights in Bundaberg, including the Bundaberg Barrel and Bargara Brewing Company.
If you plan on indulging in a few drinks, ensure you've parked up for the day and you don't need to drive!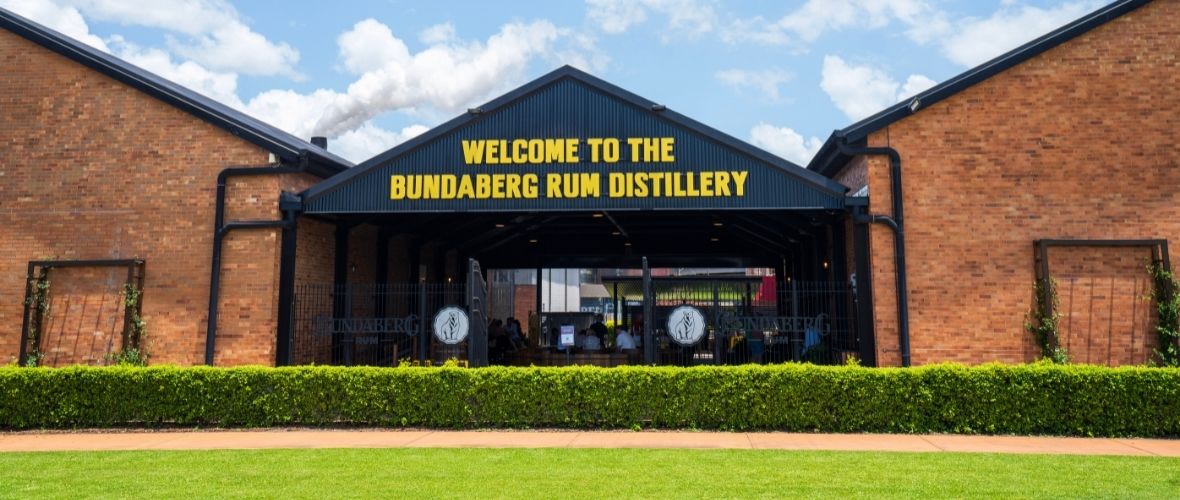 Image Source: TEQ Visual Gallery
Noosa National Park
As you're closing in on Brisbane, you'll likely want to stop in famous Noosa, but have you heard about their best-kept secret, Noosa National Park?
With 5 fantastic walking tracks and plenty of incredible scenery to check out, you can start your adventure with a leisurely stroll from Noosa CBD.
Take a walk to Hell's Gates if you're up for a longer wander, but make sure you don't jump in. Instead, wait until you reach the Sunshine Beach and take the chance to relax and go for a swim or surf here instead. Speaking of surfing, if you've always wanted to learn to surf, then take the opportunity in Noosa.
Wildlife enthusiasts will be quick to spot koalas and cockatoos on your adventures, and if you're in luck, you may even spot dolphins, turtles and whales while you're out and about too!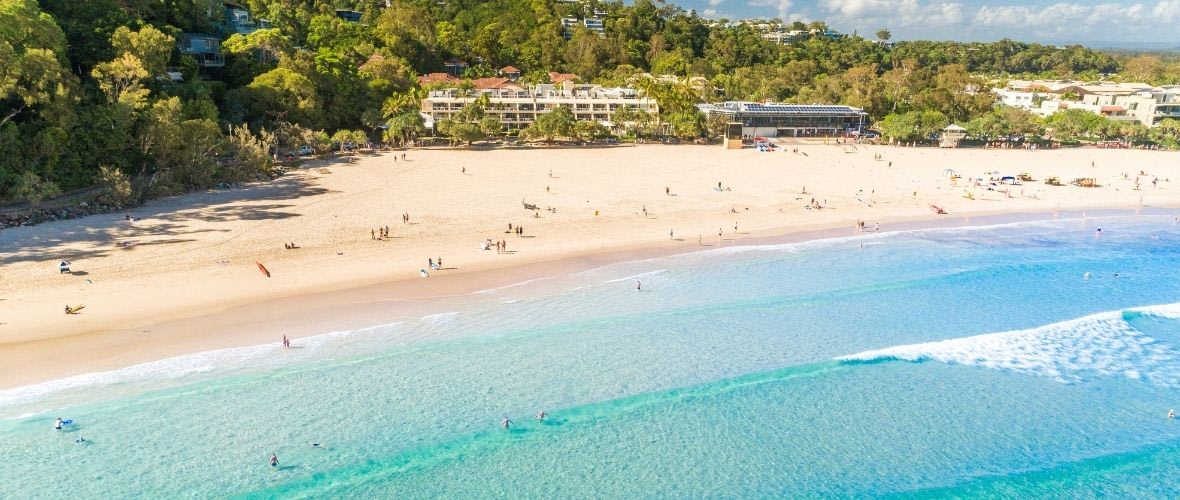 Image Source: TEQ Visual Gallery
Ready for your next Adventure?
Ready to start exploring the wonderful Queensland coastline and take a trip between Cairns and Brisbane? Why not include these top spots as part of a more extended Australian trip by checking out other travel itineraries which you can modify and make your own.
Then, get yourself to Cairns to pick up your campervan and start your trip towards Brisbane. You'll be living that Aussie beach life in no time!