Key Specifications
Automatic
2019 model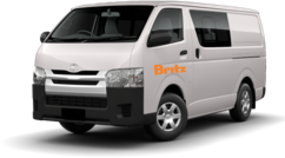 Compact room for two
Part of our Britz Campervans family, the sleek little Action Pod is big on comfort and features, totally punches above its weight and is easy to drive and park anywhere.

Plan your next day adventure while you cook up an awesome dinner on the portable gas stove. And when the sun finally sets, fold out and drop into your full size double bed. The Action Pod also has a built in sink, and comes fully equipped with all your cooking gear. With a battery to run your LED lighting and fridge, the world is your freshly shucked oyster! One of the newest vehicles in the fleet it's a great partner for your summer moments. Book now to move where you want, when you want and live in the "now" this summer!
The Action Pod is available from: Melbourne, Sydney, Brisbane and Adelaide to Melbourne, Sydney, Brisbane and Adelaide, as well as Perth and Hobart for return hires only.
Travel locations Hobart to Hobart, Perth to Perth and Sydney, Melbourne, Adelaide, Brisbane to Sydney, Melbourne, Adelaide and Brisbane.
For travel between 30 September 2019 until 3 May 2020.
You must be 18 years of age or older to drive this vehicle.