Key Specifications
Automatic
Shower & Toilet
Guaranteed under 6m old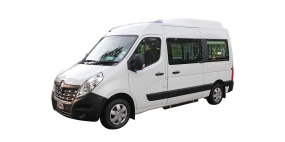 Clever new design
Our brand new Odyssey is all you need for a great summer adventure. Perfect for a couple, this late model vehicle is very easy to drive – just like a car, but with all the bells and whistles a campervan typically comes with.
Finding a parking spot becomes a breeze thanks to an automatic transmission and a very maneuverable body. Small on the outside, it is very practical on the inside. You'll have access to a full size pull down double bed, shower and a full kitchen with a gas cooker. Guaranteed comfort on the road!
Get ready to start a new adventure with the Britz Odyssey, available for a limited time only. For travel between November 2017 – April 2018
Available from: Auckland and Christchurch to Auckland and Christchurch only.